If you just witnessed your dog eating your pad or tampon, it's actually not that uncommon of a behavior. However, there could be severe consequences if you don't take action. Keep on reading to learn everything you need to know about how to handle this potentially dangerous situation and keep your dog happy and healthy.
Can A Dog Pass a Sanitary Pad/Tampon?
If your dog has eaten a sanitary pad or tampon, there is a possibility of them being able to pass it without problems. If you have a healthy dog and they didn't eat too much of the pad or tampon, then they likely will not have a difficult time digesting and passing it. However, if you have a smaller dog or they've eaten the whole pad or tampon then there is the possibility of them choking or having it create a blockage in their intestines that could be life-threatening. Always consult with your vet when your dog eats something they shouldn't.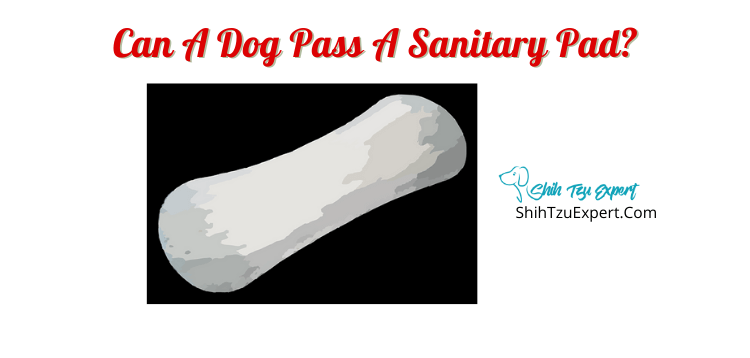 Why Does My Dog Rip Up My Period Pads?
Dogs are curious creatures by nature, and your period pads can be some of the most rewarding finds for them.
If your dog rips up or eats your period pads, you are not alone. Many, many dog owners have dogs that exhibit this behavior. The reasoning behind the behavior, however, isn't a single answer. It can vary from dog to dog.
Your dog could rip up your pad for a number of reasons. It smells interesting, it tastes good to them, or they are bored.
Your dog is also always looking for information on the world around them. Your period pads are going to smell like you, but more intense. It's a bit like the way dogs sniff each other's bums when they first meet each other. It's how dogs learn about you.
They could also be looking for nutrients. Make sure they have a balanced and healthy diet.
How To Stop a Dog from Eating Sanitary Pads?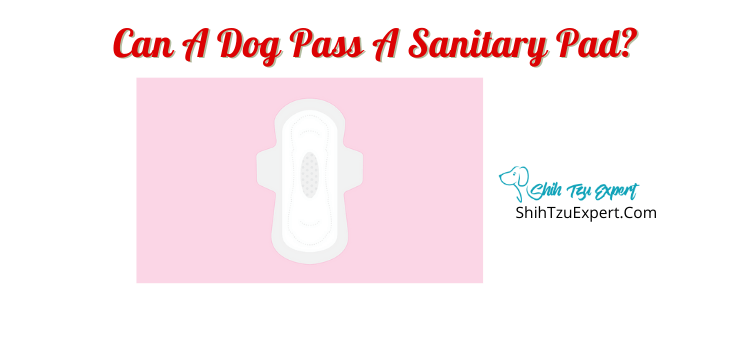 There are a few ways to stop your dog from eating your pads.
Never leave your pads where your dogs can get them. Dogs are sneaky and clever and can find hiding places pretty easily. Never leave your pads or tampons on the counter or just lying around.
When they are used, throw them away in a secure garbage bin. One with a lid that closes and requires a little effort to open, by either using your foot or your hand. This way, even the cleverest dog couldn't get into the garbage to steal your used pads.
Keep your dog out of your bathroom completely. The best way to prevent your dog from eating your sanitary pads is to remove the opportunity altogether. Keep all of your supplies in the bathroom, and keep the door closed.
Why Does My Dog Eat My Pads [Cotton, Maxi]?
A lot of dogs like to eat cotton or paper products. That's why so many toilet paper rolls have been torn apart. Your pads are no different to them than tissue paper or cardboard.
Dogs are always looking for a fun time, and what is more fun for a dog than ripping something up and making a huge mess? Especially if they get a snack in the process.
Many people even use things like tissue paper or wrapping paper or the empty paper towel roll as play toys for their dogs. If you do that, then you are sending the message that products like that are toys to be played with without consequences, so it's not fair to get mad at your dog for eating your cotton maxi pads if you've been telling them it's okay to play with these other things.
The behavior could also be attention seeking. When your dog feels left out, then any attention you give them is considered positive attention. Take a look at the lifestyle you have with your dog. Have you been spending enough one-on-one time with your dog, making sure they are getting the exercise and attention they need? Or is your dog left alone for a lot of the day?
They could also be missing nutrients from their diet. Check their food and make sure that it's well rounded and healthy, with all the vitamins and minerals that your dog needs.
Dog Threw Up Maxi Pad, What Should I Do?
If your dog has eaten and consequently thrown up one of your pads, don't panic.
The first and most important thing to do is to make sure your dog is not choking on any vomit.
If your dog is choking then you need to take care of that first, either by trying to perform the doggy heimlich or by taking them to an emergency vet.
You should always call a veterinarian to check to see if your dog needs to go in to check for any underlying issues that throwing up the maxi pad could have caused.
Also, always clean up the mess as soon as you can because some dogs will have no problem with eating the pad a second time.
What Happens If a Dog Eats a Sanitary Pad?
The effects of your dog eating a sanitary pad really depends on a few things.
The size of your dog will have a huge impact on the consequences of them eating one of your pads. Smaller dogs will be more likely to have blockages or complications after eating a sanitary pad because it will be harder for their bodies to digest it.
The severity of the situation can also depend on how much of the pad was eaten. If your dog ate the whole pad, then there could be worse reactions.
Another factor is if the pad was used or not. Unused pads will absorb the intestinal fluids in your dog's stomach and have a higher chance of expanding and causing a blockage.
In any case, always call a vet as soon as you've seen that your dog has eaten something they shouldn't have. A vet will be able to tell you what to do and if they need to go in to the vet's office.
Can A Dog Pass a Maxi Pad?
It needs to be said again, always call your vet when you've seen your dog eat something they shouldn't. Your vet will tell you what the next steps are going to be and how you need to react.
That being said, if you have a healthy dog, especially if they are a bigger dog, then they have a better chance of passing the maxi pad without complications.
How Long Does It Take for a Dog to Pass a Tampon?
Tampons are different than pads when it comes to your dog eating them.
Tampons are more likely to expand in your dog's stomach and be more difficult for them to digest.
It can usually take anywhere from ten to twenty-four hours for your dog to pass foreign objects.
However, it depends on your dog and the size of the tampon they've swallowed. Make sure to keep checking in with your vet if you notice any changes in your dog's behavior that could indicate a complication.
Are Dogs Attracted to Menstrual Blood?
Every single breed of dog in the world is descended from the wolf, one of the greatest predators on the planet.
So, yes, most dogs will be attracted to the scent of blood and will go searching for it.
It's also important to remember that a dog's sense of smell is so much more powerful than ours, so while we may not be able to smell those used pads and tampons in the garbage your dog definitely will.
Can My Dog Die from Eating a Sanitary Pad/Tampon?
The first question on most people's minds when they see their dog has eaten their pad or tampon is: will they die?
Yes, your dog can get severely ill or even die from eating a sanitary pad or tampon.
There are chances of obstruction of their airways, blockages of their intestines, and choking. As soon as you see that your dog has eaten something they shouldn't have call your vet.
Why It's Difficult for Dogs to Pass Maxi Pads Easily?
There are a few reasons that it can be difficult for your dog to pass the maxi pad they ate easily.
If you have a small dog, then the pad will be much harder for them to digest properly, and it can take their little bodies longer to break down the cotton. So, it will take them longer to pass it and when they do it can be a struggle.
Even with larger dogs if they eat unused pads then the pad can expand in their stomachs, taking up more space and becoming harder to break down. This can lead to difficulty in passing the maxi pad.
It's also possible that their bodies might not be able to completely break down the maxi pad, which can cause constipation and issues in passing the pad.
My Dog Ate a Sanitary Pad/Tampon, What Should I Do Now?
If you have noticed that your dog has eaten one of your sanitary pads or tampons, there are steps you need to take to make sure they stay safe.
Check for signs of choking. If your dog is choking on the pad or tampon, then you should immediately perform the doggy Heimlich maneuver. As a dog owner, you should know how to do this anyway. If you don't there is a link at the end of this article that will teach you how. After performing this maneuver, immediately take your dog to the vet to get checked out.
If your dog is not choking and doesn't seem distressed, you should still call your vet. They may want you to bring the dog in for a scan just to make sure it hasn't caused any internal issues. They may advise that you try to get your dog to throw up the pad or tampon by forcing a few tablespoons of hydrogen peroxide down their throat (DO NOT do this unless told to do so by your veterinarian). They may tell you to just wait it out and to watch your dog closely.
If My Dog Ate My Sanitary Pad/Tampon, Should I Take Him to the Vet?
In short, if you have any concerns about your dog's health and well-being you should take them to the vet.
When it comes to your dog eating a sanitary pad or tampon, it is highly recommended that you at least call the vet as soon as it happens to get advice on how to move forward.
Most veterinarian offices will be able to advise you over the phone, or they may recommend coming in just to be safe.
If it's the middle fo the night and you're worried for your dog, then contact a local emergency veterinarian's office. These will usually be open twenty-four-seven for emergencies like this, and they will be able to tell you how to proceed.
In any event, your vet should be your first call in this situation in order to ensure the health and safety of your dog.
References
https://www.cuteness.com/13429548/what-to-do-when-your-dog-eats-a-tampon
My Dog Ate A Tampon — What Should I Do?