Introducing a new pet to the family can be an exciting time for everyone. Green Anoles make great pets for beginner reptile owners, and are fun for the whole family. But what about Fido? Dogs are members of the home too, and it's important that they are properly introduced to their new scaly friend. If the introduction does not go well, the dog could see the Green Anole as a threat or worse, as a snack. Read on to find out how to make sure your dog and Green Anole get along.
How To Introduce Your Dog To A Green Anole?
Dogs should be introduced to a Green Anole while it is inside of its (tightly covered) terrarium. If the dog seems calm, and so does the Green Anole, you can consider taking it out. Be warned– Green Anoles are delicate lizards, and they can escape quickly. Make sure to always supervise your pets when they are together.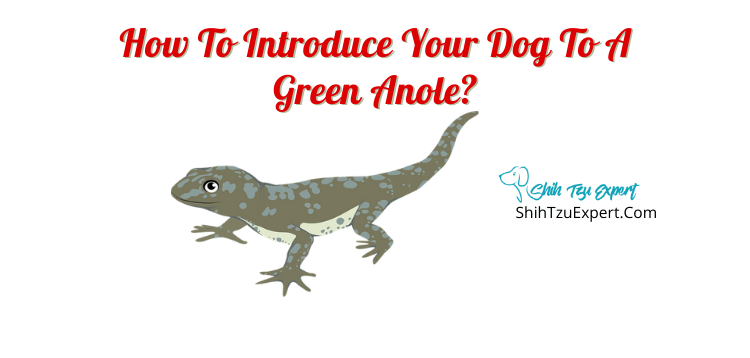 How Well Do Dogs And Green Anoles Get Along?
Dogs, like people, have different personalities. Dogs are predators, and have something called "prey drive," which is a remnant from their wolf ancestors. Prey drive is the dog's desire to hunt smaller animals for food. Breeds of dog with high prey drive tend to be hounds, terriers, and herding dogs, though it varies from animal to animal. If your dog has a high prey drive, they may see the green anole as prey instead of a friend.
Can A Dog And A Green Anole Be Friends (BFF)?
Dogs are mammals, and Green Anoles are reptiles. Dogs give birth to live young (as opposed to laying eggs) and bond with their puppies, while reptiles come out of the egg fully formed. Therefore, dogs aren't likely to bond with their reptile housemates. But that doesn't mean that they can't have a harmonious relationship! If introduced and raised correctly, and kept in separate habitats, the dog will tolerate the green anole just fine, and you might even find them sunbathing together!
How To Introduce Your Dog To Your Green Anole [Step By Step]
Pick a neutral area of your home. Do not try to introduce the green anole to the dog in a place that is near where the dog eats or sleeps, because this might confuse your pooch or make them aggressive.
Get another family member to help you with the introduction. The dog should be a loose leash so they can investigate the Green Anole, but can be easily pulled away if need be
Allow the dog to investigate the green anole inside of its terrarium, with the cover on. If the dog is too excited (jumping, barking, etc) take a break and try again another time.
Repeat this process over the course of a week, watching your dog's body language. A calm, happy dog has a loose body language, wagging tail, etc. Ideally your dog will just ignore the green anole. Keep a close eye for any "prey" body language such as

Never leave your pets unattended— animals behave differently when they are not being observed. For the safety of both pets, make sure to supervise their time together.

Snarling and growling
A "locked in" stare
Stiff tail and body
The Green Anoles body language also matters. If they feel threatened, the Green Anole will puff up its throat, and attempt to hide. It is important to not stress either animal too much, or they will never get used to each other.
Do Dogs Get Jealous Of Green Anoles?
Sure! A dog can get jealous of anything in the home receiving more attention– whether it be a new pet or a new baby! But those feelings will fade as they adjust to living together.
Why Do Some Dogs And Green Anole Don't Get Along At All?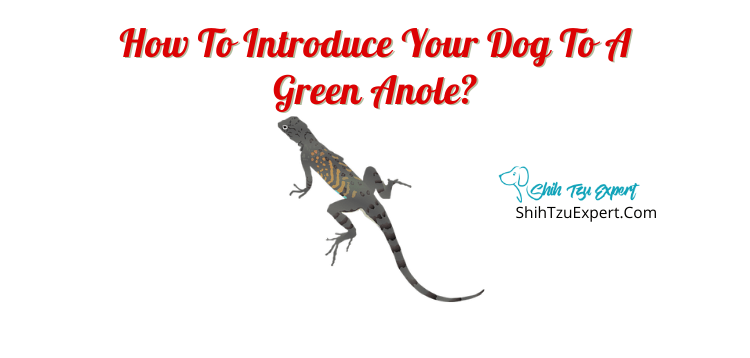 Due to prey drive and temperament, some dogs cannot live with smaller animals. Their desire to hunt is too deeply ingrained. For those animals, it would be best to just keep them separated, and to make sure your dog is always on a leash when out and about.
How Can I Safely Determine How My Dog Will React To My New Green Anole?
The best way to guess how your dog will react to your new pet is to find out about their prey drive. Here are some basic questions to help you determine that:
Does your dog chase small animals (squirrels, cats, etc?)
Does your dog react aggressively to seeing small animals?
If the answer to these is yes, it may be best to keep your dog separated from your Green Anole
Do Dogs Eat Green Anoles?
Yes. A hungry dog will eat just about anything, especially if they view the Green Anole as prey.
How To Keep My Dog From Eating My Green Anole?
To ensure both animal's safety, it is important for them to each have their separate habitat– such as a crate or a bed for the dog, and a secure terrarium with a close fitting screen lid for the anole. If your green anole is kept in a secure terrarium and you make sure to supervise your pets you should not have to worry about your dog eating your Green Anole.
Why Did My Dog Attack My Green Anole?
If your dog attempted to attack your Green Anole, it is likely because your dog views the lizard as prey and not a member of the family.
How Can I Train My Dog To Not Attack Green Anoles?
In addition to proper introduction, some dogs will need to be trained to not lunge for your green anole. You may have to take your dog to a trainer or classes if your dog shows small animal aggression.
My Dog Ate My Green Anole What Should I Do?
If your dog eats your Green Anole, do NOT go get another anole without first training your dog. Reach out to a local dog trainer, preferably one that specializes in animal aggression. For some dogs this is simply part of their genetic makeup, and they may not be able to train out of it. If that is the case, it would be best to not bring any more small animals into the home.
Can You Raise A Green Anole With A Dog?
Yes! A well trained dog with a low prey drive should have no problem sharing their home and family with a Green Anole, especially if the dog has been around them from a young age. However, it is important to always supervise your pets when they are together, and to keep their habitats separate.
Are Green Anoles Harmful To Dogs?
Green Anoles are small lizards– growing to be about 5-8 inches long. Which makes them smaller than even the smallest dog. They do not serve as much of a threat to larger dogs. However, they will attack if they feel threatened and the Green Anole's bite and claws are pretty sharp and can damage a dog's eyes and nose.
What Dog Breeds Are Good With Green Anoles?
Temperament varies from dog to dog, but generally dogs with low prey drives are good with other small household pets, such as:
Toy dogs (Pugs, Maltese, etc)
Great Danes
Golden Retrievers
Boxers
What Dog Breeds Are Not Good With Green Anoles?
Certain dog breeds where designed to do a very specific job, and may react to the movements of a Green Anole. For example:
Sighthounds (Greyhounds, Whippets, Afghan Hound)
Terriers (Fox Terrier, Jack Russell Terrier, Staffordshire Terrier)
Herding Dogs (Border Collies, German Shepherd Dogs )
That being said, Dogs are individuals and temperament varies. Any dog, with proper socialization and training can be a good housemate with your Green Anole.
Are Green Anoles Scared Of Dogs?
Yes. Green Anoles are naturally afraid of large animals, especially predators like dogs. But they can get used to your dog over time.
Why Is My Dog Obsessed With My Green Anole?
Your dog's newfound interest in your new pet may not be a good thing. While we would like to believe your dog is admiring the Green Anole, they are most likely watching the lizard to pick the best time to attack. Keep your dog away from the green anole's habitat until the infatuation passes.
Why Is My Dog Whining At My Green Anole?
Whining, like staring and stiffening, is a sign of aggression. If your dog is whining at your green anole it is likely viewing it as prey.
How To Introduce A Green Anole To A Dog?
The Green Anole is going to view your dog as a predator until proven otherwise. The best way to avoid mishaps is to train your dog to listen. When introducing your dog to your Green Anole, make sure to keep your dog on a leash so you can pull them away if need be. Over time, your green anole will learn that your dog is not a threat.
Do Green Anoles Live Well Together With Dogs?
Yes! Green Anoles and Dogs can live harmoniously, as long as both have their own separate habitats.
Can A Puppy Be Around Green Anoles?
It depends on the puppy! Some puppies may be too rough or excited to meet their new friend, inadvertently hurting the Green Anole, so proceed with caution. But if your puppy is gentle and listens, they might be fine to have a (supervised) playdate. And if your dog is socialized with Green Anoles from a young age, they will be less likely to attack them as adults.
How Do Dogs React To Green Anoles?
Dogs are individuals, so the reaction to a green anole will vary. However, if your dog is generally fine with small animals, ignoring things like squirrels, then they will likely ignore the Green Anole as well. But if your dog has a high prey drive, they are more likely to go after a Green Anole.
Are Green Anoles Scared Of Dogs Barking?
Yes. In the wild, Green Anoles rely heavily on their keen sense of hearing to alert them of predators. They are likely to flee hearing any loud noise, especially a barking dog.
Will The Green Anole Attack The Dog?
Green Anoles would rather flee than fight a larger predator such as a dog. But if they feel cornered, a Green Anole will attempt to defend itself. They do have a hard bite, which could hurt the dogs eye or nose.
How To Get My Green Anole To Love My Dog?
Green Anole's are reptiles, and therefore are not as affectionate as mammal pets. They may not love each other, but if the dog and the Green Anole are both socialized, they can be housemates without issue.
[What Should I Do] My Dog Is Eating Green Anole Poop?
Your Green Anole should have a separate habitat away from your dog. If your dog is eating your green anole's poop, you need to get a more secure terrarium with a firm fitting screen top– not only to stop the disgusting habit, but to keep your green anole safe.
[What Should I Do] My Green Anole Is Eating Dog Poop?
This is not likely to happen, as Green Anoles diet contains mostly insects and plants, they should not be interested in dog waste. Also, since Green Anoles stay indoors in a habitat, they should never be around dog waste.
Will The Green Anole Charge At My Dog?
No. Green Anoles are small, docile lizards and will only attack if they feel threatened.
Are Dogs Afraid Of Green Anoles?
Generally no, but some dogs– especially dogs with bad vision– can be started by sudden, scurrying movement. Some dogs just find reptiles strange and avoid them.
Do Green Anoles Make Good Pets?
Yes! Green Anoles are small lizards, native to the southeastern U.S. and Caribbean. They do not get very large (5-8 inches at maturity) and are relatively inexpensive and easy to care for. However, Green Anoles are not hardy lizards and should be handled carefully, if at all.
How Much Room Does A Green Anole Need?
For two green anoles the absolute minimum size is a ten gallon glass terrarium. Larger is preferred.
Is It Expensive To Raise Green Anoles?
Out of all the reptiles, Green Anoles are among the least expensive to keep. All that is required is a glass terrarium with a fitted screen lid, foliage, substrate (such as orchid moss) and a heat lamp. Do not use "hot rocks" as they can overheat, burning your pet.
Do Green Anoles Learn Their Names?
No.
Can A Green Anole Get A Dog Pregnant?
No, Dogs are mammals and Green Anoles are reptiles.
Can A Dog Get A Green Anole Pregnant?
No, Dogs are mammals and Green Anoles are reptiles.
Can A Green Anole Kill A Dog?
It is unlikely that a Green Anole could kill a dog, unless the dog was very sick or old, but they could get caught in a dogs throat and cause choking.
Can Green Anoles Become Emotionally Bonded With Humans Like Dogs?
No, but if they are handled delicately and regularly they could become used to human interaction.
Why Is My Dog Petrified Of The Green Anole's Beak?
Dogs can have odd fears, just like people. If your dog is reacting to your Green Anole's face, it may just be that it finds it strange.
Green Anoles are popular pets, and make great beginner reptiles. They require a secure enclosure that is monitored for humidity and kept clean, but otherwise are low maintenance. They can also be part of a harmonious home with your dog. as long as they are both well cared for and supervised.
References
11 Dog Breeds That Have A High Prey Drive
https://www.petmd.com/exotic/general-health/can-small-animals-live-dogs
https://pethelpful.com/dogs/dogs-with-no-prey-drive
https://www.thesprucepets.com/green-anoles-pets-1236900