Dogs and hedgehogs are entirely different animals in many ways. They both have opposite personalities and live in environments that are opposite.
How To Introduce Your Dog To A Hedgehog?
If you wanted to own a hedgehog and dog together, they would need different care and maintenance. While they may get along if appropriately introduced, there is a chance that they will not be best friends with each other.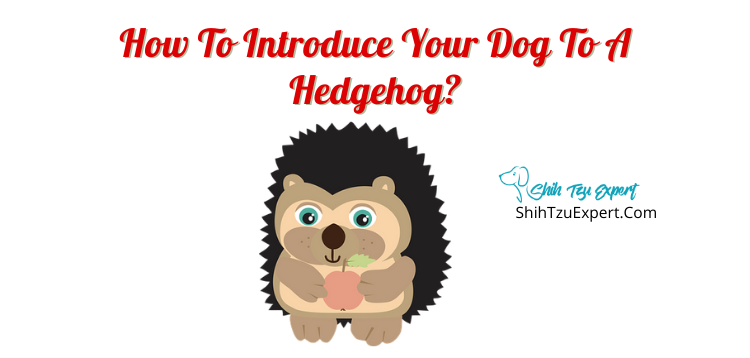 How Well Do Dogs And Hedgehogs Get Along?
If dogs and hedgehogs are introduced to each other properly, they could get along quite well. Hedgehogs may be tiny and tend to fear larger animals, like dogs, but they have quills to protect them from threats.
Introduce the two carefully and separate them when necessary. The relationship between them could be damaged if it is forced.
Can A Dog And A Hedgehog Be Friends (BFF)?
Hedgehogs and dogs can get along with other pets, depending on their personalities. Like humans, relationships are formed based on our personalities.
Your dog and hedgehog should be supervised when introduced because their personalities could clash. Once the two are comfortable with each other, they could become BFFs.
How To Introduce Your Dog To Your Hedgehog [Step By Step]
When introducing a dog to a hedgehog, it is crucial to move slow.
Their relationship should form naturally by using these simple steps:
1. Hold both pets to avoid attacks or scares
2. Slowly approach each other
3. Watch for body language
4. Keep separated when not being monitored
5. Let them SLOWLY get comfortable with each other
Do Dogs Get Jealous Of Hedgehogs?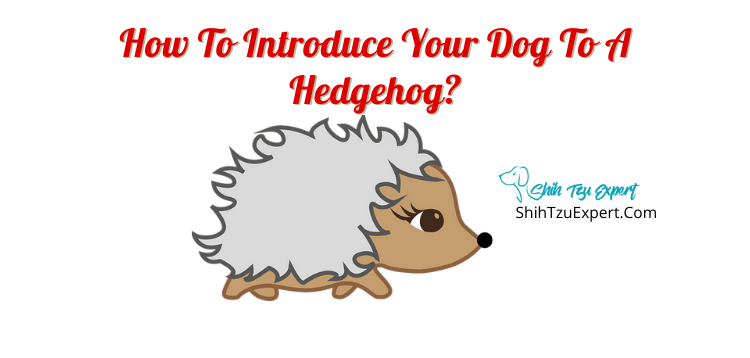 Dogs are known to display jealousy in ways that humans do. They get jealous when there are changes in their life and when they have to share.
Your hedgehog can cause jealousy in your furry friend, especially when you give the hedgehog more attention.
Why Do Some Dogs And Hedgehog Don't Get Along At All?
Even with hedgehogs' defense mechanism, they are still not immune to bites from dogs.
Some hedgehogs will never befriend a dog. The stress that comes with meeting a dog can be more than they can handle.
Not every dog will want to befriend every hedgehog either. Some dogs never become comfortable with tiny animals around.
How Can I Safely Determine How My Dog Will React To My New Hedgehog?
Large enough or strong enough dogs could do a lot of harm to a hedgehog. If you have a dog that likes to hunt or has a hunting mentality, they may not get along with a pet hedgehog or any tiny animals.
Sometimes dogs with a strong prey drive have a hard time seeing the difference between friend and foe with small critters.
Do Dogs Eat Hedgehogs?
A dog could eat a hedgehog, but they are mostly known for harming them.
The hedgehog's defense mechanism (quills) deters dogs from hunting them as they can be significantly hurt.
Dogs tend to hurt hedgehogs when they find them in the wild and less often in a domesticated environment.
How To Keep My Dog From Eating My Hedgehog?
After taking steps to introduce your dog and hedgehog, the dog should be comfortable enough with the hedgehog and understand that it is not a toy or food.
Some dogs may need more time than others when meeting a hedgehog. If your dog never seems to become comfortable with the hedgehog, it is probably best to keep them separated.
Why Did My Dog Attack My Hedgehog?
Some dogs will find hedgehogs out in the wild and in gardens to hunt them.
Hedgehogs live in the same environment as some pet dogs, developing a pray vs. predator temperament.
This does not mean that all dogs will attack all hedgehogs, or all hedgehogs will fear all dogs, but it is essential to be cautious and mindful.
How Can I Train My Dog To Not Attack Hedgehogs?
Proper training can help prevent your dog from attacking hedgehogs. Some training techniques include:
· Socializing the dog
· No more hunting
· Obedience training
· Positive reinforcement
· Use "leave it" consistently
If your dog displays wild animal behavior and likes to hunt hedgehogs, introducing a hedgehog to the family will be a challenge.
My Dog Ate My Hedgehog What Should I Do?
If the day comes where your dog eats your hedgehog, there are steps that you need to take. While it is an upsetting time, your dog may need to seek medical attention.
Some of the medical complications that can come from your dog eating your hedgehog are:
· Contracting salmonella
· Quills can puncture
· Vomiting
· Diarrhea
· Weakened immune system
A hedgehog and its quills can carry bacteria that can cause infections and inflammation in dogs.
Can You Raise A Hedgehog With A Dog?
While dogs are usually a bit cautious of hedgehogs' armor, and hedgehogs are careful of larger animals (dogs), they CAN be raised together.
It is usually better to introduce animals when they are young. If the hedgehog and dog become familiar with each other when they are young, they have a better chance of getting along.
Are Hedgehogs Harmful To Dogs?
Hedgehogs' quills can cause severe injuries to threats.
They are known to cause the most severe injuries to a dog's face, gums, and legs. Dogs can live through most attacks, but it is excruciating.
Aside from their quills, hedgehogs carry fleas, ringworm, and ticks that can pass to dogs.
What Dog Breeds Are Good With Hedgehogs?
Dogs breeds with a low prey drive are the best hedgehogs. These breeds include:
· Maltese
· Golden Retriever
· Boxer
· Old English Sheepdog
All dogs have a prey drive, but sometimes it can be mild or low. It can be barely noticeable in some breeds. These dogs enjoy just sitting around and are not usually aggressive.
What Dog Breeds Are Not Good With Hedgehogs?
Dog breeds that are not good to have around hedgehogs are breeds with a high prey drive. These breeds include:
· Alaskan Malamutes
· Cattle dogs
· Beagles
· Doberman
· Huskies
· Terriers
These are just some of the breeds that have a high prey drive and are known to chase small animals.
Are Hedgehogs Scared Of Dogs?
Dogs are known to be social. They are also known to be predators to smaller animals. Hedgehogs are considered small animals and are most likely scared of dogs.
The stress a hedgehog experiences when meeting a dog can cause them to feel unsafe and uncomfortable in their living environment.
Living in a constant state of stress could be fatal for a hedgehog.
Why Is My Dog Is Obsessed With My Hedgehog?
Dogs get curious and excited to meet new animals, especially if they are in their home.
They are even more curious about smaller animals and animals they have never encountered. When they meet a hedgehog, they like to be cautious until they know it is not a threat.
Once they realize that your hedgehog is not a threat, they may still seem obsessed, but only because they want to play or get to know the little critter better.
Why Is My Dog Whining At My Hedgehog?
Dogs whine for five reasons:
1. Wants/needs something
2. Wants/ needs attention
3. Scared or stressed
4. Pain
5. Saying "sorry"
When it comes to small animals, dogs will whine when they perceive a threat or something is being aggressive with it. Less confident dogs will also whine to appease.
How To Introduce A Hedgehog To A Dog?
Introducing your hedgehog to your dog will be like introducing your dog to your hedgehog—slow, steady, and constant monitoring.
If your hedgehog seems to be skittish even without a dog around, you want to get them comfortable before you introduce a dog to them.
Do Hedgehogs Live Well Together With Dogs?
Research suggests that hedgehogs cannot coexist with dogs because they do not typically make friends with dogs, but it is not unheard of for them to get along.
Even if a hedgehog and dog seem comfortable with each other, hedgehogs do best in cages so they can avoid threats.
When hedgehogs are not entirely comfortable outside of their cage, they could cause harm to anything they touch.
Can A Puppy Be Around Hedgehogs?
Depending on the breed of the puppy, a puppy can be around a hedgehog. When puppies are the same size or smaller than a hedgehog, they come off as less of a threat.
If you want to ensure that the two get along, you need to watch all interactions and let them both have space when they need it.
How Do Dogs React To Hedgehogs?
When dogs meet a hedgehog for the first time, they take their time and monitor. They do this so they can learn more about the hedgehog.
Dog with a high prey drive may not be as patient and could attack upon meeting. That is why you must keep a sharp eye on the two when they meet.
Are Hedgehogs Scared Of Dogs Barking?
Hedgehogs have sensitive hearing and prefer soft sounds because they cannot hear low-pitched sounds.
They have high-frequency hearing, which makes them sensitive to loud noises. This includes dog barking, which can make them irritated and scared.
Hedgehog's hearing is less sensitive than most animals, but barking would still cause stress for them.
Will The Hedgehog Attack The Dog?
Hedgehogs are not aggressive animals and would much rather live in solitary.
You want to watch any close encounters with your hedgehog because they could become stressed and use their quills to protect themselves.
Hedgehogs can coexist with other house pets, but they would instead be left alone and kept away from stressful situations.
How To Get My Hedgehog To Love My Dog?
Hedgehogs will not just get along with dogs right away. They are going to need time to adjust and learn. Here are some ways to help your hedgehog become more loving:
· Give them time
· Keep them comfortable
· Let them bond
· Have patience
Hedgehogs and dogs can both be friends with almost any animal as long as they are introduced properly.
[What Should I Do] My Dog Is Eating Hedgehog Poop?
Hedgehogs can carry salmonella in their droppings and can be contracted to your dog.
These types of germs can spread fast and easily, especially if the dog has a weaker immune system. It is best to get your pet to the vet for medical attention if they show signs of salmonella infection.
[What Should I Do] My Hedgehog Is Eating Dog Poop?
Hedgehogs do this thing called anointing. Anointing is when they encounter new scents, and they cover themselves in it, which includes licking it.
If your hedgehog has eaten your dog's dropping, it is best to bathe them. They are most likely encountering it for the first time and anointing themselves.
Will The Hedgehog Charge At My Dog?
If your dog has threatened, or your hedgehog feels threatened, they could attack. It is not very likely that they will attack since they are not aggressive animals.
When they feel threatened, they are most likely to roll up into a ball and push their quills out, but if attacking is their best defense, then they will do it.
Are Dogs Afraid Of Hedgehogs?
Dogs are not known to be afraid of hedgehogs because of their size and nonaggressive temperament.
Dogs will be curious about hedgehogs if they have never encountered one before, but they do not tend to be afraid of them because of how small they are.
Do Hedgehogs Make Good Pets?
Hedgehogs are a good pet for someone looking to have a fun and low-maintenance pet.
Their quills can make it challenging to handle them, but with the right care and proper routines, they can relax, and you can become more confident in your handling.
When you and the hedgehog have formed a strong enough bond, they are a suitable and adorable pet.
How Much Room Does A Hedgehog Need?
A hedgehog cage should be big enough for them to move around comfortably. A 2 x 3-foot cage is the minimum amount of space they need.
Since hedgehogs are good climbers, the walls on the cage need to be high. Most owners will use a glass aquarium or cage with smooth sides.
Is It Expensive To Raise Hedgehogs?
The startup cost of a pet hedgehog is around $200. After that, the care and maintenance are a low-end cost point.
They are small and do not take up very much space, so the cost a month is low.
Hedgehogs are low-maintenance and do not require a lot of food or attention.
Do Hedgehogs Learn Their Names?
Hedgehogs cannot recognize their names.
They will recognize different voices, so if they are responding to you calling them, they are most likely hearing a familiar friendly sound.
They will even respond to different names as long as the sound of the voice is familiar to them.
Can A Hedgehog Get A Dog Pregnant?
If a hedgehog and a dog successfully mate (while it is not likely), they cannot become pregnant. Animals cannot interbreed because their DNA is not the same.
Not only are their sizes much different, but their biology is not similar enough for dogs to become pregnant by a hedgehog.
Can A Dog Get A Hedgehog Pregnant?
Like I mentioned above, hedgehogs and dogs cannot breed and are not likely to mate at all.
Hedgehogs could hurt a dog if they tried to mate with them, and vise versa. They are not compatible.
Can A Hedgehog Kill A Dog?
A hedgehog could kill a dog if they got lucky. Their quills are sharp and painful, and if they got the dog in the right spot, they could potentially kill them.
They could also kill a dog by spreading infectious diseases to dogs that have weaker immune systems.
Can Hedgehogs Become Emotionally Bonded With Humans Like Dogs?
Unlike dogs, hedgehogs would rather be alone. They can bond with their owners once they recognize their scent, but not the same as for dogs.
Some hedgehogs have complicated personalities and may not bond right away or even at all. They may be grumpier and need more time to adjust to their environment.
Why Is My Dog Petrified Of The Hedgehog's Beak?
If your dog is petrified of your hedgehog's beak, they have probably learned the hard way that it can cause a good amount of pain.
Dogs like to investigate, so if they had encountered a hedgehog before and caused it to feel threatened, they most likely got hurt by it.
References
Malaker, Ed. (2021). Do Hedgehogs Eat Poop? What You Need to Know! https://petkeen.com/do-hedgehogs-eat-poop/
Mies, Chelsea. (2018). Can Dogs Live Together With Hedgehogs? https://wagwalking.com/sense/can-dogs-live-together-with-hedgehogs
Mueller, Laura. (2021). Do Hedgehogs Get Along With Other Pets? https://www.thesprucepets.com/do-hedgehogs-get-along-with-other-pets-1239058
Shields, Jesslyn. (2021). Hedgehogs: Adorable, But Do They Make Good Pets? https://animals.howstuffworks.com/mammals/hedgehogs-not-pets.htm