Introducing pets is already hard enough, but introducing a dog and a leopard gecko presents its own set of challenges. Let's take a look at the ways to make your experience the best it can be!
How To Introduce Your Dog To A Leopard Geckos?
Dogs and leopard geckos can learn to get along well! Just give them some time and supervise them when interacting and they will be just fine!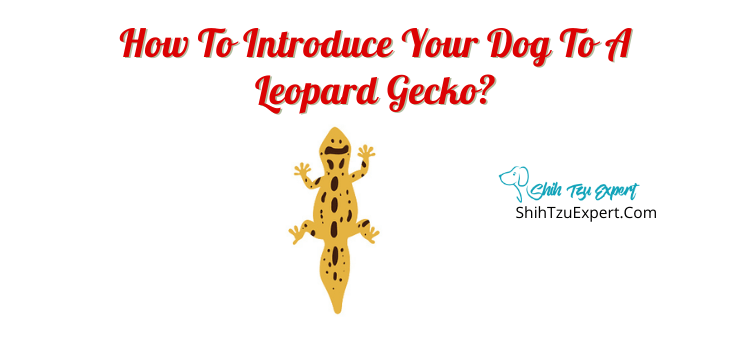 How Well Do Dogs And Leopard Geckos Get Along?
Naturally, these two animals don't get along, but with the right training for your dog (i.e. discouraging them from jumping, keeping them from playing with wild geckos, and having constant supervision) the two can coexist! This also doesn't mean that you can't have both a dog and a gecko as a pet.
Can A Dog And A Leopard Geckos Be Friends (BFF)?
Like mentioned before, it is a pair that is usually considered unlikely to become friends. Though, leopard geckos are considered beginner pets for new reptile pet parents because of how docile they tend to be, so as long as you know the right and wrong ways of introducing the two, there may be a chance of a beautiful friendship in the future!
How To Introduce Your Dog To Your Leopard Geckos [Step By Step]
Make sure your dog understands and follows basic obedience commands (i.e., sit, stay, down, leave it). This assures you as pet owners that your dog will not charge at the gecko and overall won't be so overwhelmed with the new household member.
Keep an eye on your dog, watch out for any indication of aggression or tension in your dog. Please remember that you know your dog best, so ask yourself some basic questions like: "How does my dog act with small animals around?"and "Will my dog listen to me?".
Slow and steady wins this race every time. When you are first introducing your dog and gecko, keep your dog on a leash and the gecko, of course, will be in its enclosure.
The thing is, you never know how things will work out and sometimes animals just don't get along. If this is the case, I wish I didn't have to say this, but these guys may not end up being BFFs, but that is okay!
Make sure your dog is staying calm and watch for any lunging, growling, or any other indication of aggression, as well as look out for whether or not you leopard gecko feels threatened. If these signs are displayed, stop the interaction and slowly reintroduce the two later. If in fact the two get to the point that they are comfortable with each other, it is possible to give them a more open interaction! NEVER LEAVE THEM UNATTENDED!
Do Dogs Get Jealous Of Leopard Geckos?
Like anyone, when your attention is averted to something else, dogs may get jealous, but keep in mind this is not always the case depending on the disposition of your dog. Of course, they show it in different ways.
Take notice of your dog's behavior. Are they doing tricks randomly not on command? Are they being extra clingy, extra pushy, or aggressive? Maybe your potty trained dog starts using the bathroom all over the house? These are signs of your dog trying to get your attention.
If your dog is acting as they normally would, you can say that your dog is secure and knows you love them just as much as you did before getting your leopard gecko!
Why Do Some Dogs And Leopard Geckos Don't Get Along At All?
Sadly, not all dogs have a calm disposition and may have not been trained to live with small animals such as the leopard gecko. Geckos also may find your dog, just for the mere reason of their size, threatening. We unfortunately don't know what these animals have experienced, but we know whether they get along or not you will love them just the same.
How Can I Safely Determine How My Dog Will React To My New Leopard Geckos?
One of the best ways to find out how your dog will react is by observation! Watch how your dog reacts to a lizard or a bug running in front of them. Do they bark or charge at smaller animals such as cats, birds, or squirrels?
You also want to make sure that you know for a fact that when told a command, your dog will listen without hesitation, this will not only keep both animals safe, but it will also give you at least some peace of mind.
Do Dogs Eat Leopard Geckos?
Due to the size and speed of leopard geckos, a dog's natural instinct is to hunt and chase them. The good thing is, if your dog does happen to eat a leopard gecko, it is not poisonous to your dog!
How To Keep My Dog From Eating My Leopard Geckos?
Simple answer, keep your leopard geckos enclosure in a place your dog cannot get to or reach. If they do happen to be comfortable around each other, always have an eye on both just as a precaution.
Why Did My Dog Attack My Leopard Geckos?
Dogs attacking your gecko could be for a number of reasons and it can either be due to aggression or pure curiosity.
If you notice your dog on high alert or maybe even growling, your dog may feel threatened or even scared of this new unknown "thing" in their home; their territory. Your dog may even feel protective over you and your family and may see our new pet leopard gecko as a danger.
Leopard geckos are incredibly intriguing to us humans, so imagine a dog seeing something as cool as that for the first time. They may not know how to control themselves and may not know their own strength or size.
How Can I Train My Dog To Not Attack Leopard Geckos?
When you first introduce the two, make sure to reward your dog with treats when they are being calm! The positive reinforcement will make it so that eventually they learn to stay calm around your gecko.
My Dog Ate My Leopard Geckos What Should I Do?
If your dog somehow ends up eating your lizard, the first thing you need to remember is to keep calm and take a deep breathe. Since they are not poisonous to your fur baby there shouldn't be anything too bad.
Though, if your dog does not look to be feeling well, take them to the vet IMMEDIETLY.
Can You Raise A Leopard Geckos With A Dog?
You can, but again, it is all about the training and smart owners. There is nothing to say you can't other than the behavior of both pets.
Are Leopard Geckos Harmful To Dogs?
Nope! They are nor poisonous or aggressive, these animals would rather run and hide than bite.
What Dog Breeds Are Good With Leopard Geckos?
There is no one breed of dog that will perfectly get along with leopard geckos but there are dogs that tend to take to training better than others and are naturally less aggressive. These breeds include: Retrievers, Basset Hounds, and Bernese Mountain Dogs.
What Dog Breeds Are Not Good With Leopard Geckos?
There is nothing to say your can't have a specific breed or dog in order to have a leopard gecko. It all goes back to whether or not your dog is trained.
Are Leopard Geckos Scared Of Dogs?
They can be and that is not a surprise to most of us. With time and constant supervised interactions, both your dog and gecko can learn to coexist without your gecko getting too scared. As long as the dog does not act aggressively towards them, they should be just fine.
Why Is My Dog Is Obsessed With My Leopard Geckos?
Dogs are curious creatures and leopard geckos are very interesting creatures to look at! In your dog's mind they could be either completely mesmerized by them or simply just think of them as a new toy for them to play with.
Why Is My Dog Whining At My Leopard Geckos?
For dogs, whining is a form of communication. It can be among things like telling you they are sorry, telling you their needs or wants, the dog is wanting attention, they may be stressed or scared, or overall they are being submissive. Depending on the dog's other behavior it could be any of those reasons.
How To Introduce A Leopard Geckos To A Dog?
Make sure that when introducing them for the first time that you are in a quiet and comfortable space!
Make sure to introduce the two slowly and keep a good hold on your gecko for the entire interaction. Keep in mind, both animals may feel uncomfortable so keep things nice and slow as to not startle either one of them. If you notice your gecko feeling stressed, end their interaction.
Keep your dog on a leash with positive reinforcements as needed.
Do Leopard Geckos Live Well Together With Dogs?
They can as long as you are able to keep your pup from jumping at their enclosure and keep them from acting aggressively and make sure they don't bark at them too much.
Can A Puppy Be Around Leopard Geckos?
Just as you would with an older dog, keep the puppy from jumping, barking, or acting aggressive towards the gecko. Make sure to train them and teach them to stay calm and you should be good to go!
How Do Dogs React To Leopard Geckos?
They can react in a number of ways. Depending on the dog you could get a mixture of different reactions or even none at all and their behavior will reflect how they feel about the new little critter. Attentiveness (barking), staring, scratching, pacing, and sniffing are the most common reactions. These can be either from fear of a threat, general curiosity, or even boredom.
To ensure your gecko's safety, keep them out of eyesite of your dog and maybe even give them a dog-free room!
Are Leopard Geckos Scared Of Dogs Barking?
Leopard geckos are sensitive to loud noises so the likelihood that they will be scared of your dogs barking is highly likely. So keeping your dog away from your gecko's enclosure as well as keeping them from barking at your gecko should be fine!
Will The Leopard Geckos Attack The Dog?
This is something that is more unlikely to happen as long as you pay close attention to both animals. If they do become aggressive there is usually an underlying reason such as mating, new environment, the temperature, or to assert dominance.
How To Get My Leopard Geckos To Love My Dog?
Slow and gradual introductions! That, and making sure your dog doesn't scare or come off as threatening towards your leopard gecko.
[What Should I Do] My Dog Is Eating Leopard Geckos Poop?
One thing you should make sure NOT to do is panic and try to stay as calm as possible. Although the hard won't be too bad, DO call the vet in case there is the chance that your leopard gecko could have been contaminated by salmonella.
[What Should I Do] My Leopard Geckos Is Eating Dog Poop?
First off, your gecko is hopefully nowhere near an area where they could get to your dog's poop. If this does happen, call the vet and monitor your leopard gecko.
Will The Leopard Geckos Charge At My Dog?
If they feel threatened or angry, they may try to do so, but there is a small chance of them actually causing harm to your dog.
Are Dogs Afraid Of Leopard Geckos?
Like anything else unknown to dogs, they could be. Dogs that tend to be more anxious will more likely be scared, but with time and small interactions, they will learn to be comfortable around them.
Do Leopard Geckos Make Good Pets?
Yup! These guys make great pets for many reasons! They are so small, tend to be very extremely sweet, and are super easy to take care of!
How Much Room Does A Leopard Geckos Need?
If you are looking at housing one gecko, a 10-gallon take is perfect for fitting everything they need. Their housing would include the gallon, lamp, heat pad, hide box and of course food and water bowls, and maybe even some decorations.
Is It Expensive To Raise Leopard Geckos?
In the beginning it will be of course more expensive picking up the leopard gecko, as well as all of the things you need to take care of them. The initial cost, it can range from $300-$900, with the continuing cost of $80-$300.
Do Leopard Geckos Learn Their Names?
They definitely can! Leopard geckos can learn their names, recognize their owners' scents and tone of voice. These reptiles are able to bond well with their humans if given the chance.
Can A Leopard Geckos Kill A Dog?
These guys are super sweet and aren't poisonous dogs, neither are they aggressive.
Can Leopard Geckos Become Emotionally Bonded With Humans Like Dogs?
Yup! These guys are so sweet and bond with their humans really well! They are incredibly great pets!
Why Is My Dog Petrified Of The Leopard Geckos's Bite?
No, leopard geckos are not poisonous to dogs! If they do by chance eat them, there is no danger to your dogs.
References
https://www.akc.org/expert-advice/training/reasons-your-dog-is-whining/
https://reptilecraze.com/why-your-leopard-gecko-is-aggressive/
https://www.petassure.com/new-newsletters/beginner-pet-lizard-leopard-gecko/
https://critterowner.com/leopard-gecko-intelligence-smart/