Cartoons have depicted cats and mice interacting for decades, but what about dogs and mice? This article focuses on the interactions between dogs and mice, including tips for getting them acquainted and things to watch out for or avoid to keep both of your furry friends safe.
How To Introduce Your Dog To A Mouse?
Dogs and mice can coexist peacefully if properly introduced through supervised meetings. Dog's behavior can be changed through careful training, and a mouse will only attack if it feels threatened. If you follow the advice in this article, you should be able to safely introduce your dog to your mouse.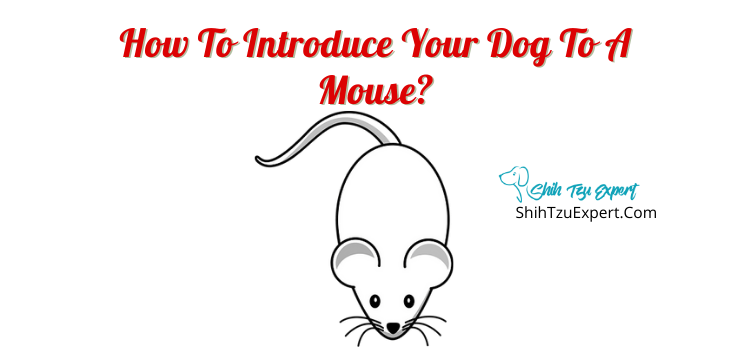 How Well Do Dogs And Mice Get Along?
While it is not their instinct to coexist, they can get along if given the proper chance to get used to each other. Often their first meetings involve a sense of stress or aggression felt between the two. Sometimes, depending on the personalities of the individual animals, the reaction is a mutual sense of curiosity about each other.
Can A Dog And A Mouse Be Friends (BFF)?
The internet is full of cute animal videos showing creatures often thought of as predators and prey becoming best friends and cuddle buddies. Since every mouse and dog are different, this outcome fully relies on the temperament and personality of each animal and how they are introduced to each other.
How To Introduce Your Dog To Your Mouse [Step By Step]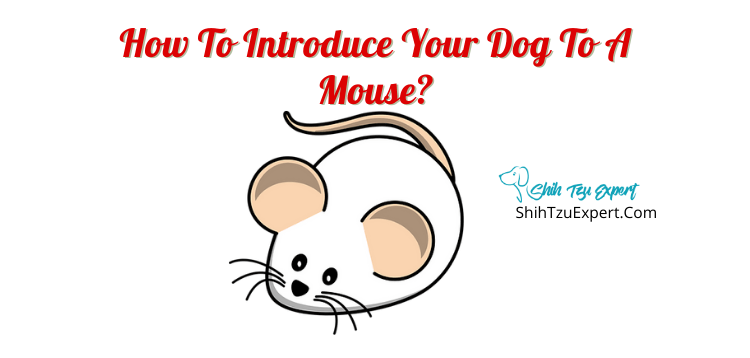 Experts say that the best way to introduce your dog to any new animal is through carefully supervised meetings. First, just allow your dog and mouse to get used to each other's scents in the house before introducing them face to face. The best way to do this is by keeping them in separate rooms for a few days. After both seem at ease with the smell of the other around them, it is time to start introducing them.
Keep your mouse safe in a crate away from the dog, and allow your dog into the room with you and the mouse. Always stay in the room to monitor their interactions. Start with keeping these meetings short and slowly increase the amount of time as they get used to one another.
Offering your dog rewards for good behavior is a great idea. If they remain calm around the mouse, rewarding them with a toy or a treat is a great way to encourage them to be gentle around the new mouse. As with training a dog for anything else, a treat will make them associate the interaction with the mouse as a positive thing.
Do Dogs Get Jealous Of Mice?
Your furry pooch wants to keep all the love for themselves. Dogs are known to be territorial creatures and can get incredibly jealous when their owner is interacting with anyone other than them. It is only natural that they might exhibit some jealousy towards a pet mouse that is receiving attention.
Why Do Some Dogs And Mouse Don't Get Along At All?
Some dogs are naturally born hunters of mice. Adding this factor to a naturally fearful mouse, interactions may not go as well as you hope since tension will be high between the two animals.
How Can I Safely Determine How My Dog Will React To My New Mouse?
Ask yourself this: how does my dog react to other animals when I let them outside or take them for a walk? If they do not bark or try tugging at the leash to chase after squirrels or chipmunks, then that is one indication that your dog may be less aggressive towards your new little mouse. Another way is by making sure the dog is comfortable and calm around the mouse's scent before introducing them to each other. If the scent continues to cause your dog to act agitated after a couple of days, likely, introducing the two will not go well.
Do Dogs Eat Mice?
It is not common for a dog to eat a mouse, but it does happen every once in a while. Dogs that are natural pest killers, like a dachshund, are more likely to eat a mouse. If your pup has caught a mouse, whether a pet or a surprise guest and happens to eat it, there are potentially dangerous side effects. If a dog happens to eat a mouse, it can result in a parasite infestation within your furry friend, or if the mouse had died from poisoning, the poison could kill your pooch as well. While these results are unlikely to happen, it is always good to monitor your dog closely for 24 hours if it has eaten a mouse. If in doubt, contact a vet!
How To Keep My Dog From Eating My Mouse?
Lots of focused training reinforced with treats is always the best route for ensuring your dog will behave themselves. If supervised interactions between your dog and mouse did not go well, keep them separated from each other for a while longer.
Why Did My Dog Attack My Mouse?
A dog may attack a mouse if it thinks it is a threat to its human or itself. A dog may also attack a mouse due to its natural hunting instincts.
How Can I Train My Dog To Not Attack Mice?
Try to keep your dog calm while having it near the mouse. You can never fully remove their instincts, but you can manage them. Before you ever get a mouse in your house, try to keep your dog away from chasing smaller animals while out on a walk. One dog trainer recommends that you train your dog to focus. This can be achieved by making a specific sound (you decide on the sound, like a whistle or a snap) and holding a treat at your eyes. Once the dog looks at you, give them the treat. Repeat this until it becomes natural for the dog.
Now place your dog in the same room as your pet mouse and try this trick. Keep your dog focused on you and not the mouse if they become excited. As this starts to work, you can start to move the dog closer and closer to the cage.
My Dog Ate My Mouse What Should I Do?
It is important to monitor your dog closely. You may reprimand them for eating the mouse, but make sure your dog is okay and not sick or infested with parasites.
Can You Raise A Mouse With A Dog?
It is possible. Raising animals when they are young is the best way to train them to be around each other. This will likely help them to build a bond easier.
Are Mice Harmful To Dogs?
In short, no, the presence of mice is not a big danger to your furry friend. However, there are risks. One potential risk is if the mouse bites the dog. Mouse bites are not normally dangerous, but there is always the chance of serious infection. Mice sometimes carry diseases that can spread. These diseases could include Hantavirus, Leptospirosis, Tularemia, and others. The other risk is if your dog happens to eat your mouse, thus creating a chance for a parasite infection.
What Dog Breeds Are Good With Mice?
Bigger dog breeds are not as quick at catching mice and are not known to be natural hunters of small prey. The bigger the dog, the better the chance at bonding a friendship between the mouse and dog. One example would be the Great Dane. They are known to be gentle giants and tend to be scared of mice. If you can manage their fear, the two could become good friends.
What Dog Breeds Are Not Good With Mice?
Many smaller dog breeds are known as "mousers." This means they are great at catching mice. Any sort of terrier, especially Rat or Cairn terriers, is known for their hunting of small prey. Among other small dog breeds, Dachshunds are also mousers and thus not a good breed for having around pet mice.
Are Mice Scared Of Dogs?
Research has shown that mice may not be as scared of dogs as one might think. A study conducted in African villages showed that mice would be scared off if a dog and cat were present in a house. However, when it was just the dog, the mice would eventually return. While mice tend to be skittish creatures, they feel more at ease when it is just a dog they are dealing with rather than a dog and a cat. This shows that mice are probably not incredibly frightened of dogs.
Why Is My Dog Obsessed With My Mouse?
The scent of your mouse may be bothering your dog. It could have woken the natural hunting instinct inside your pooch, making it want to get at your mouse. Some dogs also are incredibly curious and will want to constantly investigate your mouse. Curiosity is a sign of healthy social habits within your pooch.
Why Is My Dog Whining At My Mouse?
Your dog may be wanting to play with the mouse as if it were a toy. Simply try to redirect your dog's attention towards you and distract it with a real toy or a treat.
How To Introduce A Mouse To A Dog?
As with introducing a dog to a mouse, the best way to introduce a mouse to a dog is through supervised interactions. Watch the body language of both the dog and mouse to see if any aggression or fear is being felt by either animal. Keep meetings short and start to elongate the meetings every so often to help them feel comfortable around each other. After a long time of them being used to each other, you can try to hold the mouse in your hand while the dog is loose in the room with you. If the dog or mouse shows any aggression towards each other, promptly put the mouse back in its cage.
Can A Puppy Be Around Mice?
Raising a puppy around a mouse may help it to bond with the mouse easier than if it was a full-grown dog. However, you should never leave your puppy unsupervised with a pet mouse as their instinct of predator and prey may reawaken. Puppies also tend to be more playful and bite more. Wait till the puppy is a little older and more trained before fully introducing it to the mouse.
How Do Dogs React To Mice?
You can most likely expect a dog to whine, growl, or even bark at mice when they see them or smell them the first time. Some dogs may react to a mouse with quiet curiosity, though this is reliant on the individual personality and temperament of the dog.
Are Mice Scared Of Dogs Barking?
Since mice are typically skittish animals, loud noises are likely to scare them. Any abrupt loud noise, such as a dog's bark, will make your mouse feel unsettled.
Will The Mouse Attack The Dog?
Mice are prone to act more nervously than aggressively and will only attack if they feel threatened. If your mouse feels safe and the dog is not agitating it, you will have nothing to worry about.
How To Get My Mouse To Love My Dog?
Try to get your mouse used to seeing your dog. Another idea would be to put a small amount of your dog's fur, perhaps from their brush, into your mouse's habitat. This allows them to interact with your dog in a sense without putting either animal at risk. Getting a very young mouse is another option since the dog will be a normal part of their lives as they grow up.
[What Should I Do] My Dog Is Eating Mouse Poop?
Keep your dog away from mouse droppings as best as you can. The good news is that mice droppings are not normally toxic for dogs in small amounts. However, while a small amount of mouse poop will not likely be dangerous, there is always a risk. Clean up the poop and monitor your dog's symptoms. If your pooch starts to act differently from your normal experience with them, for example: more lethargic or throwing up, contact a vet.
[What Should I Do] My Mouse Is Eating Dog Poop?
You have no reason to be alarmed if you find your mouse somehow eating dog poop. While it is not thought of as a delicacy amongst the mouse food world, mice will eat dog poop when it is available since there are bits of food and nutrients inside.
Are Dogs Afraid Of Mice?
It is not common for a dog to be afraid of a mouse, except for naturally skittish dog breeds. Dogs are, however, not fond of change, and any new thing may set them on edge. This does not mean they are scared of the mouse but rather feeling general angst about the mouse's presence. They are more likely to act aggressively than fearfully.
Do Mice Make Good Pets?
Many people consider mice to make great pets. Mice are responsive and smart creatures who make surprisingly good companions. After a while, they will begin to recognize their owner and become excited to see them when they return home from work or school. Though small, they sometimes enjoy cuddling. Another surprising fact is that mice do not like to be dirty. Rodents are often thought of as dirty creatures, but mice do not enjoy it when their habitat is filthy. They like to groom themselves and those they care about. Since they do not make a lot of noise or take up too much space, mice also make great pets for those in small living spaces, such as an apartment.
How Much Room Does A Mouse Need?
A mouse's cage should be about one cubic foot of space. This crate will be a good size for up to two mice and should allow for plenty of room for exercise. It is important to note that if you do plan to get more than one mouse, make sure to get two females to avoid too much fighting or any reproduction.
Is It Expensive To Raise Mice?
Mice are not expensive pets to raise. The main cost you can expect when you decide to raise mice is the initial cost of a crate. Since they reproduce often, mice tend to be inexpensive to purchase. After paying for the mouse and the crate, the only other costs will be food and any accessories like toys. Compared to the cost of larger animals these little creatures make fairly inexpensive pets.
Do Mice Learn Their Names?
Yes, your pet mouse is likely to learn its name fairly quickly. Mice are known for being smart, and often learn their name and respond to it.
Can A Mouse Kill A Dog?
The most probable way a mouse could kill a dog is through infection via a bite. Otherwise, it is highly unlikely that your mouse will injure or kill your dog except for the occasional scratch if the mouse feels threatened by the dog.
Can Mice Become Emotionally Bonded With Humans Like Dogs?
Your pet mouse can become one of your best friends just like fido! Just like introducing your dog to the mouse, experts recommend that you allow your mouse to get used to your scent. Give them something that smells like you, like an old sock. If you do give them a sock, make sure to cut the toes off of it so they can't curl up and hide inside of it. This will allow your mouse to associate your scent with warmth and comfort.
Why Is My Dog Petrified Of The Mouse's Teeth?
In the mind of a dog, showing teeth is a sign of aggression. Seeing your mouse's teeth may cause your dog to feel uneasy. The dog may also be scared if the mouse has previously bitten him.
References
Aaron, Mark. "Can Dogs Get Sick from Mice Poop? (Droppings & Disease Transmission)." Doggysaurus. https://doggysaurus.com/can-dogs-get-sick-from-mice-poop-disease/
"Are Mice Afraid of Dogs?" Terminix. https://www.terminix.com/blog/education/are-mice-afraid-of-dogs/
Brister, Jacqueline. "Introducing your Dog to Other Animals." Veterinary Partner, August 14, 2018. https://veterinarypartner.vin.com/default.aspx?pid=19239&id=8677941
"Can You Scare Mice Away With Noise? Mice Hacks." Rodent Guides, November 12, 2019. https://rodentguide.com/scare-mice-away-with-noise/
Dimitrije. "Do Dogs Eat Mice and What Is The Worst Case Scenario If They Did?" TruePetStory, December 6, 2020. https://www.truepetstory.com/dogs/do-dogs-eat-mice/
Dowd, Bill. "Do Dogs Attract Mice or Keep them Away?" Skedaddle Humane Wildlife Control, September 16, 2019. https://www.skedaddlewildlife.com/blog/do-dogs-attract-mice-keep-them-away/
Ellis, Ralph. "Dogs Get Jealous, Too, Even for Hidden Rivals." Fetch by WebMD, April 16, 2021. https://pets.webmd.com/news/20210416/dogs-get-jealous-too-even-for-hidden-rivals
Farricelli, Adrienne. "How to Stop Your Dog From Chasing or Attacking Other Animals." PetHelpful, March 11, 2021. https://pethelpful.com/dogs/How-to-strop-a-Dog-From-Attacking-Birds-Cats-Chicken-Squirrels-and-All-the-Like
Hess, Laurie. "7 Reasons Why Rats and Mice Make Great Pets." PetMD, November 25, 2016.
https://www.petmd.com/exotic/slideshows/7-reasons-why-rats-and-mice-make-great-pets#slide-1
"Hidden Lives of Rats and Mice." PETA. https://www.peta.org/features/hidden-lives-rats-mice/
"How to Bond With Your Pet Mouse and Get It to Like You." PetHelpful, March 14, 2021. https://pethelpful.com/rodents/scaredymouse
"Keeping Pet Mice" Vet Voice. https://www.vetvoice.com.au/ec/pet-ownership/keeping-pet-mice/
Phil. "How Expensive Are Pet Mice." PetMiceBlog, February 24, 2016. https://petmiceblog.co.uk/how-expensive-are-pet-mice/
Santos, Sara. "What Do I Do If My Dog Ate A Mouse? (Dead or Alive)." Dog Advisory Council, June 30, 2021. https://dogadvisorycouncil.com/my-dog-ate-a-mouse/
Yetman, Daniel. "What to Do If You're Bitten by a Moue." healthline, September 18. 2020. https://www.healthline.com/health/bit-by-a-mouse