Everyone knows that most dogs are highly sociable. They're often happiest in the company of beloved things and people, especially when they have something interesting or stimulating to do. And because it's in their nature to love companionship, being left alone for extended periods can be stressful for many dogs. Some dogs, for instance, will bark incessantly to get attention. Others may even grow so anxious that they destroy furniture and household items in an attempt to get out of the house.
If you're one of a privileged few who have the opportunity to take your canine companion to work with you, or if your current job allows you to work from home, count yourself lucky. However, if your lifestyle necessitates having to leave your dog alone for several hours each day, you'll need to make some extra effort to keep them calm, comfortable, and in good spirits while you're away. Read on for some useful tips and tricks to help your dog adjust well to being alone at home.
Pet-proof Your Home
Naturally, your dog's safety should be the first thing you prioritize when you're preparing to leave them at home alone for a while. For starters, it helps to be mindful of the accessories your dog wears. Their harnesses, collars, or leashes might pose a choking hazard if these items catch on the exposed corners of low furniture, table and chair legs, and the like. Minimize this risk by moving your dog to a relatively clear room or blocked-off part of the house while you're away.
By the same token, be sure to put away any exposed electrical cords, toxic chemicals like bleach and other cleaning agents, and other potentially dangerous objects your dog may attempt to chew or ingest.
Depending on your pet's age, size, and temperament, it may be a viable option to keep them crated while you're away. Though the idea of "caging" a dog can be uncomfortable for many pet owners, being confined in an adequately sized crate can help certain dogs relax. Leaving a few of their favorite toys in the crate can also help them entertain themselves while alone. If your dog is the type to grow more agitated in confined spaces, however, it's perfectly acceptable to give the crate a miss.
Develop a Routine
It's easier for dogs to relax if their days are somewhat predictable, so do your best to observe a set daily routine around the time you leave the house. Here's an example of a routine you can try:
First, you can start the day by having breakfast together. Then, you can take your dog for a short walk using one of their favorite personalized martingale dog collars or harnesses and a leash. Once you're done, you can put your pup in their kennel, crate, or room for the day. Giving your dog a treat before you leave might also sweeten the experience of having to see you off.
Help Your Pet Get Used to Being Alone
If you've just adopted a new dog or puppy, it may be a good idea to get them used to being on their own gradually. Designate a safe space for them to stay in while you're out, and make sure that space is both clear of hazards and filled with things your dog needs to stay comfortable. Some of these essentials can include your dog's bed, their favorite toys, and adequate food and water.
Once you've prepared your dog's space, try leaving them alone in it for just a few minutes at a time. If these initial test runs work out well, you can slowly train your dog to be alone for longer and longer periods over the next few days.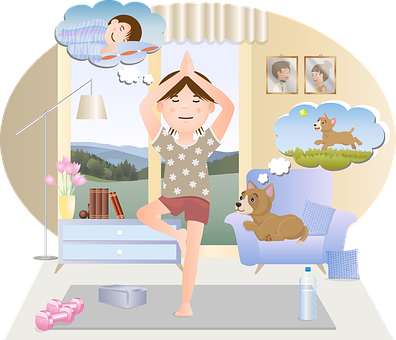 Diffuse Their Extra Energy with Exercise
Your dog will have a much harder time staying quiet and relaxed while you're gone if they're carrying pent-up energy from lack of exercise. They may even find unhealthy and disruptive ways to release this energy, such as running around your house, knocking things over, or chewing your furniture.
So, find ways to help your dog dispel this excess energy before you leave the house, such as by taking them on a walk, letting them run around in your yard, or playing with them for a few minutes.
High-energy breeds like shepherds and border collies may require even more exercise than other dog breeds. If you own one of these, you may have to consider walking your dog for an hour or so each morning and again when you come home from work. Busy pet parents can also consider calling on a dog-walker for help meeting their pet's exercise needs, if necessary.
Keep Calm and Leave Quietly
Dogs are well-attuned to humans' emotions, which means your dog is likely to pick up on any anxiety or sadness you might feel about having to leave them at home alone. Thus, you need to stay calm and try to think positive thoughts as you depart.
In some cases, it might even help to ignore your dog completely for a few minutes before making your exit. Making a big deal out of coming and going, such as by saying too many extended goodbyes to your dog, may just stir them up when they should be settling in. Try leaving them quietly instead, and you may find they don't even notice your absence at first.
Leaving your precious pup at home alone can be a difficult experience for both them and you, but it doesn't have to be. Creating relaxing routines and a safe, stress-free environment for your pet will do a lot to keep them comfy and happy in your absence.