Is Lanolin a safe and effective treatment for dogs?
While many use it, it's important to get all the facts before making the decision to use Lanolin.
Is Lanolin Safe For Dogs?
Lanolin is a safe way to help soothe dry and irritated skin for dogs and really most other pets. While applying on the skin in small quantities is fine, just be mindful to not let them lick up too much of it. If a dog licks/eats a large amount then it will have diarrhea. Licked off the mom's nipples it's Safe for nursing puppies, but the taste may put them off!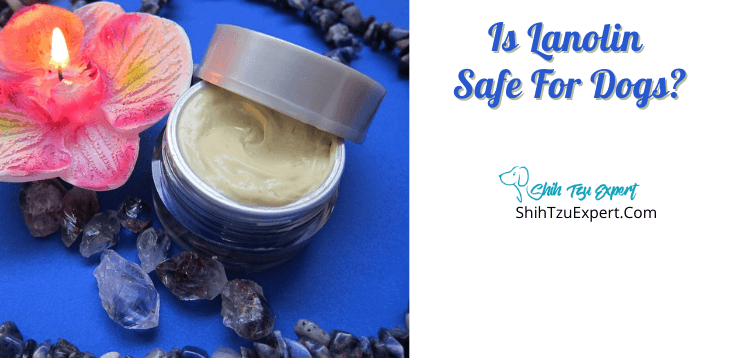 Is Lanolin Cream Safe To Be Put On My Dog's Skin?
Lanolin itself is completely safe for a dog's skin, it is actually even used in a lot of human beauty products. It is in everything from diaper rash cream to high-end moisturizers.
however, if the dog ingests or licks off enough of it, it can cause a few minor issues. Be sure to use it sparingly for this reason.
Can You Use Lanolin On Dogs?
Lanolin is not an approved medication for dogs but can be used in small amounts on the skin in order to help soothe irritation.
Really, Lanolin is just a natural wax so it should be safe for most animals, although, for a fair chunk of them it probably is not all that effective.
This excludes amphibians though. whom it is not safe for. They soak in whatever touches them through their skin and while good on the skin lanolin should not enter the bloodstream.
Can You Use Lanolin On Dogs Paws?
Having dirty paws or walking across hot sand or pavement can cause the skin on a dog's paws to dry up, crack or even blister.
Lanolin is quite moisturizing and will definitely help ease any pain caused by dry, cracked or burned skin on your dog's paws.
Try not to let them run around too much on smooth surfaces if they have lanolin on their paws though, as it could cause them to slip and end up hurting themselves even more.
Is Lanolin Good For Dog Skin?
Lanolin is good at rehydrating areas of skin that are sore and dry, applying any cream should only be done when necessary though.
So, I wouldn't recommend applying Lanolin unless there is an irritated or dry area it can heal, otherwise, it would be a waste of product and could clog up your dog's skin with excess oils.
I also wouldn't recommend using lanolin if your dog has dry skin all over, for one thing, you'd end up with a very slippery and greasy dog!
Instead try something like an oatmeal-based shampoo and possibly some dietary supplements to help gently rehydrate the skin, while also keeping your pup healthy and squeaky-clean.
Can I Use Lanolin On My Dogs Nose?
A dog's nose can often become dry or cracked from extreme weather, being rubbed against something abrasive like concrete, tree bark, gravel or even just from them licking it too often.
This can be eased with lanolin as it will rehydrate and soothe the area while also providing some protection for the delicate skin there, keeping it from getting infected or even more sore.
Lanolin On My Girl's Sore Teats After Nursing?
This should be fine for the puppy's health, however, the taste may discourage young pups from feeding. Be sure to check with your vet before using anything on a nursing dog.
If you do put lanolin on a nursing dog's teats, be sure to watch for the first few times that they nurse after to be sure everyone is being properly fed and no pup ends up going hungry.
If the taste does end up putting your puppies off their meal, there are other things you can do to help ease the pain of swollen and sore nipples for your nursing dog.
You can apply a warm compress for 10-15 minutes to help with the pain and swelling and put on a soft dog t-shirt or sweater in between feedings to protect the nipples from further irritation.
If your dog has sore nipples and seems to be sick or lethargic this could also mean that your dog's nipples are infected, if you think this could be the case please take them to the vet.
Is Lanolin Safe For Nursing Puppies?
Lanolin isn't toxic but doesn't always taste the best, which may result in puppies not nursing as well as they should or being put off from eating altogether.
Always check with your local vet tech before using creams, oils, or ointments on a dog that is nursing, just in case it ends up affecting mom or the pups.
Lanolin For My Dog's Sore Bum After Diahorrea?
It may feel better for your dog when it is going onto the affected area however, Lanolin will not help to properly heal an inflamed, sore bum after diarrhoea.
Instead, you should try an anti-inflammatory topical cream for dogs, this will help reduce the inflammation and ease the discomfort for them, this can be recommended to you by your vet.
If you're looking for a more natural option to help soothe your dogs sore bum you can try soaking oats in a sock with warm water in the tub for a few minutes (around 10-15 should do)
Then allow your dog to soak in the oat-water (make sure they are sitting down in the water) for another 10-15 minutes. This should help ease irritation, itchiness, and pain from diarrhoea.
Is Liquid Lanolin Safe For Dogs?
Yes, while not approved for any medicative use by vets, it is safe for dogs. Be sure to use it in small amounts though, in case they end up licking it off Just enough to lightly cover the area.
If they do end up licking it off it isn't the end of the world, you're just going to have to keep an eye on them as they will probably have an upset tummy and some runny poops for a bit.
So it is best to avoid ingestion of lanolin if it is at all possible.
Is Lanolin Safe For Dogs To Eat?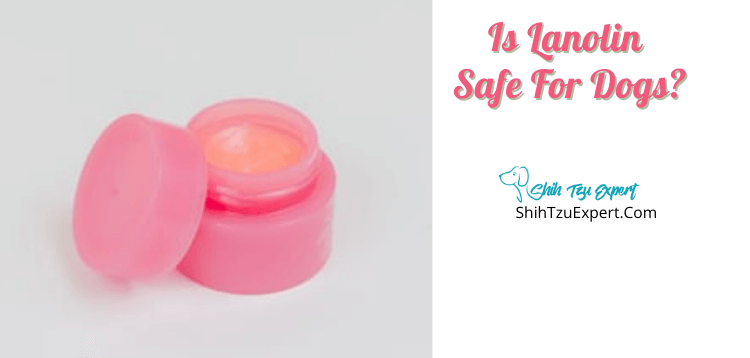 While it isn't necessarily unsafe to eat, in large amounts consuming Lanolin can cause diarrhoea and some stomach issues, which while not usually life-threatening is better avoided.
Dogs are very resilient when it comes to what they eat, even if they do consume a lot of lanolin as long as you keep an eye on them they should be completely fine in no time.
My Dog Ate Lanolin Balm, What Should I Do Now?
First of all, don't panic! Your dog will be fine. If the dog just ate the balm you should just prepare for some diarrhoea, stomach issues and make sure your dog stays hydrated.
What you should be more worried about is if they have eaten the packaging. If your dog has eaten large parts of the plastic packaging, they should be taken to the vet immediately.
Usually, dogs can pass most things without issue, even plastic but they should be taken to the vet in case something were to get stuck and they needed help. It is always a possibility.
What Is Lanolin?
Lanolin is a wax that is produced in the wool coats of sheep.
They secrete this fatty wax through sebaceous glands that are in their skin to keep their wool healthy and hydrated. For this fatty texture, lanolin is also known as wool wax or wool grease.
The Lanolin we use comes from domestic sheep that are bred just for their wool, so with good manufacturers, no harm comes to the sheep while gathering the Lanolin and it is cruelty-free.
Lanolin Vs. Bag Balm
To know whether lanolin or Bag Balm is better you first have to know exactly what both are and what uses they have.
Bag balm is a salve, invented in 1899 made of a mild antiseptic in a petroleum and lanolin base, whereas lanolin… is just lanolin.
Both can be used for dry skin on most animals but having the antiseptic may make bag balm a slight bit better than straight lanolin as it can keep any cuts or sores clean.
Lanolin may be the better choice for you though if you don't want to put petroleum or any unnatural oils on your animals. It really just comes down to personal preference.
Is Bag Balm Safe For Dogs To Lick?
Bag Balm is not toxic to dogs so they should be okay if they only end up ingesting a small amount of it.
Bag Balm is a bit like edible glitter to dog's, it's not going to cause much harm if they have a little bit, but it is better for their health not to eat it overall.
However, eating a large amount of Bag Balm can cause a dog to have things like an upset stomach, diarrhoea and some very greasy poos, so be sure you keep the tub out of reach.
References:
https://www.wikihow.com/Treat-Mother-Dogs-with-Sore-or-Infected-Nipples
https://usatoday30.usatoday.com/news/nation/2010-01-31-bagbalm_N.htm