If your dog ran away and has not been home for a week or more, the best thing to do is to not give up hope. Dogs are resilient creatures and have been known to make their way home after prolonged periods of being away. Go through all of the steps and advice below to help your dog make it home safely. 
My Dog Has Been Missing for a Week What Should I Do? 
Your dog has been missing for a week then the first thing to remember is to not give up hope! Keep searching for your dog, utilize your community, and maintain a positive outlook. It can be harder with each passing day, but your dog is strong and capable.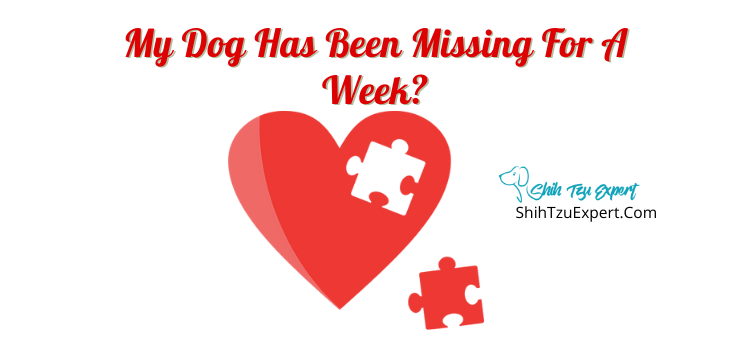 What Is the Best Way to Search for My Lost Dog?
The very best way to search for your lost dog is to ge the word out that they are lost. 
Let your neighbors know, put up lost dog posters, let the local animal shelters know, and get on social media. 
The more people that know to be on the lookout for your dog, the better the chances are of finding them. 
I Feel Really Bad About My Missing Dog, What Should I Do?
Owners will go through a variety of emotions when their dog runs away or goes missing. 
Seek comfort from your support group, whether that's your family, friends, or neighbors. 
And keep looking for them. At some point, life will have to resume, but always keep a look out for your dog because you never know where they might show up. 
How To Find My Lost Dog (Step by Step) Who Has Been Missing For 24 Hours?
Search the area around where they left – your home, the park, etc. 

Make sure you have their leash and some treats or a toy handy. 

Let your neighbors know they are missing and enlist help in your search. 

Let local shelters know. 

Post on social media to increase awareness. 
How To Find My Lost Dog (Step by Step) Who Has Been Missing For 1,2,3 Weeks?
Call around to local shelters to see if your dog has been found and placed there. 

Put up lost dog posters with a photo of your dog and the best way to contact you with information about your dog. 

Don't give up – keep looking whenever you can. Call your dog, shake their treats, or squeak their favorite toy when you're looking for them. 
How To Find My Lost Dog (Step by Step) Who Has Been Missing For 1 Month?
First of all, don't give up. Dogs have been known to come home after a very long time away. 

Refresh your lost pet posters. Make sure you are putting them in places that people might be looking for dogs – the park, near pet food stores or vet offices, and all around your neighborhood. Put some of the posters at a child's eye level as children are much more observant than adults, especially when it comes to anything furry. 

Keep checking in with local shelters and vet's offices – you never know when someone might drop off a lost dog. 
Dog Traumatized After Getting Lost What Should I Do?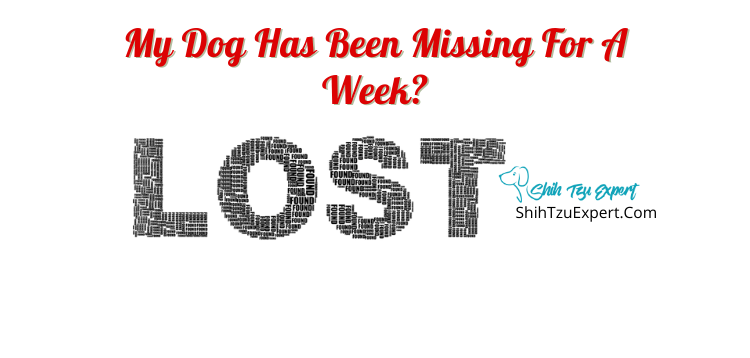 If your dog was lost for a long time and they made their way back to you, you have to understand that they may not be the same dog that left. 
Your lost dog would have had to rely on its primal instincts while wandering around your town. It would have had to hunt for food, find shelter and water, and avoid things like cars and other dangerous things. 
So it's normal that they would be more skittish and less trusting when they come back. 
Give them time. Be patient with them. Don't expect them to be the free-loving cuddle bug that they were before. Give them their space and make sure that you are a constant, calming presence until they warm back up to you and get comfortable in your home again. 
How Long Can a Lost Dog Survive?
Dogs are not completely helpless – even the teeny tiny ones – so the chances of your dog surviving in the world by themselves are actually pretty good. 
How long they will be able to survive away from home depends on the dog and their ability to find food, shelter, and water. They also will need to avoid roadways and getting hit by cars. 
Their survival can also depend on the area that you live in. If you live in a place that has a lot of other, larger predators, then your dog most likely will fall victim to them. Animals like mountain lions or coyotes will make short work of your domesticated dog. 
Dog Missing 24 Hours?
If your dog has been missing for twenty-four hours there is still not much reason to panic. 
Don't give up hope!
Many dogs have been known to galavant around town for a few days and then return home like nothing happened. 
Chances of Finding Lost Dog After 24 Hours?
The chances of finding your dog, even with no effort on your part, are fairly high. 
According to a study, the chances of finding your dog after twenty-four hours is around 55%, which is still very high. And that's without putting in an effort to find them. 
About 90% of dogs are found and returned to their owners within twelve hours of disappearing. 
My Dog Went Missing For 3 Days?
Some dogs are just explorers. They want to experience the world outside of their fence line. 
Many people who have curious dogs will see that their dogs might run away for a few days at a time and then come home like nothing happened. 
Dog Behavior After Being Lost
The way that your dog behaves after being lost really depends on the personality of your dog. 
Some dogs will be perfectly fine. Other dogs may be scared and skittish. 
Watch your dog carefully. You'll be able to tell if their behavior is different than normal. 
If you notice that your dog is more aggressive, territorial, scared, or skittish than normal, be patient with them. You don't know what they went through while they were gone. 
Give them space, but show them that you are there for them by being consistent in your attention and positive attention. 
How Long Can a Dog Be Missing For?
Many dogs end up making their way home sooner than later, usually by the end of the day. 
Some dogs might be away for a few days. 
There have been stories of dogs that disappeared for months and managed to find their way home after all that time.
However, the more effort you put into finding your dog, the quicker they will come home. 
What Are the Odds of Finding Your Lost Dog (After 1 Day, 1 Week, 1 Month…)?
The majority of dogs are returned to their owners within twelve hours. 
After twelve hours, the chances of finding your lost dog go down very slowly. 
If you are putting in lots of effort, mobilizing your community, and putting up posters and posting on social media, odds are that you will have your dog home within a day or two. 
The longer time goes on the less likely your dog is to be found unless you keep up a vigilant effort to find them. 
Can Dogs Find Their Way Home If Lost?
Dogs are pretty incredible creatures. 
They have an amazing sense of smell and use this sense to tell where they've been. Which is how many dogs are able to find their own way home if lost. 
Unless your dog manages to wander exceedingly far away from home, they will likely be able to make their own way home without assistance. 
They know that home is where they are loved, have food and shelter, and a family. 
Do Lost Dogs Usually Get Found?
Yes! Lost dogs usually return home themselves or are found by their owners or someone else. 
People are generally pretty great when it comes to returning lost dogs. 
Making sure that your dog has a collar and a nametag with your phone number on it will greatly increase the chance of someone being able to find and return your dog if they run away. 
Where Do Dogs Hide When Lost?
Dogs have amazing instincts as they are all descended from wolves. Yes, even your toy poodle named Sprinkles is a descendent of the wolf. 
When your dog gets lost they are going to follow their instincts. 
This means they will most likely travel by night (if they are gone for more than a day), and seek shelter in dark and confined spaces. 
They will want to protect themselves and hide in places that they are not likely to be seen by the naked eye. 
Do Lost Dogs Come Back?
Most dogs that are lost or have run away will come home. 
They usually come home or are returned in the first day, but even if they aren't returned on the first day they will most likely be home in the few days after. 
How Can I Locate My Dog?
One of the best ways to locate a lost dog is to take preemptive measures and put a GPS tracker on their collar. 
But if you haven't done that, then before you panic because your dog is gone stop and think. 
Are there places that you know that your dog loves to go to? A favorite park, creek, neighbor's house? 
Check these places first. Make sure you have their leash and either treats or their favorite toy. Chances are they will be in one of these places. 
Why Would a Dog Run Away?
There are a few reasons your dog might run away. 
If they are scared, if they are nervous, or maybe they simply like to explore. 
When your dog gets scared their first instinct will be to bolt to a safe hiding place. If you are not around or if you don't have a strong hold on their leash, then it's very likely when that instinct hits, they will get away from you. 
Other dogs simply have that wanderlust gene. The world is a big place and there are so many smells and things to taste and they just want to explore it! These are usually the dogs that will be gone for a few hours and then find their own way home. 
How Do You Find a Lost Dog In 24 Hours?
If you put in any sort of effort then there's a very high chance that you will be able to find your dog within twenty-four hours. 
Mobilize your community. 
One of the best things you can do to get your dog home within a day is to utilize your neighbors, any community forums, and social media. This increases the number of people that are looking for your dog, which increases the chances of finding them faster. 
How To Plan and Search for a Lost Dog [How to Increase the Chances of Finding It]?
The best way to make a search plan is to stop and think. 
Where are the places your dog likes to go? Which direction did it run in? Will it come back when called? Will it run away from other people when it sees them? 
All of this is good information that you can give to your neighbors when you enlist their help in searching for your dog. 
Getting more eyes looking around for your dog is the best way to increase the chances of finding it. 
How To Find Via Microchip?
Most animals these days are microchipped. 
However, this might not be necessarily helpful in locating missing pets because most microships are not GPS enabled. 
The microchip will be useful if somebody find your dog and takes them to a shelter. The shelter would be able to scan the chip and see who owns the dog and contact you to come pick up your dog. 
How To Find a Lost Dog at Night?
Dogs are much more likely to move around at night if they are trying to find their way home. 
Make sure you are taking safety precautions for yourself if you are wandering around looking for your dog at night. 
Reflective clothing, a flashlight, and a whistle are all necessary tools if you are going to look for your dog at night. 
Also make sure that you brought your dog's leash, their treats, and their favorite toy to get them to come to you. 
How To Find a Lost Dog with a GPS Tracker?
One of the best things to have on your dog's collar is a GPS tracker. 
That way, if your dog gets lost or runs away, you can find them much easier!
Most GPS trackers will connect to an app on your phone, so you'll be able to pull up the app and see on a map exactly where your dog is, making finding them a breeze. 
You can also let your neighbors know where your dog is to help them grab your dog while you make your way to their location. 
Dog Theft Scams
It's awful, but some people will take your dog and wait until you post a reward and then "find" your dog to get the reward money. 
How To Ensure That My Dog Is Never Lost Again?
The only way to really make sure that your dog never gets lost again is to either keep them inside 24/7 or to put a GPS tracker on their collar. 
Why Does My Dog Keep Running Away?
Your dog could not like something in their home environment, and that could be causing them to want to run away. 
Make sure your dog is comfortable and being treated well by everyone in the home. 
How To Stop Dog Running Away?
If your dog is an escape artist (and some breeds really are), then fortifying your fence line is one of the best things to do. 
Keep an eye on your dog whenever they are outside to make sure they don't run away. 
Keep a grip on their leash on walks. 
What Should I Do If I Find a Lost Dog?
The first thing to do is to check their collar for a nametag that might have the owner's phone numer on it. 
If their nametag has their owner's number, call them to let htem know you have their dog and arrange a way to return to the dog to them. 
If they do not have their owner's contact information, then take them to a local shelter. The shelter will be able to scan for a microchip and then contact the owner. 
How Does a Lost Dog Behave?
When a dog is lost they will behave based purely on instinct. 
They may be defensive, aggressive, and scared. Always approach a lost dog with caution. 
Some dogs, however, will be very happy to see a friendly human and might run right up to you.  
Are Small Dogs Harder to Find Than Medium or Large Dogs?
The ability to find a lost dog depends less on their size and more on the personality of the dog. 
If you have a friendly small dog, then the chances are they will find another human and make friends with them. 
My Dog Ran Away and Never Came Back 🙁
It is very sad, but it does happen. 
Some dogs do run away and they never return home.
It can be one of the hardest things for a pet owner, when their pet disappears and doesn't come back, but it can happen. 
References
https://www.familyhandyman.com/article/what-to-do-if-your-dog-runs-away/
https://www.foundanimals.org/3-steps-to-prevent-your-dog-from-running-away/
https://www.aspca.org/pet-care/general-pet-care/finding-lost-pet