Owning a dog that constantly and obsessively bites at its genital area can be alarming, confusing, and embarrassing. However, as pet owners, we all know nothing is embarrassing about nature.
It is important to keep the health of your pets at the forefront of your mind, so read below to find out everything you need to know about genital biting and when to be concerned.
My Dog Keeps Biting His Groin?
Biting can be due to a range of reasons, like Allergies, Boredom, Anxiety, Dry skin, Hormonal Imbalance, Pain, Parasites, Mat Hair, Infection, etc. If they are biting their genitals persistently, check the area to look for rashes, sores, or other indicators of the issue. Always keep a close eye on your dog's habits, particularly when it comes to biting themselves. Always double-check with your vet before trying a remedy at home and keep on taking care of your furry friends!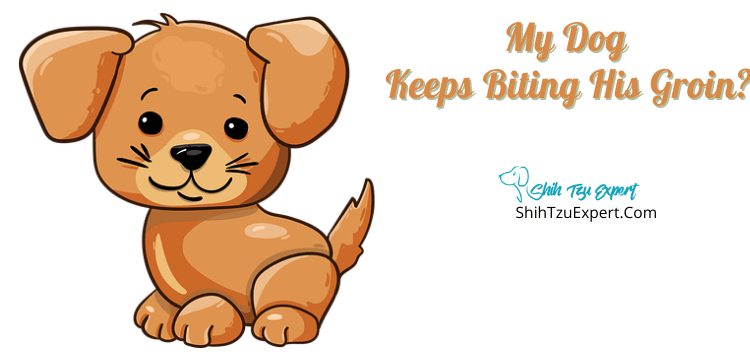 Why Is My Dog Biting His Private Area?
There can be many different reasons your dog constantly bites at its genital area. These reasons can range from very minor to very severe, so always keep a close eye on your pets to know what they are up to and how they are feeling. If you allow your dog to continue this behavior, they could irritate the problem and make it much worse.
Here are some reasons your dog may be biting their private area:
Allergies: Your dog may be allergic to something either in their environment or in their diet. Be aware of when the biting occurs. Does it occur after eating? Does it occur after playing outside in the grass? If the biting has been going on for a while, it may be harder to tell if it is due to allergies. However, if the biting has just begun, trace your steps and think about whether your dog switched to a new food or treats. Maybe you walked on a new trail where your dog was exposed to a new type of plant. Allergies can be easily treated with medication or by staying away from allergens that cause itchiness.
Boredom or Anxiety: Boredom and anxiety can both lead to repetitive behavior, such as licking or biting. The same goes for fear, stress, and any stimuli your dog is not used to. Compulsive behavior can happen in response to anxiety, fear, or boredom in a similar way that obsessive-compulsive disorder can manifest in humans. It is a physical response to psychological stimuli.
Dry skin: Your dog may simply have dry skin. As we know, dry skin can be extremely itchy and uncomfortable. For dogs, biting is the best way to itch a scratch. However, consistent biting can cause more damage to the skin so you want to make sure your dog's skin, particularly the more sensitive areas like the genitals, is moisturized. Dehydration can also be a factor in your dog's dry skin. Give them plenty of water available for whenever they feel thirsty.
Hormonal Imbalance: There is always the possibility that your dog's body is not functioning at its full capacity. If your dog has thyroid issues and does not produce the correct amounts of hormones they need, this can cause skin irritation. The skin irritation is likely to lead to biting or licking. When a hormone imbalance is the case, make sure you contact your vet.
Pain: Biting is most commonly in response to any kind of uncomfortableness. Pain is extremely uncomfortable and may be the root of your dog's excessive biting. They may have a sore they are trying to soothe or they could have something sharp sticking them, making them uncomfortable. Check the area to be sure your dog is not in pain.
Parasites: Fleas, ticks, mites, and other parasites are also very common and will most likely cause your dog to bite themself. An infestation of mites can be difficult to spot and may look like a simple rash. If you spot any rashes, be sure to see a vet. Fleas can be easier or harder to spot depending on the size and color of your dog. Ticks are the easiest to spot and can be treated quickly at home. However, always bring your dog to the vet after removing a tick to see if they caught any illnesses.
Mat Hair: It is possible that your dog is simply trying to remove an uncomfortable hair mat around their genital area. Cut out the matted hair and keep your dog's fur clean to stop this from occurring again.
Infection: Your dog may have a skin infection or a number of other kinds of infections that cause itchy and irritated skin around the genitals. A common infection that causes excessive biting is a yeast infection. A starchy diet can increase the amount of yeast in the gut, allowing the good bacteria to be overtaken by yeast. Hot and humid environments may exacerbate the growth of yeast around the genitals.
This is not an exhaustive list of all the reasons your dog may be biting his genital area. We will cover a few more reasons below.
Why Does My Dog Keep Biting His Balls?
If your dog specifically bites at his testicles, this could be a sign there is something more going on with them. You should always have your dog checked out by the veterinarian if you notice any behavior that can lead to self-harm.
A dog that bites at his testicles could have something very wrong with their testicles that is either extremely uncomfortable or extremely painful. Inflammation of the outside of the scrotum may be due to allergies or any other irritant that will cause them to be itchy. However, inflammation of the testicles, the tissue inside the scrotum, could be a sign that something more extreme is going on. Call your veterinarian to get to the bottom of this.
An infection could be occurring on the outside of the scrotum or within the tissue of the testicles. Either way, it can be very painful for your dog and you definitely need to get them checked out right away.
Male dogs can suffer from a condition known as testicular torsion. This is when the testicles rotate and move around inside of the scrotum and can cause tons of pain and irritation. If you believe your dog may be suffering from this, visit your vet as soon as possible. They may indicate that the best course of action is to remove the testicles alltogether.
Why Does My Dog Keep Licking His Balls?
Licking is, in fact, a normal part of the grooming process for most animals. This is no different for dogs and is completely natural. It is quite common for dogs to lick their genital area after urinating in order to keep themselves clean. Contrary to popular belief, most animals, including dogs, like to be clean!
However, licking for the purpose of grooming should not persist for longer than a few licks here and there. If the licking becomes compulsive, another issue is at hand.
Just like biting, persistent licking can be a manifestation of psychological or physical stimuli that is making your dog uncomfortable. As mentioned previously, constant and excessive licking can be in response to fear, stress, anxiety, or boredom.
Persistent licking may also indicate a sore or infection that is too painful for your dog to bite. Instead, they lick to soothe the wound. Check the area to see if you notice any swelling, inflammation, or redness.
Why Is My Male Dogs Private Area Swollen?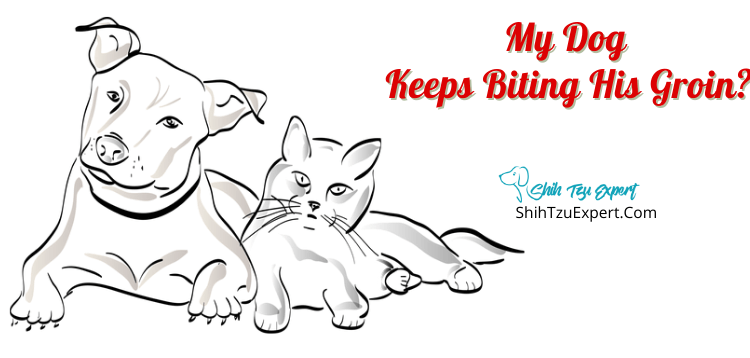 If your dog's genital area is swollen, this could be a physical reaction to many things. It could be the biting that is causing the swelling to occur. Or, your dog's biting could be in response to the swelling and inflammation, itself, that is caused by a larger issue (infection, parasites, etc.)
Let's say you notice your dog biting at their genital area. If you check and do not see any indication of sores, a rash, parasites, or anything else and only notice swelling, this could be because your dog is responding to psychological stimuli by obsessively biting its genitals. These stimuli may be fear, anxiety, stress, or boredom which can all be effectively treated without medical intervention.
However, if you notice swelling along with other symptoms, such as a rash or sores, this may indicate that something else is going on. Maybe your dog is suffering from a yeast infection or a urinary tract infection. Potentially, your dog is struggling with a mite infestation. Whatever it may be, be sure to contact your veterinarian.
Dog Biting Groin Rash?
If you notice your dog biting their groin, check the area to look for signs of a rash. If you see a rash of any size or severity, intervene with your dog's biting immediately. You do not want them to exacerbate the rash or spread any potential bacteria to other parts of their body.
A rash may be a sign that your dog is suffering from:
Allergies
Parasites (mites, ticks, fleas)
Clipper Rash
Infection
Dry Skin
Contact Dermatitis
Other Internal Issues (hormone imbalance; kidney infection; UTI)
Here are some tips to quickly relieve the rash:
Gently clean and disinfect the area with a sensitive soap (use baby soap or soap made specifically for dogs with sensitive skin).
Thoroughly wash the area with an oatmeal wash to relieve some of the irritation.
Pat dry.
Cover with a light layer of ointment or cream meant to calm skin irritation (look for a baby ointment or cream made specifically for dogs).
Look into getting a cone to stop your dog from biting the area.
If you do find a rash, always contact your veterinarian to get their opinion. You may need to schedule a visit if the rash is severe and will not go away.
My Dog Keeps Biting His Private Area After Grooming?
It is common for dogs to lick and lightly gnaw at themselves after being groomed, particularly if a haircut was involved. Dogs want to look good just as humans do, and they have their own natural grooming process.
If the licking and gnawing become excessive around the private area, this could indicate the hair was cut too short and your dog is simply not used to the feeling. Oftentimes, if your dog is not used to it, the feeling of a breeze on their normally fully covered genitals can be uncomfortable and confusing.
However, if you notice a rash around the freshly groomed genital area, this is probably a case of clipper burn, also known as clipper rash. If a dog's hair is cut too short, they can develop an uncomfortable and itchy rash that will cause them to focus on that area. Clipper rash can be easily treated with a cream or ointment. There are plenty of creams and ointments made specifically for dogs and even some made specifically for dogs with clipper rash.
If your dog has sensitive skin, you or your groomer will need to be more gentle upon the next grooming so that your dog does not develop clipper rash again.
Puppy Biting His Privates?
It is not uncommon for puppies to bite or lick their genital areas as they are still becoming accustomed to both their environment as well as their own bodies. However, it is important to keep an eye on the frequency and the severity of your puppy's biting.
Unlike many adult dogs, your puppy is almost definitely unneutered. Neutered dogs do not have to worry about balanoposthitis, an infection that causes inflammation of the penile sheath being that the process of neutering drastically decreases the chances of getting this infection. However, puppies and any adult unneutered dogs have a much higher chance of suffering from balanoposthitis.
If you believe your puppy is dealing with this type of infection, call your vet immediately and they will provide you with your next steps. This will normally involve an oral antibiotic that will kill the bacteria causing the infection.
For instant relief, try rinsing the affected area in a salt solution and pat dry.
Dog Biting Paws And Privates?
If you notice that your dog bites both their paws and their genital area, there could be a few things happening to cause this.
Boredom, Anxiety, Fear, or Stress
Like humans, dogs can suffer from psychological issues that manifest in physical ways. Think of your dog's need to bite themselves in the same way a human suffering from OCD may need to compulsively turn the light switch on and off or a human suffering from anxiety feels the need to bite their fingernails.
Psychological issues can be dealt with in many ways, including medication and behavior therapy.
Parasites
If your dog is biting at their genitals and paws, this may indicate they are suffering from parasites such as ticks, fleas, or mites. Mites are the most difficult to spot as they are microscopic and their presence is usually only determined by rashes.
Parasites can be treated with various products made specifically to do so. Once you have removed the parasites from your dog, be sure you clean every space your dog has spent time in to ensure they are not reinfected. Similarly, begin treating your dog regularly with preventative measures to stop them from being infected again.
Natural Ways To Stop My Dog Biting His Groin?
If your dog is suffering from any of the ailments below, be sure to check with your vet that something more serious is not at play. Similarly, before trying any of the methods, get the go-ahead from your vet.
Allergies
If your dog suffers from environmental allergies, look for a natural remedy in place of medication. These may include Quercetin, Oat Baths, Aloe Vera, Apple Cider Vinegar, and Coconut Oil.
If your dog suffers from food allergies, try changing your dog's diet until they no longer have reactions.
If your dog is suffering from yeast or urinary tract infections, try giving them a probiotic to maintain a healthy gut
Use a natural product to wash the area, such as an oat bath.
1 part baking soda and 1 part water can be applied to the area to relieve the itchiness and inflammation
Make sure your dog receives plenty of exercise, care, love, and affection to prevent them from getting anxious or bored. If you are leaving for a period of time, make sure you leave toys behind for your dog to play with. Maybe throw on a dog tv show for them to watch when they get bored. You can get creative.
Prevent the behavior by not rewarding your dog when they act out on their compulsions. Do not cuddle and comfort your dog if they are biting themselves as this will reinforce their behavior and cause them to continue it. Instead, reward them when they go periods of time without biting.
Infections
Parasites
You can buy natural flea, tick, and mite killers for your dog
You can also make your own at home with apple cider vinegar and salt or draw up a lemon bath to kill the parasites.
Anxiety, Stress, Boredom, Fear
Why Is My Dog Gnawing At His Crotch When Getting Cozy?
You may have a high-energy dog that needs to soothe itself to calm down and get cozy. Like humans who suffer from anxiety and bite their nails to calm down, dogs have similar tendencies. It is like a coping mechanism.
If your dog needs to bite itself to be calmed down, this may indicate your dog is suffering from mild to severe anxiety and you should contact your vet. The best course of action may be medication.
When Should Dog Biting His Groin Considered A Problem?
While it can be normal for dogs to lick or bite their genital area for the purpose of irritation relief and grooming, there are many signs that something more serious is occurring.
Look for these signs to know if your dog's biting is a more serious problem:
Swollen/ red penis or anus
Pimples, pustules, red bumps on skin
Black or rust colored skin (discoloration of skin)
Difficulty urinating
More frequent urination
scooting/rubbing of anus on ground
foul odor
Discharge
Should I Stop My Dog From Licking & Biting His Private Area?
If you notice your dog licking and biting their private area repetitively or compulsively, this action should definitely be intervened with. If it goes unchecked, you could be missing something more severe that could lead to long-term health problems.
Some more serious causes of genital biting can include:
Anal Gland Impaction
Skin Infection; Yeast Infection; any type of Bacterial Infection
Severe Allergies
UTI or Kidney Infection
Bladder Stones
References
https://pets.webmd.com/dogs/guide/dogs-and-compulsive-scratching-licking-and-chewing#2
https://pets.webmd.com/dogs/guide/dogs-and-compulsive-scratching-licking-and-chewing#1