There are many serious reasons why an older dog may cry during or after eating. This article will break down a few of the different reasons along with their symptoms and treatments. Answers regarding age problems and diets will be included as well to help you keep your dog healthy.
Old Dog Crying After Eating?
There are many reasons why your old dog may be crying after eating. Dogs of all ages may encounter many problems that result in pain during or after eating. Keeping a healthy diet filled with the proper nutrients and maintaining a good hygiene schedule will help to keep your dog healthier as they age. If you notice that the crying persists for a while after they are done eating, it is important to talk with your vet as soon as possible in order to diagnose the issue. Adding soft bland foods that are high in fiber may help your pooch's pain if it is due to intestinal or stomach problems. Always monitor your dog's symptoms and try to make them as comfortable as possible when they are in pain.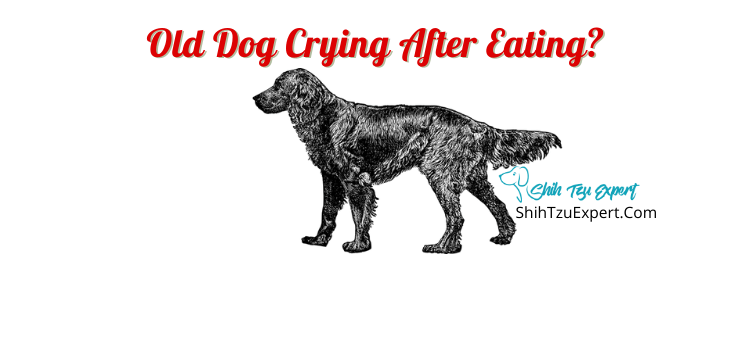 My Senior Dog Seems To Be In Pain After Eating (Groaning)?
There is a chance that your dog has problems with its teeth. As dogs begin to age, they run a high risk of getting dental diseases. The severity of this issue will rely on your dog's dental hygiene history.
Teeth that are old, damaged, and brittle will make it difficult for your pooch to chew. Weak jaws will also add to this problem and likely result in your pooch being in pain while eating. The pain will likely last for a little while after they are eating.
It is also possible that while your pooch was chewing, they got something lodged in their gums or throat. Carefully watch them to make sure they are alright and contact your veterinarian if you have any suspicions that something is wrong.
What Should I Do When My Dog Cries After Meals?
If your dog is crying after meals it is likely the sign of something severe going on with your pooch.
As with many other concerns, going to your vet should be the top priority when you notice your dog crying after meals. Your local veterinarian will be able to help you figure out what is going on with your furry friend.
Once you have identified the cause of the crying, your veterinarian will be able to give you other solutions to help comfort your dog.
What Causes Pain In Dogs After Eating?
There are many different reasons why your pooch could be in pain after eating. These reasons include:
Teeth problems
Infections
Intestinal Problems
Something lodged in their throat.
Dogs with dental diseases or broken teeth are likely to be in pain after they eat.
Another cause could be due to their intestines. One intestinal problem that can cause your pooch to cry after meals is called Gastric Dilatation-Volvulus (also known as "bloat"). Bloat causes your dog's stomach and intestines to flip and twist painfully.
If not treated quickly, bloat can cause a lot of damage to your dog's organs and may result in death. Getting your dog to the vet as quickly as possible is important when you notice them crying after meals.
Experts are still trying to decipher the factors that lead to bloat. They have found that while any dog runs a risk to experience bloat, bigger dogs appear to be more prone to get bloat than little ones.
Do Old Dogs Overeat?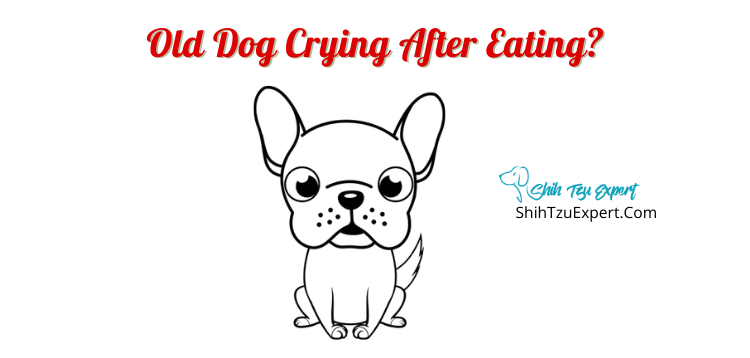 It is more common for older dogs to decrease their appetite rather than increase it, but an increase in appetite has been known to be a normal sign of aging for some dogs. However, sometimes it can be a sign of a more serious underlying disease.
If your older dog is experiencing an increase in appetite, it may be a sign of Cushing's disease.
Cushing's disease is a serious illness that can cause many other problems which may be deadly, including kidney damage. The disease is often caused by a tumor on the pituitary gland of the brain or one by the kidneys.
Cushing's disease symptoms include an increase in appetite and drinking, hair loss, and lethargy, as well as other symptoms.
The good news is that many dogs with cushing's disease can be healed if properly diagnosed and treated by a vet.
Why Does My Aged Dog Cry After Eating Chicken?
There is a chance that your dog has gotten a bone from the chicken stuck in their throat. Always make sure to check your chicken for bones before giving it to your pooch.
Another possibility is that the chicken is hard to chew for your senior dog which hurts their teeth. However if the crying continues, it is important that you get your pet to a vet as soon as possible in the chance that there is a bone lodged in their throat.
Dog Wants To Play After Eating [Is It Safe]?
Experts recommend that you do not allow your dog to play after eating. One of the potential causes of bloat is if a dog eats too fast or runs around playing too soon after eating.
Your dog should not engage in any type of chasing or tug of war until two hours after eating. However, it is alright for your dog to peacefully chew on a toy during that time.
Interactive dinner toys are a great tool to prevent this issue. Your dog will expel energy while trying to get their food. It will also help your pooch to slow down if they have a tendency to eat too fast.
My Senior Dog Eats Too Much?
It is important to monitor your dog's food intake, especially as they get older. Their metabolism will begin to slow down with age, making it easier for them to become obese.
As they begin to age, they have less energy to expel. This makes it difficult for them to lose weight. If your dog is eating more than normal, try to cut back on how much you give them.
It is also important to make good diet choices for your dog to ensure they are getting all the nutrients they need in their food.
What Are The Symptoms Of Pancreatitis In Dogs?
The symptoms of pancreatitis in a dog include:
Vomiting
Diarrhea
Hunching up back
Exhaustion
Fever
Your dog is also likely to be in a lot of pain if they are experiencing pancreatitis.
One of the main causes of pancreatitis in dogs is due to their diets. Obese dogs or dogs with diets full of fatty foods are more likely to get pancreatitis. It is important to monitor what your dog is eating to make sure they are getting all of the nutrients they need.
How Do You Know If Your Dog Has A Stomach Ache?
A dog with an upset stomach may experience diarrhea or vomiting. Another normal sign is if your pooch starts eating grass.
When a dog is nauseous it may eat grass in an attempt to calm its stomach or to force itself to throw up. Grass acts as a source of fiber and roughage for your pooch to help them push bile out of their system.
If your dog is acting very tired and weak it may be another sign of a stomach. Lethargy is usually a symptom of any illness and should be monitored when noticed.
What Can I Give My Senior Dog For Upset Stomach?
There are a couple of different options that you can give your senior dog for their upset stomach. Bland foods high in fiber and other nutrients are important for your dog's stomach pains.
Cooked pumpkin can be an excellent comfort food for your pooch's upset stomach. The pumpkin will need to be unseasoned, but after it is cooked it will be a perfect treat for your dog's stomach pain.
Pumpkin is also a good source of fiber, which will help to clear up any blockage within your pooch's intestines. For a simple alternative, try purchasing pumpkin in a can. Some pet stores may have specific canned pumpkin products for your furry friend to eat.
Another option is chicken. Similar to how humans eat chicken-noodle soup when they feel ill, unseasoned chicken is a good bland food for a dog with an upset stomach. Make sure to shred the chicken so that it will not have any bones in it or be difficult to chew.
Do Bananas Help A Dog's Upset Stomach?
Bananas are an excellent source of comfort for your dog's pain. If your dog is struggling from an upset stomach, mixing a bit of mashed-up bananas into their food can help to calm their intestines.
Bananas are also a great source of fiber. Fiber is a helpful tool for your pooch if they are a bit constipated. Adding more fiber to their diet in the form of bananas will help to regulate your pooch's poop.
However, it is important to note that since bananas are fruit, they contain natural sugars. They are also fairly high in carbs for a puppy. It is not recommended that you feed young puppies bananas without veterinary approval for this reason.
Due to the peel being hard to digest, you should only ever give your dog the fruit inside and not the banana peel as well.
How Can I Comfort My Dog In Pain?
The best way to comfort a dog that is in pain is to pamper them. Just like when humans are sick or in pain, your pooch wants to lay on something soft like a bed or couch. Make a comfortable spot for them with their favorite pillow and blanket near you.
Treat them to all of their favorite things, like extra snuggles and keeping their favorite squeaky toy nearby for gentle chewing.
Sometimes giving your pooch access to plenty of exercise is another way to help them cope with pain. If your dog is getting older and suffering from arthritis, taking them for an easy and short walk may help them to feel better and move their thoughts away from the pain.
It is also very important to keep your dog on a diet that suits their individual health needs. Make sure to get food that includes all of the vitamins and fiber that their bodies require in order to help keep things moving.
Follow any advice your veterinarian may give you. If your dog has been prescribed medication, make sure to give the medication to your pooch to help ease their pain if it was vet recommended.
What Is Dog Peritonitis?
Dog peritonitis is an inflammation within the abdominal cavity. The abdominal cavity is the space inside that houses the intestines, stomach, gallbladder, kidneys, pancreas, liver, and spleen.
The most common cause of peritonitis in a dog is due to a bacterial infection from a wound near the abdomen. Often the symptoms hit suddenly.
Some of the symptoms include:
Exhaustion
Difficulty lying down
Vomiting
Diarrhea
Black stool
Fever
Pale gums
Rapid heart rate
Other symptoms may be noted, such as change in appearance of coat, and pain levels.
Peritonitis is a very serious condition that will likely require surgery for treatment. During surgery, the veterinarian will look for damage done in the abdominal cavity and will clear away the infection with a saline rinse.
Your pooch will probably need to stay at the hospital for a few days after surgery to ensure their safety. This could also potentially involve plasma transfusion and/or chemotherapy. Chemotherapy has not been known to affect dogs as negatively as it does humans, and they are more likely to keep their hair.
If you suspect that your dog may have peritonitis, it is important to speak with your veterinarian immediately. They will help you to decide the next best course of action and treatment for your furry friend.
Newborn Puppy Crying After Eating?
Newborn puppies are very fragile creatures and are easily susceptible to illnesses. If your newborn puppy is crying after eating, they are likely sick or not receiving enough milk. There is also a chance that there is something wrong with the mother's milk.
If your newborn puppy continues to cry after eating, it is important to get the puppy and mother checked by a veterinarian as soon as possible. If the issue is not diagnosed and treated within a 24 hour time frame, the whole litter of puppies may die.
Newborn puppies spend the majority of their time either eating or sleeping, when either of these activities is interrupted or ended by crying it is a very serious matter for the development of the puppies.
References
https://www.petmd.com/dog/wellness/evr_dg_remedies-for-upset-stomach-in-dogs
https://wagwalking.com/behavior/why-do-dogs-cry-after-eating
https://www.vmccny.com/gastric-dilatationvolvulus-bloat
Pancreatitis in Dogs – Symptoms, Causes & Treatment