We may earn commission from qualifying purchases at no extra cost to you.
Learn more
Product Name
PetSafe Deluxe Little-Dog Remote Trainer for Pets Under 40 Pounds, PDLDT-305
 Why Is This Product Here?
This is an effective device that puts safety first and is designed to be extremely dog friendly.
About The Brand
PetSafe is the largest manufacturer of electronic pet training products in the U. S. and has been trusted by pet owners since 1991. PetSafe is a division of the Radio Systems Corporation and manufactures all of its products in the United States. PetSafe is committed to producing safe, high-quality products. To ensure this they conduct thorough testing of their products in real-world conditions. They also consult with top trainers, veterinarians, and behaviorists when developing their products. On their company website, they also provide extensive support including training guides, operation manuals, and over the phone customer support Monday through Saturday.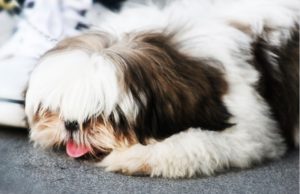 Specification
Age of the Dog: PetSafe indicates that this product should only be used with pets 6 months or older. It's also recommended that your dog already understands basic obedience commands such as "Sit" or "Stay" before using a remote trainer.
Weight: This remote is for little dogs under 40 pounds and over 15 pounds. If your dog exceeds 40 pounds you should use the big dog model of this product. This product should not be used with pets smaller than 15 pounds.
Neck Size: The receiver collar is adjustable and is suitable from neck sizes 6 inches and up. Once the collar is properly adjusted you may want to cut off the excess length but be careful not to cut the antenna hidden in the collar.
Safety Features: PetSafe strives to make all of its products safe and the Little Dog Remote Trainer is no different. The receiver collar is waterproof and safe to use in the rain. Additionally, the transmitter remote has an automated shutoff feature that prevents your pet from receiving stimulation for longer than 8 seconds. After 8 seconds the remote will stop transmitting until the button is released and pressed again. The remote transmitter also has an LED light that will illuminate and indicate to you that your pet is receiving a stimulation.
Portability & Set- up: The little dog remote trainer is easily portable and takes only minutes to set up. The transmitter remote is only 1 inch thick, 1 inch wide, and 6 inches long making it easy to slip into your pocket or purse. The receiver is ¾  by 2 by 1 inch and small enough that your pet will forget it's there.
To set the remote up you must first install the included batteries in the receiver collar and the remote transmitter. Then you fit the receiver collar on to your pet ensuring that you can comfortably fit a finger between your pet's skin and the contact points. Once this is done all that is left is to turn on the remote and the collar and you're ready to begin training.
To re-sync, the remote and the collar turn the intensity knob on the remote to its lowest setting and then hold both the tone only and stimulation buttons down for 10 seconds or until the receiver collar beeps twice. The system also comes with an LED test light to allow you to safely confirm the performance of the system.
Batteries and Power Outlets: The whole system runs on 3 batteries and does not require a power outlet. The remote transmitter requires one 9-volt battery and the receiver collar requires two 3-volt lithium batteries. Diagrams on the remote and receiver indicate how the batteries should be installed. If the receiver remains on at all times the battery life will be about two weeks. The battery life of the remote will be about 2 to 3 months depending on the frequency of use. PetSafe recommends that you turn that receiver collar off when not in use to preserve battery life. It is also important to remember that when you first begin training your pet you will be using the system more frequently and may experience shorter battery life.
System Range: The range of this system is advertised to be about 100 yards however, some customers reported the range to be smaller than indicated. The range of the system is subject to variation depending on conditions. PetSafe says that terrain, weather, vegetation, transmission from other radio devices, and other factors will affect the range of the Remote Trainer.
Correction Features: The PetSafe Remote Trainer has two stimulation features to correct pet behaviors. First is a static stimulation feature. PetSafe describes this as being similar to rubbing your feet on a thick carpet and then touching a metal doorknob. The static stimulation can be set to 10 different intensity levels ranging from 400 volts to 6000 volts. This type of static stimulation is only meant to get your dog's attention. This remote trainer also has a tone or beeping sound that can be used to get your pet's attention.
Check Carefully because…
The PetSafe remote trainer is a safe and effective trainer but only under the proper conditions. It's important to remember that this system is for dogs 6 months and older and between 15 to 40 pounds.
It's also important to note that this type of remote trainer is not for aggressive dogs or dogs who are prone to aggressive behavior. An aggressive dog may react poorly to stimulation and harm those around them.
You should also be aware that other radio devices on the same frequency may be affected by the Remote Trainer or cause it to malfunction. For example garage door opens may use a very similar signaling system.
Be sure to check your surroundings while using this product. If you are in a dense forest or somewhere with a lot of brush the single range for the remote transmitter may diminish. This can be problematic if you live in a densely vegetated area and intend to use the remote trainer to call your dog from a distance.
This remote trainer is designed to be used by both professionals and average pet owners but it's important to remember that this system is not a toy. Only responsible members of your family should be using the remote trainer.
The MUST Know, True Facts about
While the PetSafe Little Dog Remote Trainer PDLDT-305 is a great remote trainer and hailed by customers for its effectiveness It's important to know that PetSafe has come out with a newer model with improved features. The newer model number is PDT00-13410. Though it's not produced anymore, PetSafe still supports this product by providing videos and an extended training manual on their website to help you better use your Little Dog Remote Trainer. It's also important to note the parts for this product are not sold separately. Meaning if the receiver collar or remote transmitter is lost or broken you will have to purchase an entirely new system.
What to watch out for with this product?
There are a lot of things to love about the PetSafe Little Dog Remote Trainer, it's simplicity and ease of use, it's effectiveness and it's safety features. However, the battery life of the remote receiver is a recurring issue that customers complain about. With regular use, customers report having to change the lithium batteries in the receiver more often than anticipated. One customer remarked that with all the batteries he was buying he might as well have bought a rechargeable model.
To combat this issue PetSafe recommends turning the receiver off when not in use. For the most part, after you use the remote trainer to reinforce commands you should be able to leave the trainer off for long periods. The trainer can then be used periodically to reinforce commands and not as something you use every day. If battery life is a concern for you or you intend to use this product for extended periods at a time you may want to consider a rechargeable remote trainer.
Crucial Tips
To get the best performance out this product proper placement of the collar receiver is key. The first thing to remember is that the contact points on the receiver should be placed on the underside of the dog's neck aligned with the dog's chin. When adjusting the collar size to your dog's neck ensure that the contact points are snug against your dog's skin but loose enough that you can stick your finger comfortably between the contact point and your dog. It's also important that you are using the correct length contact point for your dog's fur. The Remote Trainer comes with a short length contact point for dogs with short coats and a longer length contact point for dogs with robust coats. If you're using contact points to short for your dog's fur it will hinder the effectiveness of the static stimulation.
PetSafe also recommends that you avoid leaving the collar on for longer than 12 hours per day and when possible re-position the collar on the pet's neck every 1 to 2 hours. It's also recommended that you wipe off your dog's neck and the contact point with a damp cloth once a week. These practices will prevent your pet from developing any kind of sore or irritation related to the constant contact of your pet's skin and the contact points. If any type of irritation does develop stop using the collar until the skin is fully healed.

Benefits and Features (Pros)
The PetSafe Little Dog Remote Trainer comes loaded with features that will make training your dog as simple as pushing a button. To start this system comes with not only a static correction feature but also a tone correction. The tone correction can be used on its own or in tandem with the static correction. Additionally, the static correction is completely adjustable. With the use of a knob on the remote receiver, you can set the strength of the static correction to 10 different levels ranging from 400 volts to 600 volts. This is important because not all dogs will react the same to the static stimulation and the strength of the correction will have to be adjusted to their needs.
PetSafe has also taken the liberty to ensure the safety of your pet when this product is being used. The static simulation comes with a build it safety feature that will not allow your dog to feel the static correction for longer than 8 seconds. The receiver remote also has an LED light that illuminates whenever the remote is sending a signal to the receiver collar. This ensures that you will always know when your pet is receiving stimulation.
Another great benefit of this product is that it has a multitude of applications ranging from eliminating unwanted behavior to teaching basic obedience commands. With the help of the extended training manual, you can train your pet to "sit", "stay", and "come". The training manual also gives you the tools to stop your pet from jumping up on guests, digging in the yard, chasing cars, and making a mess of the trash. The manual also answers frequently asked questions and provides troubleshooting tips.
PetSafe has also ensured that when you buy this product you have everything you need to get started. This includes the two 3-volts batteries needed for the receiver collar, the 9-volt battery needed for the remote transmitter, an LED test light to help you safely test the responsiveness of the remote collar, a pair of extended contact points for dogs with longer fur, and the extended operation and training manual. To top it all off this product also comes with a limited lifetime warranty.
Problems (Cons)
The PetSafe little dog remote trainer receives generally positive reviews from customers however, the product does have a few shortcomings and pitfalls that customers have pointed out. The most common concern customers had was with the battery life of this product. Both the remote transmitter and the receiver collar need batteries to operate. Customers reported that even with infrequent use they were still changing the batteries more often than they would have liked. One customer lamented that if he would have spent the extra money and purchased a rechargeable version of the product it probably would have saved him money at this point. PetSafe indicated that the best way to preserve the battery life of the receiver collar is to turn it off when it's not in use. For most customers, this isn't very helpful advice because they like the convenience of being able to get their dog's attention at a moment's notices.
The other drawback of this product is not as widespread an issue as the battery life. Some customers simply wish that this product could train two or more pets simultaneously. Obviously, if you only have one pet this is not a concern.
Conclusion
Training your dog can be a challenging process but it's necessary work as an untrained dog can be harmful to themselves and others. If you're looking for a safe and effective remote dog trainer to assist you in training your pet the PetSafe Little Dog Remote Trainer is an excellent choice. It's quick and easy to set up, simple to use, and is portable enough to be used wherever you and your pet travel. This is a durable and waterproof product that is designed to be used by professionals and novice dog owners alike. The best part is that this remote trainer is completely customizable to your pet's needs. If your dog is a little stubborn you can adjust the static stimulation to a higher setting or if your pet is mostly mild you can try using just the tone button to get the dog's attention. This remote trainer has all the essential safety and correction features a remote trainer needs plus a little more to make training your pet a breeze. If you have a small dog the PetSafe Little Dog Remote Trainer could be just what you're looking for.
What to consider BEFORE buying a remote dog trainer
Remote dog trainers are excellent tools and the PetSafe Little Dog Remote Trainer is a great choice if you have small dogs, but before you go ahead and buy any remote trainer it's important to consider a few things.
First, you need to consider if your dog is ready for something like a remote trainer. You should wait until your dog is a least 6 months old before you begin use. It's also recommended that your pet understands basic commands like "sit" and "stay" before you start using a remote trainer. If your dog doesn't know any obedience commands it can be difficult for the pet to grasp what the correction stimulation means. If your dog already knows some commands they will have an easier time figuring out what you want them to do.
It's also important to consider the temperament of your dog when deciding whether to use a remote trainer. For example, it's not recommended that you use static correction with an aggressive dog as it may cause the dog to lash out. You should also not use a remote trainer with a dog that fears people. The stimulation may worsen these fears. Dogs who are well adjusted, trusting of people, and generally outgoing will benefit most from a remote trainer.
Advantages and disadvantages of a remote trainer
There are several advantages of using a remote trainer and a few disadvantages. The advantages are that you can adjust the trainer to the needs of your dog, it has fast results, and it's relatively affordable. On most remote trainers and the PetSafe Little Dog Remote Trainer, you can adjust the strength of the correction to a level adequate for your pet or just use the tone stimulation. Remote trainers are also incredibly fast at training obedience commands, most dogs will only need two or three simulations and they've got the idea.
There are some drawbacks to a remote trainer. The first being that some owners simply can't bring themselves to use them, even the idea of a slight static shock is unnerving to people. Another disadvantage is that if the remote trainer is used improperly it can cause the dog to develop fear and this is never good. Finally, remote trainers don't offer any positive rewards for good behavior. Most professional dog trainers will tell you that training should involve positive reinforcement. The thing to keep in mind though is that with proper education and application of static stimulation it can be a completely safe and effective way to train your dog.
How Remote Dog Trainers Work
At the functional level, remote dog trainers work by sending a radio signal from a remote that direction a transmitter worn around the dog's neck to deliver specific stimulation. The PetSafe Little Dog Remote trainer has a small antenna in the adjustable collar portion of the system that receives the remote transmission. The use of radio waves is why remote trainers will have a diminishing range in densely vegetated areas.
On a training level, the main function of a remote trainer is to get your dog's attention. Once the dog has received stimulation the owner must follow up with a command such as "sit" or "stay". What you are teaching the dog is that to stop the unpleasant sensation it must respond correctly to the command given. The same goes for unwanted behavior. If you tell your dog to stop barking and couple it with static stimulation the dog will learn that barking will lead to an annoying sensation. In many cases, your dog may correctly respond to commands without the use of stimulation. The benefit of the remote trainer is that it allows you to refocus your pet no matter how distracted they have become.

Tips and Tricks for Using a Remote Dog Trainer
For regular pet owners using a remote dog trainer may seem a bit daunting but, there is no need to be intimidated. With a bit of guidance, anyone can use this tool. Here are a few tips to get you started.
Make sure you have the right collar for your pet. Different remote trainers are made for different size dogs. For example, the PetSafe Little Dog Remote Trainer is for dogs between 15 and 40 pounds. You should also consider the fit of the collar around your dog's neck and whether the contacts are of the proper length for your pet's fur. Dogs with longer fur will require longer contact points.
Be sure to adjust to your pet's needs. This holds true for all training methods and is especially important with remote trainers. Consider how your pet reacts to the static stimulation and whether you need to adjust the strength of the settings. If your pet has an increasingly negative reaction to the stimulation be sure to stop use and find a different method of training. You may also notice that over time your pet doesn't need the static stimulation and will respond just as well with the tone-only stimulation. And as always keep training short, frequent, and fun.
When using static stimulation it's good practice to not let your pet see the remote transmitter in your hand. If the dog begins to associate the transmitter and you to the unpleasant sensation they may also begin to lose trust in you. In general, it is better to keep the remote away from the pet's direct line of sight.
Are Remote Dog Trainers Safe
Remote dog trainers are safe for all dogs as long as you use a trainer appropriate to your dog's weight. Some companies compare a remote trainer to flicking your pet in the neck to get their attention. Would flicking your dog hurt them? No. Would flicking your dog get their attention? Probably, and that's the whole idea. The use of static stimulation is not to hurt your dog or to punish them; it's simply to get them to redirect their attention to something constructive. PetSafe specifically compares it's static stimulation to an electric shock you might feel after rubbing your feet on a carpet and then touching someone. If you're concerned about the strength of a remote trainer try it out on yourself it will not harm you.
Possible Alternatives to Remote Dog Trainers
Even though the PetSafe Little Dog Remote Trainer can be a great tool it may not be for everyone. If you don't like the idea of having to replace batteries consider a rechargeable version. It's ill-advised to leave the receiver collar on overnight anyway so you can easily recharge the collar at night.
You may also want to consider the correction features other than static stimulation. In this, you have a variety of options. For years dogs have been trained using sound so you may consider a collar that only uses tone stimulation. Some collars offer vibration stimulation that is similar to cell phone notification vibration. You can even try spray stimulation. With this type of collar, the remote transmitter will release either a scented or unscented spray. Remote trainers come in all shapes and sizes so be sure not to limit your search.
Dogs are like people in that they all learn in different ways, so don't be afraid to switch it up until you find the training method that works best for you and your pet.