Picture this: your adorable puppy has just polished off his whole bowl of food and is now sitting at your feet begging for something off of your plate! If this sounds familiar, you are not alone. But whatever you do, don't give in to those sweet eyes and wagging tail. As long as you are feeding your puppy the recommended amount of food, they likely don't need to eat anything more.
Should I Keep Feeding My Puppy If He Is Still Hungry After Eating?
Puppies are constantly growing and using a lot of their energy to do so, and so they may act at times like they are starving or that they are still hungry after they've just eaten. As long as you are feeding them the recommended amount, keeping them on a schedule, and providing lots of enrichment throughout the day, you don't need to keep feeding them.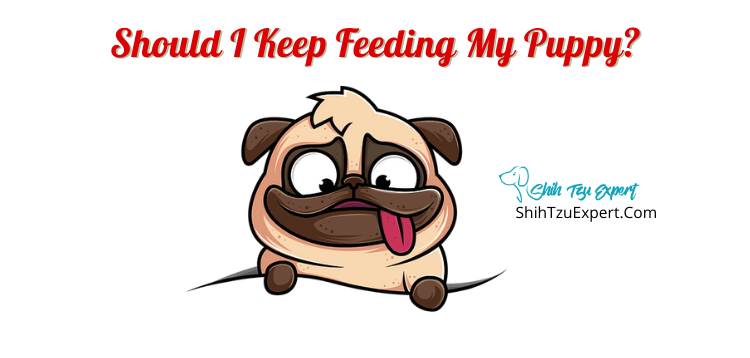 Why Is My 2,3, 4 Months Old Puppy Always Hungry?
Puppies are just like human babies – they are constantly growing and they need a lot fo energy to do that!
Your puppy will be going through different stages of growth as it ages, and as a result it might seem that your puppy is hungry all the time.
This is perfectly normal. It's also why there are brands of dog food dedicated solely to puppies and their bodies needs as they grow. Because they are using so much more energy to develop healthily, they will need more calories than an adult dog each day.
Luckily, puppy specific dog foods are widely available and will meet all of your puppy's caloric and nutrient needs.
Should I Give My Puppy More Food If He's Still Hungry?
It might be tempting to give your puppy more food if he's still whining and begging after finishing his first bowl.
Don't give in to that temptation.
Some dogs are way more food motivated than others, so you might just have a dog that really enjoys food. That doesn't mean they need to eat all the time.
Keeping your puppy at a healthy weight is your responsibility, and the best way to make sure they stay healthy is to feed them the recommended amount and take them to the vet regularly for weight check ups.
How Do I Know If I'm Feeding My Puppy Enough?
If you are feeding your puppy the recommended amount, then odds are that they are being fed plenty.
On the back of each and every bag of dog food will be a chart that tells you how much food to feed your dog depending on their age and weight. Follow this.
These recommendations are formulated by veterinarians. If it doesn't seem right to you, call your vet's office and double check how much you should be feeding your puppy.
Most people have a tendency to overfeed their puppies, especially when you add in however many treats or goodies they are getting throughout the day either from training or from just being adorable.
Why Is My Dog Still Hungry After I Feed Him?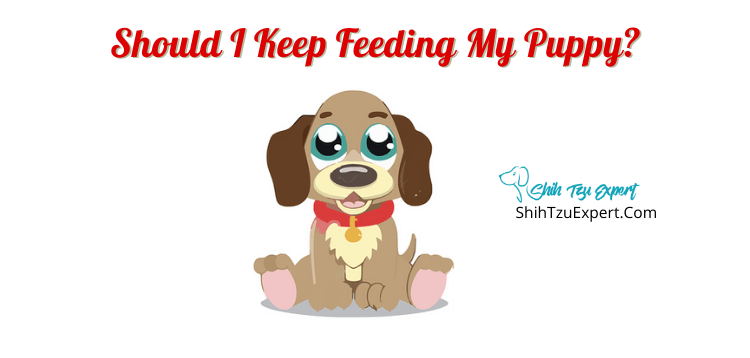 The honest answer is that your dog is probably NOT hungry if he's just eaten, he may just think he is.
Dogs are scavengers and will eat anything and everything they can get their mouth on, whether they are already full or not. Some breeds are more prone to this behavior than others.
That being said, if your dog seems genuinely hungry shortly after you've fed them, check the ingredients on their food. Some dog food companies puff up their kibble pieces with air, and this makes your dog feel full but they will quickly get hungry again.
Should You Feed Puppies Until They Are Full?
Depending on the food drive of your dog they may be able to regulate themselves and stop eating when they feel full.
More likely, however, is that your puppy will continue to gorge itself well past the point of fullness just because the food is there.
Monitor how much food you are giving your puppy and only feed them the amount recommended to you by your veterinarian.
Remember that puppies are growing very quickly and using a lot of energy to do so. They may seem hungry all the time, but as long as you are meeting their calorie and nutrient needs there is no need to overfeed them.
What If I Accidentally Overfed My Puppy?
You'll know pretty quickly if you overfeed your puppy.
Puppies stomachs are very delicate, and the slightest variation in diet, whether that be the type of food they are given or the amount, can cause massive irritation.
Usually, if your puppy has eaten too much they will promptly throw up. If they don't throw up, then it will come out as diarrhea.
If you've only overfed your puppy for a few days, then correct the amount you are feeding them, and they should be fine in a day or two.
Chronic overfeeding can lead to chronic stomach problems like vomiting and diarrhea, so it's important to make sure you are not giving them too much food at each mealtime.
Why Does My Puppy Act Like He's Starving?
Think about when you were a child and you were only a little bit hungry but acted like it was the end of the world.
Your puppy is probably doing something very similar. Puppies want your attention, always, and even if they just ate they may act like they are starving simply to get you to pay attention to them.
Other puppies may very well be hungry, but as long as you've been feeding them the correct amount every day then they will definitely not starve, and you can assume they are just being dramatic.
How To Keep Your Puppy Feeling Full After Meals?
The best way to keep your puppy feeling full after meals is to make sure they are staying hydrated.
If your dog drinks water immediately after eating, the water will expand the food in their stomachs and keep them feeling full for longer.
Encourage your puppy to drink lots of water throughout the day to satiate any "hunger" they might be feeling, and especially after mealtimes to keep them feeling full for longer.
Should I Feed My Puppy More Than the Recommended Amount?
The recommended amounts are recommended for a reason.
Never feed your puppy more than the recommended amount unless you have spoken with your veterinarian and they have advised you to do so.
Overfeeding your puppy can have a lot of consequences, stomach irritation being one of them, and obesity being another. Your dog is not in control of their diert, you are, and they rely on you to make sure they stay as healthy as possible.
Just as in humans, obesity can cause a variety of other healthy problems that can shorten the life of your dog.
And it starts when they are young. Make sure they are not overfed so that your puppy can grow up and have the best, healthiest, and longest life possible.
What Can I Do If My Puppy Is Always Hungry?
Your puppy is growing every single day by massive amounts. This uses a lot of their energy, so they may act like they are always hungry.
The best thing you can do is to make sure your puppy has enough enrichment in their daily routine to keep them from acting as though they are starving.
Structure their day around playtime, walks, quiet time, outdoor time, potty breaks, and training. Keeping them busy and entertained on a structured schedule, and feeding them at the same time every day, will teach your puppy to be hungry when it's mealtime.
My Dog Is Still Hungry After Eating Raw Food?
Raw food has been a hot new trend to hit the dog food world in recent years.
Because raw food is so much more nutrient dense than kibble or wet food, you don't have to feed your dog as much of it.
If you have just made the switch to raw food then your dog may act like he is still hungry after mealtime, and he might be. But his body will adjust to the new portion sizes, so you really just have to give it time.
Signs You Are Underfeeding Your Dog?
Underfeeding your dog can also lead to serious health problems, so it's something to really watch out for.
If your dog is underfed you may notice:
Skin problems – dry, flaky skin or rough and bumpy patches.
Weight loss – being too skinny is a huge problem for dogs. If you notice your dog is loosing weight rapidly, get to a vet straight away.
Bad breath – a sign of malnourishment in dogs that means they are not getting all of the vitamins and nutrients they need.
Lethargy – if your dog is not being fed enough then they won't have any energy and may become lethargic and slow.
If you notice any of these signs, consult your veterinarian immediately to figure out the cause and to get your dog on a better feeding schedule.
Best Commercial Dog Food to Make Dog Feel Full?
What will make you dog "feel full" really depends on what your dog needs in their diet.
Every dog needs the basics – protein, fiber, carbohydrates, vitamins, and minerals. But depending on your dog's lifestyle, they could need a food that is more geared towards one of these things than the others.
For very active dogs, a diet high in protein will help them to recover after activity and keep them feeling fuller longer.
For dogs who may have some tummy issues, a diet high in fiber will help to regulate their digestive system and keep them feeling full.
Consult with your veterinarian to figure out exactly what kind of diet your dog will need.
That being said, fiber is typically what will help your dog to feel full the longest, so at the bottom of this article is a link to some high fiber commercial dog food brands.
What Can I Feed My Dog to Fill Him Up (Except Commercial Kibble)?
We know that fiber keeps your dog feeling full. Too much can be a bad thing, so make sure your dog's diet is not too high in fiber.
If you have your dog on a regular commercial kibble with everything pretty balanced nutrient wise, then adding some raw veggies as treats throughout the day can add fiber to your dog's diet and help them to feel full.
Not all dogs will like all veggies, and not all veggies should be consumed by dogs. But vegetables like carrots, cucumbers, broccoli, and peas are fun and tasty treats that are low in calories for your dog.
At the end of this article there is a link to a list of foods that you can and can't feed your dog.
My Dog Is on a Diet and Is Always Hungry [What Should I Do]?
If your dog is overweight, then putting them on a restrictive diet and increasing their exercise is likely what your vet will recommend.
Unfortunately, this may cause your dog to act like he is always hungry. Give it time.
Your dog will adjust to their new food amounts over time, but you have to be vigilant about sticking to their diet. Don't give in the to whining and begging, no matter how cute it may look.
Remember that you are doing this for your dog's overall and long-term health, and that as time passes they will get used to eating less food than they were before.
References
https://www.parklandanimalclinic.com/post/how-to-keep-your-dog-feeling-full-after-meals.html
Why Is My Dog Always Hungry? Tips for Handling Insatiable Appetites
https://roguepetscience.com/2020/11/05/the-best-10-high-fiber-foods-for-your-dog/
https://dogcare.dailypuppy.com/can-happen-overfeed-puppy-2856.html
https://canna-pet.com/malnourishment-dogs-signs-symptoms/
Fruits and Vegetables Dogs Can or Can't Eat