When it comes to choosing the kind of drinking water your pets need, there's always a bit of confusion and worry. You don't want to give them something that gets them sick, but it's often difficult to figure out what's bad for them.
In this article, we'll talk about the drinking water sources that may be good for your dog and the ones that are absolutely bad for them. In the end, we'll suggest the best drinking water for your furry friend. Keep reading!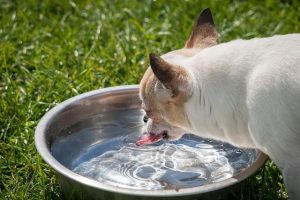 What Type of Water Should Dogs Drink?
Dogs may play in the dirt and lack all concepts of personal hygiene, but they're still prone to sickness and infections from things like bad food or water. Your best option is giving them the cleanest type of water possible. This means giving them water that you can drink yourself.
Still, there are different water sources, and not all of them may be right for your dog, regardless of how pure you think they are. Let's look at the most popular drinking water sources and see if they're good for your dog.
Tap Water
Here's a question you may be asking yourself: Is tap water safe for my dog? Well, the answer is yes. After all, it's usually treated and safe enough for you. However, tap water can be a problem if its purity is in question.
For instance, tap water in a region may suffer heavy metal infiltration or pesticide contamination. Other times it may have too much chlorine, hardness minerals, or salts. While all these may seem harmless to dogs, they're not. Water with chlorine has an off taste that's unpleasant to dogs, and hard water causes them to have urinary problems.
But hey, you don't have to rule out tap water. If you test your water annually or filter it, you should have no problem offering it to your fur baby.
Bottled Water
You may also be wondering if it's fine to give your dog bottled water. As we said, clean water is the best option, and bottled water companies do their best to ensure that their water is free of impurities. So, yes, bottled water is fine for your pet. Just be sure to choose a good brand because if the water isn't treated well and still has some lingering bacteria or parasites, there'll be problems.
Distilled Water
Distilled water is one of the purest water sources out there, so giving it to your dog should be a no-brainer, right?
Well, not really.
Although distilled water is pure and free from contaminants, it has one little issue: It may just be too pure.
Because distilled water is condensed pure water vapor produced from a distillation process, it lacks minerals and electrolytes. As a result, distilled water isn't beneficial to dogs and should only be served to them in emergencies and in small quantities.
Spring Water
Spring water is another source of good drinking water for your canine friend. It's fresh, contains the necessary minerals, and has less bacteria than tap water.
Although it often contains some levels of chloride and salts, they're not present in such large quantities as to cause discomfort to your dog. Natural spring water is the best since it contains minimal contaminants and beneficial minerals at a safe level.
Can I Give My Dog Well Water?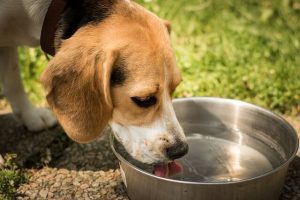 Generally, well water is often unsafe because it has more contaminants than tap water. Sometimes it contains heavy metals from the soil or pesticides from agricultural runoff. Also, more often than not, well water is hard water, which is known to cause problems for dogs.
To be safe, get your well water tested and treated regularly if you intend to use it as a drinking water source for you and your dog.
Is Hard Water Harmful to Dogs?
Hardness-causing minerals: calcium and magnesium, when ingested in water by dogs over a long period, could result in a plethora of health problems. Some of them include:
        Cystitis
        Urinary obstruction
        Crystalluria
        Stone formation
All these ailments could be painful for your dog to experience, so it's best to test any kind of water you give your dog.
It's important to note that these health complications only arise in cases of extremely hard water. Mild to normal hard water is unlikely to cause these issues, although we'd advise you to play it safe.
If your home has hard water, get a conventional water softener or ion exchange filter. However, if your pet has been put on a low-sodium diet by the vet, it's advisable to get a water conditioner instead.
Filtering Your Dog's Drinking Water
Filtering your dog's water is your best bet towards ensuring that they stay hydrated and healthy.
The best filtration method is reverse osmosis since it removes a large percentage of the chemicals and impurities which could harm your dog.
But what is reverse osmosis? It's simply a water purification process that involves using a semi-permeable membrane to remove ions, large molecules, and impurities from water.
Other popular filtration methods, like carbon filtration, will help you get rid of contaminants like heavy metals while improving your water's aesthetics.
There are also specialized filters for impurities like arsenic and fluorides. So it's not a one-size-fits-all kind of situation. The type of filter you use should depend on what contaminants are in your water. This is why we emphasize testing your water. Once you have an idea of what's in it, you'll make a more informed decision based on your water's state and your preferences.
Water Sources Your Dog Must Avoid
Some water sources should never touch your dog's tongue. Here's a list of them:
      Swimming pool water: It contains high amounts of chloride, so it's definitely not something you want your dog drinking
      Salt water: Don't let your dog drink from the ocean when you go to the beach. The salt content of the water there is bad for their health and could increase thirst/cause dehydration.
      Puddles: You know those puddles you come across on the street when walking with your dog? It's best not to let your dog drink from them. They're breeding sites for many dangerous bacteria and parasites.
      Toilet water: Dogs don't know that toilet water is bad water. It's your job as a pet owner to keep them away from the toilet bowl. Otherwise, they could contact harmful bacteria like E. coli that could harm their intestines.
So What's the Best Water for Dogs?
The best water for dogs is clean water. That is, water free from chemicals and bacteria yet rich in minerals. Tap water and well water are good sources of drinking water for your pet, but they're at high risk of contamination. So ensure you test and filter your water before giving it to your dog. Bottled and spring water are also fine for your dog. The most important thing is keeping your dog hydrated and happy.