Humans have bred domestic dogs to love people, so it's natural for dogs to greet most people without fear. But sometimes dogs gravitate towards certain individuals more than others. There are a variety of explanations, many of which involve subtle cues not obvious to humans.
Why Are Dogs Naturally Attracted To Me?
Dogs' keen senses help them detect non-verbal signals such as body language, tone of voice, and even the scent of human hormones. When you indicate friendly and welcoming intentions, even subconsciously, dogs may single you out with an extra-friendly greeting.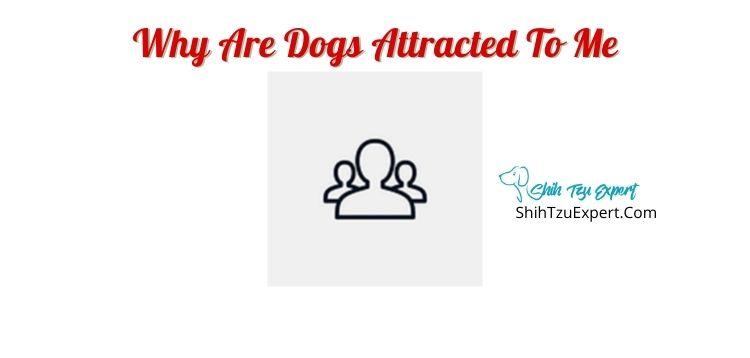 Why Are Dogs Attracted To Me?
Your Appearance
Some dogs dislike distinct features or accessories they haven't encountered before. Examples include big hats or thick beards. Some dogs also find taller people or those with broad shoulders intimidating.
If these features don't apply to you, your appearance is likely unconcering to dogs and they may approach you without hesitation.
Your Body Language
Dogs pick up cues from human body language. A slow approach with upright posture can convince dogs you are not a threat. If your body language is open and welcoming or if you get on the same level with the dog, she may be more likely to greet you without fear.
Your Friend Tonality
Speaking directly to dogs when you meet them or using dog-centered language like, "What a good boy!" may make them more likely to offer a friendly greeting. Most dogs prefer a high-pitched tone of voice that is warm, happy, and fun.
Your Understanding Manner
People who have experience with dogs tend to understand how to interact with them.
For example, dog lovers know they should ask for the owner's permission before petting a new dog, and then let the dog make the first approach. They know not to speak in a loud voice or use sudden movements. Dogs respond positively to these efforts to put them at ease.
Your Trustworthy Manner
Dogs quickly learn who is trustworthy and who is not.
During a 2015 study, researchers placed two containers near each dog. One container had food in it and the other didn't. A person first pointed to the container with food in it, and the dog received some of the food. Next, the person pointed to the container without food, and the dog did not receive a snack.
In the third round, the person pointed to the container with food again, but the dogs did not respond. The researchers concluded the dogs had determined the person was untrustworthy.
If your interactions with a dog have been consistently positive, that dog will most likely trust you.
Their Sixth Sense
Animals have keen senses and instincts that allow them to pick up on things humans can't. They also react quickly to these stimuli, without the overthinking which plagues humans.
This can make it seem like dogs have a "sixth sense" that singles you out.
Often, the dog is actually smelling something interesting on you, like a treat or the scent of another dog. Or, they're picking up on your happy and welcoming mood by reading your body language or the scent of your hormones.
Your Compassion
Not only do dogs respond to how people interact with them, they also respond to other people's treatment of their owners.
A study at the University of Kyoto had dogs observe interactions between their owners and three different actors. One actor helped the owner with a simple task, one refused to help, and one had a neutral interaction with the owner. Afterwards, the dogs refused treats from the unhelpful actor, but accepted them from the helpful and neutral actors.
If you treat the dog's owner with compassion or assist them when they need help, their dog is more likely to respond positively to you.
Your Acts Of Kindness
Dogs like and remember people with whom they've had positive interactions in the past. For a dog, a positive interaction is something that meets one or more of his needs. If you have played with a dog or given him treats before, don't be surprised if he comes running up to greet you the next time he sees you!
The Way You Play With Them
Playtime is a key bonding activity for dogs.
They view it as quality time, and form attachments to people who play with them. Dogs also become attached to favorite toys. So if you show willingness to play with a dog you've just met, especially with her favorite toy, she will be delighted.
Your Love For Dogs
Dogs can tell when people like them and gravitate towards those people. They sense you are a dog lover through your posture, tone of voice, the way you approach and interact with them, and even the scent of your hormones when you're happy to see them.
Your Composure
On the other hand, if you are nervous around dogs, they may think you are expecting a fight and become agitated. Remaining comfortable, calm, and happy around dogs helps them feel at ease around you.
You Smell Good To Dogs
Dogs have a very strong sense memory and remember people they have smelled in the past, even if it was a long time ago. Dogs may be extra interested in you if you smell like food, or if a past interaction with you involved treats.
Dogs are also attracted to strong, non-food scents that don't smell good to humans. Anyone who has seen a dog roll around in a pile of dirty gym clothes can attest to this!
You Release Dog Pheromones That Dogs Like
Dogs' keen sense of smell allows them to pick up on our emotions through the scent of our hormones. Dogs are attracted to people who give off happy, calm scents. Conversely, people who are nervous or angry smell like sweat and adrenaline, which puts dogs on edge.
You Are Naturally Calm
Dogs associate a calm temperament with safety. They trust you will not do anything startling or unpredictable. Dogs dislike loud noises or sudden movements, so they may gravitate more towards people who sit still versus those who are in constant motion.
This can explain why some dogs are more at ease around elderly people than around kids.
You Are Naturally Happy
Dogs can sense human emotions through body language, tone of voice, and scent. When you feel anxious or angry, you send signals that dogs view as threatening. On the other hand, when you feel happy and calm, dogs will be able to relax around you.
You Are Naturally Friendly 
If you're not only generally happy but also actively friendly towards dogs, dogs may be even more likely to respond positively to you. Many dogs love attention, especially from new people. Greeting them right away is a good way to get their attention and friendship in return.
You Are Naturally Able To Communicate with dogs
Communication with dogs is a two-way street.
Some people are great at picking up on dogs' signals and responding accordingly. For example, you may be able to sense when a dog you just met is feeling overwhelmed and anxious. If you back off and give the dog time to adjust to you, soon enough you may become best friends!
You Naturally Give Out Non-Threatening Vibes
Dogs have great instincts for sensing predators, including people who may be a danger to them. Their protective nature makes them respond defensively to perceived threats. If you use open and non-threatenind body language and tone of voice, dogs will be more likely to approach you without fear.
You Know How To Interact With Them
If you have your own dog or have spent a lot of time with dogs, you will have learned what they do and don't like. For example, you know how to make a good first impression by greeting a dog with proper etiquette:
Greet the owner first and ask permission to greet their dog
Approach the dog slowly
Speak quietly with a high-pitched voice
Avoid making too much eye contact
Avoid sudden movements
Avoid hugging the dog or restraining her in any way
You Allow Them Their Personal Space
Dogs may tolerate hugs from their owners and families, but strangers are a different story. Leaning over dogs or restraining them in any way can trigger a defensive response. Most dogs also consider direct eye contact as a threat.
If you refrain from these types of interactions, dogs are more likely to view you as a friend.
Dogs Want Attention
Dogs have a genetic trait that makes them seek attention from and behave socially with people.
After all, humans and dogs co-evolved and have been living together for thousands of years. When you send non-threatening and welcoming signals, dogs will feel at ease and may approach you for attention. This attention-seeking behavior is instinctual for dogs.
Dogs Want Love
Dogs are naturally loving and gravitate toward people whom they see as potential friends. In fact, some studies suggest dogs form stronger bonds with people than they do with other dogs.
And when anxious dogs are in unfamiliar settings or around new people, they may actually approach strangers rather than running away. This is because they are seeking reassurance and comfort.
It's In Dogs' Nature
Approaching people is perfectly natural behavior for dogs.
Unless they have been abused or have a very fearful personality, most dogs enjoy spending time with people and greet them without fear. If you know how to interact with dogs calmly and happily, or if you're carrying food, don't be surprised if a new dog walks right up to meet you.
They Want Help Or Support (Maybe They Are Sick)
In rare cases, dogs can become clingy if they are sick. In this scenario, they usually seek additional attention or comfor from their owner. If you have noticed this behavior in your own dog, monitor for additional symptoms to determine if there's cause for a vet visit.
Why Are They Not Attracted To Others?
Just as dogs are attracted to some people for a variety of reasons, there are also many factors that cause them to avoid others:
Dogs that dislike other dogs may avoid dog owners that smell like other dogs
Some dogs are scared of men, especially if they are tall or have large beards
Loud and energetic people, especially children, may make dogs anxious
Dogs may avoid people who are nervous around dogs or experiencing other negative emotions
Why Are So Many Animals Attracted To Me?
Other animals may be attracted to you for the same reasons as dogs. Many animals have a keen sense of smell and can tell if you have food. A calm manner is also likely to help many animals feel at ease. And just like with dogs, you can build up trust with other animals over time.
Why Are Dogs Attracted To Me While I Am Pregnant?
Some pregnant people notice dogs behaving more protectively towards them. Yes, dogs can sense when humans are pregnant, mainly by detecting hormonal changes through smell. This is just another feature that made dogs great companions, especially for early humans.
Why Are Dogs Suddenly Attracted To Me?
Dogs can detect negative moods as well as positive ones. If something causes you to suddenly feel sad, nearby dogs may notice this and approach seeking to comfort you.
Why Are Some Dogs Attracted To Me?
Some dogs prefer people who share their energy level and personality. For example, an active and outgoing terrier may gravitate towards someone energetic, while a reserved greyhound may prefer a calmer person.
Dogs also form special bonds with people who spend quality time with them, especially when they are puppies. People who consistently meet their basic needs also rank higher on a dog's list of favorite people.
Can Dogs Sense A Good Person?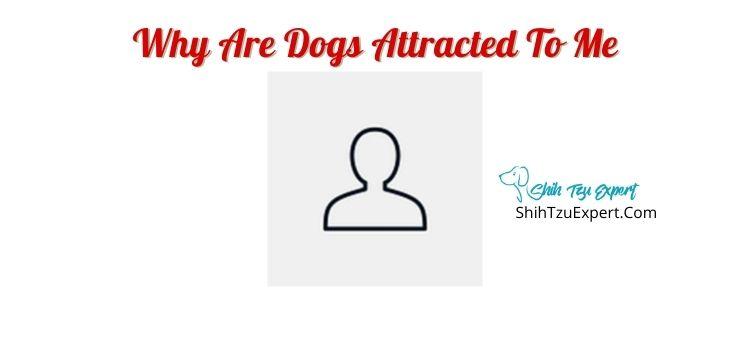 Dogs' keen instincts allow them to notice and respond to threatening stimuli.
From a dog's point of view, a "good person" is someone without any bad intentions, whom the dog does not consider a threat to himself or to his owner. In that sense, dogs can in fact detect who is good and who is bad, even if they can't pick up on that person's entire moral history!
Dogs will happily greet or show relaxed behavior around people they do not consider a threat.
Why Do Dogs Bark At Certain People?
But when dogs do view a person as a threat, they may respond with fear or aggression, including barking.
Dogs pick up on both conscious and unconscious signals from humans. For example, someone who is about to attempt a robbery will experience an adrenaline rush and start to sweat. These chemicals release scents which dogs can detect, sometimes even before the person acts.
Other signals include tense muscles, too much eye contact, or other threatening body language.
Can Animals Sense Kindness?
Most animals learn to trust people who treat them well and respond to those people accordingly.
And even if you have never interacted with a particular animal before, they can pick up on cues that tell them you are not a threat. If you are an animal lover, chances are your body language, scent, and tone of voice will encourage animals to trust you.
References:
https://www.princeton.edu/news/2017/07/19/researchers-identify-common-underlying-genetic-ba
https://www.kyoto-u.ac.jp/en/research-news/2015-06-24
https://link.springer.com/article/10.1007/s10071-014-0816-2
https://www.psychologytoday.com/us/blog/canine-corner/201201/do-dogs-love-people-more-they-love-other-dogs