Have you had an encounter with a rude dog breeder? Maybe they feel like their time is being wasted, maybe they are busy and short-tempered, or maybe they're an unethical breeder you should avoid. Read on to learn when to give a breeder grace and when to run.
Why Are Some Dog Breeders So Rude?
Dog breeders may come across as rude if they are busy and you catch them at the wrong time, or when they feel you are wasting their time. A dog breeder could also be rude if they're an unethical breeder and just care about the money. It's important to be able to judge between a good breeder and a bad breeder. Most of the time, their behavior will mirror what kind of breeder they are, but that's not always the case. Know what to look for so that you don't end up with the wrong person.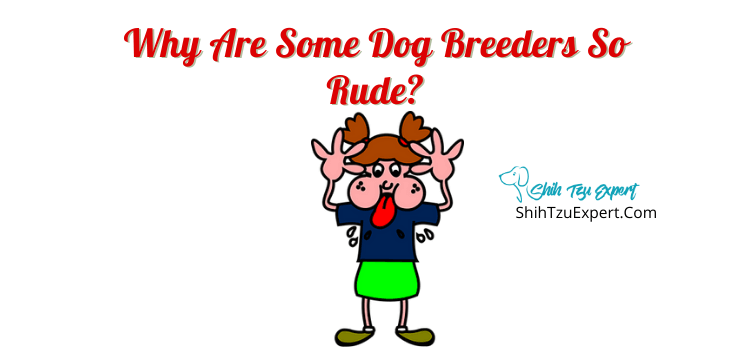 Why Are Some Dog Breeders So Rude [Face To Face, On The Phone, Email, Facebook, Etc]?
If you don't sound serious or respectful, the breeder may feel disrespected and act rudely.
In other cases, the breeder could genuinely just be a rude person and doesn't care as much about doing good business or the people they work with.
Sometimes, breeders may come across as rude simply because of miscommunication. People can often misunderstand each other and then get frustrated.
Another reason breeders may come across as rude is that they are busy and may feel like they don't have time to chat and answer lots of questions. When you talk to them, be prepared with all your questions. Be quick and to the point when you communicate with them.
Rudeness may simply be because the breeders are busy taking care of dogs, cleaning kennels, doing vet trips, and scheduling appointments. Unless you have a good reason to talk to them and stick to the point, they may see your conversation as a waste of their time.
Why Do Some Dog Breeders Have A Bad Reputation?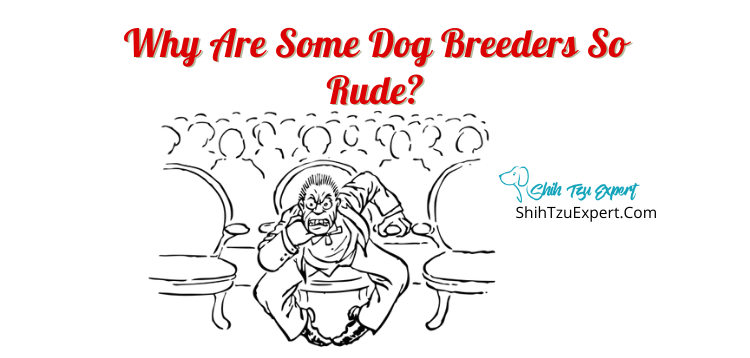 Likely, these breeders do not breed healthy puppies or breed according to the breed standards. If they care more about money than they do for their dogs, this will give them a bad reputation.
A good breeder will behave professionally, care for their dogs, and breed healthy ones that meet the breed standards. They will likely only have a few litters a year. A breeder who does not stick to their promises and does not raise healthy dogs in a healthy environment will likely lose their reputation.
Why Are Some Dog Breeders So Weird?
Many of us have our own interests and obsessions. Maybe yours is sci-fi, or anime, or even food. For dog breeders, it's the dogs they breed. They are working with dogs probably more than they do with humans, so it should be normal to expect that they may behave differently.
Signs Of Dog Breeders To Avoid?
To spot a bad dog breeder, look for the motive behind their breeding. These are some things to look for:
They are breeding more for the money
They breed lots and lots of dogs
They are hesitant to let you visit their home or kennels
They are hesitant to answer questions or are irritated by your questions
Do they have a pedigree and medical records available?
They are not registered with the AKC or other breed association
They don't ask you a lot of questions
They don't have any good testimonials
Signs Of A Good Dog Breeder?
To identify a good breeder, look for health and organization. How does the breeder act? These are signs that identify a good breeder:
Ask questions
Care for their dogs
Have a clean, healthy environment
Are happy to answer your questions and schedule on-site visits
Registered with the AKC or other association
Have medical records and pedigrees
Have testimonials
Knowledgable about their dogs and dog breed
Recommended by veterinarian
Dogs are socialized and treated as members of the family
The breeder might not have any puppies available and put you on a waiting list
They will tell you how to take care of the puppy and have standards of care and health you must agree to to purchase a puppy
Do Bad Dog Breeders Kill Puppies?
If a dog breeder is running a puppy mill, they may kill dogs under certain circumstances. Dogs may die or be killed because of sickness due to poor health care. If a dog gets too old to produce any more offspring, it may also be killed.
Difference Between A Backyard Breeder Vs Responsible Breeder
A responsible breeder breeds to keep the breed alive and produce healthy dogs that will become lifelong companions for someone. Backyard breeders either breed just to experience having puppies or to try to earn a profit.
A responsible breeder will only breed a few litters a year and will often have a waiting list for buyers because the demand is greater than the supply. A backyard breeder is less reputable and may be looking for someone to quickly hand their puppies off to.
A responsible breeder will know all about their dogs and their breed. An irresponsible breeder will not. A professional breeder knows what they're doing, whereas a backyard breeder may not fully understand what they're doing.
Good breeders will ask you lots of questions. They will make sure their puppy is going to a good home before they sell it to you. You will be asked to sign a contract, and receive a pedigree and health records. A backyard breeder likely will not have these things.
Backyard breeders may genuinely care for the dogs they're breeding and have good intentions, but they lack experience and may not always breed the most healthy dogs.
Backyard Breeder Vs Puppy Mill
A backyard breeder is someone who is inexperienced with breeding and usually breeds one or a few litters. They do usually care for their dogs' well-being but a puppy mill does not.
A backyard breeder may only have one or two dogs that they've bred who are normally their pets. Puppy mills will crowd many dogs together in cages and unhealthy environments. They continue to breed dogs non-stop.
Backyard breeders do care about their dogs whereas puppy mills are focused purely on profit.
Why Is Backyard Breeding Bad?
Backyard breeding may not be the best idea because the breeder may be motivated more by the experience than by preserving a healthy breed. Backyard breeders are also less knowledgeable about what they are doing.
Backyard breeders do not have the same knowledge about the breed and what makes it healthy as an experienced breeder does. Because of this, some of their puppies may come out with genetic or growth defects. The puppies are also less likely to receive the healthcare and socialization they need.
How Do You Know If A Breeder Is Trusted And Reputable?
Look for testimonials and registration with the AKC or other breed associations. Do they have a waiting list? Ask for recommendations for that breeder.
What Are The Signs Of A Rude Dog Breeder?
A rude dog breeder may refuse to answer or contact you, or they may be tired of or annoyed by your questions. How do they treat dogs and other people? Is it out of kindness or rudeness?
How To Avoid Bad Dog Breeders And Backyard Breeders?
Ask questions and look for references. Ask for documentation such as pedigrees and medical records, and to see the breeding site. Are they knowledgeable about their breed? Can a veterinarian recommend them?
References
About puppy mills. The Puppy Mill Project. (n.d.). Retrieved November 26, 2021, from https://www.thepuppymillproject.org/about-puppy-mills/.
Flaim, D. (2021, April 15). Signs of a responsible breeder. American Kennel Club. Retrieved November 26, 2021, from https://www.akc.org/expert-advice/dog-breeding/signs-of-a-responsible-breeder/.
How to find a responsible dog breeder. The Humane Society of the United States. (n.d.). Retrieved November 26, 2021, from https://www.humanesociety.org/resources/how-find-responsible-dog-breeder.
Llera, R., & Buzhardt, L. (n.d.). How to choose a good dog breeder. vca_corporate. Retrieved November 26, 2021, from https://vcahospitals.com/know-your-pet/how-to-choose-a-good-dog-breeder.
Scarbrough, A. (n.d.). Etiquette Considerations When Conversing with Breeders. greatdanes.net. Retrieved November 26, 2021, from http://greatdanes.net/etiquette.htm.
What's the difference between a puppy mill, a backyard breeder, a hobby breeder, and a reputable breeder? Von Ward Kennels. (n.d.). Retrieved November 26, 2021, from http://www.vonwardkennels.com/puppy-mill/.