Tail docking on Brittany Spaniels and other dogs is a cruel and abusive procedure when it is not medically necessary. Yet despite being considered mutilation, it is still performed to some degree on dogs and other animals to this day. Read on to find out more about it and any steps we can take to put an end to it.
Why Do Brittany Spaniels Have Docked Tails?
Britanny Spaniels usually have docked tails because they were either born that way, needed medical treatment, or had the practice unnecessariLy performed on them. Unless medically necessary, you should NOT dock any dog's tail.
Why do some dog breeds like Brittany Spaniels Have Docked Tails?
Some dog breeds have docked tails because they are born that way. Brittany Spaniels can be one of those breeds. We discuss other breeds born without tails in this article as well.
However, some dogs are born with long tails and they are docked for either cosmetic or medical purposes. As we've mentioned docking a tail for a legitimate reason is normally called a caudectomy. 'Docking' is reserved for referencing a non-medical motivation.
Born That Way/ Birth Defect
As we've discussed in this article, some dogs are born without a tail or a short 'bobtail'. These dogs are born this way because they have a genetic mutation from birth.
Pawleaks.com reports that it is an ancestral 'T-box gene mutation' scientifically referred to as C189G).
To Achieve a Specific Look
Some owners and breeders still think that tail docking is a good idea simply because it fits a certain look or aesthetic. Luckily that number of people seems to be dwindling.
To Comply with Dog Show Standards
For certain breeds- including the Brittany Spaniel-tail docking is done to meet Dog Show standards. Though this hardly seems like a good enough reason to put a dog of any age through such a painful and traumatic experience.
Prevent Injuries When Working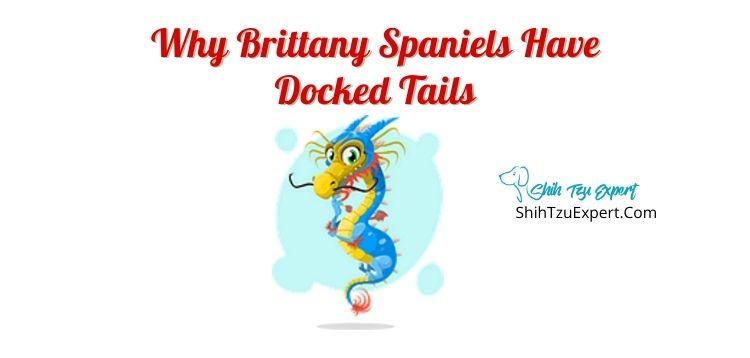 Some still argue that as Brittany Spaniels are often used as hunting dogs, tail docking prevents them from getting tail injuries.
However, there is no evidence that this is at all true. It is just an excuse to continue the practice of tail docking.
How Cruel is it To Dock A Brittany Spaniel's (or any other dog's) Tail?
It is extremely cruel to dock a dog's tail. Medically, it may be needed in some situations. But in those cases it is done as humanely as possible, using anesthesia and other professional veterinary tools to ease any pain and prevent as much discomfort as possible.
But if it is done for any other reason, it is considered abuse and mutilation. We've discussed many of the reasons why. This article's resources and many others that you will find in a Google search can add to the information you find here. It all supports how cruel it is to dock a dog's tail.
Are There Significant Medical Reasons for Docking a Dog's Tail?
There are significant medical reasons for docking a dog's tail. Examples of this are a broken tail that will not heal correctly and cause pain, an infection that cannot be cured or reversed, and a deformity that the dog was born with or otherwise received through some type of accident or abuse.
Is Tail Docking Unethical?
Yes, tail docking is extremely unethical. The dogs suffer through unnecessary pain and mutilation without anesthesia. This can also cause chronic pain and other permanent problems for the dog.
Many countries have banned the practice altogether and others have the prerequisite that it must be medically necessary and performed by a qualified and licensed veterinarian. If that is not the case, there is nothing ethical about tail docking.
Will the Breeder Keep the dog's Tail Undocked If I Contact Them Ahead Of Time?
Most breeders should keep the dog's tail undocked by request if docking is something that they still do. Though it depends on the breeder. As mentioned in this article, many breeders no longer dock tails, so it shouldn't be a problem.
If you are dealing with a particular breeder that does still dock tails, requesting for them not to ahead of time should be doable.
Why do some breeders Leave tails Intact?
Most breeders leave tails intact because it is the humane thing to do. They know that unnecessary tail docking is mutilation and abuse. Plus, these dogs are naturally born with shorter tails most of the time, so there is another reason why there is no need for it.
How to find a breeder who doesn't dock tails?
This may take some leg work on your part. To find a breeder who does not block tails you have a couple of options. With a quick Google search, you can find online forums or tips discussing breeders that don't dock tails and how to find them.
Another option is to call local breeders in your area and ask them if they do or do not dock tails.
What Is The Purpose Of Docking A Tail?
There are a few reasons that someone may dock a Brittany Spaniel's tail:
-For cosmetic reasons/achievement of an ideal look
-For medical reasons where the tail cannot be recovered after injury
-Adherence to dog show standards for the breed
(dogsandclogs.com)
We've discussed some more of these at length here in this article.
Are Brittany Spaniels normally Born Without Tails?
According to the AKC, Brittany Spaniels can be born without tails or with bobtails. Dogsandclogs.com reports that the AKC has evidence of Brittany Spaniels appearing on historical tapestries and paintings with bobtails.
These paintings and tapestries are from French, Dutch, and Flemish art masters and date back to the 17th century.
How long is a Brittany Spaniel's Tail?
Dailypaws.com reports that Brittany Spaniels can be born with long tails, short tails measuring 1.5-3 inches or even no tails at all.
Do Brittany Spaniels naturally Have Shorter Tails compared to other dog breeds?
Compared to the many dogs that have long tails, most Brittany Spaniels do have naturally shorter tails. Though other breeds have naturally short tails as well.
Why Do Dogs Have Tails (is there a benefit)?
There are multiple benefits of a dog having a tail. While we discuss social benefits in another section of this article, here we'll talk about the physical benefits.
Dogs use their tails for balance and counterbalance. According to the American Kennel Club, the tail does this by putting its weight on the opposite side of the dog's tilt. They liken it to a tightrope walker's method of balance.
Dogs use their tails for movement. Their tail helps them to change their direction. In the same way, it is a counterbalance, it is also a counterweight to the rest of the dog.
Dogs also use their tails to interact and socialize. They communicate their emotions through their tail.
what is Tail Docking (is it completely removing the tail or just a part of it)?
Glencoeanimalhospital.com gives us the definition of tail docking. Tail docking is the term used to describe the removal of part of a dog's tail. This creates a obtain look. Sometimes they remove the whole tail.
This term is used when the reason for the removal is not medically related.
When it is done medically it is called a 'caudectomy' and is used in instances where an animal breaks their tail and is unlikely to heal.
Do they dock Brittany Puppies' tails too?
Yes, Brittany Spaniel puppies get their tails docked. They can be forced into the procedure as young as 3-5 days old.
Do Dog Rescues Dock Dogs' Tails?
Rescues work to help animals and save them from unfortunate and dangerous situations. So while they might rescue a dog with a docked tail, they do not perform tail dockings as organizations.
Is Tail Docking Painful To Puppies and older dogs?
Yes, tail docking is painful to both puppies and older dogs. When done for aesthetic reasons, there is no anesthesia used. This makes it exceptionally painful for the dog and it is an unnecessary procedure.
The method of tail banding is used. This is a method that just means that circulation is cut off to the dog's tail so that it will eventually fall off.
As mentioned, if tail docking is not needed for medical purposes then it should not be performed on a dog.
Are There Naturally Tailless Dogs?
There are several naturally tailless dogs. This is due to a genetic mutation these dogs have from birth.
Is It Illegal To cut off a dog's tail?
While it is fully banned in some countries and only allowed if done by a licensed veterinarian, tail docking is not internationally illegal. However, more and more people are becoming aware of how inhumane it is to do this to dogs-or any animal-if it is not medically needed.
It is agreed upon by the majority that this practice should no longer be done. And most have stopped the practice. So it seems that making it illegal everywhere will happen very soon.
How Much Does Docking A Dog's Tail Cost?
The docking of a dog's tail is not a costly procedure. However, the price of the procedure is paired with the price of the first check-up. Wagwalking.com reports that docking generally runs from $10-20 per animal, and paired with the check-up, the cost can go up to $100.
However, if the dog is older when the procedure takes place, all in all, it can amount closer to $200-$500.
Do all Breeders Cut Dogs Tails?
Not all dog breeders cut tails. Some are against it for moral reasons and some for scientific reasons. For most though, it is a mix of both of these reasonings that is behind their motivations.
Is It Illegal To Buy A tail Docked Dog?
It is not illegal to buy or adopt a dog with a docked tail. You're most likely saving the dog from further mistreatment. Tail docking for any other reason than medical is a very inhumane act and is considered to be abuse/mutilation.
If someone is willing to perform this on a dog simply for cosmetic purposes, then they should not be allowed to care for any animals.
You will receive no repercussions-legal or otherwise-for buying, adopting, or owning a docked tail dog.
Is Tail Docking Illegal In USA/UK?
Tail docking has been banned in several countries (kb.rspca.org.au). The United Kingdom has it banned unless it is being carried out by a registered veterinarian.
In the United States, 21 have put some kind of regulative law in place. In these cases, it can only be done if determined to be medically necessary and performed by a licensed veterinarian (avma.org).
How Old Are Puppies When Their Tails Are Docked?
According to glencoeanimalhospital.com, tail docking is performed when the puppy is between 3 to 5 days old. But if it is not done then, they will wait until the puppy is 8 to 12 weeks old.
This can be done using anesthesia that can be done with or without sedation.
What Dog Breed Is Born With No Tail?
There are a handful of dog breeds that are born without a tail. These dogs fall under the bobtailed category.
Pawleaks.com lists 10 dog breeds that can be born with bobtails or without tails:
French Bulldog
Boston Terrier
English Bulldog
Australian Stumpy Tail Cattle Dog
Miniature Schnauzer (can also have a long tail)
Brittany Spaniel
Braque du Bourbonnais
Pembroke Welsh Corgi
Brazilian Terrier
Croatian Sheepdog
How Long Does It Take For A Docked Tail To Fall Off?
According to friendsofthedog.com and other sites, it usually takes about 7-10 days for the dog's tail to fall off.
How is a Tail Docked?
When a dog's tail is docked, the veterinarian puts the dog under anesthesia. Then the tail bones are separated using a scalpel and afterward, the incision is stitched up. There is also a painful and inhumane process of tail banding.
Tail banding is when a tight band is put around the dog's tail to cut off blood circulation and then have it fall off. Many veterinarians and breeders are against this immoral act and it is becoming banned by more and more organizations and vet practices.
H4 Welfare Concerns
There are many welfare concerns to docking a dog's tail. Or any animal for that matter. First and foremost, if not done by a licensed veterinarian, the procedure could be done wrong.
This leaves the dog unnecessarily open to pain, infection risk, inflammation, tissue damage, long-term chronic pain, and other complications (kb.rspca.or.au). All of this pain can be avoidable simply by not conducting the procedure.
On another level, tails are used as a communication tool for dogs. It is not only a way for them to communicate with humans, but it is an important part of dog socialization. Dogs communicate with each other through their tails.
They are also used to establish boundaries and avert aggressive encounters. This makes the tail a protection mechanism according to the RSPCA. If you remove their tail, it not only puts them at a social disadvantage but can also make the chance of miscommunication with people and other dogs.
What are the Benefits Of Docking Tails for the pup?
There aren't many advantages to docking a dog's tail. None that would make the process appear to be any more humane. But those who argue in favor of this procedure say that there are in fact benefits.
The small number of people who still support tail docking claim that it is beneficial for things such as the dog's hygiene and that it prevents hunting dogs from damaging their tails.
However, as the RSPCA points out, most dogs that get docked tails are family pets and in no way reduces the chance of tail injury. All in all, these are excuses and they are completely unfounded.
What are The Alternatives to Tail Docking?
In truth, there is only one alternative to tail docking. And that is to not do it. Ending the practice of cosmetic and unnecessary tail docking is ending a cruel and abusive 'tradition'. This practice needs to be done away with and made illegal internationally.
Resources
https://wagwalking.com/treatment/caudectomy