Sometimes, dogs bob their heads briefly before they start eating. Why do they do that? Should dog owners be concerned? This article outlines some of the possible causes of head bobbing and what owners can do about them.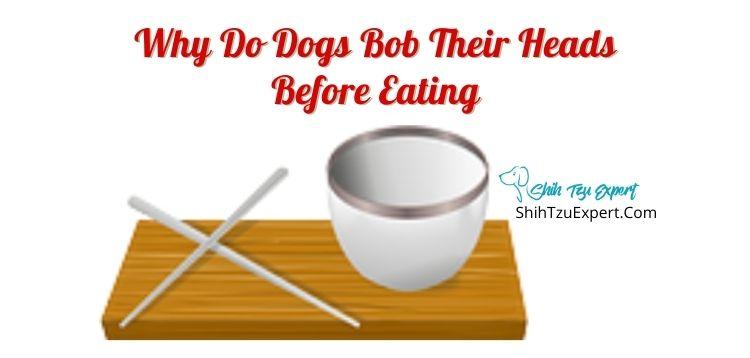 Why Do Dogs Bob Their Heads Before Eating?
There are many explanations for this behavior, including:
Instinct. Many dogs start bobbing their heads at a young age, meaning that they've established this behavior as a part of their routine. In this case, head bobbing would be no different than circling the bed before laying down, or kicking up dirt after going to the bathroom.
Idiopathic Head Tremors. Certain breeds, such as boxers, bulldogs, and Doberman pinschers, are prone to develop idiopathic head tremors, which can appear suddenly. This condition will be explained more later on in the article.
Ear Discomfort. If the dog is bobbing their head voluntarily, they might have something in their ear. It might also be a sign of an ear infection.
Medication. Some medications have been associated with head tremors. Head bobbing has been linked with heartworm medication, though this hasn't been scientifically verified. Dogs have also been observed bobbing their heads after ingesting medications like antidepressants, anti-emetics, and amphetamines.
Blood Sugar. Head bobbing has been associated with low blood sugar levels. If so, raising their glucose levels should solve the problem
Calcium. Calcium deficiencies have been known to cause head bobbing. This is particularly common among puppies, which have lower calcium levels than adult dogs as they develop.
Mouth Discomfort. Another way your dog could be voluntarily bobbing their head is if they have discomfort in their mouth, possibly from canker sores, a nasty taste, or something else.
Canine Distemper Virus. Canine distemper virus is as contagious and occurs as frequently as the human common cold. Unfortunately, it can be fatal, depending on the dog's immune system. Head bobbing is one of the more progressive symptoms of the illness.
Myoclonus. Myoclonus is a rhythmic jerking of a muscle or group of muscles, especially muscles in the limbs or in the head. Myoclonus is also a symptom of canine distemper virus.
Birth defects. Some birth defects can cause head bobbing, such as cerebellar hypoplasia. Cerebellar hypoplasia has been described as "the canine version of cerebral palsy."
What To Do About My Dog Bobbing Its Head Before Eating?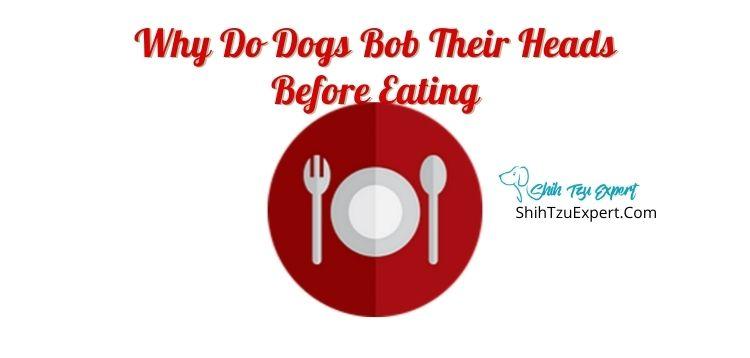 Here are some of the options you have if you notice your dog bobbing their head before eating:
Ignore it. If it only happens right before they eat and they seem perfectly fine afterward, don't worry about it. Most vets won't go further if this is the only symptom you notice and your dog has an otherwise normal quality of life.
Change their medication. As this article will explain, heartworm medication has been linked to head bobbing. If this is the case, you could try changing the medication and see what happens. Talk to your vet before changing your dog's medication.
Make sure your dog is getting enough nutrients. Two possible causes of head bobbing are low glucose levels and low calcium levels. Ask yourself, is your dog getting enough glucose? Are they getting enough calcium? If the answer is no, you may want to look into supplements or changing your dog's diet. You should consult your vet for advice.
Investigate the cause. The main reason your dog's head bobbing is bothering you is that you don't know why it's happening. So, try to figure out why they may be head bobbing. See if the motion is voluntary or involuntary. Examine your dog's mouth and ears for sources of discomfort. Be on the lookout for other symptoms.
Go to the vet. If you're really worried about your dog, take them to the vet. There's no treatment for head bobbing, but your vet can help you figure out the cause and give you advice on how to proceed. If the head bobbing is related to an underlying condition, your vet will help treat your dog.
Is Bobbing Their Head Before Eating Normal Behavior?
It depends. It is possible your dog has been doing this their whole life and it is just a part of their routine. Head bobbing is particularly common in dogs between six months and three years. They might grow out of the habit.
If they've just started out of the blue, however, something else may be going on.
Can Head Bobbing Be The Start Of A Seizure?
Head bobbing is usually harmless. In most cases, it is either a habit acquired throughout the dog's lifetime or it's idiopathic. Idiopathic head bobbing cannot be linked to any medical conditions. But no, it is not the start of a seizure.
However, it is extremely important to figure out the cause of the head bobbing. While the cause of the head bobbing is most likely benign, it could also point to tumors or head injuries.
When You Should Worry About Your Dog's Head Bobbing?
Some dogs bob their head before they eat and then go on with their day as if nothing happened. While you should double-check with your vet if your dog starts head bobbing out of the blue, vets frequently dismiss the behavior unless it impacts the dog's quality of life.
What Is Head Bobbing A Sign Of Sickness?
Sometimes, head bobbing can be a head tremor, which could indicate several causes:
Cerebellar head tremors. These tremors can indicate damage to the dog's cerebellum, the part of the brain that controls coordination.
Toxin-related head tremors. These tremors happen after the dog ingests some type of poison like rat poison, slug/snail baits, or compost.
Drug-related head tremors. These tremors are caused by the dog ingesting drugs like antidepressants, anti-emetics, and amphetamines.
What Are Idiopathic Head Tremors (IHT)/Bobble Head Syndrome
Idiopathic Head Tremors are head tremors with no known cause. They are head tremors in that they manifest as an involuntary side-to-side or up-and-down movement of the head. Because the movement is reminiscent of a bobblehead doll, IHTs are also known as Bobble Head Syndrome. This is most commonly observed in immature to middle-aged dogs.
The crux of IHTs is that the cause is unknown. There are many different causes for head tremors, including:
Certain medications
Central nervous system (CNS) disease
Extreme pain
Injury/trauma to the head
Kidney disorders
Low blood sugar
Low calcium levels
Swelling of the brain
Toxicity from chemicals or plants
What Does Bobble Head Syndrome Look Like?
The tremors of Bobble Head Syndrome have been compared to Parkinson's disease in humans. Bobble Head tremors have the following characteristics:
Movements could be:

Head bobbing back and forth
Shaking head up and down (like nodding)
Shaking head (like saying no)

Only occur in the head
Happen while the dog is at rest
Usually last less than five minutes
Do not seem to upset the dog
Can often be stopped by distracting the dog
Bobble Head Syndrome is diagnosed by process of elimination since the whole point is that there is no known cause. Your vet will narrow it down to Bobble Head Syndrome by taking the following steps:
A complete physical examination, including assessing vital signs, auscultation, and palpation.
A review of the dog's complete medical history and vaccination records. They will also take into account any medications the dog takes.
Lab tests, including a complete blood count, blood urea nitrogen, blood sugar, urinalysis, fecal examination, and electrolyte analysis.
Machine tests: x-rays of the head and spine, a CT scan, an MRI, and an ultrasound (depending on whether the vet deems it necessary).
Are Idiopathic Head Tremors In Dogs Dangerous?
More often than not, IHTs are not dangerous. For it to be dangerous, the tremors would need to have a serious underlying condition, which a vet can determine. If the tremors don't affect the dog's quality of life, the vet probably won't even prescribe treatment.
If the vet finds a serious cause, like a CNS condition or brain damage, then they might recommend medication, surgery, or hospitalization. However, if this is the case, your dog was probably showing other symptoms.
What Are The Dog Breeds That Are Usually Affected By "Idiopathic Head Tremors"?
IHTs are particularly common in:
Boxers
Bulldogs
Cavalier King Charles
Chow Chows
Dalmatians
Dobermans
French Bulldogs
Labrador Retrievers
Pitbulls
Samoyeds
Some mixed breeds
Spaniels
Other Possible Causes Of Head Bobbing
Discomfort in the Ear
If the gesture seems to be voluntary, a likely cause of head bobbing is ear discomfort. Your dog might be trying to relieve an itch or clear their ear canals of foreign substances that got in.
If the bobbing is particularly intense, they may have a more serious problem, like an allergy or ear infection. In that case, you should get them medical attention.
Side Effects Of Medication
Head bobbing has been associated with heartworm medication. This hasn't been studied in-depth, but many vets have made this observation.
If you think heartworm medication might be causing the head bobbing, talk to your vet about a change in medication.
Low Blood Sugar Level
Head bobbing can be related to low glucose levels. This particular cause is more common in dogs that are lactating (who have lowered glucose and calcium levels) or have hormonal issues. In some cases, dogs with hormonal fluctuations head bob more during estrus.
If this is the case, one home remedy is to rub a small amount of corn syrup or honey on your dog's gums. This will increase their blood sugar levels and hopefully resolve the issue.
However, if this happens more than a couple of times, you should call your vet.
Insufficient Calcium In The System
If it isn't idiopathic, it is possible that your puppy has a calcium deficiency. A puppy that head bobs is more likely than a dog that head bobs to have the cause be calcium deficiency because their calcium levels are low while they are developing. If you believe this to be the case, contact your vet so they can prescribe the appropriate supplement.
Discomfort in the Mouth
Another cause of voluntary head bobbing is mouth discomfort. Mouth discomfort could be anything from "I accidentally swallowed a bug" to "I don't like the taste of the medicine you just gave me." On a more serious note, this behavior has been observed in dogs that came in contact with poisonous toads, in an attempt to rid their mouths of the toxin.
Chances are that this event is benign. However, if the head bobbing is paired with any of the following symptoms, they need to go to an animal hospital right away:
Bright-red oral mucus membranes
Pawing at the mouth
Profuse foamy salivation
Vomiting or retching
Canine Distemper Virus (CDV)
Canine Distemper Virus is a disease that attacks the respiratory, gastrointestinal, and nervous systems. If your dog hasn't been vaccinated, CDV is highly contagious and often fatal. There is no cure; treatment is focused on preventing secondary infection and dehydration.
Symptoms are progressive in this order:
Thick yellow discharge from the nose and eyes, as well as coughing
Lethargy and fever
Reduced appetite, diarrhea, vomiting
Head tilt and circling
Muscle twitches, convulsions with jaw chewing movements, seizures
If CDV is the cause of your dog's head bobbing, however, you've probably already noticed and started some form of treatment. If you're concerned your dog has CDV, talk to your vet.
Birth Defects Like Cerebellar Hypoplasia
Birth defects are also a possible cause of head bobbing.
One such cause is cerebellar hypoplasia, a condition that hinders the development of the cerebellum. There is no cure, but it doesn't affect life expectancy. Symptoms can range from mild to severe. Head bobbing and tremors are mild symptoms, whereas a lack of coordination and falling over indicate a more severe case. Cerebellar hypoplasia is hereditary in some breeds, including Chow Chows, Boston Terriers, and Irish Setters.
References
https://wagwalking.com/condition/head-tremors
Dog Head Shaking: Causes and What to Do