Dogs don't use words to communicate. Licking is another tool dogs have in their arsenal to tell us what's going on in their minds. In this article we'll look at the reasons why a dog prefers to lick certain people more than others.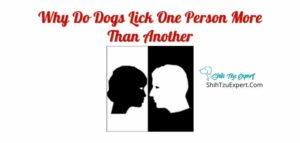 Why Do Dogs Lick One Person More Than Another?
You may have observed your dog running to another person and licking them happily each and every time. If they are ok with the behavior, there's no problem here. However, you might be inclined to wonder why your dog seems to be a bit fixated with licking certain people. Here are some reasons why:
They Like Them More
This can be a hard thing to accept, but don't take it too personally. That person may be an exceptional head scratcher or affection giver or perhaps they once gave your dog a remarkably delicious treat and your dog is trying to get the treat again.
They Are More Fun To Lick
Perhaps your reaction to being licked is not as positive as it is for someone else who gets licked by your dog. The other person may react in a way that your dog enjoys and so they recreate those moments with them, because it is fun for them.
They Taste Better
Humans come in a variety of looks, smells, and — you guessed it — tastes. Your dog may lick another person more than you simply because they taste better. Especially if they are sweatier than you, your dog may like to lick the salty sweat off.
They Love Being Licked By The Dog
The joy of getting licked by a dog can go both ways. If a person reciprocates joy when being licked by your dog, your dog definitely can sense the positive emotions and will continue licking that person because they love being licked by your dog.
They Have Conditioned/Trained The Dog To Lick Them
Dogs are particularly sensitive to positive reinforcement. Whenever something positive happens to them they are likely to keep repeating the behavior that caused the good thing to happen. So if your dog gets attention, a good head scratch, treats or play time with a person after licking them they will keep licking and will inadvertently be conditioned or trained to keep licking that person.
Dog Likes Their Posture
Dogs take cues from the humans around them. If someone kneels beside them or turns away from them they are not likely to jump on them. However, if a human gives a cue to engage or invitation to interact, your dog will go for it if it's a happy pup. If the person has made eye contact and has smiled, your dog will certainly give them kisses to greet them or to get attention.
Dog Likes Their Gender
Some dogs prefer one gender over another. Some dogs like licking males better than females and vice versa. You will get your kisses but probably not as much as the gender your dog prefers.
Dog Is Just Greeting
Humans can greet each other in many ways. They can shake hands, hug, kiss or bow. Similarly dogs have a variety of ways they can greet each other including smelling,  wagging tails, staring and licking. This is the way your dog prefers to greet you.
Dog Is Saying The Person Licked Is Superior
Before human domestication, dogs existed in packs. Each pack was led by an alpha or pack leader. When a human has a dog companion they form their own pack. When your dog licks you, this could be its way of telling you that you are the pack leader and superior to all others. It is showing you submission.
Dog Is Trying To Assert Dominance Over The Person Being Licked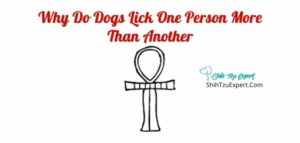 Every owner should know the importance of being a good pack leader. It's critical that your dog sees you as the pack leader in order for you to be able to have a healthy relationship with it. There are times that a dog may lick you in order to tell you it does not appreciate you calling the shots in the house.
Dog Is Trying To Get Attention From Them
In the past, how has that person reacted to your dog licking them? If it was a positive reaction and your dog received pets, ear scratches, play time, attention or happy words, then it is likely that your dog is licking them in order to receive that attention again.
Dog Is Trying To Groom The Person Being Licked
When dogs are puppies they are groomed by their mothers by licking. When they grow up they continue to groom themselves by licking. If they lick a person more than you it is possible that they are simply trying to groom the person and believe they are getting that person clean.
Dog Is Trying To Heal The Person Being Licked
When a dog has a wound they often lick it to promote healing. This behavior can be translated to human beings. If a dog begins licking someone it possible that person may have a wound, or skin allergies. Dogs are also able to detect cancers and can indicate this by licking a mole that is cancerous.
Dog Is Trying To Welcome The Person To The Pack
For a dog, licking is a form of communication. When a new person arrives the onslaught of licking can be the dog's way of initiating bonding, affection, expressing themselves or communicating a welcome to the pack.
What Is My Dog Trying To Tell Me When It Licks Others More Than Me?
When a dog licks another person more than you there are a variety of reasons why this might be the case. Here are some reasons why:
Dog gets a positive reaction from the person
Your dog knows you don't like it when it licks you so it licks others
Dogs gets positive reinforcement when it licks that person
It detects a wound, skin allergy or cancer on the person
It is greeting the person and welcoming it to the pack
The dog is asserting dominance or demonstrating submission to that person
Dog is showing empathy or affection
Dog is anxious or scared and finds comfort in that person
Dog is hungry
Your dog thinks that person tastes good
The person's posture has facilitated the licking
The dog prefers that person's gender
Your dog is grooming that person
Is My Dog Trying To Tell The Person There Is Something Wrong With Them By Licking Them So Much?
Dogs have a powerful sense of smell. They are able to smell certain illnesses or malady on a person. Most of the time licking a person doesn't indicate anything harmful other than your dogs trying to get attention or greeting someone.
But if the dog appears to be fixated on the licking especially when it is on one area of the body, this could indicate that something is wrong.
They could be detecting cancers, migraines, seizures, low blood sugar, arthritis, skin allergies or wounds.
How Can You Stop Your Dog From Licking You?
A little licking is ok. After all, licking is a natural dog behavior. However, there are times when it gets to be too much. Here are some things you can do to discourage the behavior or get a better handle on it.
Step away: Dogs respond to a reaction whether it is good or bad. However by increasing the distance between yourself and the dog and remaining neutral, the lack of response from you will discourage the dog from licking you.
See a doctor: And not just the vet. A human medical doctor. If the licking is borderline obsessive. This could be an indication that something is not medically right. Take the time to make sure you're in good health.
Keep your dog stimulated. Excessive licking could mean that your dog is bored and looking for stimulation. Make sure your dog is getting plenty of play time, exercise and stimulation.
Dog training or behaviorist: If the behavior is persistent, it might be beneficial to have outside help to reduce the behavior. The dog trainer or behaviorist can pinpoint why the licking is occurring and guide your dog through the steps to decrease the behavior. You can also discourage the behavior by rewarding your dog for not licking you.
Have good hygiene: As we've seen, dogs like to lick the salt of sweat off of human skin. Be sure to shower regularly to keep the sweat to a minimum.
Distract: When you see the onslaught of licking is about to begin, take steps to distract your dog and redirect them. Help to get its mind off it.
Keep calm: Your dog likely gets hyped up if you are giving high energy. High energy encourages licking. In order to keep your dog from licking you try and stay calm, your dog will emulate your behavior and stay calm too and not lick you.
Why Do Dogs Lick Us?
Dogs lick us for a variety of reasons including happiness, attention seeking, greeting, they enjoy our taste, grooming and sometimes it indicates an illness. If a dog is particularly comfortable with a person, it may lick them more while they are feeling anxious and seeking comfort.
Why Does My Dog Lick My Husband/Boyfriend But Not Me?
Believe it or not dogs have a preference for gender. If you are female and your dog prefers males, you'll find that your dog will lick the males in your life more than you and the other females in your life.
Is It Safe To Let My Dog Lick My Face?
In a healthy person dog kisses aren't likely to be unsafe. But does that mean you should let your dog's saliva come in contact with your mucous membranes, that is, with your eyes, nose, and mouth? The answer is no.
There are bacteria and yeast organisms that are unique to a dog. If they come in contact with humans and proliferate there's a chance that the human immune system will not be able to combat the organisms.
It's also important to think about what dogs get into on a daily basis. They are often sticking their noses in questionable things and lick themselves often.
It's a good idea to keep them from licking your nose, eye and mouth area to keep yourself from a potential infection or illness.
Are Germs In Dogs Saliva Dangerous To Humans?
You may have heard that dog saliva is antibacterial. Surprisingly this is true. But there is a huge caveat to this. While there are antibacterial properties in dog saliva there can also be found fecal matter and other pathogens.
For example capnocytophaga canimorsus  is a bacteria that can cause sepsis in humans. There are parasites including roundworms, hookworms and giardia.
Humans can also be allergic to dog saliva, too.
In most cases, dog germs that are transferred to humans are quickly eliminated by a healthy immune system.
In the end however, the risks far outweigh the small benefits. It's best to keep dog saliva away from mucosal membranes or the areas around the nose, mouth and eyes.
Is Licking A Dog's Way Of Kissing?
The answer to this question is both yes and no. It depends on the dog's conditioning, the context and the dog's mood. Dogs certainly use licking as a sign of affection just as humans use kissing as a sign of affection. However, a dog can be communicating something other than affection such as hunger, boredom, and illness to name a few.
Can Excessive Licking Be A Problem?
Excessive licking can turn into a problem. If your dog becomes fixated with licking a certain area of the body, this may be cause for concern and the human in question should get a medical evaulation. This can indicate a health problem.
If the excessive licking is simply too much and is making it difficult for the dog to function regularly throughout the day it might be time to condition your dog to stop or to seek out a dog trainer.
What To Do About Excessive Licking?
If your dog has started licking obsessively, don't worry. There are a few things you can do to help it to stop. You can ignore the behavior which discourages the dog from licking. You can reward your dog for not licking you.
Distract your dog or redirect it. You might seek out a dog doctor or medical doctor to address any medical concerns. Make sure you and the dog have good hygiene. And lastly, reach out to a dog trainer who can help you figure the cause of the behavior and condition your dog to stop.
References:
https://www.thekennelclub.org.uk/health-and-dog-care/health/health-and-care/a-z-of-health-and-care-issues/why-does-my-dog-lick-me-so-much
https://www.petmd.com/dog/general-health/dog-saliva-9-fast-facts-you-should-know