Every dog owner wants their dog to smell good and some may have noticed that their dog smells better whilst they are sleeping. There are a number of reasons for this, some are fairly innocent, but others might lead to significant health problems unless dealt with.
Why Do Dogs Smell Good When Sleeping?
There are a number of reasons why dogs smell good whilst sleeping, particularly that they might smell better during the day. This includes their diet and overall cleanliness; however, if your dog doesn't smell good, this suggests they aren't clean and it could lead to health problems.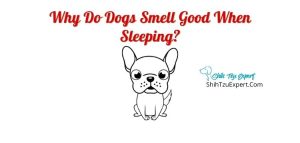 Why Do Dogs Smell Good When Sleeping?
There are a number of reasons why dogs smell good when they are sleeping, including the following:
Your Dog Is Nearer To You.
There is evidence to believe that you will find your dog smells nicer when they're sleeping due to their proximity to you. This is because you're both sat still, everything is calm, and makes you sense a different smell in your dog that you might not have noticed before.
The Influence Of Pheromones
Pheromones are chemical factors within our bodies that are either secreted or excreted through bodily fluids, such as urine and sweat. As it's normal to sweat during the night, or while sleeping, these might cause the stronger scent in your dog, which is what you can smell.
The Role Of Sweat Glands
Dogs are able to sweat and this is mostly through the sweat glands in their paws. As we all know, sweating can make us smell different, and the same happens for dogs.
Obviously, sweating happens when they're hot, so make sure they're not too hot as this could lead to a heat stroke.
Cleanliness
Everyone loves a clean smell and who doesn't love the smell of a lovely clean dog? If your dog has recently been freshly washed or just seems to smell clean for some reason, it's more than likely that you will instantly notice how good they smell.
You may notice this clean smell more when they're sleeping because you have more time to just sit and relax with your pooch as opposed to rushing around everywhere.
A Dog's Diet
Your dogs diet can affect a number of things, including smell, such as it causing flatulence. This can be caused by eating foods that are high in fibre, having too much fat in their diet, having lactose intolerance, or being on certain medications.
A Dog's Grooming Routine
A dog's grooming routine is very important, either whether they are cleaning themselves, or if you or someone else grooms them. If they aren't regularly groomed, they might get a build-up of dirt in their fur, which can cause their fur to be smelly.
However, if they have a good grooming routine that is a mixture of them grooming themselves and getting a proper clean from you or someone else, then this is going to make them cleaner and smell nicer, which is the nice scent you might be getting from them.
Is It Normal For A Dog To Smell Different When Sleeping?
Yes, it is. If your dog is sleeping, the odor they emit comes out stronger than it would if they were moving around. It's not necessarily that they smell more pleasant, but is more because the smell is stronger that makes them smell different.
What To Do If My Dog Smells Different When Sleeping?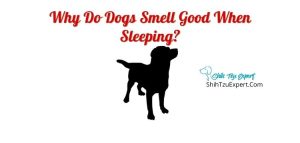 There are a number of different reasons why your dog smells different when they are sleeping, including the following:
Wipe your dog with wipes. This will get rid of any dirt on their coat and it is a cumulation of dirt in their coat that can cause them to smell bad. Whilst the wipes won't get rid of everything, it's a good place to start.
Regularly brush your dog. This also helps to get rid of any dirt or anything else that might be hidden in their fur and can stop the build-up of anything that might be causing your dog to smell bad.
Use a dry or powder shampoo. You may think your dog needs a proper wash, but they actually only need one of these every two or three months. There are plenty of dry and powder shampoos for dogs that require minimal effort on your part.
Keep their bedding clean. Naturally, dogs will sleep in their bed and if their bedding isn't clean, this will mean they aren't clean – causing them to smell bad. This also involves keeping your dog clean because if your dog is dirty and is then getting into their bed, then they're dirtying their bed. Try and keep them as clean as possible and if you notice their bedding is really dirty, you can always put it in the wash.
Make sure their ears, anal sac, and teeth are clean. These are the first places that will start to smell bad, so make sure to wash behind their ears and clean their teeth. If you notice a fishy smell, this is more than likely coming from their anal sacs, and may involve a trip to the vets as it could also be coming from their anal glands, which could become quite serious if left untreated.
Why Do We Humans Love The Smell Of Dogs?
There are a number of reasons why humans love the smell of dogs, including the following:
Positive Association With Companionship
Humans and dogs both love and need companionship, so the familiar smell of your furry friend nearby can instantly make you feel comforted, even in your lowest of moments. Just the smell of your furry friend lets you know they're there, which can instantly help you feel more positive.
The Release Of Oxytocin
Dogs are quite the positive force in our lives and being around our furry friends can raise our oxytocin levels. This is our love hormone and creates social bonding. Just being around dogs, particularly if they smell good, can raise these levels, making us feel good.
The Comfort Of A Familiar Scent
We all love a bit of comfort, so if you're feeling a little low or in need of some comfort, most of us prefer a familiar scent that can instantly boost our mood, even if it's just a little bit. This scent can come from our dogs and as soon as we smell them, we instantly feel calmer.
Is The Smell Safe For Humans?
Some people may question if the smell of their dog is safe for them. Please bare in mind the following:
The Potential Risk Of Bacteria
If your dog has a lot of bacteria on them because they haven't been properly cleaned or groomed this can cause a number of problems for humans. This can vary from minor skin infections to serious illnesses.
This is why it's important to thoroughly clean your dog and also to wash your hands after having any form of interaction with your dog, no matter how clean they are.
The Importance Of Cleanliness
Cleanliness is really important, for both you and your dog, in order to avoid getting ill. Make sure you both keep clean and regularly wash and be aware of what you should do if either of you starts to become ill, just in case it happens to be serious.
When To Seek Medical Attention
You should seek medical attention if you start to become sick and these symptoms become worse or don't get better within a few days.
Certain infections you might get from your dog could eventually lead to something serious, such as sepsis, if not treated sooner, so it's always better to be safe than sorry.
How To Enjoy The Smell Of Your Dog While Sleeping?
There are a few things you can do in order to enjoy the smell of your dog whilst they're sleeping, including the following:
Regular Bathing
Dogs don't need to be bathed that regularly. This is because they can lick themselves clean, so they only need a proper bath once every two to three months. Many dog parents will bath their dog(s) more regularly for their own benefit as opposed to that of their dogs.
Proper Grooming
Dogs are more than capable of grooming themselves, but it's always good to get a professional groomer to groom them every few months.
However, you can also keep up with this more regularly by regularly brushing them to get rid of any dirt, rinse their coat and feet if they get dirty, remove any dirt and crust from around their eyes, wipe the fold and flaps of their ears every few weeks, trim their coat and the hair between their paw pads, and clip their nails.
Avoiding Harsh Cleaning Products
There are various cleaning products that you shouldn't use around your dog due to the harsh chemicals in them. Before using a cleaning product, always check that they are safe to use around dogs to help prevent your dog from getting ill.
Why Do Dogs Smell Like Fritos/Popcorn When They Sleep (Savory Sleepy Dog Smell)?
This is more than likely due to a build-up of bacteria somewhere on your dog's body. More generally, you shouldn't notice this as long as the bacteria and fungi on the skin have a normal balance. When this goes out of balance, this can case the popcorn/fritos smell.
Why Do Dogs Smell Different When They Go Outside?
Dogs can smell different when they come back inside from outside as opposed to when they're inside all the time due to environmental factors. Various things, such as dirt, are better able to cling to their coat and may be smellier in summer than winter due to the heat.
Why Do Dogs Heads Smell Good When They Sleep?
This is quite a common thing to happen and is probably because whilst your dog is sleeping and you have a bit of time to sit alongside them whilst they snooze, you have more time to notice what your dog smells like and may find yourself just constantly sniffing your dog's head whilst they snooze.
Why Does My Dog Smell Like Fish When Sleeping?
This is likely due to their anal glands. This odor can be emitted from there from time to time and whilst it is an unpleasant smell, isn't always something to worry about.
However, you might want to check with your vet that it isn't coming from their anal sacs, because this could be something serious.
Does A Relaxed Dog Smell Different? What Is The Effect Of Relaxation On Scent
There's a chance we would be able to smell the difference between a relaxed and a stressed dog. After all, dogs can smell the difference between a relaxed and a stressed human.
Whilst our sense of smell isn't as good as dogs', smelling a relaxed dog can help us become more relaxed.
References:
https://www.ncbi.nlm.nih.gov/pmc/articles/PMC8388720/
https://pubmed.ncbi.nlm.nih.gov/29797188/
https://www.health.ny.gov/publications/6500/index.htm
https://wusfnews.wusf.usf.edu/2022-12-22/can-dogs-smell-time-just-ask-donut-the-dog
https://research.ufl.edu/publications/explore/past/spring2011/story_4/index.html