It can be incredibly annoying when you find your dog scratching at your carpet. But what can you do about it? And what causes them to start scratching the carpet in the first place? Keep reading to find out what you can do about it.
Why Dogs Suddenly Scratch The Carpet?
There are many reasons why your dog may start suddenly scratching the carpet. They could be too hot/cold. They may be anxious/scared. They could even possibly be ill. Finding out this reason is important to help your pet and to also help protect your carpet.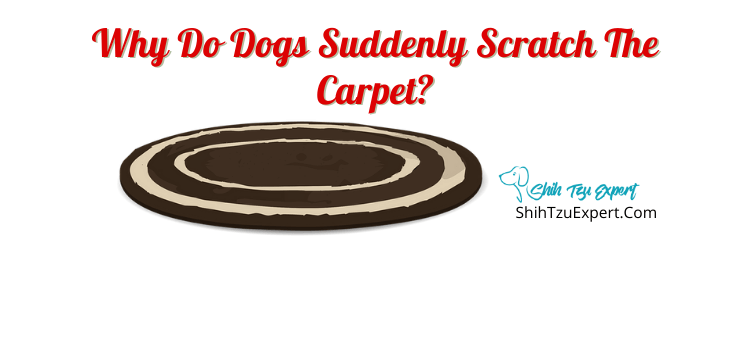 Is There Scratch Resistant Carpet?
Sisal flooring is the best type of carpet to get if you have a dog that's prone to scratching. It is a flat weave carpet, so your dog shouldn't be able to destroy it.
Alternatively, you could get wooden flooring to avoid your carpet from being destroyed if that's what you're worried about.
Does Home Insurance Cover Carpet Scratches By Pets?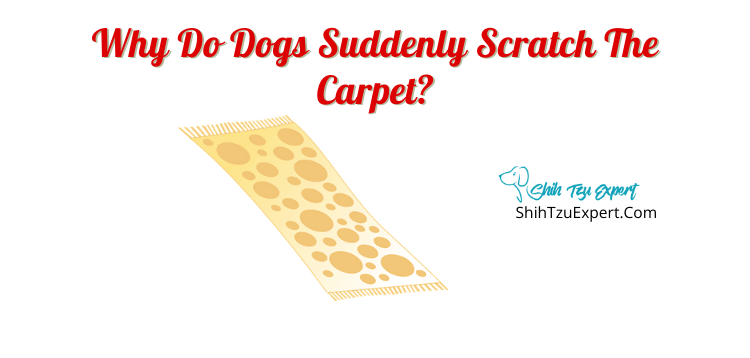 In a lot of cases, no. You would really need to look over your home insurance policy to determine whether it does or not.
However, you can get accidental pet damage insurance on top of your home insurance so that you're covered should your carpet get damaged.
Why Does My Dog Scratch The Carpet After A Bath?
Dogs often have a sudden rush of energy (sometimes nervous energy) after having a bath and this can sometimes manifest in scratching the carpet.
Why Does My Dog Scratch The Carpet With Her Back Legs?
Dogs have gland scents on their back feet so they are doing this to mark their territory.
What Does It Mean When My Dog Scratches Their Bum On The Floor?
This can be the cause of an anal sac issue, where they become clogged or injured. In this case, you should take your dog to the vets to get them sorted.
Why Does My Dog Scratch The Carpet Then Lay Down?
This can be due to a variety of different factors, such as being territorial, a natural instinct they have since before dogs were domesticated, for comfort, or to entertain themselves.
Why Do Dogs Scratch The Floor After Peeing?
This is another way of them marking their territory, which is why it's important you clean/scrub the floor where they've peed, as otherwise they will continue to think it's okay for them to pee there.
Why Do Female Dogs Scratch The Floor?
If your dog is able to have puppies, they may be scratching the floor because they're looking for a den for when they give birth.
Why Does My Dog Scratch The Carpet In The Middle Of The Night?
This is due to their inherited burrowing instinct, in order for them to get comfortable ready to go to bed.
Why Does My Dog Scratch The Carpet After A Walk?
It's possible the walk wasn't long enough and they still have a lot of energy left over, so put this energy into scratching the carpet. Always try and wear your dog out on a walk in this case, so they feel less inclined to scratch your carpet.
Why Does My Dog Scratch The Carpet When Excited?
Sometimes this can be due to something called displacement behaviour. This is something your dog will do when they want to exhibit a certain behaviour, in this case they're excited about something, but can't, so they do something else instead.
For example, if your dog was excited because they were going for a walk, sometimes they don't always know what to do with this excited energy so end up digging the carpet as a way to release some of this energy.
Why Does My Dog Randomly Scratch The Floor?
There are many reasons why your dog has randomly started to scratch the floor,
including: – boredom – attention-seeking – they're scared/anxious – OCD – a medical problem – marking their territory – trying to claim a crumb that's fell on the floor – trying to get at a bug that's on the floor Obviously, if you figure out the reason is medical, you should take your dog to the vets straight away.
What Should I Do About My Dog Scratching The Carpet And Floor?
The first thing you can do is put in the time to distract them from scratching the carpet. You can do this by playing and cuddling with them or increasing your daily walks to get rid of this pent-up energy they have that leads them to scratching the carpet.
Another thing you can do and is probably the most important thing is to train them. You can start by every time they start scratching, you make a noise to distract them.
You can also get them to perform for treats, but do this away from where they scratch so they don't associate the scratching with getting treats. The final thing you should try is getting in pest control. We've already mentioned the issue with scratching might be related to bugs/vermin in your home, so getting pest control to get rid of this issue should also stop the scratching.
Why Does My Dog Dig In The House?
This can be due to a number of different things, including: – looking for crumbs – smelling something interesting – trying to hide something – excited – anxious – bored – trying to create a safe space
Why Is My Old Dog Scratching The Carpet All Of A Sudden?
This is likely due to boredom or physical discomfort. If they're bored, you need to try and distract them as much as possible by giving them toys or chew bones and giving them something to do.
If the issue is physical discomfort, this could be due to them being too hot or too cold, in which case adjust the temperature in your home. However, it could be something a little more serious and in which case you should take them to the vets and get them checked out.
Why Is My Female Dog Scratching At The Carpet?
This may be due to them wanting to be comfortable and cosy. It's in their DNA to dig and one of the reasons they would dig before they became a domesticated animal was for somewhere to sleep.
Therefore, if your dog's scratching at the carpet it's most likely due to them trying to get a comfortable spot to sleep in.
Why Do Dogs Scratch The Carpet Like A Bull?
Dogs use their back legs to scratch, hence looking like a bull, because their back paws have pheremones in them that are released into the carpet and ends up with them marking their territory there.
Dog Ripped Up Carpet
You need to start by getting to the bottom of why they are ripping up the carpet. It could be something as simple as wanting to mark their territory; or they may be feeling anxious about something.
If they find the carpet comfortable, particularly when it comes to sleeping, try and buy them a bed that's similar to the material of your carpet or that they find comfortable so they know to sleep in that instead of trying to bury a hole in your carpet. If it's a case of them feeling anxious, try and find toys to distract them with so they'll chew and play with them as they're supposed to instead of taking it out on your carpet. Obviously, discipline them too so they know what they did was wrong and this should teach them to not do it again.
Why Does My Dog Dig At The Carpet?
There can be multiple reasons why your dog might dig at your carpet. It could be due to them being scared or trying to get at something that's on the floor or having a lot of energy and not knowing what to do with it.
It varies on each dog and is something you need to figure out so you can do something about it.
Why Does My Dog Dig At The Carpet Before Lying Down?
This is because it's in their intrinsic nature to dig in the wild when finding a place to lie down, whether that's to go to sleep or just to relax. Try encouraging them to go in their bed instead so they're not wrecking your carpet.
Why Does My Dog Scratch The Carpet After They Play?
This might be because they still have a lot of energy left over from playing and don't know what to do with it, so they use this energy to scratch at your carpet.
In this case, you should try and encourage a bit of extra play time, but where they're not getting too over-excited so once the play is over they don't then go and start continuing to scratch at your carpet.
How To Stop Indoor Digging?
The best thing is to make some kind of noise, such as clapping your hands together, to distract them and so you have their attention.
You should then redirect your behaviour by getting them to do a task, such as asking them to sit or to give you their paw. When they do that, reward them with a treat.
How To Stop My Dog From Scratching in the Future?
Make sure they get plenty of exercise and playtime if they're scratching because they're bored or have a lot of energy as this should tire them out and resist the urge for them to stop scratching to release a lot more of the energy.
It's important to figure out the reason your dog is scratching as this can help you prevent it from happening in the future. Whether this is taking them to the vets if it's a medical issue or adjusting the temperature of the room if they're too hot or too cold.
How To Keep My Dog From Scratching Doors Again?
You can put a barrier in front of the door, such as a baby gate, to stop your dog from being able to get to the door. However, the issue with this is it also creates problems for you with getting to the door. Try and establish a routine. For example, if your dog only scratches at the door when they want to go out, either to play or pee, figure out at what points in the day they go for a pee or when they're most likely to want to play and let them out before they start scratching.
Alternatively, you could put a door protector on your door, which acts as an extra layer of protection between your door and your dog, so the door doesn't get ruined by your pet's scratching. Even though it's best to try and nip this in the bud, door protectors are a good alternative when you're trying to train your dog to not scratch.
Reasons Why Your Dog Started To Scratch The Carpet All Of A Sudden.
– They're bored – They're anxious/scared of something – They feel physically uncomfortable – They're ill
Tips To Stop Your Dog From Scratching The Carpet
– Take them for a long walk and play with them lots to get rid of any excess energy
– Use distraction techniques when they start scratching to keep them occupied – Ensure their bed is comfortable so they're not digging because they need somewhere to sleep
Does Something Happen To Make Your Dog Start Scratching?
Sometimes it can, such as the temperature being too hot/cold or maybe something has happened that's unsettled them and has led them to scratching.
If your dog doesn't normally scratch but then starts scratching out of the blue, there's bound to be a direct cause behind it. Once you figure out this cause, you can then start to put in the work to put an end to the scratching.
Are There Similar Concerns?
You may also be concerned if your dog starts randomly licking, chewing or biting. In these cases, take the same steps as you would to figure out the cause behind your dog's scratching so you can help prevent it from happening again.
References
https://www.idealhome.co.uk/diy-and-decorating/is-there-such-a-thing-as-cat-proof-flooring-28117 https://www.comparethemarket.com/home-insurance/content/accidental-damage-pet-insurance/