Does your dog exhibit curious mealtime behaviors like leaving a single piece of kibble? Or perhaps they take their food for a little trip into the other room when it's time to eat? They may even bring their food to you as if to share it with you.
Many dog owners may see these types of behavior and wonder: is this normal? The good news is that the answer is yes, and it may surprise you to learn the reasons why these seemingly unique behaviors are totally normal.
Why Does My Dog Leave One Piece Of Food?
Your dog may be leaving food around the house, or leaving one piece of food in their dish, for a number of reasons. But it's really not as strange as it may seem. Whether it's because your dog is trying to protect or keep their food to themselves, or trying to share it with their pack, you can take a few simple steps to modify your pup's behavior to ensure they are getting proper exercise and nutrition.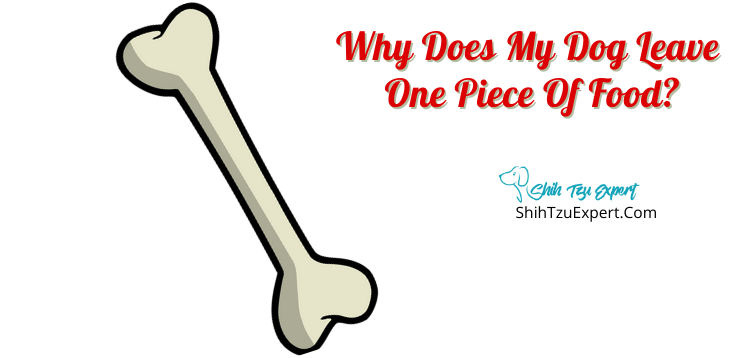 Why Is My Dog Leaving Food On The Floor?
It's practically common knowledge that modern dogs have their roots in wolves.
Even as humans have domesticated and bred dogs into the companions we know and love, dogs often still exhibit behaviors linked to their wild roots. And although many of our dogs' behaviors may seem out of place in our modern homes, they would have been absolutely standard in the wild thousands of years ago.
Given that, there are a few reasons why your dog may leave food around the house or leave a few pieces of kibble after they are done eating, some of which are related to their wolf ancestry:
Your Dog Is Trying To Keep Their Food To Themselves. First, your dog may have a natural instinct to protect its food which dates back to life in the wild. This could come in the form of your dog caching, or storing, their food, especially if they can easily leave the room you feed them in. Just like with a favorite treat or toy, your dog may also be 'saving it for later' by hiding their delicious food around the house.
Your Dog Wants To Be With Its Pack. Just like their humans, dogs are highly social animals. This means that they might want to share a meal with the members of their pack, just like we might want to share a meal with our human family. You are likely your dog's best friend or main companion, and some dogs simply prefer to have company when eating to no company at all. It's how they feel loved and part of the family.
Your Dog Wants To Eat Solo. Unlike some dogs who bring their food to their people, your dog may choose to take it into the other room to chow down. Or, if you have a household with multiple dogs, one or more of your dogs may take their food into another room to avoid eating in front of other dogs (an d thus reducing 'competition' for the food). This, too, is believed to go all the way back to a dog's ancestral roots: in the wild, wolves would have had to fight one another for dominance to decide who eats first. To avoid a fight (because who likes a fight?), some wolves would simply take the food a short distance away from the rest of the pack to eat in peace.
Your Dog Hates Metal Bowls. An aversion to food or eating might be more simple than you think. Did you know some dogs have issues particularly with metal food dishes? Dr. Julie Albright-Keck, DVM, MA, DACVB of the University of Tennessee College of Veterinary Medicine, says that some dogs may find the sound of the food in the bowl annoying or even scary. If the kibble is hard, it can make a lot of noise in the bowl. Your dogs' collar tags can even crash against the sides of the bowl, causing distracting and sometimes alarming noises. Especially sensitive dogs can find these noises troubling and put them off eating some or all of their food.
Your Dog Needs Something New. Sometimes we all need a little bit of excitement in our routines, and our dogs are no exception. If your dog isn't interested in eating all of their food, or if they leave their food around the house, they may simply be trying to tell you that they are bored with their eating environment. Dogs tend to favor new experiences over old experiences — just think of their excitement when you bring them a new toy compared to an old one — so their eating routine may have become a bit stale for them and needs to be livened up. This need for something new can also extend to their food. In some cases, hiding food or displaying curious food behavior may be your dog trying to tell you that their food isn't doing it for them. Some dogs can be picky when it comes to flavor or texture, but some can sense when their food isn't providing them with adequate nutrients and are trying to share that information with you.
Your Dog May Need More Exercise. If your dog doesn't get much daily exercise or playtime with you, they may need to get more energy out in order to finish all their food. This will depend largely on your dog's breed and activity needs, but daily exercise does play a role in your dog's appetite.
To be clear, if your dog's nutritional and exercise needs are met, and they are not displaying any aggressive or otherwise negative behaviors, you may not need to change much about how you feed them or their diet.
However, if your dog leaving food around the house troubles you in any way, even just leaving kernels around on the carpet, you're in luck!
How To Stop My Dog Leaving Food All Around The House?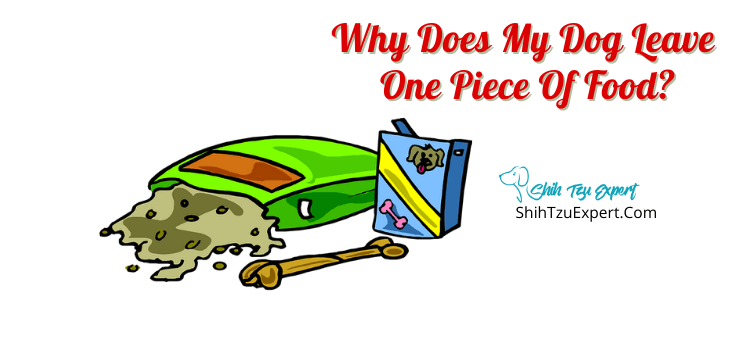 If you're tired of finding your dog's kibble around the house, there are few steps you can take to understand and prevent the behavior.
Before Mealtime:
Try A New Bowl. If you have a metal bowl, you may first want to find out if that is behind your dog's quirky eating behaviors. To see if your pup has a problem with metal bowls, you can try a plastic or ceramic bowl to see if their behavior changes.
Get Your Dog Some Activity Before Mealtime. In addition to relieving stress for us humans, regular pre-meal exercise will help your dog work up their appetite. It could be as easy as a walk or jog around the block together, but exercise before every meal will help as an appetite stimulant for your dog. If you can't take a walk outside, you can work on training or dedicate some time to play together before a meal and see if that helps.
Start On A Feeding Schedule (And Stick To It). To rule out whether your dog's eating habits have changed due to a lack of routine, make sure that you establish specific times to eat everyday. Stick to this schedule for a set amount of time to ensure both you and your pup benefit from this routine. The best part of a feeding routine is that there are many more benefits beyond helping your dog eat at their bowl rather than around the house, including reducing your dog's anxiety and strengthening your bond with them.
During Mealtime:
Make Things Calm for Mealtime. An environment free from distractions is important so your dog will focus on the task at hand: munching up all their food. A noisy environment with lots of people around can take attention away from your dog's food, so it's important to create a calm environment for your dog to take in their meals. If you happen to have a particularly anxious or nervous pup, calming music in the background can be helpful, too.
Does Your Dog Seem Bored? Give Them A Challenge. If you determine that your dog is under-stimulated or uninterested in eating dinner out of its normal bowl, a dinnertime challenge may be a good option for you. Some dogs may like a challenge in finding their food and especially find working for their dinner compatible with their natural tendencies. For dogs that seem bored with mealtime or especially high-energy dogs, puzzle toys can be a great option.
After Mealtime:
Remove Leftovers. If your dog constantly leaves the same amount of leftovers after every meal, it may be worth talking with your veterinarian about the amount of food you feed your dog. Portion size can have a huge impact on your dog's appetite. But you'll also want to consider their age, breed, and activity levels when speaking with your veterinarian about how much you should feed them every day.
If none of these changes affect your dog's eating habits, and they are not eating their food at all, it may be time to consider trying a new type of dog food.
Because some dogs are naturally picky when it comes to the type of food they like, it may be easier (and less expensive) to try out some other tactics before deciding on an entire diet switch.
References:
https://www.wikihow.com/Increase-Appetite-in-Dogs
http://www.vetstreet.com/our-pet-experts/why-does-my-dog-eat-his-food-away-from-his-bowl