Some dogs tend to hump. A lot. We may think it's strange or funny, but there could be a deeper reason behind it. In this article, we will discuss all the reasons why your dog may be humping and what it means.
Why Does My Dog Only Hump Me?
Dogs are extremely territorial animals. If your dog views you as their territory or the leader of their pack, they will hump you and try to get attention.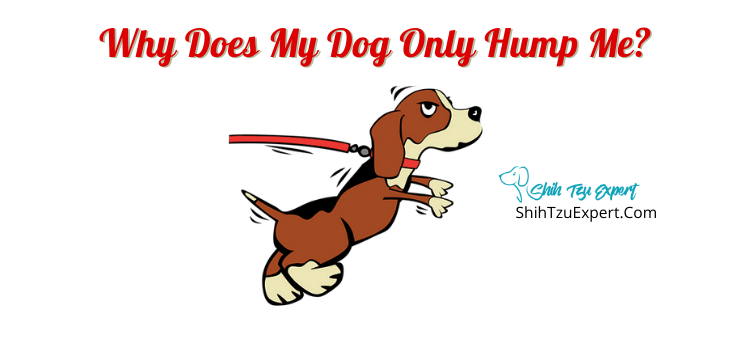 What is humping?
Humping, or dog mounting, is the sexual position for dogs. It is also their way to show their dominance or their submission.
Why Do Dogs Hump?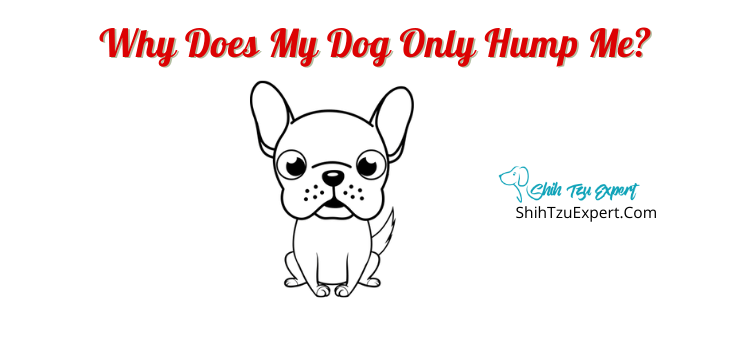 There are a large number of reasons why dogs hump! It could be anything from sexual reasons to medical reasons and everything in between. Here is a list of ALL the reasons why your dog may be humping.
Sexual reasons

Dogs are packed full of hormones just like people. When you have a dog that is intact (not spayed or neutered) they have all those hormones still and may tend to hump more.

They want to play

Since humping is essentially letting out energy, if they have a lot of energy and the want to play, they may start acting out and humping because they are excited and want to play

Social ordering

As we have mentioned, dogs are very territorial. You will often see dogs "defending" their area by humping other dogs they feel power over.

Itchy Genitals

When you see dogs humping the air or humping the ground, they usually are suffering from an itch down there.

Stress

Stress and anxiety is a common reason dogs hump. Usually if they are feeling stressed, they will hump their owner for comfort.

Learned habits

Your dog may not know to hump or may not understand until he sees another dog doing it. Just like people, dogs are very receptive and want to try things their peers are doing.

Compulsive behavior

An obsession could lead to your dog humping all the time.

Lack of exercise

Since humping is a great way to get out some energy, dogs that haven't been outside or able to run around, may use humping to get a little energy out

Habitual behavior

Once they start humping, it can get addicting to some dogs. They may not know when to stop or why they are doing it.

They're bored

Without anything else to do, a dog that is very bored will hump to occupy himself and let energy out.

Medical-related issues

Before you get angry at your dog for humping, or try to train them out of it, first rule out any medical issues they may be dealing with. Urinary tract infections or skin allergies would cause their skin by their privates to be very itchy, thus their need to hump. Consult your vet if they have other symptoms or have red and irritated looking skin.
What Does It Mean When Your Dog Humps You?
Your dog probably only humps you because you are their comfort and they feel dominant over you.
Why does my female dog hump me?
Female dogs will hump you for all the same reasons make dogs do. It feels good, dominating, they're bored, or its a medical issue.
Should I Be Concerned If My Dog Humps Me?
If you've had your dog for a while and they just started humping you out of the blue, it may be an underlying medical issue that needs to be addressed. Especially if your dog is fixed. But, if your dog has always been a humper, it's not something to be concerned about. With that in mind, you need to make sure your dog isn't humping you out of dominating purposes. That would be cause for training that out of the dog. You always want to be the leader to your dog, not the other way around.
You also want to be sure that your dog isn't humping other people, no one wants that and someone could get upset. Make sure your dog knows his/her boundaries.
How To Stop My Dog From Humping Me?
Sometimes there is not reason to stop humping, why go through the hassle? Other times it can be too much and you need to stop your dog from humping to not upset others or other dogs.
Identify the Reason for the Humping

Before you begin any training, first find the reason for their humping so you can better train them. You will definitely want to rule out any medical issues, then go from there.

Catch Your Dog in the Act and Call Out Their Behavior

In this situation, it's hard to train them not to do it if they don't do the behavior. So you will have to catch them in the act. A firm "leave it" command is a great one to use.

Redirect Their Attention

After using a leave it command, try giving them a toy or bring them outside, make them forget about what they were doing in the first place.

Eliminate Stressors

If your dog is humping because something is stressing them out (a new baby, another dog, you've moved recently etc.) help your dog to relax and find a better outlet.

Place in Friendly Timeouts

A friendly timeout looks like putting them in their crate or somewhere where they can sit still for a while.

Minimize Mounting Opportunities

If you are the thing they like to hump, learn what it looks like right before they are about to hump. And before they even try, walk away or call them out.

Offer a Reward for Positive Behavior

When they stop humping, and are completely done and away from the situation, offer a treat reward for good behavior.

Get Professional Help

If you are struggling with training your dog to stop humping, and the humping is an issue, consider getting professional help.
When Is Humping a Problem?
Humping isn't always a problem, but sometimes it could turn into one. If your dog is humping because they are trying to dominate you or other people, that's when there is a problem. You always want to be in control and the dominant one over your dog.
The other times it's a problem is if people are uncomfortable around it and really don't want your dog to hump them or their dog. It is very important to be respectful of others and to have control of your dog.
Why Does My Dog Hump Everything?
Most often, dogs that are humping everything have an overenergy in them and humping is their way of letting that energy out. You can help this by making sure your dog is getting lots and lots of exercise. Going on runs, being outside more, playing with other dogs (not just humping them).
Why Do Dogs Hump Certain People?
If your dog thinks someone is a threat to you or to itself, then they may try and hump that person.
They could also hump them if they smell another dog on them.
What Does it Mean When Your Dog Humps a Stuffed Animal?
When a dog humps their stuffed animal, it usually means they are feeling very comfortable, or over-excited. Dogs can have special bonds with stuffed animals like babies and their blankets. Dogs hump things to be affectionate so they will do so with their stuffed animals.
Why Does My Dog Hump a Specific Toy?
Sometimes dogs have specific comfort items that will keep them around and hump. Usually this is not sexual. If they keep the toy around and have always humped it, it is most likely because they feel comforted by it.
Should I Let My Dog Hump Stuffed Animals?
Most of the time, there is no issue in a dog humping a stuffed animal. However, if you have children and the dog steals their stuffed animals and humps them, that's when you may need to step in. Give the dog one stuffed animal that they can call theirs and do with as they please. This will hopefully keep them away from the stuffed animals they cannot have.
Can Castrated Dogs Hump?
Generally, the castration should eliminate the humping urge in both males and females. More commonly, females will stop, but a large percent of male dogs will still hump every now and then. A large part of a male dogs make up is fetal testes and that doesn't go away when he gets neutered. So his humping may come from random bursts of energy he still has in him, or he feels the need to dominate the situation.
Do Female Dogs Hump Cushions?
Female dogs can hump just like male dogs. Although they don't have the same hormones, they still have hormones that make them want to hump. They also may be humping for any number of the reasons male dogs are humping too.
Why do Male Dogs Hump Each Other?
Male dogs, even after they have been neutered, usually hump to assert one's dominance over the other. However, sometimes they could be humping as a way to play.
When do Puppies Start Humping?
Puppies can start humping at as young as 2 months old.
Why do 2 Month Old Puppies Hump?
Puppies don't reach a sexual maturity until they are 6-8 months old, so it may be odd to see such a young puppy humping. It's not very common to see it at this age, and they are probably doing it because they saw an older dog do it and they are copying their motions. They may be using it as a way to play or get attention from the other puppies in their liter.
Why Does a 4 Month Old Puppy hump?
Since dogs don't come into sexual maturity until 6 months, 4 month old puppies are humping for the same reasons 2 month old puppies are. Which includes:
Copying
Getting attention
Bored
Playing
Why do Puppies Hump Their Mom?
When a puppy is humping his/her mom it is usually a way to get attention and it means they want to play. Especially if the other puppies from the liter are there, attention can be hard to get for one puppy.
Why Does My Dog Hump Me When I Hug?
Humping can also be a sign of affection! Its a strange sign for sure, but it is one way that dogs show their love for you.
Why Does My Dog Hump Me When I Kiss My Boyfriend?
Humping is a way to get attention sometimes. When you are kissing your boyfriend, your attention is on something else. A jealous dog will start humping you to get your attention back.
We have talked about all the reasons your dog is humping and why! From sexual desires, to dominance, to needing attention, to just being bored, there are so many reasons your dog is humping. I hope you can better understand the signs to decipher exactly what is going on with your dog so you can train them properly.