Whether it be good or bad breath, our dogs seem to love to catch a wiff! From when we wake up and throughout the day, our dogs seem to enjoy checking in on us by smelling our breath.
Why Does My Dog Smell My Breath?
It may seem odd to us, but for our dogs it is completely normal. What do our dogs gain by smelling our breath though? So they simply just like the smell, or are they picking up on things like potential sickness? Read on to find out!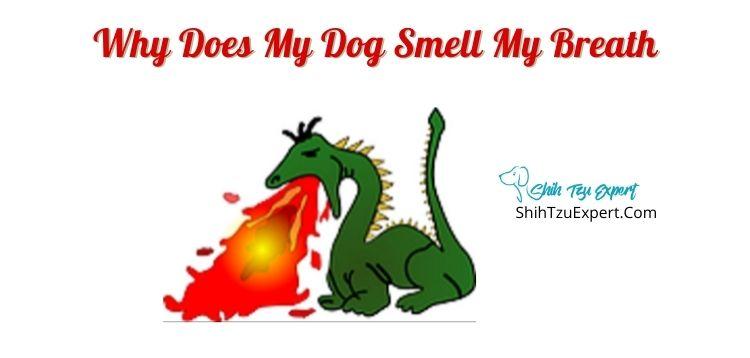 Why Does My Dog Smell My Breath Every Morning?
Whether you snuggle up with your dog each night or let them out of their crate first thing when you wake up, the good morning greetings from your dog are priceless! One of the seemingly oddest ways your dog may choose to greet you is by smelling by your mouth. Greetings like this are common among dogs and between dogs and their owners. And while we may be grossed out by our morning breath, our dogs love it!
This is the first check in of the day that your dog gets to give you. What's simply bad breath to us can actually tell a lot to our dogs. With their superior sense of smell, our dogs can detect things we ate the night before and if we have an illness setting in. Our dogs smell our breath as a way of determining how we are doing.
Can Dogs Detect Cancer By Smelling Breath?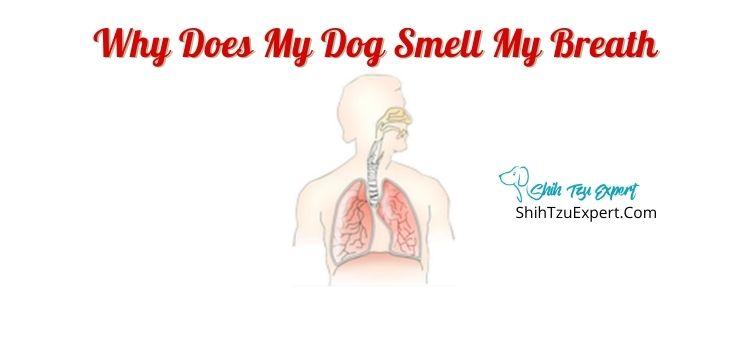 Yes, dogs are capable of detecting cancer by smelling our breath. With their advanced noses, dogs are able to detect and identify scents far better than humans can. In multiple instances, owners have reported their dogs taking a sudden interest in their breath only to discover they had cancers like lung cancer.
Can Dogs Smell Illness On Your Breath?
Dogs can smell illness on our breath. Their smart nose is able to pick up on the subtle chemical changes in our scent, and in the scent of our breath, that occur as we are coming down with an illness. Additionally, they are able to detect the presence of bacteria as it's forming an infection.
What Diseases Can Dogs Detect In Humans By Smelling Breath?
There are many diseases and illnesses that drugs have been shown to detect including cancer, migraines, seizures, narcolepsy, anxiety disorders, and even simple things like the common cold. Researchers continue to work with dogs to see what other diseases dogs are able to sniff out.
What Does It Mean When A Dog Wants To Smell Your Breath?
When a dog is smelling your breath, it could be for a number of reasons. It could be because they were moving to greet you by a face to face greeting and noticed a smell on your breath. It's possible that they smelled some food on your breath or even signs of sickness. But by smelling your breath, it is a way that the dog can check in and get a sense of how you are.
Your Dog Wants You To Wake Up And Play!
It's no secret our dogs love spending time with us. Your dog may be sniffing and nudging your face in the morning just because they are trying to wake you up so you can play with them!
They Are Just Saying Good Morning
Your dog may be smelling your breath as just part of the way that they say good morning to you. From waking you up to checking your breath for signs of where your health is at, your dog likely has a routine of saying good morning to you.
Dog Is Checking You Out
Our dogs care about us and care about our health. As they are not able to really ask us how we are feeling, they check in on us by smelling us. Also, if this is the first time you are meeting this dog, they are likely to smell you as a way of checking you out and getting to know who you are.
Dog Is Detecting Cancer
Dogs have an incredible sense of smell and have been known to detect cancer by scent. Studies have found that dogs can detect cancer even without any formal training. If your dog is seeming to be fixated on smelling your breath, you should mention that at your doctor's appointment.
Your Dog Is Detecting Your Blood Sugar Levels
As our blood sugar levels drop, there are chemical changes in our bodies. Dogs are particularly sensitive to isoprene and are able to detect when a person's isoprene levels are starting to rise. Elevated levels of isoprene are an indicator that a person is having a low blood sugar episode.
Dog Is Detecting Seizure Odors Like For Epilepsy
Our dogs' sense of smell may also allow them to detect an oncoming seizure, but scientists are still unsure. Unlike with low blood sugar, researchers have not identified what scent dogs can pick up on that are alerting them to a seizure coming. While it is believed to be a scent that alerts the dogs, it could also other physical cues that the dog is picking up on to know their human is about to have a seizure.
Dog Just Loves The Smell Of Your Breath
Dogs love to smell things that smell good and smell bad! Your dog may be smelling your breath simply because they just enjoy the smell of your breath. Even when you may think your breath smells bad.
Dog Is Just Being Curious Your Breath Has An Interesting Smell
For the most part, dogs can be very curious about those around them. With their smart sense of smell, dogs can pick up on many odors we cannot and they may find a lot of them interesting. To them, there may be an interesting smell on your breath that they are trying to identify.
Your Dog Is Just Trying To Figure Out What You Had For Dinner
Coming back to a dog's curiosity, your dog may be smelling your breath in an attempt to identify what you ate. Even in the morning, your dog may be picking up traces of what you ate for dinner the night before and they are curious about identifying it.
Why Aren't Dogs Used For Medical Disease Detection?
Despite research that is on going into the ability dogs have for detecting medical issues, they are not used as a diagnostic tool. At this point in time, doctor's still rely on traditional diagnostic methods as they have been proven to be more accurate in larger numbers than research into dog's detection abilities.
Should I Stop My Dog From Smelling My Breath In The Morning?
If you let your dog smell your breath or not it's up to you and your comfort level. Some owners like to let their dogs do so for the fact that their dog may be able to pick up on health issues. Others prefer their dogs not to just because it means your dog is in very close proximity and they may not enjoy having their dog that close into their personal space bubble.
Is It Dangerous For My Dog To Smell My Breath?
At this time, there is no evidence to suggest letting your dog smell your breath could be dangerous. For you or your dog, there is no risk of harm from your pooch getting a wiff of your morning breath.
Can I Catch Germs When My Dog Sniffs My Breath (Is It Safe For Me)?
The likelihood of you getting sick from your dog sniffing your breath is very slim. The exchange of breath is not likely to transfer anything. That said, if your dog is known to get into things that may not be clean, like the trash, making sure that they are not touching you around your nose and mouth while they sniff you will help ensure they are not transmitting bacteria to you.
Resources
https://wagwalking.com/behavior/why-do-dogs-want-to-smell-your-breath
Overheard on CNN.com: Listen to your dog, the doctor!