There are multiple reasons why your dog might walk behind you. It could just be something as simple as them accidentally having been taught to do so. However, they could also be ill or injured and in this case, you might want to take them to the vet.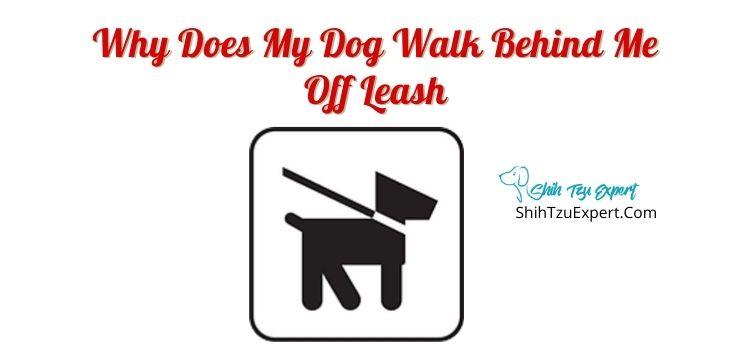 Does My Dog Walking Behind Me Mean That It's Well Behaved And Under My Control?
In some cases it might be a case that you have accidentally trained your dog to walk behind you and in this case, they will be under your control. Dogs are fairly obedient creatures and if you have trained your dog with anything, they will always follow this command.
This is often done by positive reward. This could take the form of giving them a treat for walking well and it just so happens they're behind you when you give them this treat. You might also give them verbal praise whilst on the lead, which again, means they're being well behaved.
Alternatively, it could just mean that they are doing this because for whatever reason the lead you have them on makes it more comfortable for them to walk behind you than it does walking in front of you.
Why Does Your Dog Walk Behind You?
Curiosity – They Have Things They Would Like To Sniff & Explore
Dogs have a naturally curious mindset, so if they see or smell something that is new to them or that interests them in any way, they are likely to want to hang behind you so they can have a bit of time to check this thing out.
Your Dog Was Taught To Walk Behind
The thing with this is that it's unlikely you have intentionally taught them to walk behind you and instead you may have unintentionally rewarded them for walking behind you. This could be giving them treats or verbal praise whilst they are walking behind you.
Even though you may interpret this as rewarding them for walking well, they will interpret it as you rewarding them because they are walking well behind you, so they will continue to do this because they believe this is what you want them to do.
Sign Of Submission
Dogs can be very submissive creatures. This is because when in the wild, packs of dogs will have a leader and in this case, you are your dog's leader. They will be walking behind you because they believe this way, they are obeying you.
They Think That You Are The Leader Of The Pack And Want To Protect You
As mentioned above, in the wild, dogs have a pack leader and in this case, you are your dog's pack leader. Dogs are genetically built to protect their pack leader and your dog will be walking behind you because they are wanting to protect you and in walking behind you, they can easily see you.
Some Dogs Are Naturally Comfortable Walking Behind
Your dog might feel more comfortable walking behind if the lead you are using to walk them with is uncomfortable to them when they walk in front of you and the only way they can feel comfortable is if they walk behind you.
There Are Other Dogs That They Don't Like
If there are other dogs in the area where you walk and your dog is afraid of them, this could be a reason why they are walking behind you. One reason behind this is because they want to hide behind you away from the dog.
The alternative with them being afraid and walking behind you is so they know they can easily escape the situation by going back the way you came so they don't have to be around whatever is scaring them.
You Are Walking The Dog In An Unfamiliar Area
Your dog is likely to walk behind you when you're in an unfamiliar area because their protective instincts go up and so they want to walk behind you so they can keep an eye on you so they know exactly where you are and know that either you or them aren't going to come to any harm.
Dog Is Tired/Fatigued
Tiredness can make any of us move at a slower pace and that includes dogs. If your dog is tired for any reason, for example, they have only just woken up or are getting a little older, they are likely going to move a lot slower due to this very reason.
Purely Out Of Habit
It is habitual for dogs to be protective of their owners and one of the best ways for them to protect you is by walking behind you so they can keep an eye on you and ensure you don't come to any harm.
Dog Is Very Well Behaved And Under Your Control
Dogs like being off the lead when it comes to walks because it gives them a bit more freedom. However, if they are on the lead, them walking behind you shows they know how to behave and that they're under your control as otherwise they will be trying to run away from you.
Dog Is Wearing Something Uncomfortable (Shoes/Jacket/Weighted Vest)
Dogs tend to wear a lot of gear when out on walks, including harnesses, collars, and leads. If any of these are too uncomfortable, it might make them walk slower because they are uncomfortable. So solve this, make sure the gear your dog wears on walks is comfortable for them.
They Are Gaining Weight And Find It Difficult To Match Your Pace
It's very easy for your dog to gain weight, particularly when you're training them and giving them treats, or even just letting them have a little bit of your food. Any extra food can make your dog put on weight, particularly if they're not getting as much exercise as they should.
If your dog has put on a significant amount of weight, this may mean they can no longer match your pace or walk at the same pace that they used to. In this case, you might want to try and help them lose that weight by giving them less treats and more exercise.
They Are Getting Old And Find It Difficult To Match Your Pace
The older the dog, the slower they are going to move. Just like humans, when dogs are young they are going to be moving at a pace that is faster than they will be able to maintain as they get older. You need to bear this in mind and change your walking pace to accommodate this.
Your Dog Is Sick And Find It Difficult To Match Your Pace
When we're sick, we need to move a lot slower than normal. The same happens for dogs. This is particularly true if they have hurt their leg or have some form of arthritis as this will inhibit their ability to walk as fast as they normally would.
Why Does My Dog Always Walk Behind Me?
There is a chance your dog walks behind you because you have inadvertently rewarded them for doing this. Whether with treats or lots of verbal praise, any form of reward for doing something, your dog is going to take on and to keep on doing it because they think this is the right thing.
Alternatively, they may also be doing it because it is more comfortable this way. If the lead you are walking them on is uncomfy in any way, particularly when they are walking in front of you, they may just prefer to walk behind and in this case, you might prefer to look for a better lead.
It could also be out of pure curiosity. Even if you walk your dog around the same area all the time, there is always bound to be something new for them to sniff out. You might be walking too fast for them to be able to keep up and sniff stuff out, so they hang behind to sniff it out.
They could also be afraid of something. In cases like this, you should try and figure out what they're afraid of. If it's a certain route, try and change the route you walk them. If it's a dog, try and avoid the other dog(s) where possible.
Dogs also typically have pack leaders when out in the wild and it is their duty to protect their leader and be submissive to them. Your dog will see you as their leader, therefore they are submissive towards you and will walk behind you so they know you're not in any danger.
If this is a more recent thing, you might want to take a look at your dog and check whether they have put on weight. If they have, you should start cutting down on the treats and extra food you give them and start ensuring they get plenty of exercise on a regular basis.
Of course, they might just feel comfortable walking at this pace. In this case, there is nothing you should do to stop them and you should just allow them to walk at their own pace and take in their surroundings.
Why Does My Dog Drag Behind Me On Walks?
There are many reasons why your dog is dragging behind you on walks. One of these reasons is there has previously been some sort of reward for your dog walking behind you so they do so because they think this is what is expected of them.
They may also do so because they feel more comfortable this way due to the way their lead is. Alternatively, they could be very curious about something that you have just walked past, so they want to stay behind to try and figure out what this new and exciting thing is.
There is also the issue of them being scared of something. Dogs can get scared quite easily, particularly as their sense of hearing is a lot better than ours and can pick stuff up quicker than we can. They may also be submissive towards you because you are their leader and they want to protect you.
Another reason why your dog might drag behind you on walks is because they have become overweight. Carrying a bit of extra weight can slow your dog down, so cutting down on treats and ensuring they get plenty of exercise is one way to cut down their weight and stops them dragging behind you.
They might also want to just walk at a slower pace, which means they will drag behind you, and that's perfectly okay. Let them do their own thing and allow them to take in the environment around them, which is something that we should all be doing.
Why Is My Dog Slowing Down On Walks?
A reason for your dog slowing down on walks could be due to weight gain. If your dog is carrying a bit of extra weight, this can slow them down so the way to stop this is to stop giving them too much food and ensure they are getting plenty of exercise.
They might also be slowing down because they are curious by something. Dogs can get easily distracted, so if you walk past something that attracts their curiosity, they're naturally going to want to slow down to explore it more.
The other reason why a dog might slow down on walks is because they are afraid of something that you are walking towards. If they are nervous or scared or this thing, they are going to want to slow down to prolong walking past it, so you should help encourage and soothe them so they walk past it.
If your dog is getting old or is tired, they are likely to be walking a little slower than normal. In this case, you should just leave them to it and let them walk at whatever pace is most comfortable to them and try and slow your pace down a bit so they can keep up.
Why Does My Dog Zig Zag Behind Me?
Your dog zig zagging on a walk tends to be a sign that they are excited to be on their walk. This is a good sign and even though it may be slightly annoying to you, you should just leave them to it to enjoy their walk and they should eventually calm down.
Should Your Dog Always Walk Behind You?
This depends on what you want. If you would prefer your dog to walk behind you then let them walk behind you. However, if your dog has gotten into the routine of walking behind you with no real reason, you might want to re-train them to walk alongside or ahead of you.
Should I Stop My Dog From Walking Behind Me?
Not necessarily. For example, one of the reasons behind why your dog is walking behind you is because they prefer walking at a slower pace. In this case, you shouldn't try and stop them from walking behind you because this is what they feel most comfortable with.
This could also be because they are feeling tired or are getting older so are naturally starting to slow down. In this case, the only way you will be able to stop your dog from walking behind you is by slowing your pace down so they can be in front of you.
How Do I Train My Dog To Walk Beside Me And Not Behind Me?
It is as simple as just re-training your dog if you want them to either walk alongside or in front of you and not behind them. If you're unsure of how, get a trainer in to show you how and after a few training sessions, they should know that they can walk in front of or alongside you.
If you are using a reward based method, you can do this either by giving them treats or plenty of praise. You can do this by encouraging your dog to walk in front of you or alongside you and when they do this, either give them a treat or plenty of praise.
However, if you are using a reward based method but have recognised that your dog needs to lose weight, it will be better for you to use the praise method of rewarding your dog as opposed to giving them treats, so they can't gain any more weight.
References
https://mdc.mo.gov/magazines/conservationist/2013-11/long-walk-behind-slow-dog