Any sudden changes in dog behaviour will be a concern for their owners, including them suddenly starting to sleep with you. This behaviour often isn't a cause for concern, but it's always good to know all of the facts before doing something about it.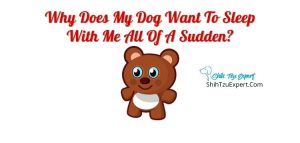 Why Does My Dog Want To Sleep With Me All Of A Sudden?
There are so many different reasons why your dog will suddenly want to sleep with you. They might be feeling anxious, they might sense that you're ill or they're ill and want some comfort, or it could just simply be a behaviour you may or may not realise that you have encouraged.
What Does It Mean When Your Dog Starts Sleeping With You?
There can be a variety of reasons why your dog might suddenly start sleeping with you, including a change in room temperature, hearing loud noises, feeling jealous, anxiety, fear, or they are detecting illness.
Why Does My Dog Want To Sleep With Me Every Night?
Dogs are pack animals and pack animals always sleep with their pack. They also have a pack leader who they see as their protector and in this case, they will see you as their leader and protector and will look to you as a source of comfort.
Why Does My Dog Want To Sleep With Me All Of A Sudden?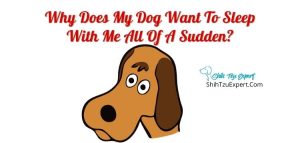 Anxiety
Just like humans, dogs can also experience anxiety. And just like humans, dogs like to know that there is someone they can trust and who they can turn to to help them feel calm.
You might be your dog's person and should see this as a real compliment that they trust you enough to want to be around you when they are feeling anxious.
You Have Encouraged The Behavior
Whether you recognise it or not, you may well have been encouraging your dog to sleep on your bed.
Doing something as simple as just letting your dog sleep on your bed without asking them to get off or petting them as they get on your bed is enough of an encouragement to them that they are allowed to sleep on your bed.
They Love Your Comfy Bed
Dogs are big fans of comfort and will take it wherever they can get it. One of these places might be your bed. If, one day, they suddenly discover your bed and decide it's comfier than where they sleep, this is where they're going to want to keep on sleeping.
It Doesn't Like The It Sleeps In
Dogs love comfort and often don't like to settle for anything less. If they don't find their bed comfortable anymore, they are going to start seeking out a new and more comfortable place to sleep. In this case, that is your bed.
 Fearfulness
Dogs can experience fear just like humans and often like to turn to someone they can trust when they need comforting so they know they have no reason to be scared.
Being around their owner can be a real source of comfort to dogs whenever they're scared, so your dog has likely chosen you to be their source of comfort.
You Dog Is Testing Its Boundaries
Dogs love to test our boundaries, not in a menacing sort of way but more in a way so they can see what they are and aren't allowed to do and where they can and can't go. If they can feel they can get away with sleeping on your bed, then that's what they're going to try and do.
  Your Dog Loves To Nest
Mother dogs are known for nesting when they're getting ready to give birth. Regardless of whether your dog is pregnant or not, if you see them trying to rearrange their bed, this is them nesting.
Dogs might prefer to nest in your bed because there is more than likely more bedding there for them to nest with.
  You Are Unwell
Dogs have been known to be able to sense illness in humans that sometimes not even doctors can pick up by runnin initial tests. Even though this isn't necessarily the reason behind their clinginess, it is still something to be aware of, particularly if you haven't been feeling too good recently.
Dog Is Unwell
Dogs becoming unwell can manifest in two ways: your dog will either want to be left alone; or, they will become incredibly needy. Recognising signs of illness in your dog is important and you should take your dog to the vets to check it's not anything too serious.
To Feel Warmer
Dogs can feel the temperature really well and if your home is cold and you can feel it, unlike us, dogs don't tend to sleep under anything because they just sleep on top of their bed.
Even if they don't get under a blanket or duvet with you, even just being on top of your bed but being close to you will help to keep them warm.
  To Protect You
As previously mentioned, dogs are pack animals and when in a pack, they like to protect one another. They like to protect their pack leader and in this case, you are your dogs leader. They will want to keep you close so that they can keep an eye on you and protect you from any harm.
  A Change In The Household
Dogs are very sensitive to change and this can cause them varying amounts of stress. In times like this, they are going to be looking for anything that can comfort them, and in this case, this appears to be you.
 It Makes Them Feel Safe
Just like we like to feel safe, dogs like to feel safe too. Dogs know who they can and cannot trust, so if your dog has recently started to climb into bed with you, this means that they trust you and can sleep soundly at night knowing that you are going to protect them.
 Dog's Bed In Uncomfortable
No one likes an uncomfy bed and dogs are the same. If they aren't liking where they're sleeping, then they're going to want to find somewhere new to sleep.
If they happen to know that your bed is a much comfier place to sleep, then this is where they're more than likely going to be sleeping from now on.
 Its Looking For Affection
Dogs love affection, especially from a person they have a strong attachment to. It may simply be a case of them wanting to snuggle up close to you and they might also want a bit of reassurance of some sort, such as if they are feeling scared or anxious about something.
 Separation Anxiety
Just like humans, dogs can experience separation anxiety. Say, for example, you are going to be out for an extended period of time, either during the day or for a few days, your dog is going to start missing you due to the attachment they have formed with you.
This means that they will want to try and find other ways of being close to you, which they might do from scent. As your bed will smell like you, your dog might choose to sleep here so that they can feel close to you.
 Jealousy
Your dog might be feeling jealous, which will more than likely come out if another human or animal starts to approach you.
This may particularly occur if a new person/animal comes into the house, such as if you bring a new baby home, your dog might become jealous that now more of your attention is on your baby as opposed to your dog.
Why Is My Dog So Clingy All Of A Sudden At Night?
Your dog might have suddenly become clingy to you because of a change going on that is stressing them out and they want to turn to you as a source of comfort. You are, essentially, your dog's comfort blanket and they come for you for reassurance.
Can Dogs Sense When Something Is Wrong With Their Owner?
Dogs have quite heightened senses and can often sense if there is something wrong with us. This could be something serious; or it could just be that they have picked up on a slight change in you, that could just be a change in mood.
Why Is My Dog So Attached To Me All Of A Sudden Now That I Am Pregnant?
Dogs can sense the change in hormones women get when they become pregnant through smell, which is something humans aren't able to pick up on.
They might become worried because there is a change happening and there are some studies that have suggested that dogs can sense when a woman is going into labor.
Why Is My Dog Following Me Everywhere Suddenly? Am I Sick?
There are a number of different reasons why your dog is following you around everywhere. Yes, one of those reasons could be that you're sick, but it could also be due to other reasons, such as anxiety, feeling scared, or your dog being unwell.
Is My Dog Being Needy Or Protective?
Your dog might be doing either of these two things. Try and pick up on things going on in your environment to figure out which it is.
If your dog is being needy, it is likely that they might be feeling sick or anxious, so be wary of any signs that your dog is ill or if something has happened that will have made them feel anxious, such as a change in their environment.
If your dog is being protective, they will constantly be on guard around you and more than likely won't be happy if any other person or animal tries to get anywhere near you.
Do Dogs Sleep With Their Favorite Person?
All dog owners will know that they have their favourite person, so if your dog decides to sleep with you over anyone else, this suggests that you are their favourite person. This will likely be because you help them feel safe and they know they can trust you.
Can Dogs Tell If Your Fake Sleeping?
Yes, dogs are able to tell this. They can tell this through smell, as our hormones are different when we're sleeping to when we're awake.
They can also tell this through touch, which is because when our bodies are completely asleep, they are much more relaxed than when we're awake, even if we're fake asleep.
They will also use their hearing, because they know certain sounds that come from you when you sleep, such as the sound of your breathing and the sound the sheets make when you're moving around.
Finally, your dog will use their sight, such as picking up on how you lie when you're asleep and certain positions you lie in. If any of these seem off to your dog, they'll know that you're faking it.
 Is It Okay To Share Beds With Dogs?
This depends on your dog and you. In the majority of cases, it's perfectly fine for your dog to sleep in your bed; however, there are some circumstances where this might not be the best thing.
Factors you need to take into consideration is their health, behaviour, their size, whether or not they twitch when sleeping, whether or not your dog is house-trained, and whether or not your partner is comfortable with them sleeping there.
If none of those are any issue, then you can let your dog sleep in your bed, but still be careful because this can cause major separation anxiety for your dog if there is ever a reason where you cannot sleep around each other.
Can My  Dog Sleeping With Me Create Behavioral Issues?
Not necessarily. It might cause issues with separation anxiety if you are constantly sleeping with one another; however, it shouldn't cause behavioural issues, such as aggression or fear.
As long as you know your dog well enough to trust them to sleep in the bed with you and set some clear boundaries, then it should work out fine.
 How To Stop Your Dog From Sleeping With You?
The main thing you need to do is figure out the cause behind them wanting to sleep with you. Once you know this, you can do any of the following that is necessary:
Add/takeaway some bedding. If it's an issue of it being too cold, add some extra bedding so they can snuggle up and keep warm. If it's too hot, take away some of their bedding or move them to a cooler place in the house to sleep if possible (that's not your bed).
Shut your bedroom door. This might be the most effective as it stops them from being able to get into your room in the first place and therefore, they cannot get into your bed.
Find somewhere else for them to sleep. If it's an issue of where they sleep being too noisy or not being a good temperature, find somewhere else that is going to best suit your dog's sleeping needs that isn't your bed.
If anxiety is an issue, figure out what might be causing this anxiety and try to remove those things where possible. Also, try and make sure they have peed before bed, have had enough exercise and been fed enough so they are unlikely to wake you up for these reasons.
Train them to sleep in their own bed. If they've become used to sleeping in your bed or anywhere that's not their bed, training them to sleep in their own bed will take a bit of time, but should be worth it in the end.
References
https://source.colostate.edu/pet-health-back-to-school-time-can-trigger-separation-anxiety-in-pets/
https://vetmed.illinois.edu/pet-health-columns/separation-anxiety-in-pets-faq/
http://sites.stedwards.edu/cagtane/2019/09/27/unhealthy-obsession-or-unconditional-puppy-love/