Dogs exhibit many different types of behaviours and one of these is sniffing the air and looking upwards. This can be very confusing, particularly as there are multiple reasons why they might be doing this. But what are these reasons and what can be done about them?
Why Is My Dog Sniffing The Air And Looking Up?
There are many reasons why dogs might sniff the air and look up at the same time. They might be smelling a mate. They could smell treats. Or, they might be smelling illness or disease either in you or someone else. It could be nothing, but it might be something that needs to be checked out.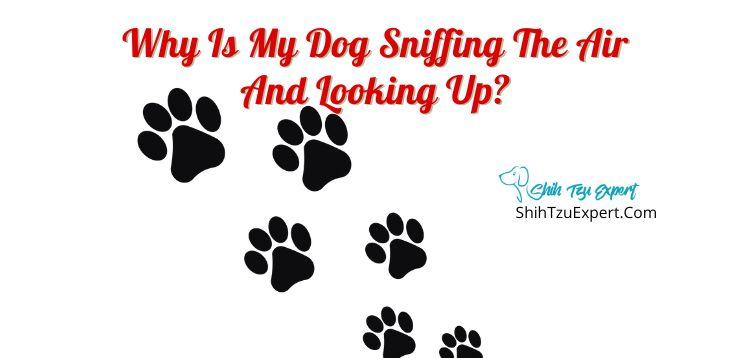 Why Is My Dog Sniffing The Air And Looking Up?
Something Smells Good
Like Food Dogs have really strong senses and one of these really strong senses is their ability to smell. In this case, they might be able to smell food, whether it is their food or yours. Therefore, they will start sniffing the air as they figure out what the food is and where it's coming from.
Nervousness
Just like us, dogs also get nervous and this nervousness can manifest itself in different ways. They might also tuck their tail away and flatten their ears, alongside sniffing the air, and this might be due to a situation that has happened that has scared them.
Stress
There can be a number of scenarios where your dog is stressed. Regardless of the reason, this can cause your dog to exhibit some odd behaviours, including sniffing the air. To stop this, identify what's stressing them and remove it or train them to realise this isn't a threat.
Excitement
Dogs get excited over a number of different things. One of these ways of showing their excitement is sniffing the air. This is likely due to if they smell something they like, such as their treats, and they are trying to figure out where they are.
Boredom
Dogs need a lot of stimulation so they can let their energy levels out and a lack of stimulation can lead to boredom. They might start sniffing because they're trying to find something to do, which could cause more harm than good.
Wind Breeze
If the breeze of the wind happens to tickle your dogs nose, they are likely to start sniffing the air. This is more likely than not due to the wind carrying different scents, so they will start sniffing the air to try and figure out what the different scents are.
Investigation
If your dog hears something or happens to look somewhere and sees something, due to their inquisitive nature, they are going to start investigating what they have just seen or heard. They might start sniffing to try and sense what this new thing is and to try and gauge whether it's a threat or a friend.
Avoidance
Just like we like to avoid stressful situations, dogs also like to do the same thing. For example, you might take your dog out on a walk and a strange dog comes up to them. Your dog might then start sniffing in the opposite direction to try and avoid them.
Your Pup Sees Something
As previously mentioned, dogs are very inquisitive creatures and if they see something, they are going to want to know what it is. They can do this by sniffing the air and looking up at it to try and figure out what it is.
Your Pup Is Hearing Something 
Dogs have an excellent sense of hearing. Once they get used to a sound, they are less likely to react to it. However, if they hear something new, they are likely to start looking around and trying to find out what this sound is and where it's coming from.
Eye Problems
If your dog has eye problems, this likely means they will start seeing something that's not actually there. This may be a scratched cornea or a tiny object stuck in their eye. This may mean a trip to the vets to get this sorted.
Focal Seizure
A focal seizure is a type of seizure that only occurs in one part of the body. This may be the case if you notice your dog is staring at one spot and doesn't seem to move at all. If you believe this to be the case, you need to take them to the vet immediately.
Ageing
Dogs age just like we do, and with that comes a deterioration in their mental capacity. This is called canine cognitive dysfunction and affects their awareness, learning, memory, and ability to react. If your old dog starts sniffing air and doesn't normally do this, this could be a sign of aging.
Compulsive Disorder
If your dog has obsessive compulsive disorder (also known as OCD), this can cause them to develop strange behaviours. This is because OCD can bring on stress, which can cause dogs to do strange things, such as randomly sniffing the air.
Your Pup Is Detecting A Rainfall / Storm
Your dogs sense of smell is so good that they can sense when it is about to rain. They are able to sense a change in air pressure, which is a sign that it might start raining. This happens because dogs have a much better sense of hearing, so rain is a lot louder to them and may frighten them.
Your Pup Detects Another Dog's Scent 
All dogs have their own scent and dogs can often sense this through the pheromones they give off. This might be a dog they already know, or a new dog who they haven't met before. They might be trying to figure out where the dog is and trying to sense whether they're a threat or not.
Your Pup Is Sensing A Person 
Dogs have very strong senses and can often sense when there is someone else around. If they can hear someone coming towards them or even just somewhere nearby, they will start looking around and sniffing to try and sense exactly where this person is.
Dental Issues
If your dog has dental issues, this can cause them to drool. This may cause your dog to continuously look up as if they are looking up, this means the flow of fluids from their mouth is restricted.
Gastrointestinal Issues
Dogs can sometimes have gastrointestinal issues and can be caused by bacteria, new foods, medications, and viruses. In this instance, your dog may look like they're sniffing the air, when in actual fact, the stomach pain causes them to freeze and stretch their head. They need to go to the vets in this instance.
Just Exploring Their Environment
Whether this is an environment they are used to or a new environment, dogs love to sniff around so they can get used to their surroundings. As they are really good at smelling scents, both new and old, they just want to figure out where these scents are coming from.
Detecting Disease/Pregnancy
It's known that when we're ill or have changes going on in our body, we release a different kind of odor. Even if we can't pick up on this, our dogs can due to their amazing sense of smell. Even if you don't realise you're unwell, if your dog is sniffing the air around you, this might be a sign to go to the doctors.
Searching For A Mate There Is A Dog In Heat In The Neighbourhood
Dogs can become sexual in nature from when they turn six months old and it's in their nature to sniff out a mate. If you notice these signs, as well as them becoming over-excited or licking their genital area, this could be a sign they are ready to mate, which might mean it's time they're neutered.
What Is Fly Snapping, Fly Biting, Air Biting, Or Jaw Snapping?
Fly snapping syndrome, also known as fly biting, air biting, or jaw snapping, is where your dog will snap at imaginary flys to try and eat them. This can happen if your dog has been in the same place for a long time and is trying to release any energy they have.
Why Is My Dog Sniffing The Air And
Whining?
Sniffing the air and whining can be the sign of a number of different things and may be difficult to try and figure out. They could want your attention or be bored. They might be excited or stressed out by something. They might also just want food.
Barking?
There are various reasons why your dog would sniff the air and bark. They might be excited by something. They might be greeting another dog or warning them to stay away. They might be trying to get your attention. Or, they might just be bored.
Scared?
Dogs can be scared due to a variety of different reasons, especially due to loud noises or being in a situation they don't like. They might be sniffing the air in this case because they might not be able to figure out exactly what has scared them, so do so to figure this out.
Shaking?
Sniffing the air and shaking is a big sign that your dog is nervous or stressed about something. It's important you try and figure out why it is they are getting stressed about as by removing the stressor, this removes their stress.
When It This Behaviour Useful?
Human Remains Detection Dogs (HRDD), Also Known As Cadaver Dogs
HRDD or Cadaver dogs are used to detect human remains. They are used to locate a manner of things, such as hair, body tissues, human blood, skeletal remains, decomposed bodies, and either buried or submerged bodies.
Disaster Rescue
Disaster dogs need to be both physically strong and trained in finding someone through the air scent technique. These types of dogs are used to trying to find people who have been involved in floods, mudslides, earthquakes, or collapsed buildings.
Air Scent Dogs
Air scent dogs are dogs who sniff the air to try and find someone or something. This is particularly useful if someone has gone missing and air scent dogs will be used to sniff out the person to try and find them.
Trailing & Tracking
These types of dogs are also used when someone goes missing. However, unlike air scent dogs, trailing and tracking dogs will sniff the ground, which doesn't always work well if there is a strong wind or the temperature changes.
Avalanche Dogs 
Avalanches are very serious and it can be quite difficult for humans to find anyone who has been caught in an avalanche. This is why dogs are used in these searches as they can sniff people out, even in really cold temperatures, and can also dig to find people.
How To End This Behavior?
The best way for you to end this behaviour is to distract your dog. This way, you can tell whether your dog is fine or not as if they don't go back to sniffing or staring at that spot, it's likely nothing to worry about. However, if they do, a trip to the vet may be in order.
Can Dogs Smell
Carbon Monoxide?
Just like us, dogs cannot smell carbon monoxide unless there are ridiculously high levels of it. They can, however, feel the effects of this type of poisoning quicker than we can and may start panting, feeling weak, or be sleeping.
Toxins Or Chemicals?
Unlike carbon monoxide, dogs can smell various toxins or chemicals. This includes gas leaks and ammonia, just as an example. They can also smell chemicals from upstairs, such as if you cleaned your bathroom, so that would explain them looking upwards as if they're sniffing the air.
Why Is My Dog Sniffing The
Whole House?
There are a number of reasons why your dog is sniffing the whole house. It's most likely that they can smell something, such as food, that they want. Alternatively, they might be able to smell something they're not used to, so are trying to figure out where it's coming from.
Vents?
There are three main reasons why your dog is sniffing the vents. It can either be because they can sense something in the vents, they can hear something in the vents, or there is something about the vents that is causing your dog to have anxiety.
Carpet?
Just like with vents, there are a number of reasons why your dog might sniff the carpet. They might be trying to gather information, smell any food that may have fallen on it, gather the scent of any people or animals who have been on the carpet, they have anxiety, or they are being submissive.
Couch?
If your dog is sniffing the couch, it is likely for the same reasons as mentioned above. It could be because they can smell something new. Maybe you've got a new couch and they are trying to suss it out? Or they could smell food on it.
References
https://www.ncbi.nlm.nih.gov/pmc/articles/PMC8388720/
https://www.aphis.usda.gov/aphis/ourfocus/planthealth/ppq-program-overview/nddtc