Your dog is always alert to the fragrant world around them. Some scents can be produced by your legs or may be scents from outside your home. Your dog is curious and can spend time sniffing at your legs to enjoy them, learn and know where you've been.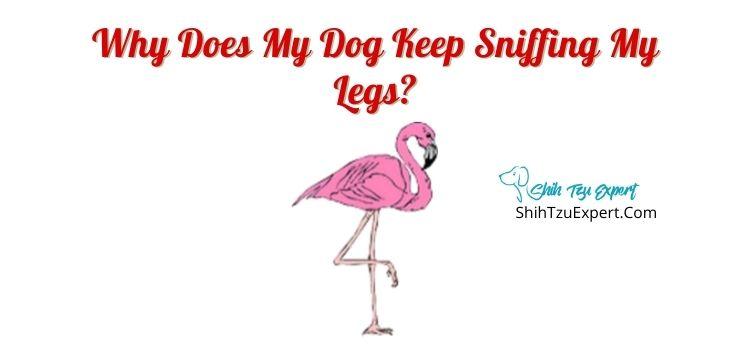 When Is It Abnormal?
What might seem like excessive sniffing to you is normal for your dog. Sniffing the air, the environment and even you is the way that your dog gathers information around them and "sees" the world. Sniffing can become abnormal when you notice that your dog is starting to pant or have a harder time breathing. You might also notice flaring nostrils and shallow breathing. This could be an indication that your dog is starting to develop breathing issues. When this happens it is best to consult with a veterinarian to know how to proceed.
Is There Something Wrong With My Legs/Feet/Knees/Ankles?
If your dog starts to sniff at your legs, feet, knees and ankles. It can be alarming. You already know dogs have an exceptionally adept nose. So when your dog becomes fixated on your legs, you figure something is wrong. However, don't be alarmed as this is perfectly normal behavior. There are a couple of exceptions which will be explained below.
Is There Something Wrong With My Dog?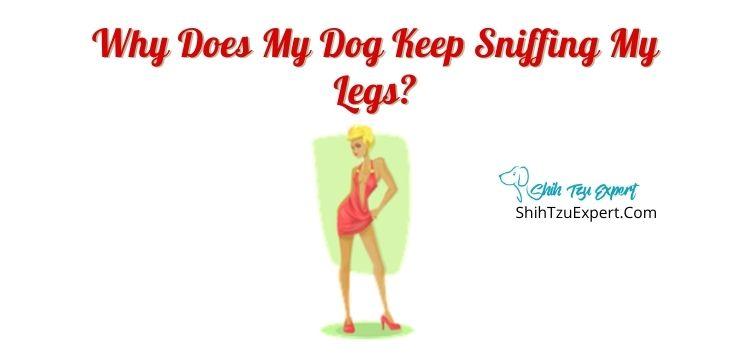 When your dog sniffs it can seem compulsive and obsessive. You might become frustrated when on a simple walk, your dog forces you to stop many times to sniff a rock, a bush, a mailbox and the endless objects around outside.
This is normal dog behavior and shouldn't be any reason for concern. In fact, it should be allowed to happen as much as possible as this is how dogs experience the world. Through scents and their noses. Only when it becomes a hindrance to your moving about your day should you consider altering the behavior.
Why Won't My Dog Stop Sniffing My Legs/Feet/Knees/Ankles?
1. Your Dog Loves Your Scent – Your dog recognizes your unique scent. When your dog is near your legs it could smell you to be reassured and comforted that you are nearby. Your dog may also simply like the way you smell. Your legs are also the closest part of you to its nose. Smaller dogs may sniff the feet and ankles because it is closest to them as well.
2. Your Dog Senses Your Emotions – Dogs are able to detect a wide range of human emotions including fear, happiness, sadness, disgust, and anger. Your body scent changes in response to these emotions. If you're happy your dog can pick up on this by your smell and try to celebrate with you. If you're sad your dog may sniff this out and try to comfort you.
3. Your Dog Is Trying to Know Where You Have Been – Did you come back from the restaurant, grocery store, department store, hardware store, a friend's house, or your mom's house? There's so many places you could have gone to and your dog wants to know. And its nose is sensitive enough to give it an idea of where you've been.
4. Your Dog Is Trying to Know Whether You Have Been With Other Dogs – You are your dog's whole world and it wants to know if you have been around another dog. Did you pet that dog or play with that dog? Is that other dog a rival? The first step is to sniff your legs and see if you smell like another dog. Dogs have been known to exhibit jealous behavior and might do so if they smell another dog's scent on you.
5. Trying to Smell What Your Feet Have Come Across – As you walk around away from your home your feet have encountered so many different smells. You have unwittingly stepped in many different substances. This is like a feast for your dog. It wants to smell all that you have encountered with your feet.
6. You Have An Injury – Dogs can smell dislocations and bone fractures and flesh wounds. Your dog may be detecting these injuries on your legs. If the smelling is frequent enough you might try doing a self-check to make sure you don't have an injury.
7. You Have An Illness (Arthritis) – In addition to injuries, dogs are able to smell swelling. Swelling joints are common in arthritis and it usually starts in the hands and feet. As the illness progresses it can move to the knees and other joints. Your dog is able to smell this.
8. It's Detecting Pregnancy – During pregnancy humans experience shifts in hormones and therefore changes in scent. Your dog may be curious about this new scent you are giving off and it could help give you an early indicator that you are pregnant.
9. It's Detecting Periods – Just as it is during pregnancy, periods cause a shift in hormones and your dog could be detecting the new changes in smell.
10.You Have Encouraged The Behavior In The Past – When your dog is close to you and sniffing your legs, you might be tempted to reach down and give it a pat on the head, throw it a treat or give it more attention. This positive reinforcement on your part encourages your dog to continue behaving this way because you are rewarding the behavior.
11.Just Trying To Get Your Attention – If you've been gone all day, or have been giving other things your attention, your dog may want for you to give it attention after feeling left out. Sniffing your legs is a way for it to do this.
12.It's Just Greeting You – If your dog is sniffing your legs first thing in the morning after you wake up or upon returning back home after work or running your errands, sniffing is one way a dog can greet you after you've been gone for a while.
13.Trying To Figure Out That Unusual Or Nice Scent – As you go through your day it's easy to ignore the hundreds of smells that you encounter along the way. When you arrive back to your furry friend, it is encountering all those smells lingering on you and your legs. Your dog is trying to figure out what it could be, learning and enjoying the smells.
14.Pup Is Scent Marking – Some animals communicate by leaving a scent behind for other animals to find. These scents are left through pheromones. Your furry friend could be leaving a scent on your legs to communicate with other animals. We know that dogs often scent mark by pooping and scratching the dirt afterward. They are also able to scent mark using their noses to leave pheromones on your skin and clothes.
How To Discourage
When the sniffing gets to be too much, it might be time to start thinking about how to stop the behavior. It can be distracting, getting in your way and embarrassing when you have friends or family visiting. Know that it will take time and patience to reverse the behavior. Allow anywhere from a few weeks to a few months for your dog to stop. Here are some things you can try to discourage the behavior.
Distract It – Try giving your hand for your dog to smell to distract it and help it think of something else.
Don't Encourage The Behavior – Your furry baby loves attention whether it is good or bad. Laughing or yelling, your response is the reward and your dog will continue sniffing.
Use Dog Treats – Another extremely useful distraction.
Cover Your Legs – Block your scent using another scent. Use a blanket or something similar to distract your dog.
Dog Training – Petting your dog or giving it attention after it sniffs your legs is a form of positive reinforcement. You can try doing the opposite of this. When your dog is not sniffing your legs, you can give positive reinforcement during these activities to discourage your dog from sniffing you.
Just Walk Away – Resist the urge to give your dog any attention at all. Just ignore it.
Use A Scent That Dogs Hate/Dog Repellent (Can Be As Simple As Wearing Strong Aftershave!) – Dogs have incredibly sensitive noses. Just as bright light can be a deterrent for humans, a strong smell can be a deterrent for dogs. Find something that has a strong smell to discourage your dog from sniffing too much.
How Powerful Is A Dog's Sense Of Smell?
Dogs have 300 million olfactory receptors while humans only have 6 million. They are also able to smell while exhaling so as to not lose the scent they are sniffing. Humans on the other hand can only smell on an inhale making it more difficult to hold on to a scent. Dogs are also able to detect a half teaspoon of sugar in an Olympic sized swimming pool. Taken together, dogs' noses are 10,000 times more sensitive than human noses, making them keen on every scent that passes by.
Why Is My Dog Sniffing Me More Than Usual?
If you went somewhere new such as a new restaurant, new home or new store your dog could be picking up on that. It could also be that you are experiencing a stressful time in your life and your dog is picking up on that emotion. If you have a new injury or are getting sick, your dog may also be detecting that.
Why Is My Dog Sniffing My Private Area?
Dogs have apocrine glands all over their bodies. These glands are important for releasing pheromones and guide communication between animals. In humans, apocrine glands are located in the underarms and the private area. A dog will notice if a human is menstruating, has recently given birth or has had sexual intercourse. You may have noticed dogs sniffing each others' bottoms as they greet each other. This is another way for your dog to greet you as well.
How Do Dogs Act When They Smell Cancer?
There is particular interest in a dog's ability to sniff out cancer because it will help so many people with early detection. Pet owners with a dog can be alerted in this situation, too. If a dog detects cancer it may start to behave differently. Aside from persistent sniffing, it may also nudge the area with its snout or stare at a particular area of your body. Depending on its personality, it may whine, bite or lick the area, become clingy, seek more of your attention or tap you with its paw.
Why Does My Dog Keep Sniffing And Licking Me?
Dogs have ritualized and learned behavior. Sniffing and licking are a dog's way of saying hello and, "I'm here and I love you." They may also like the way you taste and smell. Dogs are also in tune with positive reinforcement. If they sniff and lick you and you laugh, pet them and give them attention, they are likely to continue that behavior.
Why Do Dogs Sniff My Pants?
If you find other dogs persistently sniffing your pants, there is nothing to be alarmed about. This is their way of saying hello, and exploring scents that are still lingering on you. They may also like the scent you have.
What Does It Mean If A Dog Keeps Sniffing You?
As we've seen so far, when a dog keeps sniffing you it can be for a few reasons. It is learned behavior that has been positively reinforced, so it keeps doing it for the attention. Dogs are hardwired to greet each other by sniffing and may sniff you to greet you, too. They are also curious about the scents you may offer. They may scent mark you, too or like the scent that is on you.
How Do Dogs Act When They Smell Illness?
When a dog smells an illness it will start to behave a certain way. It will be alert and may even stare at you directly in the eyes or the affected body part, but it won't be aggressive. It seem to be concentrating on something. It will have its tail and ears up and seem to be guarding. It may even lay close to you or follow you around closely trying to comfort you.
References
https://www.petmd.com/dog/behavior/5-dog-nose-facts-you-probably-didnt-know
https://www.ncbi.nlm.nih.gov/pmc/articles/PMC9014822/