From medical reasons, past experiences, to preferences, your dog may have decided out of the blue it doesn't want to walk on wet grass anymore. In this article we'll look at why and what you can do.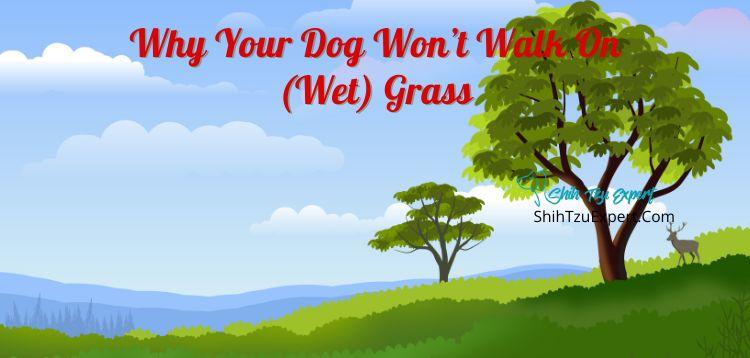 Why Won't My Dog Walk On Wet Grass?
The number of reasons why a dog won't walk on grass are many. It can be related to health and allergies, fear and outside influences. Considering that dogs are not able to let us know with words why they won't step paw into grass, focus on the cues and the surroundings.
Don't force your dog to step on the grass without understanding why. Your dog may be sharing with you a lot of useful information.
Early Negative Experiences With Wet Grass
When your back is turned away for a mere moment that's when things happen. Your dog may have experienced something negative while you weren't watching. While playing on the wet grass your dog may have been startled by a loud nose, stung by a bee, poked at by a frantic bird or scolded roughly by a human. All these experiences can shape a dog's perception and be associated with certain environments.
If your dog was on wet grass when it happened, it associated the wet grass with the negative experience and is afraid it will happen again. So your dog avoids wet grass all together.
Wet Grass Is New Experience For Your Dog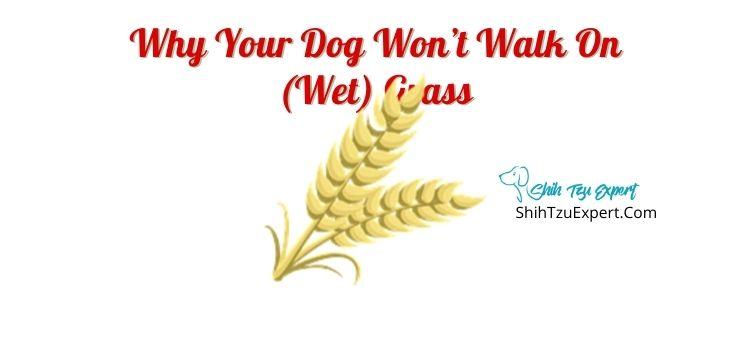 If your dog has grown up surrounded by indoor surfaces like wood floors, vinyl floors, carpet, and rugs. It will be most familiar with those surfaces, because it has walked on these surfaces day in and day out since it was a puppy.
When they are confronted with the cold, wet, grass for the first time, this is a new experience and can be uncertain and scary. Simply give your puppy some time to see that the new surface is safe.
Lack Of Exposure To Wet Grass
If you're a city dweller and roam the concrete jungle with Fido or live in a place that doesn't have much grass like a desert, it makes sense that you two hardly come across it. Even if just a few times prior, your dog may not be accustomed to walking on wet grass due to lack of exposure. If possible and within the comfort limits of your dog, continue exposure. Your dog will get used to it with time.
Wet Grass Hurts Their Paw Pads
Typically your dog loves running around the yard, but suddenly it refuses to step on the wet grass. What could be wrong?
This calls for an inspection of its paws. Your dog may have cuts, bruising, sores or scrapes on the bottom of its paws. When the water from the cuts gets inside, it can hurt them terribly.
Showing weakness is seldom an option for dogs. This was necessary in the wild for their own survival, they had to appear strong. Because of this rather than yelp or whine, your dog may quietly avoid the wet grass.
If there is an injury take your pooch to the vet or call the vet for guidance on the next steps.
Wet Grass Is Unpleasant
Imagine you and your pupper have been warm inside all day. When you take your dog outside and the temperatures are low it may not like the cold on its paws or fur. This is especially true of short hair dogs. These dogs get colder easier and it might be harder to coax them across a stretch of freezing wet grass. They may prefer to stay warm rather than venture across wet grass.
Wet Grass Is Slippery And Not Firm
For dogs who are older, have long fur on their paws or are not as sure footed as other dogs the grass may deter them because it's slippery. After a good soak in the rain slick grass blades can be dangerous for your dog.
Wet Grass Is Cold
After it rains or the sprinklers are on, water naturally pools on the surface of the dirt forming puddles. This makes for a cold and wet experience for anyone who walks over the surface. Especially for dogs who don't have rain boots. Your dog may prefer to keep its paws warm and dry.
They Copy Your Negative Reactions And Moods (Anger/Frustration) To Rain And Wet Grass
Dogs have been our best friends for millennia. They observe us and learn from us and pick up on our behaviors. For a dog owner who has their own aversion to the rain or cold and wet situations your dog may be alert to this and pick up the same behaviors. In other words, it's just copying you!
It can pick up on your reactions based on how you smell. Especially if you are angry or frustrated by a downpour or while walking across wet grass.
Your Pup Is Allergic To Grass
Your dog may have a grass allergy. Surprisingly this is common in dogs. Aside from your dog digging their heels in and refusing to walk in the grass, here a few symptoms to look for an allergic reaction:
Watering eyes
Pawing at face
Itching skin or throat
Runny nose
Rashes
Your dog can suspect that the grass is causing the allergy and so it will stay away from it.
Wet Grass Is Too Tall
For smaller breeds this can be a problem. A Chihuahua is more likely to dislike the unpleasant tickling of grass and cold wetness of the blades as it walks in the yard versus a taller, bigger dog who is much higher above ground.
The tall grass can also be a scary place for timid smaller breeds.
Try taking your dog to shorter, more manageable grass to see how it reacts.
Why do Some Dog Breeds Love To Walk/Play On Wet Grass While Other Breeds Absolutely Hate It?
Different breeds have different personalities and characteristics. Some dogs simply don't like the feeling and texture of the grass or negatively associate the area with something. Some dogs have long hair to keep them warm and protected for the cold of the grass while other short hair dogs don't have the same type of guard against the cold.
Do Only Female Dogs Hate Walking On Wet Grass Or Do Male Dogs Hate It Too?
Both female and male dogs might be hesitant around wet grass. And both female and male dogs can absolutely love rolling around in wet grass. The avoidance of grass depends mostly on personal preference, breed and physical characteristics.
Why Does My Dog Not Like Wet Grass?
Your dog may not like wet grass due to how it feels, the coldness or perhaps it's a new experience for it. It may also be going through a fear period or doesn't like the type of species of grass.
Why Does My Dog Not Pee On Wet Grass?
When it's time to "go," we all like to be comfortable. If your dog isn't a fan of the feeling of wet grass, then it reasons that it will not be comfortable peeing on it, too.
Should You Drag A Dog That Doesn't Want To Walk On Wet Grass?
No, you should not drag your dog onto wet grass. This will only make the experience of wet grass worse for him. On top of that, it won't address the problem at hand.
The best way is to train it and change the perspective of wet grass.
How Do I Get My Puppy To Pee On Wet Grass/Turf?
If your dog prefers to pee on hard surfaces rather than the turf, it's time to change how your dog views grass. You have to make the grass a good thing. Lavish your dog with praise any time it steps onto grass. Take some treats and throw them onto the surface of the grass.
This will help your furry friend to have a positive association with grass and repeat the behaviors that get him more treats and praise.
Should I Force My Dog To Walk In The Rain?
No, you should not force your dog to walk in the rain. Walks should be a happy time for your dog. If it is not feeling up to it or doesn't like the rain, you'll want to change up your dog's perspective of the rain. Give your dog treats and praises when it goes on walks in the rain with you.
However, forcing your dog to walk in the rain will make your dog miserable.
How Do I Get My Dog to Walk In The Rain?
The best solution is to make it fun! And while it may seem counterintuitive, take them out often. It can be difficult to have a dog that won't walk in the rain. Especially in places where it rains frequently.
So be sure to take extra treats for your dog when it's raining and give your dog plenty of praise.
You may also consider getting booties for your dog.
If none of that works, consider a dog trainer who can help iron out the barriers to getting your dog to walk in the rain.
Can A Dog Become Sick From Being Wet?
Healthy dogs are not likely to get sick after getting wet. Dogs with thicker fur coats have better protection than dogs with thin coats. In either scenario, simply make sure not to expose your dog to the cold and wet for too long.
Just like humans this can increase the chances of getting sick. And when you get home be sure to give your pup a good wipe down and make sure it is dry.
What's The Fastest Way To Dry A Dog?
Air drying a dog can take time, and if you need to get somewhere fast or don't want your pup dripping around the house, air drying won't cut it. The fastest way to dry a dog is to use a towel, or hairdryer.
Can I Towel Dry My Dog?
Yes, you can towel dry your dog. The best towel to use is one that is specifically made for dog's fur. This will reduce the amount of tangles and absorb more water for a more efficient drying process.
Is it Safe To Use a Hairdryer On A Dog?
You can use a hairdryer on a dog. This is definitely the fastest way to get your dog warm and dried, but do be careful about how you do it to avoid burning your pooch.
Use the lowest heat setting, always keep the dryer a few inches away from your dog's skin and keep the dryer moving. You do not want to focus the heat on one spot. This will lead to skin burns.
Do Grass Pads Work For Dogs If They Are Wet?
A grass pad left outside should not be cause for concern when it gets wet. It will still work. In fact, getting a grass pad wet is the easiest and best way to keep it clean.
Can Dogs Pee And Poop on Turf?
Dogs can pee and poop on turf. This is where many dog owners let their dogs go when it is time to relieve themselves. There are artificial grasses and turf that you can buy if you do not have a yard available for your pooch.
What Should You Do If Your Dog Refuses To Walk On Wet Grass?
If your dog is refusing to walk on wet grass, it's a good idea to figure out why first. If it is health related such as injury or allergies, you'll want to address this with the help of a vet. If it is a behavioral thing, consider training your dog or getting the help of a dog trainer or canine psychologist to help you find the cause.
How To Get Your Dog Used To Walking On Wet Grass?
If using the yard is your dog's primary means of relieving itself and getting excess energy out, getting your pooch to get out into the yard can be important. Below are some things you can try to get him used to walking on wet grass.
Desensitise Your Pup To Wet Grass By Gradually Exposing Them To Wet Grass
The key here is to not give up and be consistent. Routine exposure to wet grass will help your dog to realize that the grass doesn't have to be a bad thing, it can be good.
Play With Your Pup On Wet Grass
You might try leading the way for your dog. Walk out onto the grass, stand there and wait for it to join you. When it comes and joins you reward your pup with a game. This will help it to see the grass as a fun place.
Make Wet Grass Fun
Does your dog like to play with toys or play catch? Invite your dog onto the grass and make it a fun place to be.
Feed Your Dog Treats On Wet Grass
What is your dog's temptation treat? Take some of those treats and throw them out onto the grass. Be sure to give them a good toss so that they are far from any hard surface. Your dog will have to overcome its fear of the grass to get the treat! Do this many times until your dog runs onto the grass with no hesitation or fear.
Equip Yourself With Rain Gear And Be Comfortable In Wet Weather
Your dog takes cues from your reactions. If you see the rain and react with disgust or concern, your dog is picking up on this, too. You'll want to set the example here, get good rain gear and be comfortable in the rain. Your dog may start to follow suit.
Get Dog Booties
Another thing you can try is to get dog booties. If you have a dog that is already used to them, this can be a quick and easy solution.
Do Dog Booties Work For Dogs That Dislike Wet Grass?
Some dogs hate booties and it can be difficult to train them to be accustomed to booties. However, these are a great thing to use to help a dog walk in wet grass, especially if your dog is already used to them.
References
https://nysipm.cornell.edu/environment/our-land-our-water/lawn-care-basics-feed-water-and-mow-pro/
https://vet.purdue.edu/hospital/small-animal/primary-care/tips/dog-tips.php