Dog owners often have a reputation as being righteous and superior over other pet owners, as they revel in their elevated status. Controversially this raises the age-old question – are dog owners arrogant?
Are dog owners arrogant?
Many people controversially view dog owners as superior, arrogant, and inconsiderate. There will always be a social divide between those who love dogs and those that don't! Changing attitudes are normalizing bringing and having our dogs in all manner of places. Tom Hardy at the recent Venom: Let there be carnage premiere made sure to enjoy the film with his dog present.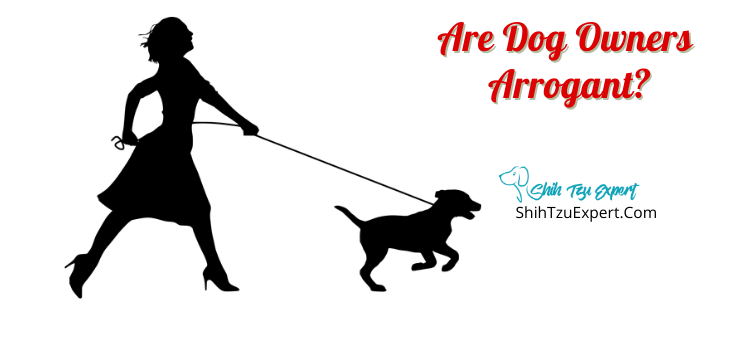 There are over four hundred and seventy million dogs kept as pets around the world. Globally fifty-seven percent of the population own a dog.
Thirty-three percent of all pet owners choose dogs making them the most popular choice. In many countries, you need a license to own a dog whereas other animals fall shy of this requirement.
Animal Rights Laws in Luxemburg have also been amended to include specific basic needs of food, water, and care if a person chooses to own a dog, with many countries adhering to this new policy and currently following suit.
Also, are dogs as man's best friend simply thrust into a higher status than their supposed indifferent feline or rabbit counterparts, or are dog owners simply too haughty over their choice of pet?
Do some breeds attract arrogant owners?
Many people choose their dog for a specific reason. Different breeds of dogs have very different temperaments. Characteristics of dogs can attract certain owners. Pitbull's and Dobermans often attract owners looking for a sense of security and strength, whilst dachshunds often attract owners who like their originality and the attention they receive.
Greyhounds often attract physically active people and Yorkshire terriers often attract those looking for a dog that won't shed and aggravate any allergies. Certain breeds can attract certain people, with many owners choosing their dog after considering important factors to do with health, physical attributes, and the dog's temperament.
Certain breeds can attract arrogant owners, but this view alone can be damaging and narrow-minded. Any person with or without a dog can be arrogant. The dog itself is not the problem but it is the owner's attitude that can become an issue.
Interestingly a new study at Michigan State University has found that dogs and their owners tend to develop similar personality traits. Extroverts tend to have more active and excitable dogs.
Owners who were more pessimistic tended to report their dog being much more anxious and fearful and more resilient to any training. More positively orientated people tended to report their dog as being less aggressive and mixing better with other humans and animals.
Arrogance can therefore play a role in not only the selection of the dog but the long-term personality traits of a dog. This can have long-term consequences on a dog's lifestyle, health, and lifespan. Arrogant owners can therefore influence their dog's behavior and mannerisms, positively or negatively, often reinforcing the stereotype that certain dogs attract arrogant owners.
Why are some dog owners so entitled?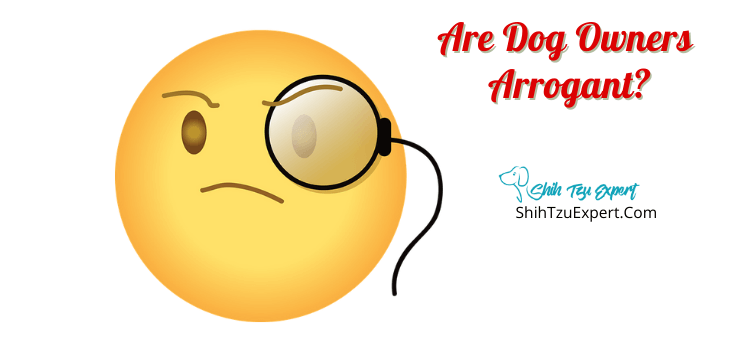 Some people argue that dog owners are selfish and entitled. Pervious actions of celebrities such as Johnny Depp and Amber Heard sneaking their Yorkshire terriers unannounced into Australia caused a public outcry.
Dogs have transcended over the centuries from being wild wolves to man's best friend to the current trend of a dog owner's fur baby. In the modern age when it is becoming increasingly expensive for young people to have children many are turning to fur baby substitutes.
This begs the question are dog owners entitled or simply asking for greater leniency for a species they consider their children?
As mental health comes even more to the forefront following covid, many people have new pups or dogs they obtained in lockdown. A new trend for therapy dogs has emerged, with many psychologists echoing the mental health benefits that dogs have on our lives.
Some self-confessed entitled dog owners have capsulized on this new system, choosing to take their dogs to restaurants, bars, cinemas, hotels, and extensive trips abroad, on the pretense of he or she being a therapy dog.
Other self-entitled privileged owners simply live in a world where they don't take no for an answer, bringing dogs to hairdressers, plays, and work. However, on another note, these self-confessed privileged people often do the same self-entitled tendencies with their children and themselves in schools, work environments, hotels, and holidays. The question really comes down to, if a dog owner considers their dog a fur baby, should this not be recognized and accepted, instead of blasting them simply as indulgent and self-entitled?
Why are some dog owners so inconsiderate?
Dog owners are often viewed as inconsiderate, and some owners can be for the following reasons:
1. Not picking up their dog excrement
2. Allowing their dog to jump on other people
3. Allowing their dogs to walk off lead in public areas
4. Allowing their dog to bark unnecessarily
5. Getting angry when other people want to pet their dog
Dogs, like any pets, are dependent on their owner and their owner's behavior. Recent studies have revealed that dogs can pick up chemical and psychological cues from their owners. Being so in tune with their owner means dogs can also pick up on their emotions and moods.
The owner's emotions can literally be contagious to a dog, with many becoming depressed or sad, when their owner is depressed or sad, or being excited when their owner is excited. Being inconsiderate is a very human trait.
Dog owners can often be viewed as inconsiderate when their ideas or behavior are at odds with those who don't own dogs, creating a clear divide in society. Dogs, in contrast, are never inconsiderate and give their love purely and freely. Being inconsiderate is defined as being heedless or thoughtless.
Many concerns that arise around dog owners and the action of their dogs could be erased if they considered the impact on all those around them and take positive steps to change anti-social behaviors.
Signs you're a bad dog owner:
Owning a dog also means commitment. Mentally, physically, and emotionally it can be an exhausting but wonderful experience. Having a puppy has been likened to having a baby that never grows up.
Before embarking on the incredible journey of getting and owning a dog ask yourself if you are ready for the responsibility. If you already own a dog and find that you are committing any of the signs from the list below, ask yourself, would your dog be better off in a different home, where he or she could receive all the time, love, and care they need.
1. You forget to feed your dog or give it water
2. You let your dog bark
3. You let your dog bite people
4. You refuse to walk your dog
5. You never play or cuddle with your dog or give it any love
6. You never wash or take care of your dog's hygiene needs
7. You leave your dog at home alone for long periods of time
8. You only got a dog because your children wanted a dog and now you all ignore it
How to deal with bad dog owners:
Dealing with bad dog owners and their behaviors can be a tiring process. Often when one dog acts up in a dog-friendly area, it can lead to the area becoming less dog-friendly.
Sadly, a dog is only as well behaved as his or her owner trains them to be. Here's how to deal with rude dog owners and their behaviors:
1. Overexuberant dogs off-leash in an on-leash area
2. Dog owners not picking up their dog poop
3. Dog owners allowing their dog to jump up on you
4. Dogs owners allow their dog to be aggressive with your dog
5. Dog owners allowing their dogs to bark excessively
Do dog owners think they are superior?
Leading psychologist Alfred Alder studied the complexity of superiority. He discovered that feelings of superiority and inferiority are always intertwined. The symptoms of superiority complex may include:
1. high valuations of self-worth
boastful claims that aren't backed up by reality
attention to appearance, or vanity
overly high opinion of oneself
a self-image of supremacy or authority
unwillingness to listen to others
overcompensation for specific elements of life
mood swings, often made worse by contradiction from another person
underlying low self-esteem or feelings of inferiority
Many dog owners can have an unrealistic view of their dog, ignoring bad behavior or implementing social conditions or rules around their dog that is untenable.
Many dog owners can also develop a tendency to want to meet friends on their terms, preferring to meet at dog-friendly places or refusing to leave their dog, leaving options limited within a social setting.
They can also impose timeframes with many adhering to the four-hour guidance when leaving their dog unattended at home alone.
This behavior can contribute to the idea that dog owners think they are superior but again it raises another question if parents of children are allowed to enact social decorum should pup or fur parents not be allowed to as well?
What should you never say to a dog owner:
Dog owners can be very set in their ways. They can often find certain things other people say to them about their dog offensive, especially because many consider their dog to be a highly valued member of their family. To avoid offense here is a list of things to never say to a dog owner below:
1. You should not let your dog sleep in your bed
2. You should not let your dog sit on your sofa
3. Don't you think you spend too much time with your dog?
4. You can come but your dog is not welcome
5. Your house smells of dog
6. It's just a dog!
7. You only have dogs because you don't have kids, right?
8. You shouldn't let your dog kiss you.
There will always be those that support these advances and those that do not. Superiority and arrogance are inherently human traits. No dog develops behavior or social issues without the participation of its owner.
In a world where we are breaking down the outdated social norms, should dog owners, who are proud of their fur babies, not be allowed to bring them to establishments, if they are well behaved?
References
https://www.statista.com/statistics/1044386/dog-and-cat-pet-population-worldwide/
https://www.discovermagazine.com/planet-earth/dogs-and-their-owners-share-similar-personality-traits
https://www.companionanimalpsychology.com/2016/08/why-do-people-choose-certain-dogs.html
https://www.earth.com/news/dogs-adopt-same-personality-owners
https://www.nationalgeographic.co.uk/animals/2021/10/yes-dogs-can-catch-their-owners-emotions