Your dog pooping in someone else's house can be incredibly annoying, embarrassing, and inconvenient. But just why exactly does your dog only poop in other people's houses? Can you punish them for doing this? Should you let them poop in your neighbor's garden? This article has all these answers and more.
Why Does My Dog Poop In Other People's Houses?
There can be a variety of reasons for your dog pooping in other people's houses. However, this is most likely due to the anxiety of being in an unfamiliar place or the scent of another dog's poop suggesting it is okay to do so. Keep an eye on them and don't punish them for pooping.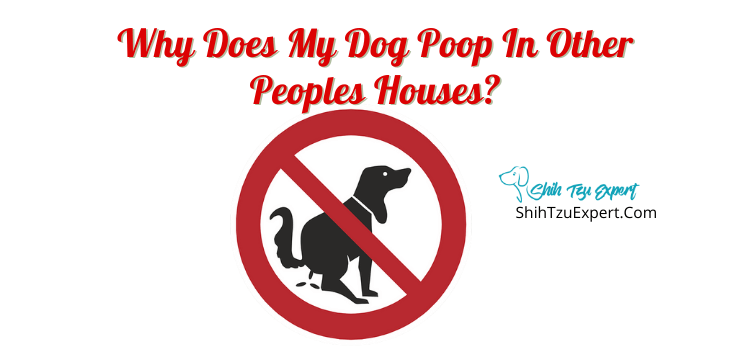 Why Does My Dog Poop In Other People's Houses?
This is more than likely due to the dog's training of not being allowed to poop inside your house, not being translated into them not being allowed to poop inside other people's houses.
There is also a slight possibility that if that person also has a dog, their dog may have pooped or possibly peed in the house and your dog can still smell this; which suggests to your dog it is okay for them to poop there.
Should You Punish Your Dog For Pooping In Other's Houses?
No, you shouldn't punish your dog for pooping in someone's house.
They are more than likely pooping in the house either because that person's dog (if they have one) has pooped in the house and the scent gives your dog the signal it is okay for them to poop there; or because it is an unfamiliar setting for them and they feel anxious.
Shouting at your dog for pooping (or for any naughty behavior) would only work if you do it within a matter of seconds. For example, if your dog pooped in someone's house and you only noticed a few minutes later, punishing them would be pointless as they wouldn't understand why you were shouting at them.
Punishing dogs also weakens yours and your dog's relationship with one another. By doing what was mentioned above, this causes your dog to lose trust in you as it causes them to become wary of you and fear being punished again and not knowing why. If you shout at your dog for pooping, this can cause them to submissively poop in the future. Your dog will do this to show they are not a threat.
These incidents will be triggered if your dog hears loud voices, taking them back to when you shouted at them and they were not sure why, so they poop out of fear.
How To Punish Dogs For Pooping In Other's Houses?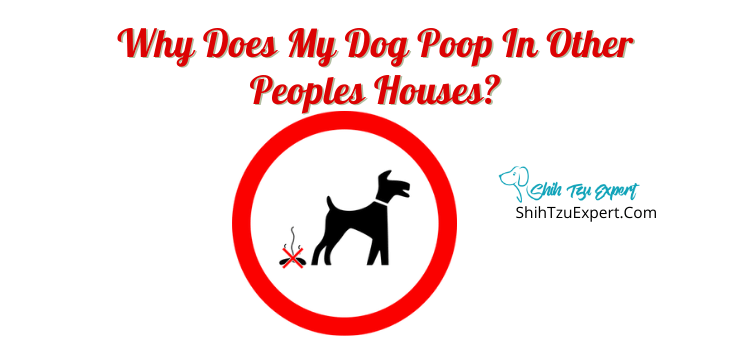 As mentioned above, you shouldn't punish your dog for pooping in someone else's house. Instead, you should keep a close eye on them, possibly keeping them on a short lead, for any signs they need to poop. When they display these signs, you should take them outside and let them do their business.
If your dog does poop outside, give them lots of praise and treats. If you take them outside and after five minutes they still haven't pooped, take them back inside and keep them in a small space, such as a crate, for around ten minutes, and then take them back outside again.
How Do You Stop A Dog From Pooping In Other People's Houses?
If you're at someone else's house, it may help to keep your dog on a short lead. This helps you keep a close eye on your dog and when they are showing signs of needing to poop, take them outside.
You should also treat each new area you take your dog to as a new opportunity to re-potty train your dog. You need to assume your dog doesn't know they're not supposed to go to the toilet there. In doing this, they should eventually stop pooping in other people's houses.
It may also be helpful for you to either take them outside every few minutes or spend ten or fifteen minutes outside when you first get there until they poop. This also helps with their overstimulation of being in a new environment. Remember: dog's need routine, so when they are taken to a place that is not part of their routine, this can cause them to behave differently.
Dog Poops Only In Other Peoples Homes But Not Mine?
This will be because your dog knows not to poop in your home, because you have taught them not to. But just because they know this, doesn't mean they know not to poop in others' houses.
Dogs are really specific with their training so when you are training them to not poop in the house, they only apply this to your house and not other peoples. This is why when you introduce them into a new environment, you treat them as if you are potty training them again. They may also feel more anxious in other people's homes.
Feeling anxious can cause your dog to go to the toilet. In this case, look out for the signs of your dog feeling anxious and regularly let them outside to go to the toilet. Their anxiousness is linked to overstimulation of this new environment. This overstimulation is what causes them to poop as they become overewhelmed by this environment and become unaware of how to control themselves. Once they get to know these surroundings, as long as you treat the area as a new potty training area, they should stop pooping.
Why Does My Dog Poop In My Neighbour's Yard?
There are many possibilities for your dog pooping in your neighbor's yard:
They may be trying to mark their territory. Even though they know your house is their house, they may see your neighbor's yard as a part of their territory. It can also be their way of communicating to other animals, such as when they were last there. It can also be a way for them to gain some privacy.
If you have a small yard, they may prefer to poop in your neighbor's yard, particularly if it provides them with some form of privacy that your yard doesn't. Dogs tend to prefer a certain kind of terrain to poop on, particularly grassy areas. If your yard is made of concrete, but your neighbor's yard has lots of grass, your dog is more likely to go to your neighbor's yard to poop as they feel more comfortable doing it there.
How Disrespectful Is It To Let Your Dog Poop/Pee On A Neighbour's House/Lawn?
It is best to not let your dog poop on someone else's lawn. Even if you pick it all up, there may still be traces of it left and even if you do think it's a one off, they may be able to pick up the scent in the future and think it's okay for them to poop there, when it isn't. You should avoid letting your dog pee on your neighbour's lawn too.
This could make a mess of their garden and just like with your dog pooping in their garden, this more than likely won't be a one-off. Some of your neighbours may have a sign up specifically asking you to not let your dog poop or pee on their lawn. In this case, or any case, regardless of whether they have a sign up or not, it is best to be respectful and not allow your dog to poop or pee on their lawn.
It is very easy for you to keep your dog to the pavement when using their lead to pull them away from your neighbor's garden and towards the street. It is not only best practice to do this, but it is also the polite thing to do.
Can Dog Poop In The House Make You Sick?
Dog poop can, and quite possibly, will make you ill. Dog poop contains bacteria such as E. Coli, salmonella and parasites, such as roundworms and tapeworms.
This is why it is important you potty train your dog and don't give up on it and should they have an accident, you clean it up straight away and wash your hands so you don't get sick. One of the diseases you can catch from dog poop is toxocariasis, which you can get from the roundworm parasites in the poop. This can lead to mild symptoms, such as a cough or high temperature, to much rarer and more dangerous symptoms, such as seizures and blurred vision. If you have mild symptoms, you won't need treatment as it should go away on its own.
However, you will need treatment if your vision is affected as it could lead to permanent sight loss. You will also need treatment if your organs are affected, but you should make a full recovery. There is also a chance you can get hookworm if your dog is infected with it and you catch it from their poop and are transmitted through the skin. Luckily this isn't dangerous and you shouldn't need any treatment for it, but it will cause itchiness. Only go to the doctor if this is accompanied with stomach pain or diarrhoea. Another disease you may get is campylobacter.
The symptoms you may get with this includes bloody diarrhoea, nausea, a stomach ache and a fever. This should clear in a week, but you may need antibiotics if your immune system is weakened or the infection spreads to your bloodstream. You can also get giardia directly from your dog's poop. You should wash your hands straight after cleaning their poop and possibly bathe your dog if you believe their poop has got onto their fur.
Is This Your Dog Revenge Pooping? Out Of Spite?
No, it is not possible for your dog to revenge poop or poop out of spite.
They are not capable of these kinds of emotions, which should make it easier for you to potty train them. We often attribute human behaviour onto dogs as an explanation for why they are behaving the way they are. Whilst we, as humans, might do something out of revenge when we don't like how someone else has treated us, dogs do not act like this and their bad behaviour will be down to something else. There will always be a reason for your dog pooping in yours or other people's houses, so the sooner you find out what this reason is, the easier it will be to solve this problem.
Instead of pooping out of spite, some of the reasons for them pooping could be due to anxiety, boredom, too much physical energy, claiming new smells, or it could be down to a medical issue. If your dog is potty trained and has just started pooping in the house, you should take them to the vet first to rule out a medical issue. If this problem is not down to a medical issue, look at changes in their environment.
Have you recently changed their routine? Has where they sleep changed? Have you made a change to their environment? Any of these changes could cause stress, which can lead to them pooping. Also, look at how long you and any others who live with you are out of the house for at any one time. If you are all out of the house for multiple hours, your dog may be incapable of holding their poop in for that long. In this case, see if you or someone else can pop home during the day to take them out to go to the potty. After all, we all struggle to hold it in for that long, so why should we expect our dogs to try and do it?
References
https://www.nhs.uk/conditions/toxocariasis/
https://pets.webmd.com/ss/slideshow-diseases-from-pets