The great dane and chihuahua are about as different as two dogs get. It's easy to wonder: is it possible that they are of the same species? In this article, we will answer that question, explain why, and outline the important-to-know similarities and differences between the breeds.
Are Great Danes And Chihuahuas The Same Species?
The giant great dane can be bigger than their human, while chihuahuas are sometimes carried around in a purse. If it were your first day on Planet Earth, you might not believe these two breeds are of the same species. But they are!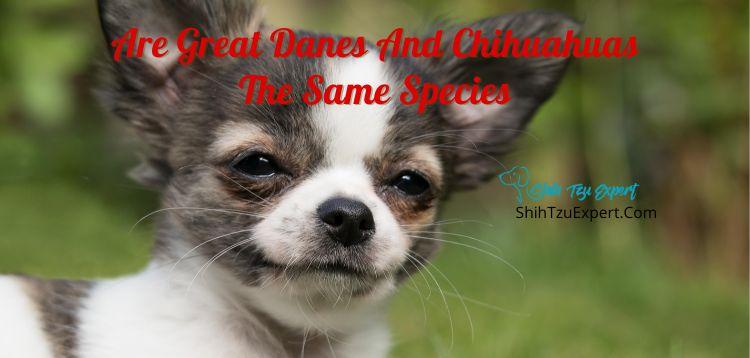 Let's break down how all dogs from chihuahuas to great danes all fall under the K9 umbrella, and what that means as far as breeds, genes, and "designer dogs" go:
Reasons Great Danes And Chihuahuas Are The Same Species?
The definition of the word "species" is broader than some might think it to be. A species is classified as animals sharing certain characteristics who are capable of reproducing fertile offspring. This is true enough for a great dane and a chihuahua for them to be within the same species.
Because of their gene sequences, both great danes and chihuahuas qualify as a part of the Canis Familiaris species. In fact, all dog breeds do!
Why Are All Dogs The Same Species?
Canis Familiaris (or as we know them: domesticated dogs) come in an incredible range of shapes and sizes. It's true that dogs evolved from wolfs, but have not shared a species with the wolf in over 15,000 years. And since then, they have branched into all sorts of breeds.
The confusion is valid– this sort of range is unique to the species! Dogs take the prize for the greatest size variety of all mammals.
They evolved this way because of selective breeding. Humans can intentionally breed dogs for specific gene sequences depending on desired qualities. Domesticated dogs are no longer evolving for survival in the wild. In domesticated conditions, it's kind of more of a "survival of the cutest"… if you will.
But that, of course, is subjective. And people want all kinds of pets depending on their lifestyles, needs, and preferences. So breeders have catered to all kinds of gene-specific qualities, causing dogs to evolve in this huge variety of ways.
Chihuahua Compared To A Great Dane?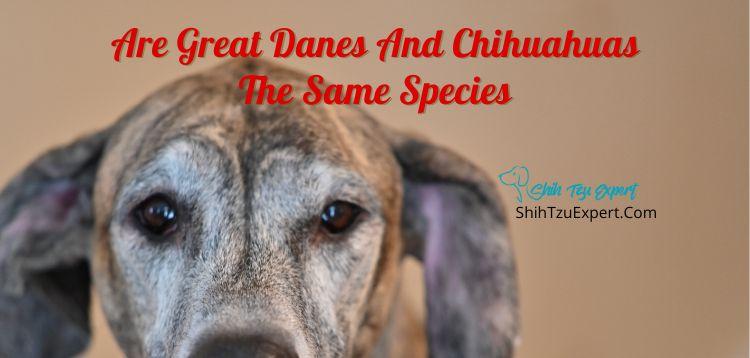 Full-grown great danes can be 28 to 33 inches from nose to tail and weigh as much as a whopping 200 pounds! Maybe the cutest thing about them is that- even as one of the largest dog breeds on earth- great danes tend to think of themselves as lap dogs. They are loving, loyal, gentle giants.
The tiny chihuahua is often called a "toy dog" or "purse dog". Just 5-8 inches tall, the breed weighs under 6 pounds. They're known for their smart, sassy personalities and their huge, alert eyes have a way of making their humans laugh. Almost opposite to the great dane, chihuahuas tend to have personalities that are much bigger than their bodies and walk around with the confidence of a much larger animal.
Can You Breed A Great Dane And A Chihuahua?
So technically, on a gene level, yes. This is what makes them a "species". But for safety reasons, it really shouldn't be done.
Particularly if the female is a chihuahua, the practice is very dangerous. Remember: a great dane can weigh up to nearly 200 lbs and a chihuahua, under 6 lbs! Female chihuahuas can't handle the pregnancy that would result from such a big pup. When it's been tried (involving both artificial insemination and c-section) both mother and child have not survived.
To breed a great dane and chihuahua, one would have to artificially inseminate the female great dane. However, there is still a risk of breast-feeding issues and mutations that can occur.
Is There A Great Dane And A Chihuahua Mix?
The great dane/chihuahua mix is a great rarity, but indeed it has existed.
The crossbreed is sometimes called the "chi-dane-dane". And despite how cute a name it is, breeding the two dogs is frowned upon. The practices required, risks involved for the parents, and the possibility of genetic mutations for the pup make it a very controversial "designer dog" that you won't find many of.
If A Great Dane And A Chihuahua Can't Breed, How Can They Be Considered Part Of The Same Species?
The breakdown of both the great dane's and chihuahua's DNA suggest both are K-9s. And from a scientific perspective, their genetic makeup can produce offspring.
As we mentioned, you won't find many other species that have been manipulated to such a great variation as the dog. And this creates some practical issues when it comes to breeding dogs as different in size as these two.
Because the problems with breeding great danes and chihuahuas are a result of intricacies, ethics, and physical qualities rather than genetics, they're still considered the same species.
A Comparison Of The Genome Of A Great Dane To A Chihuahua
It is pretty staggering how similar the genomes of great danes and chihuahuas are considering how vastly opposite they appear.
All it takes is a few specific genes to create a dramatic difference between breeds in a species. One gene, in particular, plays a major factor in differentiating dogs' body sizes. It is called the IGF1 gene. Certain DNA sequences create a mutation of that gene that suppresses IGF1's ability to signal body growth.
As you may have guessed, that sequence is found in chihuahuas, but not in great danes. This exact mutation in the same gene has been found to cause many other small dog breeds to be, well… small!