Shih Tzus are among some of the most well loved lap dog breeds, but is the structure of their short, bowed legs a cause for concern?
Your pup's diet may be lacking important nutrients or minerals needed to sustain a healthy growth rate.
Are Shih Tzu Bow Legged?
Are you concerned that your Shih Tzu has bowed legs? While bowed legs can be caused by a genetic trait, nutrition and lifestyle factors are also important to consider. If caught early, your veterinarian can diagnose and treat your little companion before further harm is done.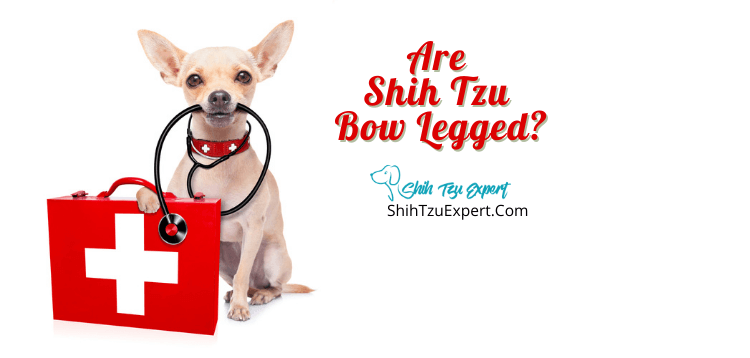 Is It Normal For Shih Tzu To Be Bow Legged[Front and/or Back Legs]?
It is not uncommon for many smaller dog breeds to have bowed legs. It is usually a genetic deformation that can potentially worsen over time.
Typically, if a pup is experiencing bowed legs, their front legs will show more of an outward turn than their back legs.
What does it mean to be Bow Legged?
The term bow-legged simply means curvature of the leg at or below the knee. This condition is especially common among smaller dog breeds, such as the Shih Tzu.
For some dog owners, having a bow-legged pup is highly preferred.
What Causes A Dog To Be Bow Legged?
A puppy can develop bowed legs for several different reasons:
Bowed legs in dogs can be caused by a genetic condition causing bone deformities- in this case, shortened bones. A dog with this inherited trait can have short legs, yet a relatively normal length torso.
Studies also show that bowed legs can be a result of growing too quickly without the proper amount of nutrients. A fast-growing Shih Tzu puppy can develop bowed legs if his or her diet is lacking the appropriate amount of calcium, vitamins, and minerals.
A dog's bowed legs could be the result of an injury, trauma, or a medical condition such as obesity.
Is This A Serious Medical Condition Affecting Life Expectancy or Quality Of Life?
It is common for small dog breeds with bowed legs to suffer from arthritis or bone deterioration, which can be quite painful. These conditions can hinder the quality of life for your dog.
Bow-legged dogs may experience some pain and discomfort; however, unless the bowing is severe, it will not necessarily affect their life expectancy.
A Shih Tzu's life expectancy varies depending upon the severity of the bone deformation causing bowed legs.
How Do I Know If My Dog Is Bow Legged?
Bowed legs in dogs can develop quickly, especially in young puppies. If you notice an outward curvature of your dog's legs, it is possible that he or she is suffering from bow-leggedness.
Here are other signs your dog may be suffering from bowed legs:
One leg appears longer or shorter than the others.
You notice your dog limping or favoring one leg.
Your dog is having trouble walking or running.
Do Shih Tzu Cross Breeds Have Bowed Legs?
Shih Tzu crossbreeds can also experience bow-leggedness. If one or more parents pass the genetic trait to their offspring, they can develop the condition.
Many fast-growing breeds are susceptible to developing bowlegs, so it is possible for mixed breeds to have bowed legs as well as purebred Shih Tzus.
Do Puppies Grow Out Of Being Bow-Legged?
If diagnosed and treated early, you can help to correct your puppy's bowed legs.
Enhancing your dog's nutrition to include key nutrients can significantly reduce leg bowing.
Why Do Puppies Look Bow Legged?
Young puppies tend to grow at a rapid rate. Their bone structure is still soft and more pliable than that of a mature dog. Just like newborn babies, puppies' legs may appear bowed because their skeletal structure is not completely developed, or hardened yet.
Why Is My Dog Suddenly Bow Legged?
If your dog suddenly shows signs of bowed legs, it could be a result of:
A sudden injury such as falling or being dropped
Rapid growth (especially in puppies)
Why is my Old Dog Bow Legged?
Dogs' bodies can change over time from aging, illness, or injury.
Some dogs may develop bowed legs later in life due to adaptation from changes such as arthritis or inflammation.
For example, a dog with a back injury may shift their weight towards its front legs to relieve pressure on its spine. Over time, this can cause the legs to curve due to the increased pressure applied on their front legs.
Can You Fix Bowed Legs In Dogs?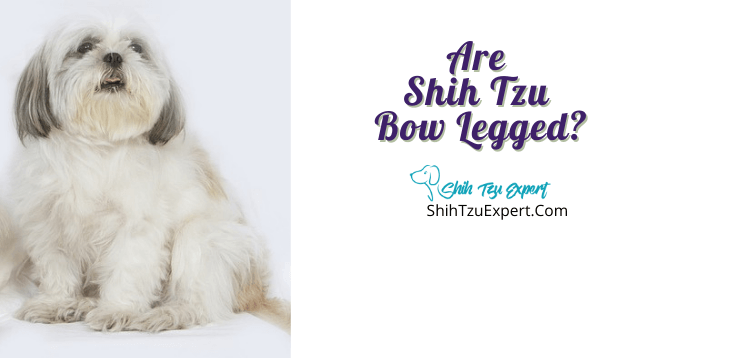 The good news is that there are options available to help treat your dog's bowed legs. Especially if diagnosed early, your veterinarian can provide you with specific instructions to help treat your pup.
Can My Vet Treat This [Or Need Specialist Treatment]?
In many cases, your veterinarian will be able to diagnose and treat your Shih Tzu. Expect your vet to perform routine blood work and take x-rays to determine the exact cause of the bowed legs. Bone tissue may also be sampled for further diagnosis.
In more severe cases, a board-certified veterinary specialist can perform surgery to remove misplaced bone or cartilage before realigning the joints.
Is Surgery The Only Treatment?
While surgery is necessary for some canines, it is not the only option. If your pup has minor bowing in his or her legs, your veterinarian may prescribe anti-inflammatory or pain-reducing medications to alleviate some of the pressure or pain associated with bowed legs.
Treatments Without Surgery?
Aside from medication, your veterinarian may recommend a few of the following practices in an effort to repair your Shih Tzu's bowed legs:
Help your dog maintain an ideal weight
Reduce or limit strenuous exercise and physical activities
Provide crate rest for extended lengths of time
Add a nutritional supplement to your dog's daily diet
What is the Surgery Cost for a Bow Legged Dog?
Depending upon the recommendations from your veterinarian, the cost of surgery for leg deformation such as bowed legs can range anywhere from $1,000-$2,800.
Typically, this includes the surgical removal of bone or cartilage, a realignment of the leg joint, and finally a cast to ensure proper healing.
How Can I Make My Puppy's Legs Stronger?
Nutrition is key when it comes to providing a healthy lifestyle for your pup. Once your puppy is getting the proper nutrients, an exercise regimen, or lack of exercise may be the solution to your dog's curved legs.
For some dogs, walking regularly is a great way to strengthen their legs, however, puppies who suffer from bowed legs may need to limit the amount of time spent and pressure applied on their feet in order for the bones to fully harden.
References
Editorial, PetMD. "Front Leg DEFORMITY in Dogs." PetMD, PetMD, 14 Mar. 2016, www.petmd.com/dog/conditions/musculoskeletal/c_dg_Antebrachial_Growth_Deformities.
Stott, Darlene. "Front Leg DEFORMITY in Dogs." Signs, Causes, Diagnosis, Treatment, Recovery, Management, Cost, Wag!, 7 May 2021, wagwalking.com/condition/front-leg-deformity.