We all love watching videos of our babies cuddling up with man's best friend, but why is it that dogs and our little ones have such a special bond?
Do Dogs Love Babies?
Dogs are naturally protective creatures, and when they attribute your family members as a part of their pack, they can become especially attentive to babies. This is because they recognize your baby is too small to fend for themselves. We know -Some dogs have stronger maternal and protective instincts than others dogs!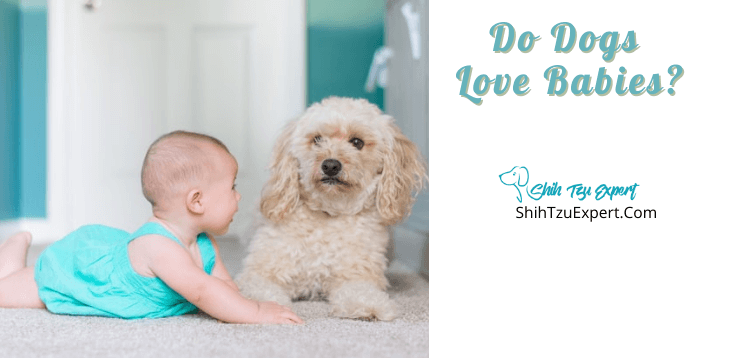 Why Do Dogs Love Human Babies So Much?
Dogs are amazing animals who have incredible senses and instincts. These range from a strong sense of smell to a strong sense of who their "pack" is.
Once a dog is comfortable in your family unit, they become one of you, and in their eyes, you become one of them. These special bonds can be even stronger when it comes to your babies.
Some dogs have stronger maternal and protective instincts than others, but due to your baby constantly dropping food, drooling, making new sounds and just being so interesting and new, dogs just can't help but be so into them!
Are Shih Tzu Good with Babies?
Some dogs are more reliable and trustworthy around babies and young children than others. The Shih Tzu is definitely one of those dogs!
Shih Tzus are known for being incredibly affectionate and easy-going pets. They love being a part of the family unit and are a great option for anyone looking for a pet while planning to start or grow their family.
Why Are Dogs So Sweet & Gentle with Babies
Dogs learn how to act around babies through watching their owners. A pup will see you behave differently around your child compared to around other people. It isn't uncommon for them to mirror this practice.
How To Teach A Dog To Be Gentle With Babies
The easiest way to get your dog prepared to be around babies is, if possible, start them young. According to the Veterinary Centers of America, dogs are the easiest to train as early as seven to eight weeks of age.
Jumping, nipping, and being overly playful are common behaviors of puppies. Make sure your puppy has either grown out of these behaviors or listens to you when you tell them to stop before introducing them to a baby.
Babies do not understand the importance of being gentle with animals. Make sure your dog is comfortable with poking, pulling, and loud noises. Of course, be kind to your pup during this process, but make sure those types of touches are not new to your dog when the baby is around.
Prepping your dog to be around babies can seem like a long process, but it's overall going to be so rewarding once you know it's not only safe but a joy to have your baby and pets together.
Why Do Dogs Protect Babies?
Dogs are naturally protective creatures. They don't call them guard dogs for nothing! Many dogs naturally want to protect all members of who they consider their "pack" as well as their territory.
By watching how you care for your baby, a dog will quickly realize that they are a member of their pack. Because babies are so small and helpless, many dogs will instantly feel the need to protect them.
Dogs can also sense our energy and track our behaviors. If a dog sees that you are being extra attentive to your baby, they may mirror that same attitude.
Do Dogs Get Jealous of Babies?
Even though your dog may feel an instant bond with your baby and a need to protect them, there is the possibility of jealousy.
A dog may start to feel jealous for a variety of reasons. These can include not receiving as much attention as they used to and not doing the same activities with you that they used to but seeing that the baby is receiving all that time and attention.
There are ways to recognize this behavior and even avoid it from happening in the first place.
Signs A Dog Is Jealous of a Baby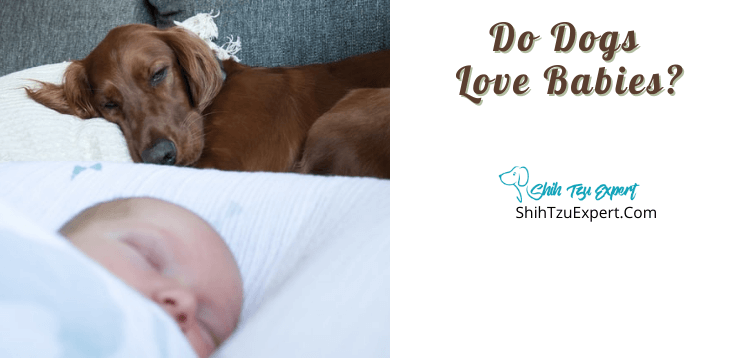 A dog may try to get in front of you or beg you for more attention when you're giving that attention to the baby. This can be both a problem and even potentially dangerous if you're carrying a small child.
If you are not sure if you have a dog prone to jealousy, start to pay attention to their behaviors when you're around other people or dogs. Do they bark, growl, or jump when you're getting a lot of attention from someone that isn't them? Do they go out of their way to be your priority?
If you have a dog trainer, it's important to consult them about ways to train this behavior out of your dog and make sure they know they are loved by you.
Another way to avoid this is by introducing what life will be like with a baby before the child arrives. Follow some of the training methods above for weeks or even months with your furry friend.
Is It Dangerous to Leave a Baby with A Dog?
Babies make sounds and movements that are unusual for dogs. A dog's way of corrective behaviors that they deem strange or inappropriate, especially in their own puppies, include growling, barking or even nipping. This can be incredibly dangerous around your baby.
Never leave your baby with your dog unsupervised, even if you trust your dog. Also, never leave your baby on the floor with a dog. The quickest movement can have serious consequences. The older your baby gets, the more trust you can put into your pup.
Will Dogs Hurt Babies?
Most dogs are not aggressive and will not intentionally hurt your baby, the same way they would never hurt you.
Babies are incredibly delicate, and any type of correction or playful nature a dog attempts to do to your baby can cause harm.
Make sure to constantly supervise your dog and baby together, especially when they first meet. Slow and steady wins the race here.
What Should I Do If My Dog Growls at The Baby?
First, the most important and surprising thing you should do is not punish or reprimand your dog. The fact that the dog growled means they were sending a warning signal to whatever was upsetting them. If you punish them for growling, they may skip that step the next time they get upset and go straight for nipping or biting.
Instead of punishing your dog, separate your baby and your pet. If you are next to your baby, pick them up and bring them somewhere else. If you are not that close, call your dog to you and reward them for coming.
Next, try to find out what caused the growling. Did the baby pull on the dog? Did they make a strange noise near the dog? Is the dog guarding food or a toy? Recognizing what caused the behavior can help you to prevent it from happening again.
Will My Dog Eat My Baby?
Dogs recognize that babies are people. Dogs won't eat people, so dogs won't eat your baby.
However, make sure to constantly supervise your dog and baby to make sure there is no biting, growling or other dangerous behavior.
Can My Baby Get Sick from My Dog?
Dogs and humans usually don't contract the same illnesses. If anything is going to make your baby sick from your pet, it's going to be bacteria from their mouths.
Dog's mouths can be a playground for different types of bacteria. Try to prevent your dog from licking your child's face or body. It may look cute and friendly, but there is the potential to transmit dangerous bacteria this way.
After you play with or pet your dog, make sure to wash your hand thoroughly before touching your baby. If your baby plays with the dog, clean them after as well.
Babies love to chew on everything, so be sure to stop them from putting the dogs' toys in their mouths.
Is Dog Saliva, Pee, Poo Safe for Babies?
The short answer, no. Dog saliva, pee and poop can all carry harmful diseases, infections, parasites, and bacteria.
If you have to clean up after your dog and you have a baby, we recommend you wear gloves and wash your hands immediately after disposing of the waste.
Keeping your dog, your baby, and yourself clean is the best way to prevent any illnesses from transmitting to anyone in your household.
Do Dogs Understand That Babies Are Babies?
The only evidence that dogs can tell that babies are not fully developed people is the way they behave around them. Some scientists believe this is due to the size difference between babies and adults. Others think babies might have a specific smell dogs can recognize.
Is It Safe for Dogs To Be Around Babies?
It is very uncommon for dogs to lash out towards people unless they feel the need to protect themselves.
Never leave your baby unattended with your dog. If your dog is loved, feels safe, and is comfortable with you and your baby, and if there is supervision, it is safe for your dog to be around your baby.
Why Does My Dog Lick My Baby's Feet?
Normally, a baby's feet are exposed and in easy access to a dog's mouth.
Babies have a new, interesting taste for dogs
since dogs aren't usually around babies. Your dog may be interested in this new taste and smell.
If possible, try and keep your dog from licking any part of your baby, even if it's their feet.
Why Does My Dog Cry When My Baby Cries?
One reason your dog might cry when your baby is crying is that they are simply mimicking your baby! Dog's tend to mimic who they think are their pack members. This will most likely stop over time, especially as your baby gets older.
Another reason this may be happening is that your dog may be feeling anxiety about the sounds your baby is making.
Baby's cries are loud and high-pitched. This is an unusual and potentially upsetting noise for dogs who are sensitive to loud noises.
If you notice this happening, you can remove the dog and baby to avoid upsetting either any further.
What Do Babies Think Of Dogs [Do Babies Love Dogs]?
It's actually proven that there are long-term psychological advantages for babies who are raised around dogs!
Dogs make babies happy. They make them smile and laugh, which raises dopamine in the baby's brain. Who doesn't love dogs!
Can A Dog Smell A Baby In The Womb?
When a woman becomes pregnant, they produce a lot more hormones. A dog can smell these hormones and respond to them in different ways.
You can tell if your dog knows you're pregnant by the way they behave. Some dogs may become more protective of you, more cuddly, and overall spend a lot more time next to you.
Other dogs may become nervous. They may have accidents in the house, become destructive or nervous.
Whatever your dog does in response, it's important that you are understanding of them and work with them to make them comfortable and prepare them for this next huge step!
How Do I Prepare My Dog For A Newborn Baby?
Do things like give your dog treats in or near the nursery, introduce your dog to all the new baby equipment and smells, and play noises around the house a baby would make. You can also hold a baby doll and walk around the house so the dog gets used to you giving attention to someone else.
The earlier you start, the sooner your dog will get adjusted to what it's like to have a baby in the house.
Do Dogs Love Newborn Babies?
Dogs don't automatically love people the day they meet them, but once your dog recognizes that your baby is a part of their family, they can become fast friends!
Some dogs are more loving towards babies than others, but dogs tend to be more attentive and cuddly towards babies than adults.
How Do I Protect My Dog From A Baby?
It's never safe to leave your dog alone with a baby.
Keep an eye out for your dog's behavior when they are near your baby. Gradually introduce them and pay attention to how they act towards each other.
Separate them if you feel uncomfortable with the interactions in the beginning, and remember, slow and steady wins the race!
Should My Dog Sleep In The Same Room as the Baby?
Dogs are family, but they are animals first.
There are horror stories of dogs hurting or even killing babies when they are alone with a baby in the bedroom at night.
Our dogs are our best friends, but we have to prioritize our baby's safety first. Even though it's a great thing to see, having our dogs sleep alone with babies has risks that outweigh the benefits.
Why Are Dogs Attracted To Babies?
Dogs have a keen sense of smell and instincts. They can tell that babies are different from full sized adults, and have the instinct to be more attentive to smaller people, like babies!
Babies make new noises, have new smells, and are all around new for dogs. It's normal for a dog to be attracted to something unique to them.
Can My Dog Lick My Baby?
Your dog should not be allowed to lick your baby.
Dog's mouths can be dangerous to babies, and you should prevent them from having direct contact with your baby's skin.
Why Does My Dog Lick My Baby?
Dogs lick people for multiple reasons. They might be trying to clean your baby, show submission, or taste something.
Babies have different tastes than full grown people, so if your dog continues to try and lick your baby, it may because they taste different to them!
Should I Let My Dog Sniff My Newborn?
Allowing your dog to sniff your baby is an important step to getting your dog acclimated to your new child.
Make sure that you allow your dog to smell your baby, but start at a safe distance. The longer the baby and dog are around each other, the closer they can get and the more comfortable the dog will be around each other.
Why Are Dogs Very Protective Of And Loyal To Babies That Are Born Into The Family?
Dogs can sense that babies are young and feel an instinctive need to care for and protect them! The same way a dog recognizes the runt of the pack, they'll notice that of your baby and be more protective of them.
Do Dogs Know Babies Are Fragile?
Yes! Dogs can tell that babies are smaller than and more fragile than full-grown adults and will be more protective of them because of this.
Do Dogs Treat Babies The Way Humans Treat Puppies?
This can actually be considered true! Dogs are especially attentive to babies due to their small size and gentle personalities. To some degree, humans are the same way with puppies.
Do Animals Recognize Other Species Babies?
Baby animals across many different species have similar characteristics.
They are small, have high pitched voices, and move differently than adult animals. So yes, most animals can recognize babies of all species.
How Do Dogs Know A Baby Is A Baby [Not A Small Adult]?
Dogs don't speak English, so they don't know what a "baby" is, but they do know what a young or smaller person is because of their movements, noises, and smells.
What Are The Signs That Dogs Are Interested In Babies?
Dogs are naturally curious animals.
You can see that a dog is curious about your baby if they stay around and smell your baby more than normal, stare at your baby, or sleep near your baby.
Critical Safety Tips For New Parents Who Keep Dogs Near Babies
Never leave your baby alone with your dog, even if it's for a few minutes.
Always watch your dog when they are near your baby and keep an eye out for behavioral changes.
Remove your baby from the dog if the dog is acting strangely.
Prepare your dog early for what life with a baby will be like.
Don't allow your baby to pull on or grab your dog.
What Are The Best Dog Breeds That Are Safe For Babies?
Many dogs are known for being family dogs or dogs that are good to be around young children.
These include; Golden Retrievers, Beagles, Collies, Bulldogs, Newfoundlands, Poodles, and Labs.
Why Do Some Dogs Dislike Babies?
Some dogs are uncomfortable around babies because of the noises babies make and unusual smells of babies. It will take time, but your dog can be acclimated to your child. Patience is very important!
What Are The Dog Breeds That Dislike And Are Dangerous For Babies?
There are specific characteristics of dogs that may cause them to be dangerous for babies. This could be dogs bred for hunting, are stubborn, or can be loud and nippy.
These dogs include; Weimaraners, Chiuauas, Akitas, Huskies, Chow Chow's, and GreyHounds.
Watching your dog and baby interact can be a wonderful thing. Taking steps to ensure your dog gets comfortable with your baby can lead to long term, strong relationships with them forever!
https://wagwalking.com/sense/can-dogs-tell-babies-are-babies