When increasing your pet family, it is important to know if they will get along. We will be discussing in detail if your Shih Tzu and rabbit will get along and if they could even become best friends.
Are Shih Tzus Good With Rabbits?
Shih Tzu's and rabbits can be a match made in heaven in your pet family. However, there are some things to consider, such as, the type of rabbit breed you choose, how to introduce them to enable a good bond, and what behaviors to look out for.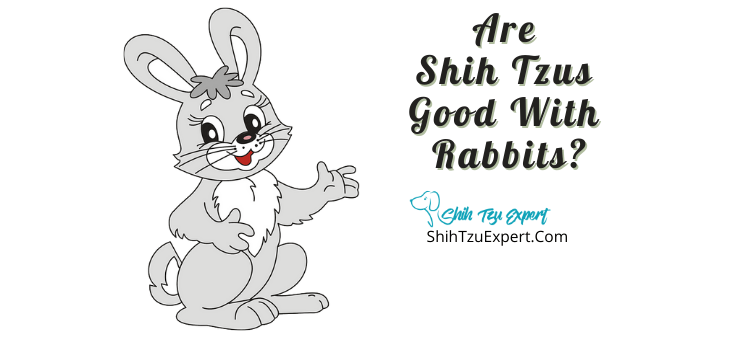 Do Shih Tzus Get Along Well With Rabbits?
Shih Tzus can get along very well with rabbits since their temperaments are so gentle. Shih Tzus were bred to be lovable companions for humans, as well as other house pets. So, it is very likely that your Shih Tzu and rabbit will become best friends in no time. This is, however, as long as you do a proper introduction and teach your Shih Tzu how to behave around your pet rabbit.
Can A Shih Tzu And A Rabbit Live Together?
There is no definite yes or no answer to this question as it mostly depends on the temperament of both pets and how well you have adjusted them to each other. In general, Shih Tzus are very gentle and make good companions. The likelihood of your Shih Tzu and rabbit living in harmony with each other is very good compared to other breeds with a high prey instinct.
We will be giving some great tips on how to make this harmonious living more likely.
Can Shih Tzus And Rabbits Be Best Friends? /Do Rabbits And Dogs Ever Become Best Pals?
Once you have made your two pets more comfortable with each other, you can start to focus on encouraging a strong bond between them. This will help them become more in tune with each other's likes and dislikes and may even turn them into best friends for life. This will require some time and effort from you. Remember nothing of worth is easy and trust me this companionship will be worth all the trouble.
How To Get A Shih Tzu Puppy To Bond With A Rabbit [Step By Step Guide]?
Here are five very important tips on how to help encourage the bond between your Shih Tzu and rabbit.
Secure Both Pets. Make sure that both pets are secured so as not to harm each other. Keep your rabbit in its cage and your Shih Tzu puppy on a leash. Let them get used to being around each other without any threat or fear.
Don't rush it. Do not force them to get close to each other. Wait until your rabbit shows interest in your puppy without feeling like prey. Allow them to smell each other and quench their curiosity.
Use Positive Reinforcement. Praise your dog for staying calm when he interacts with the rabbit and doesn't show any aggression. On the other hand, immediately stop any behavior that may cause harm to the rabbit or scare it.
Limit Interaction Time. Do not try to force or rush their interaction with each other. That will only lead to higher chances of either one getting hurt by the other. Limit sessions to, at most, 10 minutes at a time, three times a day.
Keep an eye on both pets during their interactions to ensure that the experience doesn't go awry.
Does My Shih Tzu Know The Rabbit Is Not A Dog?
Even though your Shih Tzu and Rabbit are best friends and play together like brothers and sisters, they both know that they're not alike. Think back to their first introduction, you had to take time to make them used to each other. They instinctively knew that they were different. These instincts don't change over time. Yes, they become accustomed to each other and know how to play together safely, but the Shih Tzu still knows the rabbit is not a dog and will play more gently with them than other dogs.
What Are The Best Rabbit Breeds For A Family With A Shih Tzu?
The following rabbit breeds are ideal for homes with a Shih Tzu, because they are known to be calmer and less jumpy. These rabbits will adjust more easily to your existing pet family.
Flemish Giant. A very large breed known for being calm when being handled.
Lionhead rabbit. A very smart rabbit breed that can be trained and is friendly.
Holland Lop. A very calm and friendly breed that enjoys playing.
Netherland Dwarf. This breed is known for being skittish and having a somewhat disagreeable nature.
Will My Shih Tzu Eat Baby Rabbits?
Although the thought of your dog eating baby rabbits makes you shiver with disgust, it is not an uncommon thing to do for dogs. The likelihood is very low that this will happen, but it can.
Rabbit meat is not necessarily dangerous for dogs and is found in many types of dog food. However, do air on the side of caution and take extra safety precautions if you do have baby rabbits.
Is It Dangerous For A Shih Tzu To "Accidentally" Eat A Rabbit?
If your Shih Tzu "accidentally" eats a rabbit, he should be fine. He might have a somewhat upset stomach from not being used to a raw meat diet.
However, if the rabbit died from poisoning or had any harmful parasite, it may make your dog sick. It is always safest to visit your vet if you see any signs that worry you.
Can Rabbits Bite Dogs [Do They]?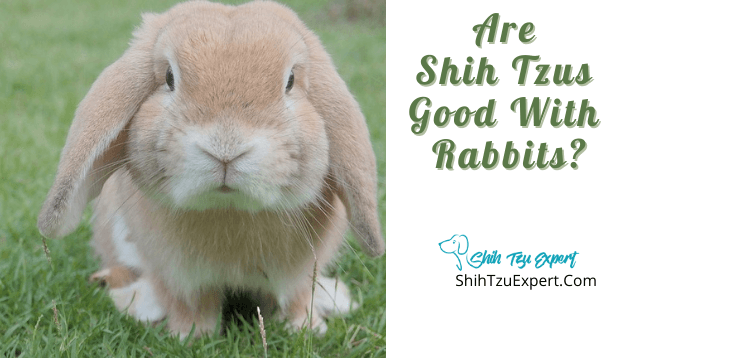 Rabbits can bite dogs; however, they will usually resort to this kind of behavior only if they feel threatened. A rabbit's first instinct is usually to run away from danger, but if they feel like they have nowhere to go they will bite your dog as a form of self-defense.
How Do You Introduce A Dog To A Rabbit?
It is important to introduce your dog and rabbit to each other to make them more acquainted with each other's existence in your home. They need to be able to get along well enough to be able to live in peace with each other. We have a step-by-step guide for you on how to approach this.
Step By Step Guide On How To Introduce Your Shih Tzu To The Rabbit
First Impressions. It is very important to first let your dog get used to the new pet rabbit addition to the family. Try introducing them while the rabbit is still in its cage. This way you can first see how both of them react to each other.
Reward Good Behaviour. Immediately correct your dog if he shows aggressive or overly excited behavior. Likewise, reward him for staying calm and mild-mannered around the rabbit.
Encourage Your Shih Tzu To Lie Down. Once your Shih Tzu has mastered being calm around the rabbit, try to encourage him to lie down next to the cage the rabbit is in. This is a sign of submission that lets the rabbit know your Shih Tzu means no harm.
Hold Your Rabbit Outside Of Its Cage. Now that your Shih Tzu is calm and they are more comfortable around each other, it should be safe to let the rabbit out of its cage. To maintain some caution, still hold the rabbit to ensure no freak accident occurs.
Let Your Rabbit, Roam. If all has gone well thus far you can move on to the final step, let your rabbit free. If your Shih Tzu remains calm around her, allow them to play together whilst keeping a close watch. Do this as often as you can, increasing their playtime each time.
The more they get to know each other, the better friends they will become. Remember to keep a watch on them as accidents can happen.
Why Is My Puppy Obsessed With Pet Rabbits?
Your dog, even more so your puppy will be obsessed and curious about anything that moves. All dogs have a prey drive that instinctively helps them hunt and find food. This drive will be triggered by any moving object, especially by your pet rabbit.
Will My Shih Tzu Chase My Rabbit?
Since Shih Tzu's have been bred to have a lower prey drive than other dog breeds, he might not be as set on chasing your rabbit. Also, because of your Shih Tzu's calm temperament, he will most likely not continuously try to chase your pet rabbit. It is, however, not uncommon and can definitely happen.
Is A Rabbit Faster Than A Shih Tzu?
Rabbits are actually quite fast exactly because they need speed to run away from preying animals. Rabbits have a maximum running speed of about 30mph, although, domesticated rabbits will likely never reach these speeds.
Shih Tzus on the other hand are not known for their speed and on average run about 6mph. So, the likelihood of your pet rabbit out running your Shih Tzu is very high. This depends on if he has the space to do so.
How To Train My Shih Tzu To Not Chase My Rabbit
The best way to keep your Shih Tzu from chasing your pet rabbit is by distracting him whenever he starts to chase your rabbit. Reward your Shih Tzu every time he obeys your command. Eventually, the link between seeing a rabbit as something to chase will cease.
Do Bunnies Need Shots [Can My Dog Catch Diseases From The Rabbit]?
Legally speaking, in some countries, there are required vaccinations for bunnies due to a higher rate of diseases specific to those countries. In Europe, for example, two vaccinations are required to protect against hemorrhagic disease and myxomatosis which are highly contractable from wild rabbits to pet rabbits.
In the United States and further in the Northern Hemisphere the disease tularemia, also known as rabbit fever, is common in dogs. Luckily, dogs are in general quite resistant to the bacteria and can fight it off without showing any symptoms. If symptoms are displayed, contact your vet immediately.
How Dangerous Is It For A Shih Tzu To Eat Rabbit Food?
Rabbit food is not particularly harmful to your Shih Tzu, however, it might cause some digestive issues if your dog eats something that is not part of his regular diet. Rabbit food is also not packed with all the specific nutrients your dog requires from his diet. Therefore, it is not recommended that your Shih Tzu eat rabbit food on a regular basis. It's fine if he nibs some of your rabbit's food every now and then, as long as it doesn't become a habit.
Are All Dog Breeds Good With Rabbits?
Not all dog breeds are created equally calm. Some breeds were bred for hunting or herding. Their prey instincts are very strong and they are very likely to attack your rabbit. Stick to dog breeds that are known for being friendly and gentle and avoid dogs that are normally used to guard or hunt.
Can All Rabbit Breeds Get Along With Shih Tzus?
Unfortunately, not all rabbit breeds are as easy to introduce and adjust to your Shih Tzu. These rabbits are known for being much more nervous. They will be more likely to be jumpy around your Shih Tzu and in turn cause your Shih Tzu to be more nervous, which can result in either of them getting hurt.
I would not recommend this pairing, even if your Shih Tzu is very calm in general. It is better to create a home wherein both pets can live with ease.
Dog Breeds That Are Good With Rabbits?
The following dog breeds are known for being good with pet rabbits. Their prey instincts are much lower than other breeds. They are also much gentler and will make a great companion for you and your rabbit.
Bichon Frisé. This breed is known for being sociable, gentle-mannered, and playful.
Cavalier King Charles Spaniel. This breed is very patient, playful, and affectionate.
Japanese Chin. Known for being loyal and friendly.
Shih Tzu. Calm, friendly, and playful.
Dog Breeds That Are Not Good With With Rabbits?
The following breeds are known for having a high prey drive and will most likely chase or harm your rabbit. Even though they are great as guard dogs and dog friends, they are likely to make enemies rather than friends with your rabbit.
Retrievers. The golden retriever for example was bred as companions to hunting parties where they would retrieve the shot prey. Their prey instinct will not play well with a pet rabbit.
Labradors. They were bred for hunting and catching birds. Their hunting and prey instinct might not go well with a pet rabbit in the home.
Terriers. Terriers were bred for hunting purposes and the prey instinct is still very evident in them. This will not be a good match for a pet rabbit that might still be seen as prey.
References
https://bunnylady.com/speed-of-a-rabbit/
https://dogtime.com/dog-health/58649-tularemia-dogs-symptoms-causes-treatments