We may earn commission from qualifying purchases at no extra cost to you.
Learn more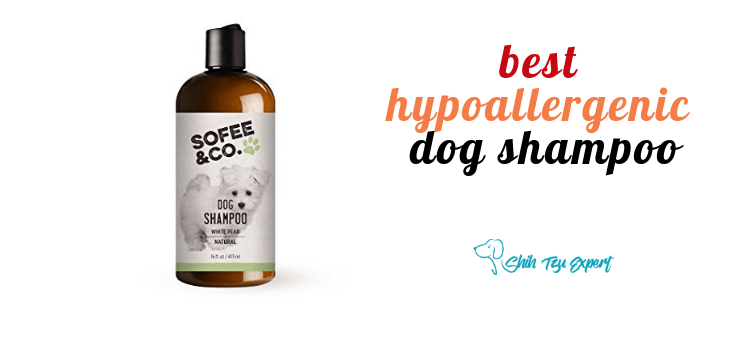 If you are anything like me, summer means houseguests and houseguests mean cleaning. While I love my pup to bits, she makes vacuuming an epic task—there is hair everywhere!
And that's just the beginning. Guests mean that I need a fresh smelling pup.
Are you in a rush? No sweat! Here is a list of the products reviewed in this article:
As hard as it is vacuuming the back corner of my closet—how does she get in there anyways—cleaning my furry little lady isn't much easier. She hates bath time…
But the real kicker?
After a pre-guest bath, she is SO ITCHY! And then I feel awful.
But there has to be some balance, right? It's not stinky pup or guilt?
Right! We've reviewed some of the best hypoallergenic dog shampoos to save my pup—and yours—from an attack of the itches.
Got all that?
Okay, now let's talk specifics about dog shampoo for sensitive itchy skin!
What is a really good dog shampoo?
There are lots of great options out there on the market for your furry buddy. Finding the right one can be a bit of a goldilocks game because dogs, like humans, are all unique and their bodies respond differently to different ingredients. So…
What is the best shampoo for dogs with skin allergies?
Depends on the pup! That's right—your best bud could be allergic to anything, whether or not it is a common allergen.
If he or she is pinky-red and super irritated, you might want to see a vet to figure out the culprit.
You could also keep close tabs on the ingredients list on the backs of bathing products. In general, less ingredients is better—less potential problems and easier to keep track of.
This brings us to a very good place to start:
Formulated for sensitive skin, this great-smelling product is sure to bring a smile to both your pup and your guests!
Plus it is a good option for sensitive and scratchy pups because it contains no fragrance but still smells awesome because it contains shea butter and honey!
While these ingredients do smell lovely, they also have a more important purpose. Shea butter is super moisturizing, which means your pup won't be so dry after the bath. This is very important for decreasing itch!
The honey will also make your furbaby's coat super shiny.
Well & Good promises that it will make your pup feel like they are at the spa, and that is all down to the high quality ingredients. If you are searching for hypoallergenic dog shampoo for humans, look no further.
| | |
| --- | --- |
| PROS | CONS |
| Formulated for sensitive skin | Not 100% biodegradable |
| Contains high quality ingredients like honey and shea butter | Not paraben and phosphate-free |
| Fragrance free | |
| Reasonably priced | |
| Gentle | |
| Tear-free | |
As you can see, Well & Good is a sensible start. It's good quality but still affordable. But let's say the itching continues and you need to level up.
If your dog is super sensitive, you may need to shell out a few more greenbacks to get them some relief. Let's talk luxury. Bring on the essential oils!
What is the best thing to wash a dog with sensitive skin?
If you tried a standard sensitive shampoo and your pup stayed itchy, you should try an
This company is top-of-the-line and all natural.
We particularly like Earth Bath All Natural Pet Shampoo in Eucalyptus and Peppermint.
This stuff is so gentle because it contains no soap. Think of it this way: you would be so itchy if you washed your hair with a bar of soap, right?
Well, the same goes for your furbaby.
This gently cleansing and moisturizing shampoo actually comes in tons of fragrances—and a fragrance-free version—but we adore the Eucalyptus and Peppermint scent.
And guess, what? It's medicinal.
These high-quality ingredients soothe and cool irritated skin!
The only thing you need to watch out for? It's pricy; twice as much as Well & Good's shampoo.
| | |
| --- | --- |
| PROS | CONS |
| Amazing peppermint and eucalyptus smell | Not tear free |
| Cooling and soothing | Expensive |
| Designed with itchy pups in mind | |
| Soap free | |
| Wide variety of fragrances offered | |
| Paraben free | |
| Phosphate-free  | |
| 100% biodegradable | |
When the pup itches, we worry about health. So…
What is the safest dog shampoo?
Honestly, Earth Bath dog shampoo might be your best bet. If it doesn't work for your little guy or girl, you could also try
This combination shampoo and conditioner is another great option for sensitive pups, since it is specially formulated for dogs with allergies!
It is carefully PH balanced, so you don't have to worry so much about upsetting your little one's natural system.
Although it's fragrance free, it still smells great because its made of all natural ingredients like cherry and almonds. Almond oil in particular is great for soothing uncomfortable skin and fur.
The formula also includes aloe vera for even more cooling freshness. It'll fight itch like crazy!
Although it is soap and detergent free, it will still get rid of nasty odors and help detangle your pup's fur. Plus it is packed with vitamins A, D & E to get your furbaby looking shiny.
Plus it doesn't have a lot of the icky ingredients we always worry about. That means no alcohol, no sulphates, no added colors, and no harsh chemicals!
Now lets talk green. Like a lot of the other brands reviewed, Pro Works is very committed to sustainability. All of their products, including this shampoo, are 100% biodegradable and made with recycled materials.
Nifty! But that's not all. Pro Works' dog shampoo is also non-toxic, vegan, and cruelty free.
It is another option that is safe for more then dogs. Although you should keep it away from children, feel free to use it on your other furry pets—such as cats, rabbits, and ferrets.
| | |
| --- | --- |
| PROS | CONS |
| Cruelty free | Pricey |
| Vegan | |
| No alcohol | |
| Safe for use on other pets | |
| Non-toxic | |
| No sulphates | |
| No added colors | |
| No harsh chemicals | |
| Soap free | |
| Detergent free | |
| Packed with vitamins A, D & E | |
| | |
| Fragrance free | |
| Eco-friendly | |

Even once you've got yourself some of the best dog shampoo on the market, there is still more you can do to care for the fur of your pup!
There are other good tools you can use to keep your furbaby moisturized, and therefore less itchy.
If you've cared for human hair—I hope you have—then you already know the basics. First up, sprays…
EXTRAS: The Spray
If you've got a pup with long and luscious locks, you might want to consider investing in a high-quality spray. We like
It's very easy to use—just point and spray on wet or dry fur. After application, brushing is a breeze.
And because it is specifically designed for sensitive skin, it contains important vitamins, which can improve the health of your little one's coat.
It's hydrating and conditioning. We recommend trying it both immediately after and between baths!
This is ideal for regular guests because it means we don't need to go through the full bath process to get that fresh smell.
And it's so good! This spray comes in four great scents: lavendar, mint, tangerine, and lime.
Last, but very much not least, this spray has all of the coveted health wins. It's hypoallergenic. It's made from natural plant-based materials. It contains real essential oils. Even better it is chocked full of omega 3s and vitamin E.
Then there's all the icky stuff it doesn't have. It is vegan and cruelty free. It's sulfate free.
It's also chemical free, which means it is phthalate Free, paraben free, and DEA and PEG free!
| | |
| --- | --- |
| PROS | CONS |
| Vegan | It's an extra, so if you aren't looking for something special, it might not make the budget. |
| Cruelty free | |
| Chemical free | |
| Phthalate free | |
| DEA & PEG free | |
| Sulfate free | |
| Made from natural plant-based materials | |
| Contains real essential oils | |
| Contains Omega 3s | |
| Contains vitamin E | |
| Easy to use | |
So spray is a good way to supplement baths. Is there anything else?
You bet! Let's talk wipes.
EXTRAS: The Wipes
Wipes are an amazing way to keep your furbaby fresh without driving yourself crazy with multiple baths a week.
Plus, they are extra relevant for itchy pups. Too much bathing steals the natural oils in your pup's coat, drying them out.
In other words, too many baths can mean more itching!
First up, let's talk about the
If you liked BarkLogic's spray, you should definitely consider trying their wipes.
Since these wipes are specially designed for your little's one sensitive face, they are super gentle, which is good of your little guy or girl suffers from itchy skin.
Plus, since they are by BarkLogic, they have all of the benefits we talked about with the spray. That means…
It contains absolutely no sulfates, no phthalates, no parabens, and no PEG (Polyethylene Glycol). Plus, it doesn't use artificial colors or fragrances and its hypoallergenic and its cruelty free and its vegan!
PHEW! So much goodness.
These are made from renewable cellulosic plant based biodegradable fibers, which means they are both green and less likely to cause irritation.
Finally, they are infused with high quality ingredients that are great for your furbaby's skin and coat. You little one will love the mix of calming chamomile and cooling cucumber!
| | |
| --- | --- |
| PROS | CONS |
| Vegan | It's an extra, so if you aren't looking for something special, it might not make the budget. |
| Cruelty free | |
| Phthalate free | |
| PEG free | |
| Made from natural plant-based materials | |
| Contains high quality ingredients like chamomile and cucumber extract | |
| Easy to use | |
| Great for sensitive skin | |
If you're interested in wipes but you feel like BarkLogic's are a little pricy, you might want to try
These little wipes cover all the basics for a good price. They are deodorizing so your pooch will need less baths—good for itchy buddies!
They have lots of high-quality ingredients, which promote the heath of your favorite friends' skin and coat. In other words, it will make your furbaby soft and shiny!
Each wipe is full absolute powerhouses like aloe vera, vitamin E, and Hawaiian awapuhi!
Another great thing! They are safe for the whole family from dogs to cats to humans. They're huge, too. Perfect if you have a big, floofy dog!
Pogi wipes claim to fame is sustainability. They are made from bamboo fiber instead of trees, which is great because bamboo grows like crazy—even without any pesticides or fertilizers!
And studies show that bamboo is antibacterial, too. Even better!
Finally, let's talk about the bad stuff it doesn't contain. Since it's hypoallergenic, it is totally free of parabens, alcohol, and harsh chemicals.
| | |
| --- | --- |
| PROS | CONS |
| Hypoallergenic | Contains preservatives |
| Paraben free | It's an extra, so if you aren't looking for something special, it might not make the budget. |
| Alcohol free | |
| Made from sustainably farmed bamboo | |
| Free of harsh chemicals | |
| Reasonably priced | |
| Safe for the whole family | |
| Contains high quality ingredients like aloe vera, vitamin E, and Hawaiian awapuhi | |
Do you like to do all of your shopping at once? Lots of us do, so to make your life easier we've sorted the products reviewed in this article by store.
Hypoallergenic Dog Shampoo Walmart
Grooming Wipes by Pogi
3 in 1 Eye, Ear, and Nose Cleansing Wipes by BarkLogic
Sensitive Skin Leave in Conditioning and Cleansing Spray by BarkLogic
All Natural Pet Shampoo by Earth Bath
Hypoallergenic Dog Shampoo Petsmart
All Natural Pet Shampoo by Earth Bath
Well, that's a wrap folks! Remember, allergies and itches are different. If problems persist after trying a few different moisturizing products, it's time to visit the vet!