We may earn commission from qualifying purchases at no extra cost to you.
Learn more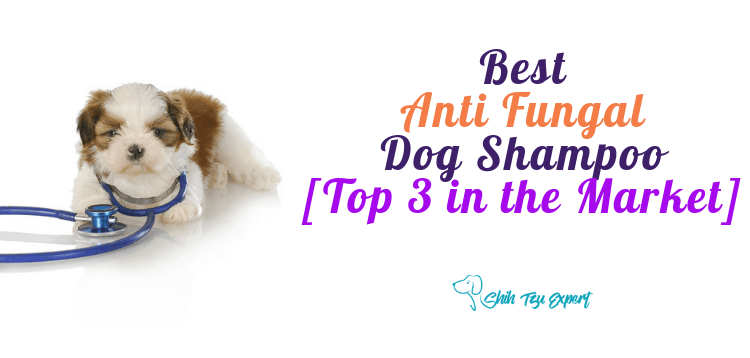 Many dog owners worry about keeping their pet's coat smooth, shiny, and smelling good to avoid that dreaded "dog" smell, but occasionally, dogs will get into something that regular shampoo cannot cure. Rolling around in grass or mud, chasing toys into bushes or trees, and sniffing around at anything and everything are all easy ways for dogs to get bacteria onto their skin and in their fur. Most of the time, these types of infections are not caught until it's too late, but there are plenty of products that can help!
The Best Anti Fungal Dog Shampoo reviews
Chlorahexadine is a common, relatively odorless chemical that is used in both veterinary and human medicine in cleansing the skin and/or equipment before surgery. In low concentrations, it is also used as a mouthwash in humans to treat conditions like gingivitis and reduce bacteria in the mouth, so it's perfectly safe for your best friend's skin!
This shampoo in particular boasts an effectiveness in clearing your dog (or cat) of flea, yeast, bacteria, fungus, pyoderma (an inflammatory skin disease that can cause ulcers on the skin), and ringworm, soothing the skin while leaving behind a cucumber melon scent.
It is also made in the USA and is federally inspected to ensure safety on skin, so you know where your products are coming from. Many customers say that it can be used on broken skin, so you don't have to wait for anything to clear up before using this shampoo, which is important when your dog is suffering.
This product can be used up to 2-3 times per week, which is also helpful when attempting to get rid of a bacterial infection, especially when your dog is prone to rolling around in things he shouldn't.
You want to let him have fun, of course, but with this shampoo, a bath after a couple times per week in something itchy will not dry out his skin like other shampoos will when used only once per week. It lathers well, so you do not have to worry about feeling like you're washing your dog with just water or a watery solution, as some anti-fungal shampoos can be.
Most importantly, there is a large amount of product security with a 100% money-back guarantee, even if the bottle is empty when you return in. There's no harm in trying out this product, but it's very well-backed by its creators as well as the many people who have used it on their dogs with amazing results.
It's paraben-free and veterinarian recommended, while cheaper than most of the prescribed antifungal shampoos and working just as well. Being soap-free means that you don't have to worry about rinsing and rinsing after the first time, but it won't be as much of a worry as well if you get too close to your dog's eyes.
Of course, caution still needs to be observed when bathing around the face and ears. This shampoo is meant for the skin and is not to be used in the ears in place of a veterinarian-prescribed medication.
This shampoo, like the first one, has Chlorahexadine as one of its main ingredients, but it also advertises ketoconazole, which is an anti-fungal agent as well as the chlorahexdine that rids fur and skin of bad bacteria. For a slightly lower price, Truseb seems of offer more of a variety of treatments and for more animals.
Truseb claims to treat yeast infections, fungal infections, and ringworm, but also to control acne, which can be easy for dogs to get from outside of even inside, if they tend to be messy eaters.
It comes in three different sizes, so there will be enough to bathe any size dog from head to paw! It has the same cucumber-melon smell as the shampoo listed before, and this one can also be used 2-3 times a week for 4 weeks straight to clear up the infection, then once a week in order to prevent any further infection.
As always, ask your vet for advice if you're unsure how often will be safe or comfortable for your dog.
The bottle recommends leaving the shampoo on for up to ten minutes if possible, but if your dog gets antsy, you should try for at least five. This will give the shampoo time to treat the infection thoroughly and properly before being rinsed off.
One review in particular raved about the fact that this shampoo helped her dog's hair grow back after constantly falling out from the dog scratching so much.
Ketoconazole can be dangerous for some older dogs and dogs with liver problems, so this shampoo can give them the medication they need without the danger a pill would cause. Most reviewers seem to be using it to treat yeast infections, which is the most common infection this shampoo treats.
This shampoo, like the other one, also lathers well and is also a little cheaper than the first, so I think choosing between this or the Curaseb comes down to personal preference and what your dog is suffering from.
This product, unlike the others, is not a shampoo, but a spray that you can apply directly to the affected area and only the affected area on your dog. When used in addition to the shampoo, the antifungal and antibacterial effects can be multiplied, which results in faster healing and less discomfort for your dog.
The spray comes in at around the same price as the shampoos, but is more concentrated, so less of it will be used per treatment. Sprays are great for those infections between the feet, which dogs sometimes don't like you to touch, or hotspots, which can get sensitive to contact as well. Pet MD spray is perfect for spot treatments between washes and can get to those hard-to-reach places quickly.
Pet MD is one of the most veterinarian-recommended brands, and comes with a great customer service reputation of being very quick, reliable, and accommodating to any problems or issues you may have with your products. All their products are made in the USA and manufactured in facilities that are federally regulated, so their quality and safely is guaranteed.
One of the great things (and differences) about this spray compared to a shampoo is that this spray does not have to be washed off. It can be left on the skin and contains an astringent that helps the liquid part dry while leaving the medication behind for a long-lasting healing effect.
It also contains aloe to help soothe those itchy spots and rashes on the skin. It can be used up to three times daily for maximum medication and comfort in addition to any antifungal shampoos a couple times a week (Pet MD also makes an anti-fungal shampoo).
One reviewer in particular mentioned how well it cleared up her dog's staph infection when it was so bad, the vet recommended putting the dog down. The vet that I used to work at prescribed this spray and similar brand sprays all the time, especially in the summer when the bugs, heat, and grass can really take a toll on your dog's skin. At a 4.4/5 starts, this is definitely a product you should look into in the search for treatment of your dog's yeast infection.
Signs of a Bacterial or Fungal Infection
Bacterial and fungal infections can occur anywhere on a dog's body, but will most likely be the warmest and darkest places on the body, as that's where bacteria thrives. The inside of the ears, armpits, and other skin folds are the most common, but the ears will be one of the most obvious signs of discomfort in your dog.
In addition to an increase in frequency of scratching at their ears (or any other body part) or shaking/tilting their head a lot, there is also a very prominent odor that humans should be able to spot. Most of the time, this smell is associated with the feet, in which the pads of the feet and between the toes will smell like corn chips.
This is actually the smell of an overgrowth of yeast between the paw pads. It usually does not bother dogs in this spot, but if this smell is in the ears or on the skin, accompanied with scratching and any type of discharge, deserves a trip to the vet for treatment as soon as possible.
Medications
Bacterial infections in the ear are easily treatable with an antibiotic ear cream prescribed by your vet. In this case, you will squeeze medication into the dog's ear canal and rub it in once or twice daily, depending on the severity of the infection. This will clear up the infection within ten to fourteen days, and your dog should be good as new after that period of time.
Infections of the skin, however, can sometimes be a little more difficult to treat. Your vet will still prescribe an antibiotic, but for skin infections, the medication will be oral in order to distribute throughout your dog's body.
Your vet might also prescribe a medicated shampoo to help get rid of current bacteria on the skin and prevent new spores from growing. Looking for a good shampoo that does its job while also keeping your dog's coat looking healthy and smelling nice can be a little overwhelming, but above are a few of the top-rated shampoos:
Can You Use Human Anti-Fugal Shampoo On Dogs?
Dog shampoo is great, but what if you've had problems yourself and already have product at home? That should be okay, right?
The short answer is probably not. Some human shampoos are made with chemicals that are too harsh for a dog's skin. Additionally, when it comes right down to it, human hair is different than most dog fur (hair is sometimes an exception like that on Yorkshire Terriers) and will react differently to some active ingredients in anti-fungal shampoos.
You can run the risk of stripping your dog's fur of natural oils and softness that shampoo specifically made for dogs accounts for. Many human shampoos are scented as well, and the chemicals used to make the scents can sometimes cause reactions on a dog's skin. When they're already breaking out from itching or an infection, their skin is much more sensitive to this and it might do more harm than good. The pH of human shampoos is usually different than dog shampoos, so any difference is what's good for them can increase discomfort as well.
Does Vinegar Kill Fungus?
Apple cider vinegar has recently become the magic "cure-all" for many different ailments and illnesses inside and outside of the human body. There's even been shampoo with apple cider vinegar advertised for people with dandruff.
Vinegar has natural disinfectant and anti-fungal properties, and in a laboratory setting, vinegar has been shown to prohibit growth of bacteria. However, petri dishes don't always translate the same to the human body, where there are many different environmental factors that can dictate how well some natural treatments work.
While apple cider vinegar will help to relieve the initial discomfort of yeast infections, it will not heal the skin or get rid of the infection itself entirely. The problem will still be there, even if the dog doesn't express concern. Like any infection, the best treatment is a veterinary-prescribed medication that can permanently stop the infection from getting worse and remove it from the body entirely.
Tips For Bathing
Bathing dogs is not always easy, and can get messy before you even get started. Following these tips will help you (and your dogs) get the most out of bathtime.
Have everything you need. In chef's terms, mise en place ("everything in its place). There's nothing more frustrating than getting your dog wet and realizing that the shampoo is across the bathroom out of reach when you're trying to hold your dog in the tub at the same time. Make sure that wherever you're bathing your dog has the shampoo, brush, towels, and toys if needed ready and within arm's reach before you even turn on the water.
Brush your dog. Brushing your dog before a bath not only prepares the fur for the shampoo, helping it work better into the hair, but it's also much easier to get mats out of dry fur than wet fur.
Plug the drain. Putting a piece of steel wool in the drain will prevent the drain from getting clogged with your dog's hair by catching it before it goes down and making it easy to remove when the bath is over.
Put a non-slip mat down in the bottom of the tub. A towel can be used just as well, but this will help decrease stress in your dog by keeping him secure.
Fill the tub. Use warm water and fill the tub while you dog's out of the room. If he's already upset about getting a bath at all, the loud sound of rushing water so close to his head certainly isn't going to help.
After you get your dog in the tub with a gentle lead-in to avoid as much stress as possible, wet him down completely to the skin. This is especially important when you're bathing for the skin, as scrubbing the skin with the shampoo is what you'll need to do. Dry skin will not take the shampoo, just like trying to wash your own hair with shampoo while it's dry will not work very well.
Start shampooing at the neck (base of the skull) and work your way down to the tail and toes. If the infection is centered in the toes, make sure to make as much of an effort as he lets you to pick up his feet and get between the toes very well.
Drain the water and leave the shampoo on for as long as you can (most products recommend five to ten minutes, with ten being the ideal) and then rinse with clean water, making sure to "scrub" your dog's skin with your fingers to get the soap out while keeping the medication against the irritated areas.
Drying your dog is just as important as washing him. Make sure he doesn't go outside until he's completely dry, or all your work and product will go to waste.
Pro tip:
In order to prevent your dog from shaking after his bath, gently wrap your fingers or hand around his muzzle. If dogs can't shake their heads, they can't rotate their bodies, thus preventing them from soaking you.
Throw a towel over his back and use a separate towel to dry his face, ears, and feet. Air dry him as best as you can, using the cool feature on a hair dryer if your dog's comfortable with the noise.
After he's dry, this is the time to apply any topical medication.
Allow him to shake off in a safe place and finish air-drying.
Not As Scary as It Sounds, Right?
Don't get too worried if your vet says "infection." It's an extremely common occurrence for our furry friends who like to spend their free time rolling around in mud and sticking their noses places they shouldn't always be.
From yeast infections to fungal infections, there are plenty of products on the market that will solve the problem relatively quickly and have your dog back to his normal self! Talk to your vet if you have any questions, as they will be the one to give you medical advice, but don't be afraid to pick up one of the shampoos or spray listed above next time you're at the pet store just in case!