We may earn commission from qualifying purchases at no extra cost to you.
Learn more

Shih Tzu skin problems are the most common complaints in the vet practice for this breed!. Skin and hair problems have various causes and prevention is the key to avoid them. When you notice any change in the skin or hair loss, always refer to your vet to get your pet treated soon.
How to take care of your Shih Tzu's hair?
Taking care of your pet's hair starts from balanced nutrition. Hair is a synthetized protein that needs specific nutrients to build and stay strong. Nutrients like proteins, fats, vitamins and amino acids are essential for hair to grow and look bright. Imbalanced diets and deficiencies lead to poor hair condition and hair may look dull and broken.
Vitamins, essential oils, proteins are essential nutrients that keep hair in good shape. Sometimes, vets advise to supplement the diet of the dog with 1 spoon of oil to get healthy hair.
Regular antiparasitic treatments and bathing are also an important prevention tools that help keep away parasites that infest the skin. Skin parasites like mites, ticks and fleas cause itch.
Is your Shih Tzu scratching all the time?
Itchy conditions are responsible for bad hair shape and discomfort and may cause complications.
how often should you bathe your dog? The answer is "the least the best". Taking a bath is the least favorite thing your dog wants to do. Too many baths as well as very few are detrimental to the skin and the hair of your pet.
So how much is too much? Well, you should only bath your dog when it is covered with dirt or mud, or to control the natural odors of dogs and keep the hair clean. Vets recommend baths every 1 or 2 months, some pet parents see that this as a VERY long period! But in fact, frequent baths have some negative effects on the skin, after the bath, the skin loses the fat (sebum) layer that helps the skin to stay moist and hair to be bright. Sebum smell is important to the dog and the dog don't like to lose this smell. Sometimes, after baths, dogs try to get back their scent with rolling in their litter.
Shih Tzu skin problems: Odor
Natural oils act also like a barrier against some bugs and fungus. These are secreted in small amounts. In some cases, the skin is abnormally secreting abundant oil and the skin is smelly. This condition is known as Seborrhea, it requires more frequent baths. Always talk to your vet about the appropriate bathing schedule.
Finding the Right Bathing Products
You may be asking what is the perfect shampoo to buy?. This depends on the dog hair length and lifestyle. It is important to buy tearless shampoos. Some shampoos are sold with a skin oil bottle to be applied on the skin after the bath. These are recommended to replace the lost natural oils. If your dog suffers from a skin condition, read this guide about the most suitable shampoo for your dog's skin and also take advice from your veterinarian to get a suitable shampoo.
Shih Tzu skin irritation? Control flea and skin parasites !
Hair may Harbor many small insects and arthropods that suck blood. Fleas and ticks are the most common parasites that infest dogs and reproduce.

If not treated, skin parasites may cause irritation and anemia.
Always ask Your vet about the best products and how to apply them.
Hair loss in dogs? Bacterial and fungal infections (dermatophytes)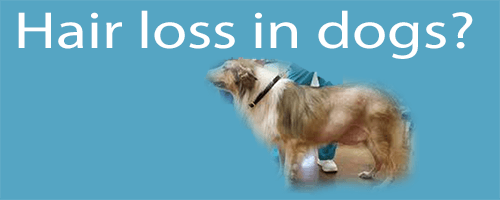 Skin may get infected with various parasites, Bacteria and fungus. Skin infections are very common in long-haired dogs. Dermatophytes are quite common affection in small breeds. It is contagious and can cause focal hair loss.
Dermatophyte
is due to a small fungus that live on the hair. Affected pets show hairless areas in their skin. This is a serious infection that can be transmitted to humans, and must be treated early. Treatment may take some weeks because dermatophytes are difficult to control.
Shih Tzu allergies
Allergy is another common affection in dogs that can result in skin symptoms. Many elements in the dog environment can be responsible for causing allergy. Like pollen, gluten, fleas dejections. Allergy is a recursive affection that needs special precautions and treatment.
Itchy Shih Tzu?
Itchiness is the main cause of hair loss. It has many causes including mange parasites like Demodex, allergy, skin infection, or hormonal disturbance. Itch is a behavior that may worsen the skin affection, and must be stopped. Allergies and parasites are common causes of itch.
Another obvious reason is matted or tangled hair that has been neglected for a lot of time. This causes the dog to scratch underneath the tangles, the skin can easily get infected creating a vicious cycle of scratching and a hotbed for parasitic infection.
The solution is simple, just get a good pair of dog clippers with high torque and motor speed, that can lift and remove the mats. Even more important is a regular preventative routine of brushing before the fur gets tangled. In case you miss the regular brushing sessions and hair gets tangled again, then go back to step 1, to remove the tangles with a pair of clippers.
Sometimes another health problems may cause itch. Series of tests are necessary to figure out the cause.
Hair loss in dogs?
Hair loss or alopecia, is another serious affection that may come as a consequence of itchy affections or an alteration in the cells that produce hair. Dogs with hair loss must be checked at the vet to determine the underlying cause and make an early treatment. If well treated, hair may regenerate and get back as normal.
Alopecia could also be because of incorrect grooming! Before you go off and start grooming your pup, please read this to find out the best tips and tricks, including finding the best grooming clippers and techniques for Shih Tzu.