Can Dogs Eat Blueberry Pie?
Whether your dog accidentally snatches a few bites after dinner, or you have wondered if you can share this delicious dessert with your furry friend, dogs have been known to break into blueberry pie. In this article, we'll look at some of the consequences of letting dogs eat this sweet treat.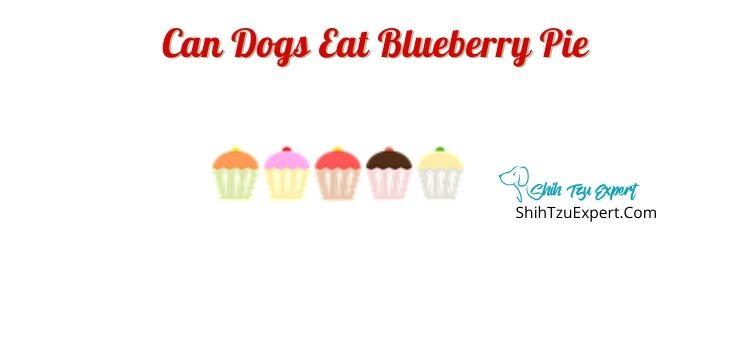 How Bad Are Blueberry Pie for Dogs [Can They Kill Dogs]?
Dogs should not eat blueberry pie. Blueberry pie is packed with sugar and a lot of fat. They also contain artificial and toxic ingredients. This can lead to an upset stomach or GI (gastrointestinal) problems.
The good news is if your dog takes a few bites while you're not looking, your four-legged friend is not in any danger of dying. At worst you may need to take a trip to the vet's office. At best he will be unaffected. However, through consistent eating of blueberry pie, your dog can develop some serious health problems in the long run.
What Is A Blueberry Pie?
Blueberry pie originated from Scandinavia and Northern European countries. A circular, shallow pan is lined with pastry (pie crust), filled with blueberries mixed with a thickener, and then more pastry is placed on top in a typical lattice or checkered pattern. Then the pie is baked until the pastry is crispy and golden brown. It is often enjoyed with a scoop of vanilla ice cream on the side and whipped cream on the top.
Can Dogs Eat Raw Or Cooked Blueberry Pie?
Raw or cooked, giving dogs artificially and commercially prepared blueberry desserts is not a good idea. There are harmful ingredients and the sugar content may be hard on your dog's stomach. It can be tempting to want to give your dog the raw blueberry filling, but the blueberries are often mixed with thickeners so they can hold their shape in the pie. And when the blueberries are cooked, most of the nutrients are lost to the heat of the oven.
On the other hand, giving dogs fresh blueberries that have not been processed may actually be healthful and beneficial for your dog. They are jam-packed with nutrients that can keep your dog feeling great.
Can Puppies Eat Blueberry Pie?
Just like older dogs, puppies should not be given blueberry pie. They will also not be able to digest the ingredients easily. In fact, puppies being smaller may have a harder time digesting the toxic ingredients and experience more severe symptoms compared to a grown dog. In this case, being younger does not make the dog more resilient.
Will My Dog Get Sick By Eating Blueberry Pie?
A couple of bites might not be harmful to your dog. However, different dogs have different intolerances. Some will get sick after a few bites, others will get sick after eating a whole pie.
If your dog eats a lot of blueberry pie, there is a possibility that it will get sick with an upset stomach, and develop a GI issue or pancreatitis.
This is likely to happen if your dog regularly eats blueberry pie. During a single instance, your dog might have vomiting or diarrhea. So it's best to keep blueberry pie out of reach of your dog.
Is There A Way To Make Blueberry Pie Safer To Eat For Dogs?
It can be tempting to give your dogs a few bits of delicious blueberry pie. You might even think that if the pie is homemade it will be healthier than a store-bought pie. However, even homemade blueberry pie has a lot of sugar content.
If your dog is giving you the look while you are enjoying this delicious treat, the safest thing you can do for your dog is give him some fresh blueberries instead. But put simply, there is no way to make blueberry pie safer for dogs to eat if it is made for human consumption.
Is Blueberry Pie Raw?
Blueberry pie is a pastry that is cooked in the oven. It is not raw. It contains ingredients that must be cooked to be safe for human consumption.
Which Type Of Ingredients Are Used In Blueberry Pie?
Although different ingredients can be used to make a blueberry pie, there are a few basic ingredients; pie crust or pastry, blueberries, butter, egg yolk, cream, and thickener for the blueberry filling such as cornstarch or flour. Some people add things like allspice, lemon zest, or cinnamon to enhance the flavor.
Which Brand Of Blueberry Pie Can Dogs Eat?
When you are eating blueberry pie and enjoying the amazing taste, it makes sense that you don't want your dog to be left out. There are many options for home-baked blueberry pie treats. You can find many recipes listed on the internet by dog owner enthusiasts who have taken the time to create delicious treats for dogs that are safe to eat.
However, if you're short on time or don't want to bake, many vendors sell blueberry pie dog treats. These vendors make treats specifically for dogs, so you can be sure they are safe and natural options.
How Can I Stop My Dog From Eating Blueberry Pie?
Make sure to keep the blueberry pie out of reach of your dog. When you are done eating the pie it's a good idea to put it away quickly, especially if your dog's nose is tempting it to take a bite. If your dog really wants to take a bite you might consider putting it outside or in another room until the dessert is eaten or put away.
Should I Take My Dog To A Vet If It Eats Blueberry Pie?
Things happen and sometimes your furry friend can get a hold of food despite your best efforts to keep them away. If your dog eats blueberry pie it's best to stay calm and play the waiting game. Most of the time a few bites of blueberry pie are harmless and your dog will show no signs of symptoms or discomfort at all.
However, if your dog begins to vomit and has diarrhea for an extended amount of time or shows other irregular behaviors, you may want to consider taking them to the vet or at least call the vet so they can advise you on the next step.
What Happens If A Dog Eats Blueberry Pie?
If a dog eats blueberry pie a range of things can happen; from nothing to a trip to the vet. Here are some things that can happen:
Vomiting and diarrhea: Some dogs may be affected by the toxic ingredients and their digestive system will work to get them out as quickly as possible.
Colitis: A dog could develop colitis, which is inflammation of the colon.
Upset stomach: Your dog may experience some discomfort after eating too much blueberry pie.
Pancreatitis: A dog could develop pancreatitis which is when the pancreas is affected by ingredients in blueberry pie.
Weight gain: If a dog can tolerate the ingredients over prolonged periods, it could experience weight gain.
How Long After A Dog Eats Blueberry Pie Do They Get Sick?
Much like humans, some factors can affect how quickly dogs get sick after eating blueberry pie including how much was eaten, tolerance to the sugar and fat content and other ingredients, and the size of the dog. Vomiting and diarrhea can occur within minutes of eating.
Other less noticeable effects could occur within a much longer period. Especially if a dog is routinely given blueberry pie, tolerates it well, but starts to develop medical issues down the road. Such as problems related to weight gain or high levels of sugar.
How Long Can A Dog Live After Eating Blueberry Pie?
After just one incident or even a couple of incidents of eating blueberry pie, your dog will probably survive no problem. You can also expect them to have a normal life span. However, through routine eating of blueberry pie or other foods with high sugar and fat content and toxic ingredients, a dog could develop sickness that could shorten their normal life span.
How Many Dogs Die From Eating Blueberry Pie?
Rest assured there is no reported event of a dog eating blueberry pie and dying. However, be aware that the ongoing eating of blueberry pie can result in health problems if the dog doesn't stop eating it. The health problems would likely be noticed before a dog passes away. But it's better to prevent this from occurring than to deal with the repercussions of this behavior.
What To Do If My Dog Eats Blueberry Pie?
If your dog eats blueberry pie, it can be worrisome. You'll probably feel the need to call the vet or even hop in the car to get veterinarian care. However, in most cases, after a dog eats blueberry pie it will be a waiting game.
Do not induce your dog to vomit. This could cause a chain reaction where your dog will not be able to stop vomiting. Simply wait it out. If your dog experiences discomfort or begins to vomit multiple times or has excessive diarrhea, it may be a good idea to call your vet. The vet will ask you a series of questions to better understand the nature of the incident and to determine whether or not you should take your dog to be examined.
Is There A Home Remedy For A Dog Who Ate Blueberry Pie?
If your dog is experiencing symptoms after eating blueberry pie, there are a few things you can do to help bring relief. Try giving your dog ginger, rosemary, chamomile or apple cider vinegar mixed with water. These are excellent home remedies to help with GI issues.
Can A Single Serving of Blueberry Pie Kill (A Chihuahua, 30 Pound Dog, German Shepherd) Dog?
A single serving of blueberry pie won't kill your furry friend. Though, depending on your dog's size the symptoms may be experienced differently. A Chihuahua, for example, will have a much harder time dealing with the sugar, fat content, and toxic ingredients due to its smaller body size in comparison to a 30-pound dog or German Shepherd dog that has more detoxing tissues available to deal with the blueberry pie.
How Much Blueberry Pie Can Dogs Eat Safely?
While it probably won't harm your dog to have a couple of bites here and there of blueberry pie, it would be much better to give your dog a handful of fresh blueberries or to buy your dog blueberry pie treats instead which are made specifically for dogs to eat. These would be much more healthful and beneficial than blueberry pie which is loaded with ingredients your dog doesn't need in their diet.
Symptoms Of Blueberry Pie Poisoning in Dogs
If your dog gets sick after eating blueberry pie, you might notice obvious symptoms like vomiting or diarrhea. But be on the lookout for less obvious symptoms, too:
1. Repeated gagging or heaving: This is usually in response to acid reflux.
2. Itching skin: Your dog might be allergic to blueberries.
3. Licking lips: This is also a sign that your dog is experiencing a GI issue.
4. Eating grass: Dogs sometimes eat grass to encourage vomiting to relieve an upset stomach.
5. Lethargy: If your dog is moving around slower or has less energy than usual it may not be feeling well.
6. Lack of appetite: If your dog has an upset stomach it may not feel like eating its usual amount.