Muscadines are from the same family of grapes and raisins and are toxic to dogs.
Eaten even in small quantities, muscadines can cause acute renal failure, also known as kidney failure, in your dog or puppy.
It's important to know exactly what to do when and if this were to happen.
Can Dogs Eat Muscadines?
Under no circumstances should dogs eat muscadines. Muscadines are part of the grape family, and are incredibly toxic to dogs, promoting kidney failure when ingested in large quantities in any size dog. If your dog does eat muscadines, it's important to take them to the veterinarian immediately, as it could result in death.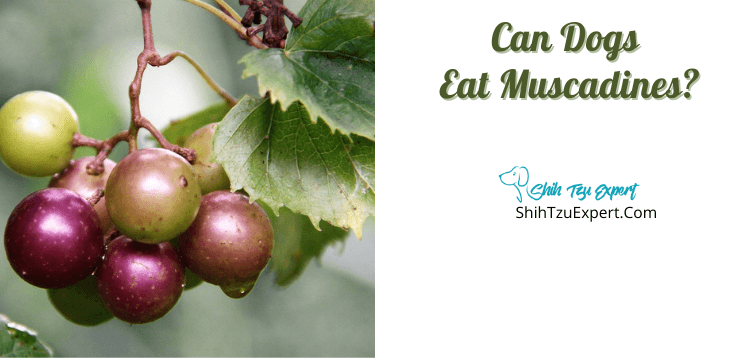 Can Puppies Eat Muscadines?
No, puppies can not eat muscadines. Regardless of age, dogs can not eat muscadines because they are toxic to them.
How Bad Are Muscadines For Dogs [Can They Kill Dogs]?
Muscadines are very bad for dogs and can be deadly. If your dog has ingested a muscadine, please call or bring your dog to the veterinarian immediately.
What Happens If A Dog Eats Muscadines?
If a dog eats a muscadine, do the following.
Make your dog throw up the grapes. Experts recommend using a tablespoon of hydrogen peroxide and administering it by mouth to accomplish this within 5 to 10 minutes.
Alert your veterinarian – you are more than likely going to have to bring your dog to the vet if they have eaten a large number of grapes. Alert your vet of the incident and head into their office immediately.
Treatment with IV fluids – your vet will most likely suggest an intravenous antibiotic treatment for your dog's kidneys when you bring them in, make sure you are aware of the cost and after-care needed for your dog.
How Long After A Dog Eats A Muscadine Do They Get Sick?
Although it does vary, about 6-12 hours after ingestion of a muscadine is when sickness occurs in dogs.
How Long Can A Dog Live After Eating Muscadines/Grapes?
A dog's life after an encounter with a muscadine/grape varies depending on the severity of their reaction to the poison in their system. If a dog only ate a few grapes or raisins (depending on the size of the dog) and received immediate treatment, the prognosis is excellent. A dog may live a long life after eating muscadines/grapes, but it may be filled with vet visits. Some dogs die due to complications from eating muscadines and grapes, so it's better to keep your dog away from muscadines/grapes altogether.
Are Dogs Allergic To Muscadine/Grapes?
Muscadine and Grapes are poisonous to dogs, which is much more severe than an allergy. The exact mechanism of poisoning in the muscadine/grape is currently unknown, but this poisoning can cause severe kidney failure in some dogs.
How Many Dogs Die From Eating Grapes?
There's no solid data about how many dogs die each year from eating grapes, but in a study done
What To Do If Dog Eats Muscadines/Grapes?
Watch your dog and see if they develop any signs of illness, such as persistent vomiting, lethargy, or having little to no appetite, as this may indicate they've ingested a toxic amount of muscadines/grapes. Bring your animal to the vet immediately. If the vet is closed, call an emergency animal hotline.
Can A Single Muscadine Grape Kill A (Chihuahua, 30 Pound Dog, German Shepherd) Dog?
It would be very odd for one muscadine/grape to kill any dog. According to the dog to grape toxicity calculator, 1 grape would kill a 1 pound dog. So realistically no. But if your dog already has prior conditions such as bad kidneys, a grape/muscadine could push a sick dog over the edge.
Can 1 Raisin Kill A Dog?
Of course, one raisin could have the potential to kill a dog, as raisins are toxic to dogs and considered to be more toxic than grapes. However, it is usually larger quantities of raisins that would kill a dog. Therefore one can safely guess that one raisin could not kill a dog.
How Much Grape Can Dogs Eat Safely?
Avoid giving your dog any grapes at all costs. It is not safe for them to eat them at all.
Dog Grape Toxicity Calculator
https://thepetsupplyguy.com/dog-raisin-toxicity-calculator/
There have been examples of dogs being poisoned after eating significantly fewer grapes or raisins than the currently documented toxic dose calculator lots for. Any time your dog eats a grape or raisin, this should prompt an immediate call to your veterinarian
How Long Does It Take For A Grape To Kill A Dog?
It will take at least 24 hours for deadly effects to kick in, but if a dog eats a lot of grapes, it could die very quickly depending on its kidney strength.
Is The Grape Skin Poisonous To Dogs
We do not know exactly what in grapes are toxic for dogs, so it is assumed the skin is poisonous.
Are Grape Seeds Poisonous To Dogs?
We do not know exactly what in grapes are toxic for dogs, so it is assumed grape seeds are poisonous to dogs.
Is It Safe If I Peel The Grape Skin And Take Out The Seeds?
No, it is not safe to give dogs any part of a grape.
Can Dogs Drink Wine [Made from Grapes]?
While there are no studies to show that wine is as toxic to dogs as grapes are, it is not recommended to allow your dogs to drink wine. According to the AKC, the documented lethal oral dose for alcohol in dogs of any size is 5.5 to 7.9 g of 100% ethanol. For translation, one milliliter of ethanol is equal to 0.789g or roughly 0.028 ounces.
Your standard glass of wine or beer is 5oz and has about a 20% ethanol volume. That means that your wine has enough ethanol in it to not only intoxicating but possibly poison your dog, depending on breed and size.
Symptoms Of Grape Poisoning In Dogs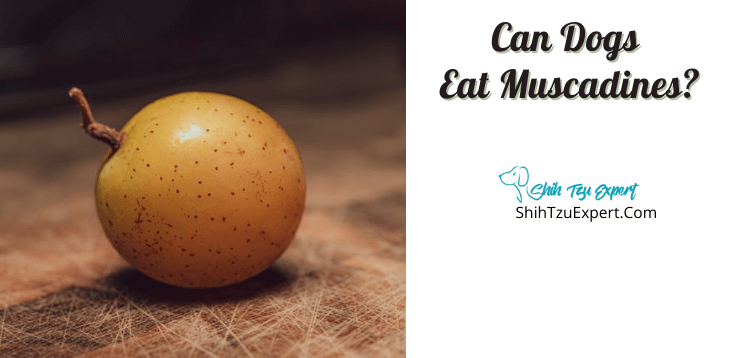 If your dog exhibits any of the following behaviors within 24 hours after eating a grape, bring them to the veterinarian immediately.
Vomiting
Lethargy
Decreased/No Appetite
Diarrhea
Is There A Home Remedy For A Dog Who Ate Grapes?
If your dog eats grapes, make them vomit immediately. It's recommended to give them a tablespoon of hydrogen peroxide by mouth to accomplish this within 5 to 10 minutes. If this doesn't work, or your dog still is experiencing symptoms, bring them to the veterinarian immediately.
What Are Muscadine Grapes Vs. Other Grapes?
Muscadine Grapes are much higher in antioxidants than other types of grapes.
How Do You Identify Muscadine Grapes?
Muscadine grapes range in color, from light bronze to deep black, pinks, or purples. The grapes are round ½ inch fruits that have thick, tough skins and can contain up to 5 seeds. The flesh inside of the round or oval berry is clear and translucent. The leaves on muscadines and the actual fruit itself are much smaller than other, more-well known grapes.
Are Scuppernongs And Muscadines The Same Thing?
Not technically. Muscadines and Scuppernongs are a couple names most often used to loosely refer to grapes as a whole. But in reality, Scuppernongs are a particular type of Muscadine.
Are Muscadines More Toxic To Dogs Than Other Grapes?
No, all grapes are considered equally toxic to dogs.
How To Keep Dog Away From Grape Vines?
If you have a dog and grapevines are in your yard, it might be time to say goodbye to those vines. If you absolutely have to have grapevines around your home, net them off and make sure your dog has no access to that area of your yard. Pluck all grapes immediately and use a rake to get all remaining grapes on the ground.
References
https://jeffersonanimalhospitals.com/toxic-foods-substances-to-your-pet/grapes-toxicity-for-dogs
https://www.petmd.com/dog/emergency/digestive/e_dg_grape_raisin_toxicity