Can Dogs Get Sexually Attracted To Humans?
One thing some humans believe, particularly if their dog likes to try and hump them, is that dogs can have a sexual attraction to humans. But just how true is this? Can dogs feel a sexual attraction to a being that's not the same as them? This article explores that and more.
Can Dogs Get Sexually Attracted To Humans?
Long answer short, no, they can't. What you may perceive as sexual attraction, such as if your dog constantly feels the need to hump you, is actually them having a lot of excited energy and not knowing what to do with it.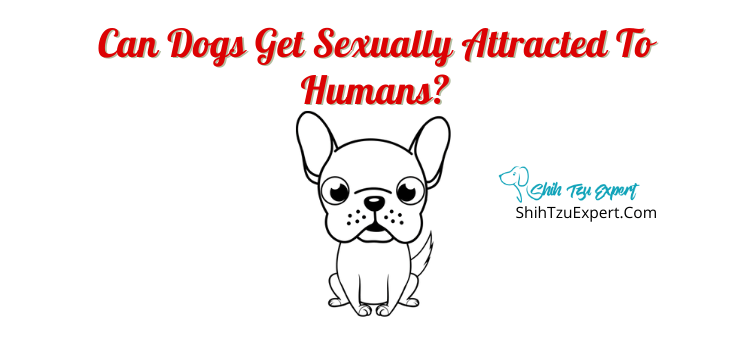 why are dogs attracted to humans?
There are many reasons why a dog may be attracted to a human. It can be to do with you giving them food, being excited to see them, being happy, or you making them feel safe and comforted.
It's essentially similar to when a human is attracted to another human. Similar reasons for why two people may be attracted to one another are the same for dogs feeling an attraction for humans.
do male dogs get sexually attracted to female humans?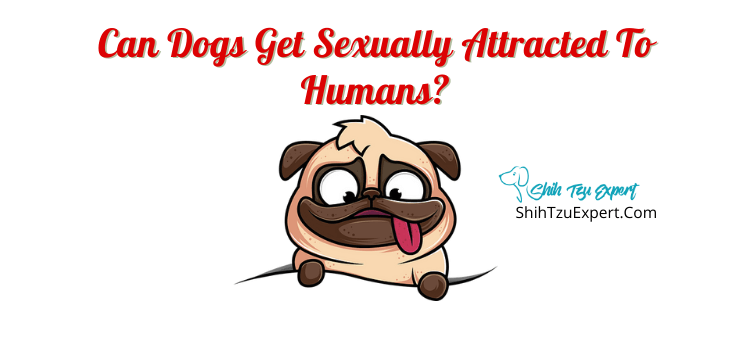 No, male dogs don't get sexually attracted to women. What you may believe is sexual attraction, such as your dog starting to hump you, is actually them being excited to see you.
how to calm a sexually excited dog?
There are a number of different methods you can use to calm a sexually excited dog, including:
– Give a firm "NO!" or tell your dog to "STOP!", so they understand what they're doing is wrong
– Spray them with a little water so they know not to do it, as each time they do they'll know they'll get sprayed with water
– Get to know potential root causes so you can get a clearer idea of what is causing this behaviour to then find a method best suited to solve these issues
– Try and change your dog's focus when they start becoming sexually excited, such as taking them for a walk or encouraging them to play with your toys
– Ignore them. Dogs love attention and if you don't give your dog any attention whilst they are humping something, they should eventually stop
– Spay/neuter them. A dog who is unspayed or unneutered is more likely to start humping you/objects, so spaying or neutering them should stop this; or at the very least, slow it down
– Take your dog on a dog obedience course so they can learn from an expert how to stop humping (and so you can learn tips on how to prevent it, too)
– Regularly exercise your dog as this will release any pent up aggression or stress they might have that is leading them to hump
– The final thing you should do is take them to the vets. All this humping could be due to a hormone imbalance, which could be due to a more serious condition, such as hypothyroidism. Taking them to the vets will help put your mind at ease
Do female dogs have orgasms?
Female dogs can have orgasms. However, it's believed only 31% of female dogs can experience an orgasm during intercourse with another dog.
can dogs smell human arousal pheromones
Dogs have amazing smelling capabilities and because of this, they are able to smell human pheromones. Dog's sense of smell is their dominant sense and they can smell 100,000 times better than humans and have twenty-five times more smell receptors.
However, this ability to smell means they're prone to investigation and can often lead to them sticking their nose in an unwanted place. This means you need to know how to calm your dog so they don't do this, whether it's to you or a stranger.
Can dogs smell a woman's period?
Yes, they can. As already mentioned, dogs have excellent smelling capabilities so anytime something smells different, they want to know what it is.
It may be worth noting that even though your dog can notice a change in your smell, they won't know why this different smell is occurring. They won't know that you're on your period. They'll just know that something is different.
Do dogs see us as parents?
Yes, they do. Dogs often see us as their 'pack leader' and in the vast majority of cases, this extends to them seeing us as their parents.
A lot of us would probably say that a parent is someone who, regardless of if we're genetically related to them or not, provides and protects us. Dogs see us as a provider and protector, so it can therefore be said that they do see us as parents. This is especially true because most dogs are taken away from their mothers to go to new homes when they are older than eight weeks and they will more often than not be able to pick us out from a crowd of people.
What do dogs see when they look at humans?
It is widely believed that dogs acquire social information from their various experiences with humans and more specifically, they remember facial expressions. This enables them to remember and recognise various humans.
This is how your dog is able to recognise you because they learn what you look like from having various experiences with you and that is how they're able to pick you out of a crowd.
Can my dog smell my pregnancy?
When you're pregnant, due to your change in hormones, this can change how you smell. Due to this, your dog will be able to sense something is different as they are very good at sensing when something has changed.
However, just like with them smelling when you're on your period, they don't actually know you're pregnant. All they know is that there's something different about you.
Why do dogs smell your private parts?
Our private parts have sweat glands that release pheromones. These pheromones can tell different types of information, such as age, sex, mood, and if a mammal can mate.
Therefore, dogs smell private parts because they want to try and find out more about you and this is the best way to go about it.
Do female dogs bond better with male owners?
It is widely believed that female dogs much prefer male owners. This is due to men having a more relaxing attitude and female dogs being quite assertive, so these two behaviour traits go well together.
Do most dogs prefer female owners? In general, dogs do tend to prefer women. Evidence suggests that most dogs are cared for by women and that a single woman is more likely to have a dog than a single man.
Even if the two are in a relationship, the woman is more likely to act as the caregiver than the man. It has also been suggested that more women than men work as an animal care worker or vet.
Due to these reasons, it means dogs are more likely to be cared for by a woman than a man and therefore, they tend to gain a preference for a female owner over a male owner.
Why Do dogs pick a favorite person?
There are a few reasons why dogs will pick a favourite person, including:
Early life bonding The first few months of a dog's life are incredibly important and whoever your dog bonds with the most in this time is likely to become their favourite person. So whoever feeds, plays and takes them for walks during this time is likely to become their favourite.
Spending time and giving affection Just like mentioned above, whoever spends the most amount of time with your dog, such as by training them, giving them food, playing with them, or taking them for walks, your dog is most likely going to pick this person as their favourite.
Positive associations If you're the person your dog associates something positive with, such as getting treats or playtime, it's more than likely you're their favourite person.
Personality alignment Dogs often copy their owners' personalities. So if they feel their personality aligns more with one owner than the other, they're more likely to spend more time with this person and they then become the favourite.
However, it can depend on the breed Some dogs tend to have a favourite person; whereas others love everyone equally. For example, Chihuahuas and Shetland Sheepdogs tend to have a favourite; whereas Boston Terriers and Labrador Retrievers tend to love everyone equally.
Do male dogs fall in love with their owners?
Dogs don't fall in love as such, however, they are able to form deep and lasting bonds with both their owners and other dogs. However, if you want to tell whether your dog loves you or not, you can tell by looking out for the following signs: – they get excited when you come home – they make eye contact with you – they want to be around you – they yawn when you're around That last one may sound a little weird, but if they are bonded to someone and they see that person yawn, they'll copy them and yawn back.
Do dogs only bond with one person?
They do tend to only bond with one person. This tends to be the person who they associate most with getting food/treats, going for walks or playtime. However, this can also depend on the breed of the dog. For example, German Shepherds tend to bond with one person; whereas Labradors like to make friends with everyone.
do people think dogs get turned on by humans?
It's very easy to believe that dogs get turned on by humans, particularly if your dog likes to hump you a lot. But this isn't them being turned on. This is them getting excited and not knowing what to do with this excited energy, so they start humping.
Why do dogs hump/mount us?
They hump/mount us because they end up becoming really excited but don't know what to do with all the excited energy they have. If you're the one they've bonded with and get home after a long day at work, for example, they may possibly hump/mount you as their way of saying hello because they're so excited to see you that they don't know what to do with all this excited energy.
Can a human being mate with a dog?
No, they can't. Humans and dogs have very different sets of DNA so even if the two did mate and offspring were produced, they wouldn't live for very long.
Do puppies get sexually excited/attracted?
In the very early stages of their life, puppies have no sexual drives or desires. However, this does increase as they enter puberty and early adulthood and then decrease again throughout the rest of their lives. This also depends on whether your dog has been spayed or neutered. If they have, their sexual desires will increase and can also help prevent them from unnecessary and unwanted humping.
References
Does Your Dog Know You're Pregnant?
http://www.vetstreet.com/our-pet-experts/do-dogs-like-women-best-understanding-canine-preferences