If your dog has a cone on, one common issue for pet owners is whether it's okay to leave them alone. But does this cause any issues for your dog and what are the risks of leaving them alone with a cone on?
Can I leave my dog alone with a cone on (is it safe?)
You should never leave your dog alone with a cone on. They could injure themselves, get stuck, or possibly take the cone off and lick the wound, which will only elongate their recovery time.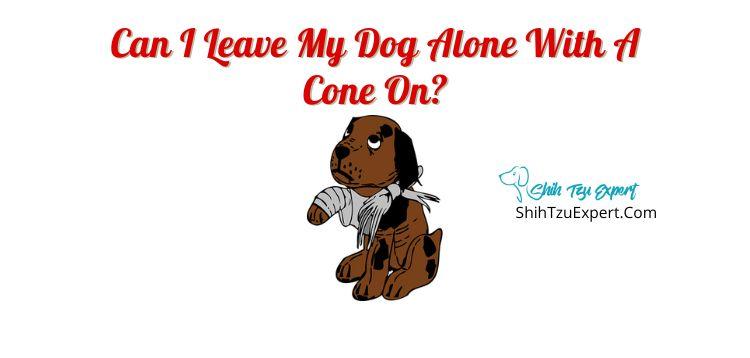 What is a dog cone / e collar / Elizabethan collar?
An Elizabethan collar (which is also known as an e collar or dog cone) is the standard type of collar all dogs will initially be given.
can i leave my dog alone with a cone on after being neutered/spayed or surgery?
As a dog often has to wear a cone after having some form of surgery, it's recommended to not leave them alone as not only do they have the cone to get used to, but there's also the issue that they are going to need recovery time and help during this time.
is a cone bad for separation anxiety?
It can be. Some dog owners may decide to keep their dog in a crate if they have cone on to stop them from having any accidents when moving around, however, it is being put in the crate all day that can cause separation anxiety in the first place.
Should you put dog in crate with cone (when leaving it alone)?
This can cause claustrophobia and can be magnified with the cone on as the cone will take up more space, so will make what used to be a reasonably sized crate into one that feels a lot smaller. So, no, you shouldn't.
How long can you leave a cone on a dog (all day?)?
It is recommended to not leave your dog alone with a cone on for too long, so leaving them alone all day with it on would be far too long.
Can I take the cone off my dog after 7 days?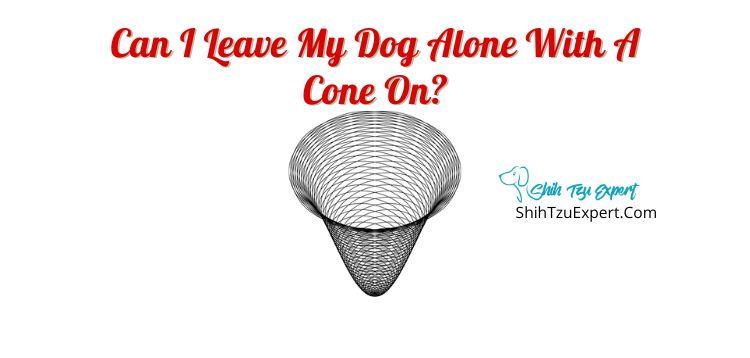 In general, the cone should only be removed once the wound has either completely healed or has healed enough to no longer irritate them. This is so they will no longer try and bite or scratch at their wound as this will only make it worse.
Is it safe for a dog to sleep with a cone?
It is completely safe for your dog to sleep with a cone on. It may be a little irritating for your dog, but there are ways around that, such as removing the cone at night and replacing it with a towel or getting an alternative to the cone that's a bit more comfortable. It's whatever's best for your dog.
can an e collar choke my dog?
As long as it is the right size and fitted correctly it shouldn't. This is important to check beforehand so you don't encounter this problem when the dog really needs the collar.
Why is my dog crying with a cone on?
Wearing a cone can be quite stressful for dogs and as it's a new thing, they're going to be confused and are probably going to start crying as they want to get it off. They should adjust, but if not, ask your vet what can be done to make them feel more comfortable.
Do dogs get depressed wearing a cone?
There is a chance that if your dog is wearing a cone they can become depressed. This is because wearing the cone can limit what they used to be able to do.
How do I feed my dog with a cone on?
One way to do this is to remove the cone entirely whilst you feed your dog so it's easier for them to get to their food.
how to get dog to sleep with cone on?
Ensure the cone is fitted correctly, that you cool your dog now if it's constantly itching where the cone is for a bit of extra relief and try and find an alternative sleeping place that's more comfortable for your dog.
my dog has to wear a cone and its freaking out (what should I do)?
Wearing a cone is a new thing and suddenly having a lot of restrictions in place can cause anyone to freak out. They should eventually calm down but if not, ask your vet for any advice and see if there are any alternatives your dog may prefer.
dog panting while wearing cone?
If your dog is panting whilst wearing a cone, this is probably down to stress. If this happens when you first put the cone on, they should eventually calm down. But if this continues, talk to your vet and see if they can offer you any alternatives.
Why is it called cone of shame?
It is called the cone of shame because many dogs who wear a cone appear to be embarrassed or ashamed to be wearing them.
How can I make a dog cone more comfortable?
Ensure you have properly constructed and fitted the cone to make sure it fits properly, doesn't move around and doesn't dig in too much either.
13 risks when leaving your dog alone with a cone on
There are a number of different risks involved if you decide to leave your dog alone with their cone on. Amongst those risks are the following…
might trigger separation anxiety
One of the risks of leaving a dog alone with their cone on is they may develop separation anxiety. Having a cone on can be quite scary so that factored with being left alone increases their anxiety and only makes them miss you more.
they remove their cones
If your dog's cone is irritating them, this is going to cause them to try and remove it. If you're not there to tell them no, they are at risk of successfully removing it, which can remove the stitches.
collisions and bumps
Your dog having a cone on means they are more likely to have collisions and bumps around the house. This is because whilst they may already be used to maneuvering around the house, having a cone on makes this a lot more difficult.
It might become depressed
Leaving your dog alone while they have a cone on can cause them to develop depression because they can no longer do the things they used to be able to do with ease and need you there to help them out.
It might get stressed
One of the ways a dog might get stressed is if they get stuck due to their cone. You need to be at home to ensure your dog can't get stuck as the longer they are stuck for, the more stressed they will become.
It might get bored
Dogs enjoy plenty of playtime but having surgery and wearing a cone means they won't be able to play as much as they used to. They will want to try and entertain themselves but this can lead to further injury, which is why you should stay with them at all times.
It might get lonely
All dogs are really sociable so if you're not there, they feel alone. Even dogs that live in the wild are part of a pack, so it's a part of them to want to be surrounded by people/other dogs. Staying with them at this point helps them avoid loneliness.
It might get injured
This injury may come from constantly bumping into things with their cone. However, if the cone is irritating them, they may continuously scratch at it to try and get it off and this can cause them to injure themselves.
it might not sleep well 🙁
Not only will the cone possibly be uncomfortable during the day, but it can also be uncomfortable at night too. There are alternatives to having the cone on at night, such as a folded up towel around the neck secured with tape. Hopefully this will help them sleep better.
may injure itself
Injury is one of the likely things to happen if you leave your dog home alone with a cone on. The injury may possibly lead to further surgery, which is why you should stay home to look after your dog to ensure injury doesn't happen.
restricted mobility in the crate
The crate your dog used to fit in may no longer work out as cones can take up quite a lot of space. As the cone may cause your dog to be stressed, the added stress of their crate feeling a little smaller may add more stress and could also cause your dog to become injured.
get stuck in the crate or when passing through narrow areas
Due to the size of cones, it is very easy to get stuck on things, whether that's in the crate or in a narrow area. This is particularly at first when they are getting used to the cone and don't know how to maneuvre with it. You need to be there to ensure this doesn't happen.
uncomfortable to eat and drink (may get hungry or dehydrated)
Unlike us, dogs don't have cutlery to be able to eat their food and can only rely on their mouths. The cone will get in the way of them being able to eat out of their food and water bowls, particularly if the bowls are too deep.
should the cone be removed at night?
In general, the cone shouldn't be removed as it was put there in the first place for a reason. It should only be removed and replaced with a comfy alternative if absolutely necessary.
alternatives cones to make sure your dog sleeps peacefully
If your dog isn't getting on with their cone, there are some comfier alternatives for you to try out.
Soft recovery collar
A soft recovery collar is the closest thing you can get to the typical plastic cones, but just a much softer version. They are durable, easy to use, and are water resistant, which makes them easy to clean.
Inflatable collar
An inflatable collar provides plenty of comfort to your dog, whilst also providing the same service as a cone, in that it stops your dog from biting it's stitches or wounds. It also doesn't obstruct your dog's face.
Recovery suits
If you find a cone or collar isn't best for your dog, you may find that a recovery suit is the better option. These work essentially the same as a cone or collar, however, they don't restrict their movement or vision in any way and come in a breathable material.
what are the Best Dog Recovery Collars
The best dog recovery collar is whatever is best suited to your dog. Just because one type of collar works well for your friend's dog, doesn't mean it's going to work well with your dog.
7 ways how you can make a dog cone more comfortable
The following are just a few ways for you to make your dog's cone more comfortable.
Make sure it's the right size and fits well
All dogs are different shapes and sizes, so there is no one size fits all when it comes to dog cones. You need to ensure the size of cone you get is the right size for your dog.
Make sure it's made out of the right material (soft)
Softer cones are way more comfortable than the plastic ones. They won't scrape the skin, injure your dog, and it's more comfortable for them to sleep with.
gradually Introduce the cone preferably before surgery
You should start by getting the dog to sniff the cone and then gradually work their way up to wearing the cone for short amounts of time. Also, give them plenty of encouragement when they wear the cone without fuss.
Make your house safe for a dog with an e collar
You should start by putting them in a smaller room that has hardly any furniture in, just to help them calm down, get used to the collar and learn how to move around with it without having anything to bump into and gradually build their way up to a bigger room with furniture.
Minimize the time it has to wear the collar
Some dogs may not cope well at all when wearing a collar and in this case, it may be best to take them to the vet and see what they can do. Obviously, it's important they wear the collar, however, their wellbeing is more important.
Create fun activities to do while wearing the cone
Dogs love to be sociable and entertained and if you're not there, they'll only try and entertain themselves which may lead to injury. Try to think of some fun activities you can do together that are cone-friendly and will keep your dog feeling happy, despite being a bit restricted.
Try alternatives to dog cones
The nearest to a cone that your dog may find a bit less irritating are either soft recovery or inflatable collars. These provide less of an obstruction to the typical dog cones, are less likely to irritate your dog and are also easy to clean. Alternatively, you could try a recovery suit.
What can I use instead of a dog cone that's more comfortable for my dog?
The alternative to a dog cone is to use a recovery suit. This is a suit which you place around the dog and has a breathable material. It should cover the wound so your dog can't get to it and make it worse.
Can I use a shirt on my dog instead of a cone?
A shirt can be used as a form of recovery suit as opposed to a cone. You should cut the shirt up to fit your dog and ensure it covers the wound so they can't lick it.
How do you keep a dog from licking its wound without a cone?
Get a recovery suit as opposed to a cone as this is less restrictive and should still cover the wound so they can't get to it.
What will happen if my dog licks its stitches?
If your dog licks their stitches, this may cause the stitches to re-open and will mean your dog will have to have more surgery to get more stiches, which is going to cost more money.
References:
Can I Leave My Dog Alone with a Cone On? + The Crate Question!
7 Risks Of Leaving Your Dog Alone With A Cone On + 5 Tips
Can I Leave My Dog Alone With A Cone On?
9 Dangers When Leaving Your Dog Alone With A Cone On + 3 Tips
https://www.petcoach.co/question/?id=388392
https://www.dailypaws.com/dogs-puppies/health-care/dog-cone