Many people keep liquid bandage products in their first aid kits because they are easy to use and work well for small cuts and scrapes. But is liquid bandage safe to use on dogs?
Can I Use Liquid Bandage On Dogs?
Fortunately, many pet care companies offer liquid bandage products formulated specifically for dogs. These products are safe to use on your canine friend as long as the wound is small (4cm or less), clean, and uninfected.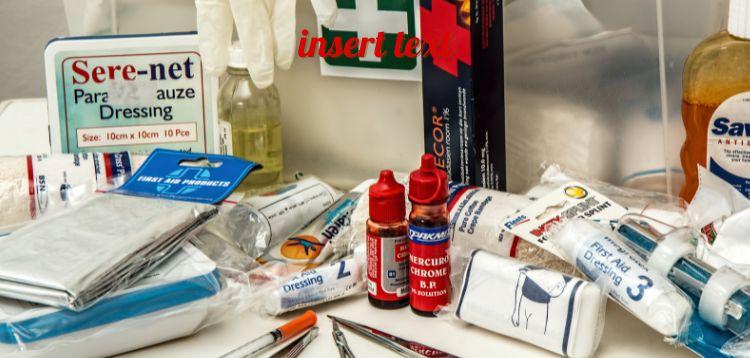 Does Liquid Bandage Improve Recovery Time For Dogs?
Many dog owners know it can take a long time for their dog's scrapes to heal, even minor ones, because dogs tend to lick or chew at injuries. Unlike humans, dogs don't understand that this behavior can delay healing or even make wounds worse.
If this sounds like your dog, liquid bandage may be a good option.
Liquid bandage covers the wound in a clear protective layer, which some dogs find less irritating than a traditional bandage, leading to less licking and chewing. The less your dog licks at her injury, the quicker her healing will be.
Liquid bandage can also speed the healing process for injuries that keep reopening due to body movements. Wounds in these areas are hard to protect with a regular bandage, but liquid bandage products should have no problem staying in place.
The same is true for other hard-to-cover areas such as your dog's nose, nails, etc.
What Are The Benefits Of Using Liquid Bandages On Dogs?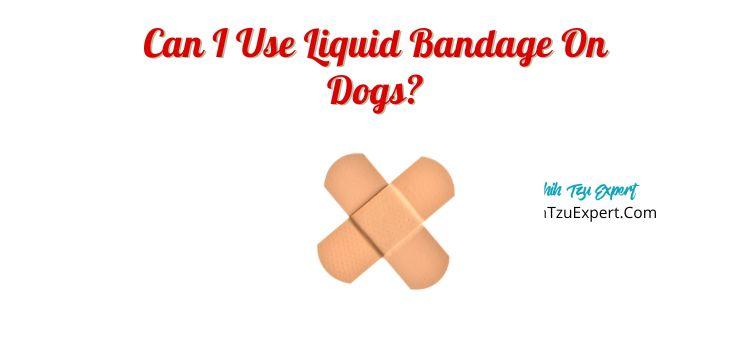 Liquid bandages are a great addition to your dog's first aid kit.
Most products are a quick-drying spray that is easy to apply. They form a waterproof yet breathable seal that protects the injury, helping it to heal quickly and naturally. Unlike traditional bandages, liquid bandage does not hinder movement.
How Long Does Liquid Bandage Take To Heal?
Liquid bandage will peel off as your dog's skin heals, usually within 5 to 7 days. The product should only be used on minor cuts, which should heal within that same timeframe. If the wound does not show improvement after a week, talk to your vet.
Is Liquid Bandage Better Than Stitches For Dogs?
Choosing liquid bandage versus stitches for your dog depends on the situation. Liquid bandage should only be used for minor, uninfected cuts and scrapes. For this type of injury, stitches are probably not necessary and liquid bandage is a good option.
Unlike stitches, liquid bandage can be administered at home. It is easy to apply and more comfortable for your dog, and it can be used on places stitches wouldn't work, such as your dog's nails.
Why Do Some Vets Prefer To Use Glue Instead Of Stitches?
Vets may chose liquid bandage or surgical glue rather than stitches in some cases. These products wear off by themselves, so patients won't need a follow-up visit to remove them. They also don't usually require anesthesia to administer.
Does Liquid Bandage Close A Wound?
Liquid bandage forms a clear, flexible seal over the wound that protects it from dirt and debris. If the injury is small, liquid bandage can help stop minor bleeding and close the wound. Some formulations contain a styptic agent, which promotes clotting.
Does Liquid Bandage Have Antibacterial Properties?
Not all brands of liquid bandage for dogs include an antiseptic ingredient. Therefore, it's important to wash the wound first and apply a separate antiseptic before applying the liquid bandage.
Once the product dries, the protective, waterproof film prevents further bacteria from entering.
How To Take Liquid Bandage Off?
Liquid bandage is designed to wear off by itself, and should not be removed between applications. However, if absolutely necessary, you can gently wash it off with soap and warm water.
Is Liquid Bandage Just A Form Of Super Glue?
Some people sear by super glue as a quick way to seal cuts. However, there are many differences between super glue and liquid bandage. Liquid bandage products specifically for dogs are by far the safer choice for your canine's first aid.
Super glue was not designed for wound care.
It contains chemicals that could cause skin irritation in both humans and dogs. Additionally, since super glue is not intended as a medical product, manufacturers are not required to produce super glue in a sterile environment. Therefore, it could introduce bacteria or other contaminants into the cut.
Liquid bandage is also more breathable than super glue. It maintains the skin's proper moisture balance so the injury can heal more quickly.
Finally, super glue is extremely strong. Using it on yourself or your dog can lead to accidents like gluing a limb to the floor. Liquid bandage is designed with weaker adhesives so you can avoid this risk.
How To Apply Liquid Bandaid On My Dog At Home?
You can administer liquid bandage to your dog's minor injuries by following these steps:
Wash your hands before treatment
Clean and dry the wound
Spray liquid bandage product over the affected area
Allow it to dry for up to 2 minutes (read the instructions on the packaging for more detail)
Pat dry to remove any excess product
Can You Put Liquid Bandage On An Open Wound?
Liquid bandage should not be used on large open wounds. If the wound is bleeding heavily, the product will not adhere properly. If your dog has suffered a deep puncture, a serious burn, or a wound larger than 4cm, you should consult a vet.
What Should I Do If My Dog Licked Or Chewed The Liquid Bandaid?
Liquid bandage that is marketed for pets should be non-toxic to them in small amounts. If in doubt, ask your vet to recommend the safest over-the-counter brand.
If your dog continually licks the wound after you apply liquid bandage, the injury may not heal properly. Consider putting a cone on your dog to prevent him from licking or biting the affected area.
What Happens If My Dog Ingests Liquid Bandaid?
Several liquid bandage products marketed for dogs include a bitter agent to discourage licking. This should also discourage your dog from eating it from the container. However, you should always store liquid bandage and other medicines out of your dog's reach.
Liquid bandage is not safe for human or animal consumption in large amounts. If your dog does get into your first aid kit and eats liquid bandage, consult a vet immediately.
Is Liquid Bandaid Safe For Dogs?
There are several brands of liquid bandage marketed specifically for dogs. Look for brands which have been recommended by veterinarians, or ask your vet directly about the products they trust. When used as directed, these products are safe for dogs.
Can You Use Liquid Bandage On Dogs Nails?
One of the biggest advantages of liquid bandage is its ability to protect hard-to-cover areas. This includes injuries to your dog's nails, for example if you accidentally trim them too short and cause minor bleeding.
Some brands contain a styptic agent, a substance which helps stop bleeding.
Is It Safe To Use Human Liquid Bandage On My Dog?
You can find liquid bandage products for dogs online or at many pet stores. It's best to have products specifically for pets on hand.
In a pinch, it may be safe to use liquid bandage for humans on your dog.
However, you should check the ingredients first for any ingredients that are toxic to dogs. You will also need to monitor your dog and prevent him from licking the liquid bandage, as it may contain ingredients that are not safe for him to ingest. Putting your dog in a cone can help with this.
Do Vets Prefer To Use Liquid Bandages On Dogs?
In some situations, your vet may choose liquid bandage when treating your dog. Some vet-grade tissue adhesives can be used as a replacement for stitches, including in surgical scenarios.
Keep in mind, these products are specifically formulated to be safe for pets. Veterinary glues are not the same as Gorilla Glue or other super glues, which are intended for household use only, and not for wound care.
Why Is It A Must To Have A First Aid Kit?
All pet owners should create a first aid kit for their animal companions, just as they would for the humans in their household. Whether for pets or people, first aid can prevent infection or long-term issues. By treating minor issues at home, you can save yourself a trip to the vet.
What Should You Know About Liquid Bandages?
Not all brands of liquid bandage are intended for itchy skin or rashes. In this case, the liquid bandage may irritate the area. Check the directions on the product before using liquid bandage on hot spots or rashes.
If your pet's swelling or redness persists or worsens after using liquid bandage, consult a vet.
What Is The Difference Between Liquid Bandages For Humans And Liquid Bandages For Dogs?
Many liquid bandage products for people are alcohol-based, so they will most likely cause some stinging and discomfort. If your dog experiences this, she may not allow you to apply liquid bandage again, even if next time you use product intended for dogs that doesn't sting.
It's best to use liquid bandage intended for dogs, so her first experience is less painful.
Liquid bandages intended for humans may contain ingredients that are not safe for pets to ingest, even in small quantities. If you choose to use liquid bandage on your dog, you must monitor him closely to ensure he doesn't lick the area.
Finally, human liquid bandages may not dry as quickly as those marketed for dogs.
When Should You Not Use A Liquid Bandage?
There are several situations where you should not use liquid bandage on your dog:
Do not use if the wound is infected, for example if you see pus
Do not use on sensitive areas such as eyes or genitals
Do not use on animal bites
Do not use on large wounds or deep punctures
Do not use for over one week unless a vet instructs you to
Do not use on pregnant or nursing animals
What Are The Best Liquid Bandaid Brands?
The best liquid bandages for dogs share some key features. Look for brands that:
Contain a topical anesthetic such as benzocaine to reduce pain from the injury
Contain a styptic agent to stop the wound from bleeding
Contain a bitter flavoring to discourage licking
Are waterproof
Are alcohol-free
Are fast-drying
Vetericyn Plus All Animal Wound and Skin Care Spray
Miracle Care Liquid Bandage Spray for Dogs & Cats
Cardinal Laboratories Remedy and Recovery Liquid Bandage for Dogs
3M Vetbond Vetbond Tissue Adhesive
Some highly-rated products include:
Where To Buy Liquid Bandaids For Dogs?
You can purchase liquid bandage for dogs at most major pet care retailers, such as PetCo and PetSmart. Your local pet store may also carry it or be able to order it for you. You can also purchase it from online retailers like Chewy or Amazon.
How Safe Is It To Superglue A Cut On My Dog?
Super glue is not intended for medical use on humans or animals and should not be used on your dog. It contains chemicals that can cause your dog skin irritation, which produces stress in your canine friend. Super glue may also contain toxic chemicals that are not safe for your dog to consume in any amount.
Can You Use Gorilla Glue On A Dog Wound (Is It Dangerous)?
Gorilla Glue is a brand of super glue, which is not intended for wound care.
There are dangers any time you use a product for something other than its intended use. Using non-medical products to treat injuries is especially risky.
Super glue is not sterile when it comes out of the package, especially if you have opened and used it previously. It can introduce bacteria or debris into your dog's wound and cause infection. Ingesting even a small amount of super glue can cause intestinal blockages and other internal issues.
How Can I Help Heal My Dogs Wound Fast?
Any time our pets are in pain, we want to help them feel better as quickly as possible. Be prepared for accidents by creating a pet first aid kit so you are ready to treat minor injuries and prevent long-term issues.
Follow these steps to give your dog the best chance at a speedy recovery:
Clean the wound as soon as possible to prevent infection.
If you have an antimicrobial product, apply it to the wound after washing with soap and water.
Protect the injury with liquid or traditional bandage to prevent debris from getting in.
Check the wound three times a day, and clean it again if needed. Note that cleaning does not mean scrubbing: be careful not to break new skin.
Allow your dog time to rest and recover. Too much activity can reopen the wound.
If your dog keeps licking or biting at the injury, consider using a cone.
Monitor for signs of infection and immediately take your dog to the vet if they appear. Signs of infection include:
Pus
Excess redness or swelling
Skin feverish to the touch around the wound
Bad smell coming from the area
Red streaks on the skin coming from the area
The wound does not heal on its own
As pet owners, we are responsible for safeguarding our pets' health and ensuring they receive proper care.
References:
How to Heal a Dog Wound Fast & Effectively
https://cen.acs.org/articles/86/i24/Liquid-Bandages.html
https://medlineplus.gov/ency/patientinstructions/000497.htm