Dog beds help ensure our loving companions have a cozy and warm place to sleep. And just like us, those blankets need a regular clean, but where and how should you clean your dog's bedding?
Can I Wash Dog Blankets At A Laundromat?
There are many factors to consider when it is time to wash your dog's blanket. From detergent to machines and cycles used, there is a lot for owners to think about. Not everyone has a washer at home and so that begs the question, can you wash a dog blanket on the laundromat machines? The long and short of it is yes and no depending on what the laundromat says. From there, the question only grows. Read below to learn all about washing dog blankets at the laundromat!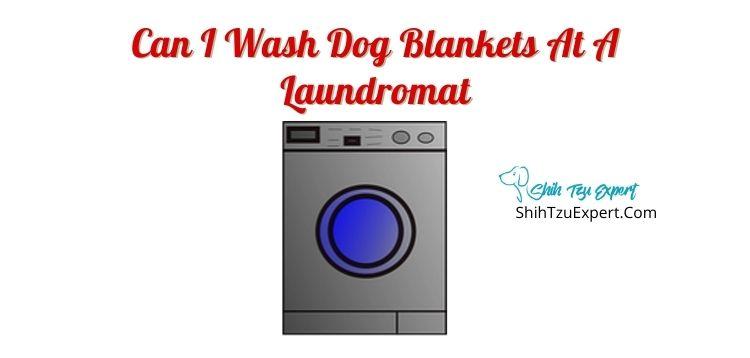 Is Laundromat Detergent Toxic To Dogs?
One of the most important questions to ask yourself when you are cleaning your dog's bedding is if the detergent that you are using is safe. You want to ensure that whatever product you choose to utilize will not make your dog ill or cause an allergic skin irritation. Unscented detergent is best as dogs have a much stronger sense of smell and can easily be irritated by what we may think is a mild scent. Carefully reading the ingredients for the detergent is important as you'll want a mild, chemical free detergent, but what is also helpful is looking at the detergent you utilize for your own clothing.
Most laundromats carry popular detergent brands and generic brands that can be purchased when washing your items. Often, they are likely to carry a brand that you may use for your own laundry. If your dog has not shown any reaction to your clothing or blankets it is likely they will have no reaction to that detergent being utilized for their blankets and bedding if it is thoroughly washed, meaning there is no build up residue still on the bedding.
Is Laundromat Fabric Softener Bad For Dogs?
Similarly to detergent, fabric softener can be problematic to dogs because of the chemicals in it. Due to frequently containing cationic detergents, it is highly advised not to use fabric softener when washing your dog's bedding. As much as we want to make sure our pets are as comfy as possible, skipping the fabric softener is better for their overall wellness. If fabric softener is accidentally added to a wash with dog blankets, giving the bedding an extra wash in just water will be helpful in reducing the likelihood of it becoming an irritation to the dog.
Does Laundromat Detergent Get Rid Of Dog Urine/Feces/Body Odor/Vomit Smell?
Laundromat detergent is useful in removing odors from our clothing. Many would likely be very effective in removing tough odors from dog bedding but could at the same time be harmful for the dog.
If the dog blankets needing to be cleaned have tough odors, washing by hand or utilizing a pet odor/stain remover prior to bringing them to the laundromat will get better results. Picking an unscented detergent is best for your dog, and most unscented mild detergents are effective in removing odors. If you are unsure if the laundromat will have an effective detergent, prewashing is your best option.
Can I Wash A Dog Blanket With Poop On It At Laundromat?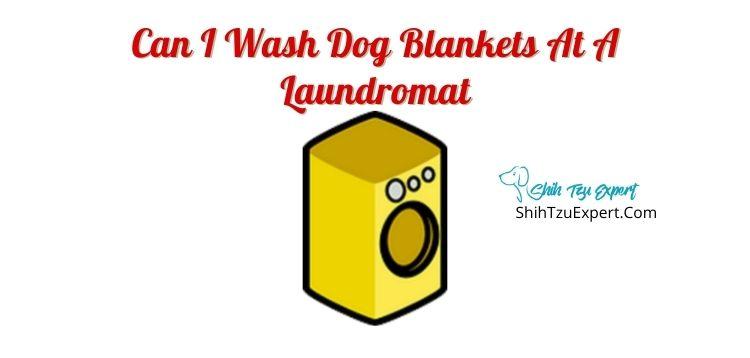 Most laundromats have their own policy about what can and what cannot be washed in their machines. It's important to check with the laundromat you would like to use to ensure you are able to wash pet bedding in their machines and if they have any requirements for doing so.
It is likely that many laundromats will discourage the use of their machines for washing poop off dog bedding. A wash or scrub ahead of time utilizing a pet odor/stain remover is recommended so as to not soil the laundromat's washers.
Will Just Washing A Blanket Remove Dog Hair?
Depending on the dog and how much they shed combined with how frequently the bedding is cleaned will determine how effective washing alone is on pet hair accumulation. For minimally shedding dogs with frequently washed bedding, washing likely is enough to keep the hair away. For dogs that shed heavily, other measures are required for ensuring that they come out of the wash hair free.
It is typically recommended to brush off or vacuum excessive dog hair prior to washing to ensure the bedding comes out without hair. While washing alone can help remove a fair amount of hair, it generally doesn't do the trick alone. Drying in the dryer may also help in removal of hair but not all dog bedding is dryer safe.
How To Wash Large & Heavy Dog Blankets At A Laundromat?
When washing larger and heavier dog blankets at a laundromat, it's important to follow the same procedures you would with your own blankets or laundry loads. The most important thing to remember is to not overfill the washer and dryer. An overloaded machine cannot work effectively and can be damaged.
Overfilling a washing machine can result in the items not being fully washed and cleaned. Additionally, you can cause damage to the drum inside the washer which will decrease the machine's effectiveness. To avoid this, when washing large or heavy bedding it is recommended to wash one item at a time. This way you do not damage the laundromat's machine and you are likely to get a much better clean.
For drying, if you are utilizing the laundromat's machine to dry large blankets and bedding, it is best to do one at a time to prevent damage to the machine and for a more successful drying process.
Is It Safe To Wash Dog Blankets In Washing Machines?
To be sure you are able to safely wash your dog's blankets in the washing machine, you must read the washing instructions on the items tags. Some items may be recommended as hand wash only which means they can possibly be damaged by being washed in a machine. Other items may specify a certain temperature and wash style such as "gentle cycle" which means if they are not cleaned in that manner, the machine could damage them.
How Do You Wash A Dog Blanket Without Ruining The Washing Machine?
There are a few key points to follow to preserve the washing machine that you are using for your dog blankets.
First, read the washing instructions on your dog's bedding. If your dog's blankets say hand wash only or gentle cycle and you wash them in a machine on a higher setting, you run the risk of damaging the blanket inside the machine which could leave debris in the machine that can impair its performance.
Secondly, do not overfill the machine. Overfull machines can struggle with the weight and as a result can sustain damage to the mechanisms that allow their movement.
Lastly, not washing overly soiled blankets is important. Pre-washing heavily soiled blankets is important to not leave debris in the machine. As well, doing an extra rinse cycle can help ensure the machine is clean.
Should I Wash Dog Blankets In Hot Or Cold Water?
Once you have chosen what detergent and how many loads you will need to divide your dog blankets into, the next step is determining what temperature to wash your dog's bedding in. Firstly, you will need to check all the washing instructions on the blankets to see if they specify a temperature on them as washing in a different temperature than outlined on the product could result in damage or shrinkage.
If no temperature is specified on the products tags then washing in warm to hot water is recommended. If possible, you should aim to wash your dog bedding at a temperature of 140 degrees Fahrenheit as the heat will aid in the cleaning process.
Does Washing At Laundromat Get Pet Odor Out Of Blankets?
For mild to moderate pet odors trapped in the material of the bedding, washing alone is likely to remove the smell. Be sure to utilize an unscented detergent, however, as dog's have a much stronger sense of smell and what may mask the odor to us can be overpowering to them.
For moderate to strong pet odors, a wash alone is less likely to remove the odor. In cases of this, using a pet odor remover on the material ahead of time or a hand wash is recommended to help break down the odor causing molecules.
How Often Should You Wash Dog Bedding?
Despite what many pet owners may believe, a dog's blankets and bedding should be washed as frequently as our own. It is a common misconception that you only need to wash the dog's blankets every once in a while or only when they actually are looking dirty. Just like us, their bedding should be washed every one to two weeks.
Similar to humans, dogs carry the dirt of the day with them into their bed and blankets. From shedding hairs to the natural oils from their skin and coat, their bedding will actually get dirty fairly quickly especially when it is utilized daily. Washing regularly can actually help to improve your dog's hygiene as they will not be continuing to sleep in their own grime.
What Is The Best Detergent To Wash Dog Bedding?
Picking the best detergent for dog bedding comes down to what is working best for you and your pet. Ideally, the best detergent would be a pet friendly detergent that takes into consideration a dog's needs.
If there is no pet specific detergent available, using a regular detergent is acceptable. The best option in this scenario would be an unscented detergent that is chemical free and considered mild or for sensitive skin.
Can You Wash Dog Blankets With Human Blankets?
Ultimately, yes you can wash your dogs blankets with your own if you would like to. That said, there may be some reasons why you would split them up and wash them in separate loads.
If your dog's blankets are heavily soiled, it is probably best to wash them in a separate load after you have washed your own blankets or it is possible that your blankets could pick up dog hair during the wash cycle. If you like to wash your bedding with scented detergents such as lavender based or calming scent types then you must wash them separately from the blankets your dog uses.
How Often Should You Wash Pet Blankets?
Washing pet blankets should be a regular thing. By the time you think they look grimey, they are very overdue for a wash.
It is recommended you wash your dog's bedding at least every two weeks. If your dog is a heavy shedder, drooly, or naturally more greasy you should wash their blankets weekly. Regular washing extends the life of the blankets and also helps with your dog's overall health.
Does Washing Get Dog Hair Out Of A Fleece Blanket?
Fleece is a material that is known for holding hair in it's fibers. Because of this, washing alone is not likely to get all of the dog hair out of a fleece blanket.
When washing fleece dog blankets, you should do some hair removal first to improve the cleaning. To remove hair prior to washing you can brush the blanket, use a vacuum, or even tape to lift hair out of the fibers of the fleece.
Does Dog Pee Come Out In The Wash?
Sometimes older and younger dogs will accidentally pee on their blankets. Luckily, washing the blanket is a good way to clean it after.
If it's a fresh accident, washing with a pet safe or a mild detergent will be able to clean the urine out. If it is an older stain, utilizing a pet odor/stain remover on the blanket prior to the wash is a good idea to remove the urine from the blanket.
How Often Should You Wash Your Sheets If Your Dog Sleeps With You?
If your dog sleeps in the bed with you, you are recommended to regularly wash the sheets. Washing the sheets weekly is likely the best route.
If you sleep in dirty sheets you run the risk of getting grease and dirt lodged in your pores which can lead to acne breakouts and skin irritation. If your dog is sleeping with you, it introduces more dirt to the sheets. To help, washing your sheets regularly either with a pet friendly detergent or mild detergent is best.
Can I Use The Laundromat Dryers For Dog Blankets?
Yes, laundromat dryers are appropriate for dog blankets. Before putting your dogs blankets into the dryer though you should read the instructions to find out what kind of cycle your blankets needs to be dryed with.
Using too much heat will run the truck off damaging the blankets or shrinking them. When drying dog blankets, be sure not to overfill the maneuver to ensure a thorough dry.
Should I Get Dog Hair Off Blankets Before Washing (How)?
For the best clean possible, you should remove dog hair prior to washing your blanket. Washing alone does not always remove dog hair.
There are a few methods to remove hair before watching a dog blankets, what works best is up to you. First, you can brush the blanket to brush away loose hair. Next you can use tape to stick to the bedding and pull up the hair that is stuck to it. Finally, you can vacuum the dog hair away!
Will A Laundromat Dryer Remove Dog Hair?
To an extent, the dryer does help remove pet hair. Dryer sheets have antistatic properties which help to release hair from fabrics.
If you have removed hair pre wash, remaining hair is likely to come up in the dryer. Be sure to empty the lint trap of the dryer both before and after your blankets have gone through and remove dryer sheets so dogs cannot find them later.
Do Dryer Balls Help With Pet Hair?
Dryer balls are intended to help separate the fabrics of clothes and blankets while being dried. This also helps to reduce static in the dryer.
While reducing static is helpful in removing pet hair, it is not enough. A dryer ball may help with pet hair, but alone it won't remove all the pet hair.
Where Else Can I Go To Wash A Dog's Blankets?
Some laundromats do not allow people to utilize their machines for animal laundry. This may be personal preference or from previous customers not treating the machines properly when washing their dog blankets.
If you do not have a washer dryer unit at home to wash your dog blanket on, there are other options than a laundromat. Professionals that launder horse blankets will often do dog blankets and bedding as well!
What Are The Best Washing Machines For Washing Dog Blankets At Home?
If you are looking to wash your dog blankets at home, most at home washers will do the trick. If you happen to be in the market to purchase a newer washer, one of the best for dog blankets is the Electrolux 4.4 Cu. Ft. Front load washer with Wave-Touch Controls. This machine has a built-in setting for pet beds and blankets. Additionally, the allergy setting on the machine can help ensure a full clean while remaining gentle.
Can You Wash A Dog Blanket Without A Washing Machine?
Yes! Some dog blankets will even specifically call for hand washing or dry cleaning only. In the instance of these blankets, they should not be washed in a washing machine and instead should be cleaned per tag instructions to prevent damage.
How To Clean A Washing Machine After Washing Dog Blankets?
After washing your dog's blankets, there may be some residual hair in the washer or possibly you just want to make sure it is extra cleaned before the next load. There are a couple different methods to do this.
One is to run the washer on an extra rinse cycle once it is empty. Another is to run the washer empty with a small amount of detergent. Lastly, some recommended running the washer on empty with a cup of vinegar. Whatever method you find that works the best should be the method you choose!
Can Wool Dog Blankets Be Washed (Are They Dry Clean Only)?
Wool dog blankets can be washed in a machine only if their instructions say it is okay. If the tag states the blanket is machine washable, one should follow the directions on the tag for temperature and setting. If no temperature or setting is specified, many washers have a wool setting where it can be washed in warm to hot water.
Resources
https://www.armandhammer.com/articles/how-to-wash-pet-bedding