Summertime is a great time for taking your pet to the nearby lake or pool to get in some refreshing water fun.
But what if your dog won't enjoy it? Do Shih Tzu know how to swim? Is it safe to participate in water activities with them?
Below are tips for everything you need to know about Shih Tzu swimming, to make sure summer is just as fun (and safe!) for your dog as it is for you.
Can Shih Tzu Swim?
While Shih Tzu are not bred for swimming and can be scared of it, it is definitely possible to teach them to enjoy swimming as long as you take the proper precautions. Being a short faced breed puts them at a distinct disadvantage when it comes to swimming.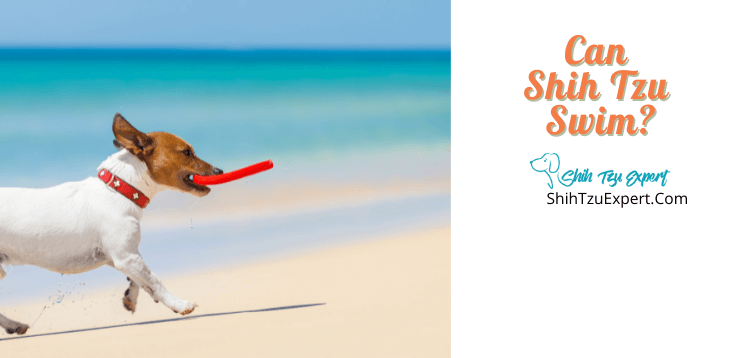 Do Shih Tzus Like To Swim? [Are They Good Swimmers?]
Shih Tzu is definitely not a breed that comes to mind when you think of excellent swimmers. In fact, they usually despise the water and prefer the dry land, partially because of how long it takes their long fur to dry out.
Shih Tzu are also poor swimmers because of the way their body is built. This also contributes to their dislike of swimming in general.
Because of this aversion to water, Shih Tzu can sometimes be hard to bathe.
Is It Safe For Flat-Faced Brachycephalic Dogs Like Shih Tzu To Swim? [Breathing Issues!]
Since these dogs have smaller chests, it can often be dangerous to let them swim too long. They tire quickly and their breathing cannot always keep up while swimming.
How Well Do Shih Tzus Swim?
Shih Tzu are not built or bred for swimming which makes it harder for them.
Because of their aversion to water, the way their body is built, and the capacity and make-up of their lungs, Shih Tzu do not swim well at all.
Can My Shih Tzu Swim?
Shih Tzu, like all dogs, have a natural instinct to swim. While they are not built for longer, more adventurous swimming episodes, they are perfectly able to swim when they need to.
How Old Should A Shih Tzu Be To Go Swimming?
The agreed-upon age for a puppy to begin learning to swim is two to five months old. However, since Shih Tzu are not as active swimmers and do not normally enjoy the water, it may be wiser to start them older so as not to traumatize them as puppies.
How Far Do Shih Tzu Swim?
The industry standard for full-grown Shih Tzu is a good half hour, although if your dog has built up his strength, he may be able to swim longer.
Never let your puppy swim for more than ten minutes at a time when he is learning to swim.
Can Shih Tzu Puppies Swim?
Shih Tzu puppies can swim. Like adults, they have a natural instinct to do so. However, your puppy will need to be trained to swim properly so as to build up stamina.
Puppies should never be allowed to swim for very long when starting out. They should always be supervised and never forced to swim if it scares them.
Do All Shih Tzu Mixed Breeds Swim [Can Maltese Shih Tzu Swim]?
Since all Shih Tzu have the same basic genetics and body build, they all have about the same capability for swimming.
The only breed that will have more trouble is the toy breed. Mixed breeds, such as Maltese Shih Tzu crosses, may have more or less trouble swimming depending on the breed that is crossed and any genetic manipulation that may have taken place.
Do Shih Tzu Swim Better Than Other Breeds?
Unless your Shih Tzu is a rare exception, Shih Tzu are one of the breeds known for their inability to swim as well as other breeds.
Larger dog breeds such as Labradors and Retrievers swim better than small companion breeds like Shih Tzu.
Can Shih Tzu Swim In The Pool?
Shih Tzu can swim in the pool as long as proper considerations are taken. One dog in the pool is equal to three people as far as debris and contamination of the pool goes, so the maintenance of your pool will be higher.
Your Shih Tzu must be watched when swimming, and not allowed to drink pool water. It is also a good practice to rinse them out after swimming and keep an eye out for any symptoms that suggest your dog may have ingested too much water.
Some signs of too much water ingestion include:
Lethargy
Vomiting
Pale Gums
Inability to stand
Can Shih Tzu Swim In The Lake?
Like any other water source, you can take your Shih Tzu swimming in the lake as long as precautions are taken.
If the lake has a lot of algae, be sure your dog doesn't swim in it too long or ingest it. It is also a good idea to have your Shih Tzu wear a doggy life vest so that if he is swimming in a deeper part of the lake, he will not sink if he gets tired.
Always watch your dog when swimming in a lake.
Can Shih Tzu Swim In The River?
While it is very possible for your Shih Tzu to swim in a river, it is recommended they stay close to shore when doing so.
Because these dogs are small and not the best swimmers, it is easy for them to get stuck in a current, even if it isn't a strong current. Their little bodies cannot fight currents and it would be carried away and possibly drowned.
Another thing to be careful of is temperature and algae, since both can be harmful to your dog.
Can Shih Tzu Swim In The Sea?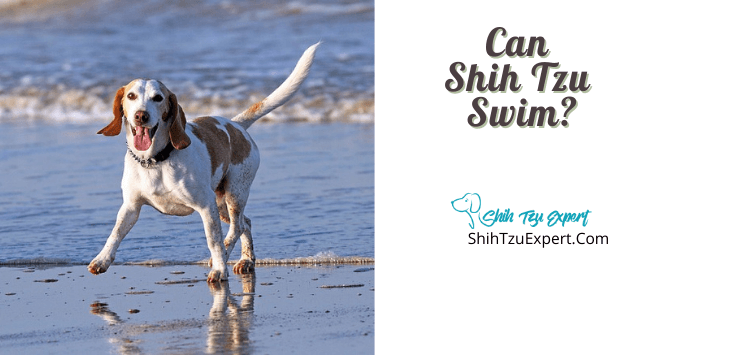 No matter if you're out on a boat or on the beach, always make sure your Shih Tzu has a doggy life vest on if he goes swimming. The ocean is full of dangerous, unseen currents that could pull your dog out to see very quickly.
Always be sure to take precautions when swimming in the ocean. Keep your dog away from rough waters and mind his body temperature if it is a cold ocean.
Keep a close eye on him to make sure he doesn't drink the water or encounter any ocean wildlife that might be harmful.
When he exits the water, watch for signs like vomiting, unusual scratching, or irritation. These could signal your dog came into contact with ocean wildlife or ingested too much salt water.
Can Shih Tzu Swim In Cold Water?
While your dog may be able to swim in cold water, it is extremely important to be aware of their body temperature.
Smaller breeds like Shih Tzu are more sensitive to cold water, so they require careful watching if they are swimming in cold water. If your dog has a health issue, this will also make it more dangerous to swim in cold water.
If the air is also cold this could pose an additional risk. The rule of thumb when trying to decide when to take your dog out of the water is this: If you feel cold, your Shih Tzu probably will, too.
How To Get Your Shih Tzu Into A Swimming Pool?
If your dog seems afraid of a swimming pool, it is usually easy to overcome his fear.
Since Shih Tzu are small breeds, the "step at a time" method is the best to use.
Take your dog on a leash and put him on step one.
Praise him with treats or scratches.
Practice the first step till he is comfortable, then move to the next step.
When the water is above his head, support him until he figures out how to swim on his own.
Are All Dogs Natural Swimmers Do They Always Know How To Swim?
Despite popular opinion, not all dogs are natural swimmers.
Some dogs were bred to be companions only, and know how to swim only if taught. These dogs will paddle if placed in the water, but this does not mean they will be able to hold themselves up in the water and swim.
As a general rule, make sure to teach them to swim instead of assuming they have the natural instinct to.
How Long Does It Take A Shih Tzu To Learn To Swim?
Since many Shih Tzu are afraid of the water, it may take your dog longer to learn how to swim, since you will have to add an extra step of getting them over their fear.
However, every pet is different, and will all have different adjustment times. Some dogs learn in days, others in months.
Make sure to allow your dog the time he needs instead of rushing him or giving up because it's taking too long.
How To Train Shih Tzus To Swim [Step-By-Step Drills That Are Safe, Quick & Easy]
Teaching Shih Tzu to swim is fairly simple, since they are highly intelligent and pick up on things quickly.
First, make sure your dog is used to the water. Using the "step at a time" method, make sure that he feels comfortable and happy in the water before introducing him to swimming.
After he is used to the water, use these steps to teach him to swim.
Pick a safe location.
Always use a life jacket or flotation device.
Train your Shih Tzu how to get into the water and get comfortable in the water.
Hold your Shih Tzu and support the weight and let him start swimming.
Train your Shih Tzu how to get out of the pool or lake safely.
Safety is always first. Find a quiet spot with no distractions that has warm water and warm weather. Try to keep your dog away from things like surfers, boats, jet skis, dangerous aquatic wildlife, lots of people, other dogs, excessively dirty water and deep or heavy surf and riptides.
Even if you're only teaching your dog to swim in your swimming pool, a life jacket is necessary, especially for later steps in the learning process.
When your dog is a better swimmer, you can take the jacket off, but make sure to do it progressively instead of all at once, which may scare your dog.
Use the "step at a time" method to get your dog used to the water before trying to get him to swim. This should be done before the swimming lessons, but reinforced before the first session.
It is also helpful to give your dog a command to go into the water, that way you won't have to coax him and use up valuable time.
When your dog is comfortable and used to the water, take him to the deeper part and hold his weight. It is likely he will start paddling instinctively. Try to get him to move forward or with more precision.
Also let your dog float in the water with his life vest to get him used to being unable to touch the ground with his feet.
When he seems to get the hang of it, get him paddling again and then let go and let him support his own weight. If he fails you may need to soothe him and start over. However, he may also be just fine and swim without any help.
When your dog has learned to swim, you have one more step.
This step is almost as important for the dog to learn as swimming itself, if not more so.
You must teach your dog to leave the water. One way to do this is to have someone stand on the beach and call his name. After this is done, you give a command like "Beach," and praise the dog when he starts swimming to shore.
This vital step ensures your dog will come back to shore in an emergency with just a command. Make sure to take extra time on this step to make sure your dog fully understands it.
Learn How To Perform Cardiopulmonary Resuscitation (CPR) For Dogs.
Sometimes, in cases of dry drowning or near drowning, or just in a general emergency, your dog may need immediate CPR.
Before you start performing CPR, check for breathing and a heartbeat. If you cannot find either, begin with chest compressions immediately.
Chest Compressions:
Place the heel of your hand over the dog's heart and place your other hand on top.
Push hard and fast at a rate of 100 to 120 compressions per minute. Make sure the chest recoils fully before compressing again.
Perform 30 chest compressions.
Next, give your pet rescue breaths.
Close the dog's mouth and extend the neck to open the airway.
Cover his nose with your mouth and exhale until you see the chest rise.
Give two rescue breaths.
Continue CPR as needed. Give 30 chest compressions and 2 rescue breaths until your dog begins breathing on its own. Check for the breath and the heartbeat quickly every two minutes.
While you are performing CPR, have someone drive you to the nearest vet clinic to get help.
Keep An Eye On Your Shih Tzu At All Times! & Never Leave Alone In The Water [Especially In Open Water!].
No matter where you and your dog are swimming, always watch your Shih Tzu at all times! Never leave him alone in the water, even if only for a few minutes, especially in open water.
Drowning can happen very quickly, especially for small dogs like Shih Tzu that cannot swim for very long.
Always Keep An Eye Out For Any Developing Dangers In The Water [Nasty Sea Creatures, People, Boats..].
One of the biggest things to watch out for in any swimming spot, the ocean especially, is developing dangers. Always be quick to spot something that might cause a problem, such as sea creatures, boats or suspicious people.
Never let a stranger take your dog swimming or watch your dog while you are out of the water.
If you see a sea creature approaching, get your dog and yourself out of the water immediately.
If a boat looks like it is heading in your direction, move to a safer location away from its path.
Do Not Let Your Shih Tzu Drink Pool Water [Chlorine!] Or Seawater [Salt!].
There are many dangers involved with letting your dog drink swimming water. If you are going to be away from home for several hours with no fresh water available, bring your own.
Never let your dog drink ocean water, because of the increased amounts of salt. Never let it drink pool water because of chlorine, even if the pool supposedly is 'chlorine-free.'
Your dog can drink from streams, but there is a chance of parasites and diseases. Never let your dog drink from stagnant, algae-covered ponds or lakes.
After The Swim Bathe Your Shih Tzu In Clean Water.
Whenever you finish swimming with your dog, it is wise to rinse him off in clean, fresh water, like you would do to yourself.
This procedure removes any leftover bacteria and gives you the chance to look your dog over for bugs, skin irritation, and other problems that might not have been noticed earlier.
It also leaves your dog feeling fresh and happy, which helps with bonding him to you.
Never Throw Or Force The Shih Tzu Into The Water!
Even if your dog is an excellent swimmer and loves the water, never throw him into any body of water!
This can frighten him unnecessarily, or even drown him if he doesn't know how to get his head above water quickly.
Some people believe it is okay to throw your dog in the water if he has a doggy life vest on. However, this can still be dangerous. Remember, it is always better to be safe rather than sorry!
Keep The Training Nice & Easy Never Try To Increase the Pace or Force.
Even if you do not follow our steps completely, it is never a good idea to try to increase the pace or force before your dog is ready, no matter what training device you use.
If you force your dog or increase the pace too quickly, this can result in a bad case of mistrust, which makes it even harder to train your dog to swim. You may even have to start all over again.
How To Increase The Safety Of Your Shih Tzu In Water?
The three most important things you can do to increase the safety of your Shih Tzu in the water are these.
Always watch your dog and keep a close eye out for dangers or distress.
Make sure the dog knows how to swim and wears a reliable flotation device or life vest.
Be careful to check the dog all over after swimming to make sure he isn't affected badly in any way.
If you follow those three steps, swimming with your dog will be a rewarding and enjoyable experience!
What Are The Best Training Aids And Flotation Devices For A Shih Tzu?
The best tool you can use to teach your dog to swim is a life vest. When your Shih Tzu realizes that the vest keeps him safe, it will amp up his confidence by a great margin.
Another great tool is water dog toys. These have floating abilities, good grip, and colorful designs. These tools are great for teaching your dog to not only be confident in the water but enjoy it as well.
Do Shih Tzu Need A Swimsuit?
While your Shih Tzu doesn't necessarily need a swimsuit, it can often make water play more fun, not to mention your dog will look extra cute!
One possible benefit of some dog swimsuits can be the fact they keep your dog's long fur out of the way, allowing a longer swimming period and delaying the soaking of the coat, which can be heavy and uncomfortable.
Shih Tzu Swimming Ears.
A common side effect of swimming can be an ear inflammation problem called "Swimmer's Ear."
Similar to Swimmer's Ear in humans, this condition is caused by moisture remaining in a dog's ears after swimming, causing bacteria growth. This is most often seen in the summer months, especially when the dog plays in lakes, ponds, or pools.
Is Salt Water (Sea, Pool) Dangerous For A Dog?
Salt water can be lethal to dogs if you are not careful.
If your dog ingests too much salt water, it can cause dehydration and salt water poisoning, a dangerous condition that can kill your dog very quickly if not treated right.
Sometimes, a dog can get salt water poisoning even if it hasn't drunk any. This is why it is important not to let your dog in the water too much at one time and check him very thoroughly.
Is Chlorinated Water (Pool) Dangerous For A Dog?
Although chlorinated water is not usually dangerous for dogs, if large amounts are ingested, it can cause esophagus erosion and inflammatory problems.
If a pool has a good chlorine balance, you shouldn't have to worry too much about your dog ingesting pool water, as long as it isn't his primary water source.
If your pool has too much chlorine, then poisoning is more likely. If your pool has too little chlorine, then bacteria and algae can grow, and sometimes be more dangerous than chlorine.
If your pool has a chemical imbalance, keep your dog away from it until you fix the problem.
Can Dogs Breathe Underwater?
While dogs are unable to breathe underwater like other animals, they have an instinctive Mammalian Diving Response, which will prevent them from breathing underwater for a certain period of time.
Never assume this response will last long. Always be aware of the danger of drowning.
How Long Can A Dog Hold Their Breath And Stay Under Water?
The length of time a dog can hold its breath depends greatly on the strength and capacity of the lungs.
For instance, your Shih Tzu will be unable to hold its breath as long as a larger dog like a Labrador.
This is not a huge worry if you watch your dog while swimming that way if it does go under, you can rescue it before it drowns.
Can Shih Tzus With Long Hair Swim?
One of the most recognizable cuts of a Shih Tzu is the long haired cut. While this cut is adorable and beautiful, it can cause problems while swimming.
Since Shih Tzu have a thick, double coat, it gets very heavy when wet. This can be worse for long-haired Shih Tzu, which means that they may have a harder time swimming.
Why Is My Dog Scared Of The Pool?
There are many reasons your dog might be scared of the pool.
If he is a puppy, it is probably a fear rooted in the strangeness of water and how different it feels. If it's an older dog, it could be because of a traumatic experience in the water. It is also possible the dog was forced to swim before it was ready, causing the dog to lose trust in people training it to swim.
Don't despair. It is possible to work a dog past its fear. It will take time and patience, but will be well worth the effort!
Why Do Some Dog Breeds Hate Water?
Since some dogs, like Shih Tzu, aren't built for the water, they may sense a danger around water that they want to avoid. However, in most breeds like this, the only reason for their fear is lack of exposure, since most are kept as companion dogs and rarely taken swimming.
No matter your breed, you can overcome its fear and take it swimming, enjoying a relaxing summer.
References
https://www.rover.com/blog/dog-breeds-dont-like-water-swimming-in/
https://www.preventivevet.com/dogs/swimming-safety-rivers-lakes-oceans