Something you may have never heard of before, blueberry facials for dogs! Blueberries can help decrease tear stain appearances on dogs, and also help brighten their coat.
Do Blueberries Help With Dog Tear Stains
Tear stains happen to many dogs. Whether it be due to blocked tear ducts, to something more complex like an eye infection. There are so many products and things you can use to get rid of tear stains. Blueberries, being an amazing source of all kinds of vitamins and antioxidants, are one of those great sources! Making blueberry facials is an excellent way to treat your dog to something nice while also giving them all the healthy benefits of blueberry.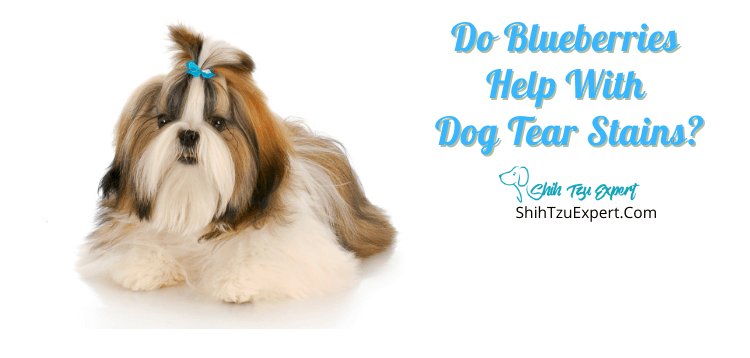 Should My Dog Have A Blueberry Facial?
Blueberries are 100% safe for dogs. They are hypoallergenic and have numerous health benefits for dogs. There is no reason why you shouldn't give your dog a blueberry facial!
What Is A Blueberry Facial For A Dog?
A blueberry facial is a special shampoo derived from blueberries. Simply apply the shampoo around the dogs head and gently rub in the mixture with water, giving them a sort of face and head massage. Blueberry facials are an excellent way to get rid of tear stains, while also providing an aromatherapy spa session for your pup.
How Does It Help?
Blueberry facials are calming and relaxing. They also will get rid of those pesky tear stains and brighten your dogs coat! Blueberries are hypoallergenic and packed full of vitamins A, D, and E, which help protect your pet from any itchiness and irritants.
Not only does it have health benefits, it's also just a nice relaxing time you can provide for your dog.
Simple Way To Make A Blueberry Facial For Your Pup (Diy Recipe)
Looking to make your own blueberry facial? There are a few recipes you can follow. This one is my favorite.
½ of fresh blueberries
2 tablespoons coconut oil
1 tablespoon of raw organic honey
1 tsp sugar (optional)
This recipe is safe for humans too! So you can enjoy a spa day with your pet.
Most Popular Products On The Market For Blueberry Facials
There are so many amazing products on the market for dog blueberry facials. Here is a list of the most popular products to choose from.
South Barks 3 in 1 Blueberry Facial and Shampoo
TropiClean SPA Tear Stain Remover
Bark 2 Basics Face Furst Dog Shampoo
Lillian Ruff Berry Blue Brightening Face Wash for Dogs
My Favorite Products For Blueberry Facials
The best option, in my opinion, for a dog facial wash is. to make your own! So you know you're using the best products for your dog and you know what's going into it.
Otherwise, I always recommend going for an organic product, as to not put any harmful chemicals on your dog. South Barks is your best option for an organic facial wash. I also enjoy the brand Nature's Specialities Screamin' Blueberry Facial Wash for Dogs.
Is It Safe For Dogs To Eat Blueberries?
In short, yes! It's absolutely safe for dogs to eat blueberries. Blueberries are considered a superfood, packed full of rich nutrients and antioxidants which can prevent cell damage and provide vitamins for both you and your dogs!
How Many Blueberries Can A Dog Safely Eat A Day?
They always say "too much of a good thing can be bad". While blueberries are an excellent source of vitamins for your dog, it's important to know how much of a good amount of blueberries to give your dog. For a small dog, 10 blueberries a day is a safe amount. This is considered 10% of their diet and an occasional treat. Larger breeds can tolerate more, but remember to keep it at 10% of their diet.
What Happens If A Dog Eats More Than The Recommended Amount Of Blueberries?
Blueberries are a healthy treat, but too many can cause health problems in dogs. If a dog ingests too many blueberries can result in an upset stomach, vomiting, and diarrhea. Blueberries also contain a lot of sugar and eating too much overtime can cause cavities.
Are There Clinically Proven Benefits Of Blueberries For Dogs? Or Is This Just Another Superfood Fad For Dogs?
Blueberries have been scientifically proven to be an essential and extremely beneficial food for the bodies overall health. This goes for dogs body as well. The amount of data there is on the vitamins, minerals and antioxidants in blueberries is extensive and completes a human and dog diet. Blueberries are a superfood, but they aren't a fad, they're for rea.
Are Blueberries Good For A Dog's Eyes?
Blueberries are considered to be one of the best foods around to support eye health in dogs. This is because blueberries contain important vitamins for eye health including:
Carotenoids
Phytonutrients
Zinc
Selenium
What Is In Blueberries That Is Good For Dogs?
Blueberries contain some extremely health beneficial things. First, they are hypoallergenic, so they are great for any dog! They are packed full of antioxidants and phytoflavinoids, which means they are packed with many vitamins. Blueberries are high in potassium, fiber, folate and vitamins A, C, D and E.
Why Are Blueberries Added To Some Dog Food?
Blueberries are a great addition to any dogs diet. Antioxidants are an important part of a dogs diet, just like humans. So making sure they have a well rounded food is important.
Blueberry Treats For Dogs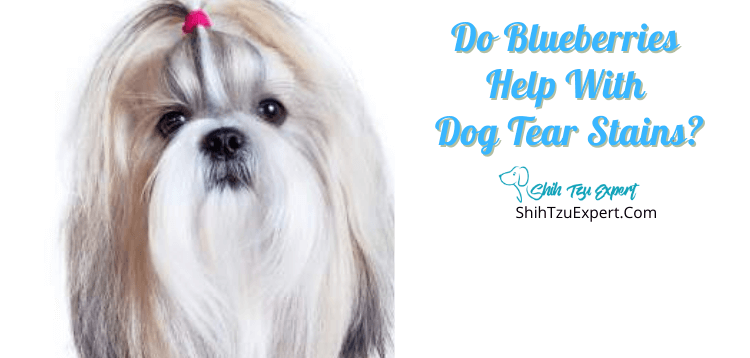 Blueberry treats are another great way to ensure your dog gets all the healthy benefits of the super fruit! Treats can have a slightly higher sugar content, so make sure to not overdo it when giving your dogs treats. It's just like any human eating dessert. Treats should be only 10% of a dogs diet and given only as an occasional treat.
Are Shih Tzu More Likely To Have Tear Stains Than Other Breeds?
Shih Tzus are more susceptible to get irritants and eye infections, which will cause more tear stains. Small breeds, like Shih Tzus, have tiny hairs around the inner eyelid that wick away moisture and tears, therefore creating more tear stains.
What Causes Tear Stains In A Shih Tzu (Or Other Dogs)?
There are a handful of reasons why Shih Tzus have more tear stains than other breeds of dog.
Genetics
Diet
Ear Infections and Disease
Eye Infections
Allergies
Are Tear Stains A Sign Of Health Issues?
Tear stains may not always mean there is a health problem. They are essentially the result of a dog producing too many tears or not having the ability to drain tears normally. This problem can be cleared up on its own. However, sometimes it means there is something bigger happening. If the problem doesn't fix itself, it can mean your dog has an
Eye infection
Conjunctivitis
Ingrown eyelashes
Blocked tear ducts
Ear infection
Allergies or poor diet
Stress
Teething (in puppies)
How Do Vets Treat Tear Stains?
Take your dog to the vet if the tear stain persists. The vet will often prescribe drops or an ointment for the eye to treat any infection and help with any discomfort. In extreme cases, your vet may prescribe an antihistamine or an antibiotic if there is any sign of infection.
What Else Helps Remove Dog Tear Stains Naturally?
You can try naturally removing dog tear stains. You can mix peroxide with water and carefully dab around your pets eye (careful to not get any in the eye!) and then rinse with warm water. You can also try this with apple cider vinegar. Try a blueberry facial to get rid of any stain as well. There are also many tear stain remover products out on the market that may work for you.
Does Apple Cider Vinegar Help Dog Tear Stains?
Apple cider vinegar can be an excellent source when getting rid of tear stains. Apple cider vinegar is great at changing the pH in the skin. It can also help prevent any infections or yeast problems that may be wanting to kick off.
Does Yogurt Help Dog Tear Stains?
Yogurt isn't really proven to work in getting rid of tear stains. However, your dog may need more probiotics or a change in their diet. Yogurt is a great source of healthy probiotics good for any dog and human! Mix one tablespoon into your dogs food a day and it may start making a difference.
How Do You Get Rid Of Tear Stains On A Dog Fast?
If for any reason you need to quickly get rid of tear stains, you can try washing the area with warm water and a saline solution. You can also use a peroxide or an apple cider vinegar mixture. If the problem persists, you can try a tear stain remover that you purchase at any pet store.
Recommendations For Commercial Tear Stain Remover [Are They Safe]?
Commercial tear stain removers can be a safe option for your dog. I always recommend using an all natural brand to ensure you're using the best ingredients for your dog. A few of the best ingredients are:
Burt's Bees Tear Stain Remover
NaturVet Tear Stain Supplement (and NaturVet Tear Stain topical ointment)
Natural Sapport: The Only Eye Tear Stain Remover
All of these are qualified organic brands and are known to be safe and a good product for dogs!