Some dogs have a serious fear of toaster ovens which can cause dogs to behave abnormally and lead to high anxiety and stress. Dog owners should determine and eliminate the cause of their dog's fear so their dog can live a healthy, happy life.
Dog Afraid Of Toaster Oven?
Dogs are sometimes scared of toaster ovens. It may sound odd, but there are a few reasons for this fear. Loud noises, scary smells, and previous negative associations with toaster ovens all may contribute to the fear that some dogs have for these appliances.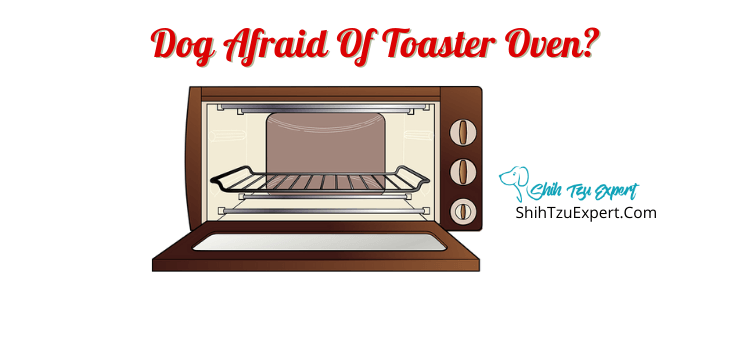 Why Is My Dog Scared Of The Toaster Oven?
It is unclear why some dogs are afraid of toaster ovens or other household appliances. What is clear is that this fear commonly occurs in dogs everywhere. Some reasons for this fearful behavior could be related to noises, smells, or memories associated with the toaster oven.
Toaster ovens may make a sound or sounds that humans cannot hear, but dogs can. Dogs can hear different frequencies of sound than humans, and those sounds might be loud and scary. Many dogs have a noise phobia and thus are afraid of toaster ovens that make loud noises.
An unpleasant or scary smell may come from the oven when it is turned on. Dogs have a much better sense of smell than humans and may be able to detect unpleasant smells that humans cannot. Some bad smells may be scary to a dog, causing them to be afraid of the toaster oven.
The dog associates a negative experience with the toaster oven and is now scared of it. For example, dogs that are scared of loud noises may have heard a smoke alarm go off while something was cooking in the toaster oven, causing the dog to associate the toaster oven with a scary and loud noise.
It may not always be easy to determine the reasons for a dog's fear of a toaster oven. However, it is important to understand that the fear is there and to help the dog feel better in an appropriate, non-traumatizing manner.
My Dog Shakes When I Cook In The Toaster Oven?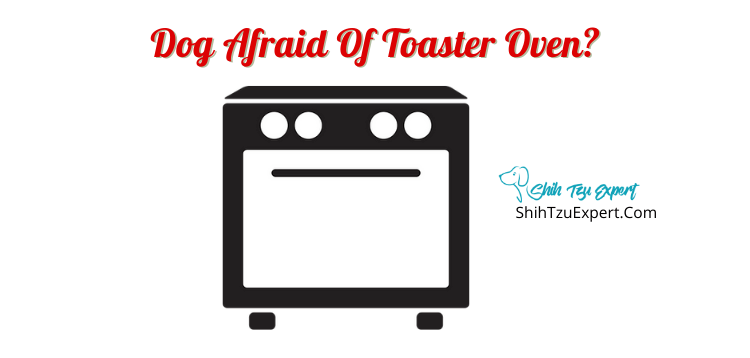 If your dog shakes when you cook in the toaster oven, it could be a sign that your dog is very scared. Scared dogs sometimes react to their fear by shaking or trembling uncontrollably. This shaking may be a symptom of stress or anxiety in your dog.
Always remember that highly stressed or anxious dogs may not behave normally.
Sometimes, dogs become aggressive when their fight-or-flight response is in charge of their behavior. A dog owner who tries to calm their dog down during this time by cuddling with it may cause their dog to fight because their ability for flight, or running away, has been taken away.
Shaking in dogs can also be a sign of excitement. If your dog associates something good or happy with the toaster oven, like a piece of human food, the dog may shake in excitement. This type of excited shaking is perfectly normal.
If your house is kept at a cool temperature, some dogs, particularly those breeds without a thick coat of fur, may get cold. If a dog owner does not think their dog is excited or scared, the shaking could just be a sign that the dog is cold.
In addition, as a dog ages, their old bodies tend to break down a little at a time. Sometimes dogs will tremble as they move around. This is especially true if the dog is in pain from arthritis or their nervous system is deteriorating.
If old age might be the cause of your dog shaking, it is important to get your dog checked out by a vet.
Dogs sometimes eat things they should not, especially in the kitchen. If a dog owner thinks their dog may have eaten something they should not have, symptoms of a potential poisoning could include shaking or tremors. This often indicates the dog is having an allergic reaction to something.
Additionally, some illnesses or medical conditions cause dogs to shake and it may have little to do with cooking in a toaster oven. The shaking may not occur all of the time, but note when it does happen. Also, take note of any additional symptoms that your dog may have.
Limping, diarrhea, and vomiting associated with shaking may indicate poisoning or other serious medical issue and your vet should be called immediately.
Best Toaster Oven For A Household With A Dog?
The noisier a toaster oven is, the more likely it will scare a dog. With that in mind, buying a quiet, almost silent toaster oven may be the best option for a household with a dog. Luckily for dog owners, several quiet toaster ovens are available on the market.
According to online reviews, the Breville Smart Silent Toaster Oven is the highest-rated of the silent toaster ovens. It can also roast, air fry, and dehydrate foods, so it reduces the number of appliances needed in a dog owner's kitchen. It has an extra-large capacity to cook a lot of food at once and has 13 different options for cooking.
The Instant Pot Omni Plus Toaster Oven has the second-highest rating of the silent toaster ovens on the market. This appliance can also replace other kitchen appliances that may be noisy, such as air fryers and dehydrators.
Of all of the silent toaster ovens, one of the quietest is the Ninja SP101 Foodi Quiet Toaster Oven. This toaster oven has the third-highest rating and also the best value although its capacity for cooking is smaller than the above toaster ovens. While it does not replace other kitchen appliances, it is known to cook faster than many other toaster ovens on the market.
The quietest toaster oven on the market may be the Cuisinart TOA-60 Convection Toaster Oven Airfryer. This oven has the fourth-highest rating based on online reviews. This toaster oven cooks quickly and has the added benefit of also being an air fryer, thereby replacing another potentially noisy kitchen appliance.
Other silent toaster ovens can be found on the market. But dog owners looking for a silent toaster oven to keep their dogs from being traumatized every time the toaster oven is used may find one of the toaster ovens listed above to be very helpful.
What Is It About A Toaster Oven That Scares A Dog? Noise? Heat? Smoke?
According to experts, it is unclear why toaster ovens scare dogs. However, there are a few theories as to why dogs are fearful of these appliances. It may be that different dogs have different reasons for their fear of toaster ovens.
One theory for why dogs may be afraid of toaster ovens could be that the toaster oven is noisy. Some toaster ovens make noises during the operation. As a result, some manufacturers have created silent toaster ovens.
Toaster ovens make loud beeping noises. Dogs have sensitive hearing and the noises made by toaster ovens may be very irritating to their keen senses. The toaster oven may also make noises that cannot be heard by humans.
Finding out if noises outside of the human-hearing range are responsible for your dog's fear of toaster ovens may be tricky to determine.
Noise phobias in dogs are common occurrences, particularly for noises that are very loud and/or sudden. If the toaster oven has an especially noisy timer, that may be all it takes to scare a dog with a noise phobia.
Once a dog with a noise phobia is scared by the loud timer of a toaster oven, they may always be scared of that appliance.
Toaster ovens may also give off odors that are unpleasant to dogs. Dogs hate certain smells such as citrus, vinegar, alcohol, and chili peppers. If dog owners are cooking any of these items in the toaster oven, it may be enough to scare their dogs.
Another theory as to why dogs are scared of the toaster oven may be because the dog associates something bad with that appliance. Sometimes, these negative associations may be completely random, having nothing to do with the toaster oven.
Once the dog has been scared by something related to the toaster oven, they will likely always be scared of the appliance unless the owner attempts to desensitize their dog.
One negative association that dogs may have could occur through pain. Dogs sometimes want to investigate delicious smells. However, if a dog got too close to the toaster oven and was burned, it may associate the oven with pain and be scared of it in the future.
Another negative association could be through fire. Dogs that have learned to be fearful of fire may associate smoke with fire. As a result, toaster ovens that release any kind of smoke may cause dogs to be fearful because they associate smoke with fire.
The potential reasons for a dog's fear of toaster ovens can be highly variable and difficult to determine. However, for the mental health of your dog, it is important to try to find out the causes behind your dog's fears.
Why Does My Dog Freak Out When I Turn On The Toaster Oven?
Dogs that freak out are typically afraid of something. A toaster oven is a common kitchen appliance that has been known to cause fear in some dogs. If your dog freaks out when you turn on your toaster oven, your dog may be afraid of it.
Fearful dogs can react with abnormal behavior. When dogs are afraid, they may become aggressive and react badly to any intervention from their owner. As a result, it is always a good idea to remain calm when your dog is afraid.
What Do You Do When Your Dog Is Afraid Of Toaster Oven?
Dog owners should attempt to determine what about the toaster oven is causing their dog's fear. If they cannot find out the cause of the fear, however, owners do have a few options available to try to deal with that fear.
If an owner suspects their dog is afraid of the sound of the toaster oven, purchasing a silent toaster oven may be a good solution.
If the dog is likely afraid of some of the foods being cooked in the toaster oven, relocating the dog while cooking those specific foods may be the best option.
If the reason for the fear is because of a negative association, retraining the dog using the following steps may be necessary.

Start by bringing the dog as close to the oven as possible before it's afraid and feed it a treat.
Continue to feed the dog treats, as you get closer to the oven.
Repeat that method as often as possible for as many days as it takes for the dog to associate getting treats while the toaster oven is on.
Regardless of the reason behind your dog's fear of toaster ovens, it is important to get rid of that fear as soon as possible. Fearful dogs are often anxious and stressed. This can lead to bad behavior or medical issues.
It is important to manage your dog's fears and help desensitize them from their fears so that your dog can live its best life. The less fear a dog experiences in its life, the happier that dog will be. Happy dogs typically live longer, healthier lives.
Convection Oven Vs Toaster Oven
Toaster ovens can either be convection or non-convection ovens. There are advantages and disadvantages to having a convection toaster oven versus a non-convection toaster oven. The preferred type of toaster oven for a home depends on the intended uses of the appliance.
A convection toaster oven uses a fan to distribute heat evenly throughout and typically requires less time to heat up than non-convection ovens. For this reason, the food cooks more evenly and rapidly. This type of oven is good for cooking pastries. However, this type of oven can be expensive.
Non-convection toaster ovens use radiant heat to cook food. This oven cooks toast well and is great at reheating leftovers. It does tend to generate some hot spots while cooking and foods may be unevenly cooked as a result. This type of oven is usually less expensive than convection ovens.
When searching for a toaster oven, shoppers need to know their budget and the types of foods they will be cooking. It is important to be prepared with that information so that the consumer can get exactly what they need.
References