Dogs can be anxious creatures. Sometimes their fears seem irrational to us. Dogs being afraid of fans is more common than you'd think.
Why Are Dogs Scared Of fans?
This fear comes from a place of curiosity and not understanding what this strange object is. The sound, although not loud enough to harm their ears, is a part of the fan that bothers them the most. Also the movement of a fan might look like a predatory bird to a dog! It is important to use positive reinforcement training and desensitization training to help a dog understand the fan and get over their fear.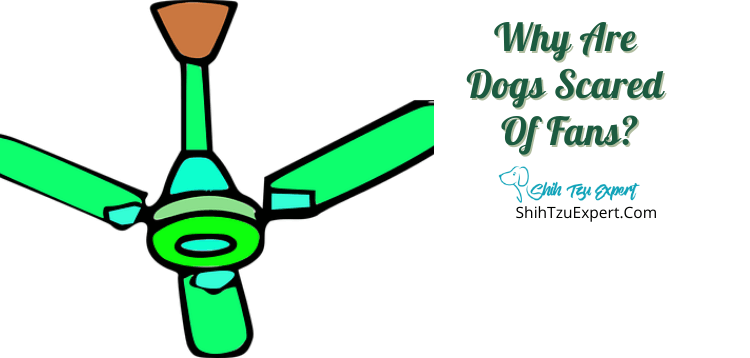 Are fans too loud for dogs (how loud is too loud)?
When thinking about dogs and things that may seem loud to them, fans often come up. We question, are fans too loud for dogs? Now, your normal everyday ceiling fan or box fan is about 60-70 db. This is not very loud on any given spectrum. For something to be considered "too loud" or painful to dogs, it would have to be over 140 db.
Dog barking at the fan?
Many dogs often develop noise phobia or a fear of certain noises. Noise phobia can develop at any time and at any age with a variety of things. Thunder, fireworks, motorcycles, and instruments are among the most common of noise phobias. Fans can be a common one. One of the things dogs will do when they feel fear from the noise a fan gives off, is bark, whine, hide, shake, pant, pee themselves, and maybe even try to attack the fan.
Why does my dog stare at the ceiling fan?
You may notice your dog staring at your ceiling fan. While it can be cute, it's often a mystery. There are a number of reasons as to why your dog is staring at the ceiling fan.
Just to stare at the fan

An easy enough answer. Dogs are very curious animals and something that is rotating so far up on the ceiling is possibly very intriguing to them.

Noticing something

When fans are turned on they kick up a lot of dust, or bugs and change things around. Your dog may be seeing something new for the first time and is inspecting it.

Boredom

A very human trait, but it happens in animals too. They get bored! What else to do but sit and watch the ceiling fan on a dull day?

Noises

Like we've discussed, dogs are very curious animals. Ceiling fans, though not loud, do exude a small amount of noise. While dogs can hear much better than us, that noise could be slightly more prominent and they're listening to the ceiling fan.
It is a very normal thing for your dog to watch the ceiling fan and never usually a sign of something wrong. The only times there is something wrong is if they are clearly showing signs of anxiety/fear towards the fan.
Why is my Dog suddenly afraid of the ceiling fan?
If all of the sudden your dog is afraid of the ceiling fan, that means they've just developed a noise phobia! There is no real reason or answer to this phobia, it simply just happens. 40% of dogs who seem to suddenly develop fears, also have other kinds of anxiety problems.
Are Dogs Scared Of All Flying Objects Or Just fans?
There is a wide range of flying objects and your dog may be scared of all of them or none of them!
Why Do Dogs 'Freak Out' When They See fans?
Your dog may "freak out" or panic when they see a fan. If your dog has a preexisting fear of fans, every time he/she sees a fan, it will trigger their fear causing them to panic.
How Do I Train My Dog To Not Be Afraid Of The ceiling fan?
There are a few things we can do as pet owners to try and "train" the fear of fans out of dogs.
Positive Reinforcement

Have a fan going around your dog. They may start to show fear. At this point, begin to give them small treats and pets and tell them they are okay.

Manually Spin the Fan

By doing this, it shows the dog that you are not being harmed. Make sure you talk to your dog while doing this.

Desensitization

Start the fan on low with your dog around. Use treats if they appear uncomfortable. Gradually turn the fan up higher and higher. Stop immediately the second they get very scared. Repeat process.

Remove the Fan

If training exercises aren't working and your dog is continuously scared of fans, it's best to remove the fan to a different room, or remove the dog from the room with the fan.
How do I stop my dog from being scared of the fan every single night?
If you have tried various different trainings, such as positive reinforcement, or desensitization, and your dog is still frightful of the fan, it's best to just remove the fan from your room or remove your dog from the room with the fan.
What Not To Do With A Dog Who Is Afraid Of fans?
If your dog is scared of fans, you want to be mindful of his or her feelings. Don't keep the fan running or keep the dog in the same room with the fan. Don't use the fan as a punishment or form of discipline. Doing these things will only instill the fear deeper in the dog, making the situation much worse and potentially dangerous. It is considered cruel to continue doing something that we consciously know is hurting them.
Should You Comfort A Dog Scared Of fans?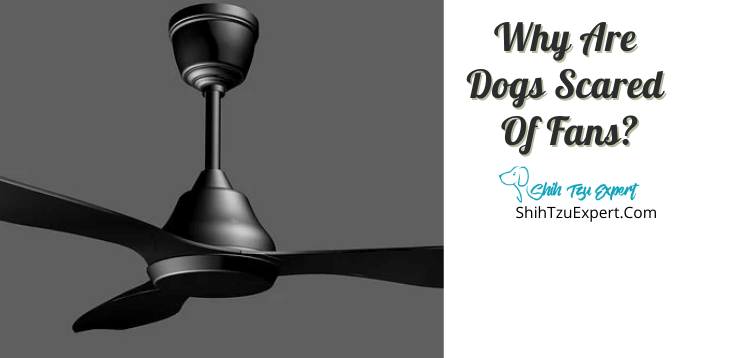 You should not continue letting your dog be fearful of fans, when there is nothing to worry about. It is important to comfort them when they are feeling scared, not only around fans but all things they fear. Comfort them with positive reinforcement and show them fans are not something to be scared of. Remove the fan, or the dog, if they continue to show fear.
What Exactly About Fans Is My Dog Scared Of (The Look? Noise? Sounds? Vibrations? smell?)
There are a handful of specific reasons why your dog may fear the fan itself. The first and most obvious reason would be the sound of the fan. While fans are quiet and don't hit a high enough decibel to be too loud for dogs, the sound may still be different enough to scare them.
The next reason we like to think about is the look of the fan. Both ceiling fans and box fans have a distinguished look, nothing else looks like that and combined with the sound it creates is cause for alarm to many dogs. They've never seen anything like it! It is a complete alien looking appliance to a dog.
Lastly, we ponder the smell. Fans pick up a lot of different things in their air flow. Smells from around the house or from outside. Smells that maybe we don't even notice. Dogs have a very keen sense of smell and pick up on pretty much everything going on in the air. If the fan were to pick up a smell that a dog found to be alarming, it may think the fan is producing that smell and therefore being scared or alarmed of the fan.
Puppy Terrified Of fans?
Puppies are often more fearful than older dogs. This is because they are still learning and figuring out the world and what is dangerous and what is safe. Puppies seeing fans for the first time may be startled by them because they have no clue what the object is and see it as a threat. The good thing is, it's easier to train a puppy to get over the fear than it is an older dog. Hop on the positive reinforcement training as quickly as possible with the puppy and rid them of that fear!
My Dog Is Getting An Increasingly Severe Fear Of fans?
You may notice your dogs fear of fans getting increasingly worse over time. This will happen if the issue is not resolved. Like many creatures, humans and dogs included, fear will often present itself in waves and get worse with time as the fear grows. If you observe your dogs fear towards fans getting worse, it's important to take action before it becomes something that can not be fixed.
Are Fans Dangerous To Dogs?
Fans are not generally dangerous to dogs. It is fine to leave fans around dogs. The only time it becomes a dangerous problem is if your dog has a deep fear of fans and you continue to let it go on.
Can and Do Dogs Destroy fans?
Dogs will often attack and destroy things they don't like or that cause them anxiety. Most dogs obviously can't reach a ceiling fan, so there's no reason to worry about that. Though you may notice your dog trying to jump and bite the ceiling fan. If your dog is afraid of your normal box fan, they may try to destroy it by biting it or jumping on it. Fans are pretty rigid though with hard plastics, so your dog may not be able to destroy it and actually may hurt itself instead. Don't let your dog attack your fan. Put it somewhere where your dog can't get to it.
Dog Afraid of Oven Fan!
Oven fans are typically a bit louder than normal ceiling or box fans. Your dog may be afraid of just your oven fan because it is startling and louder to them than other fans.
Do dogs like fans on them?
Some dogs love fans! For the same reasons people like fans, dogs can like them too. If it is hot, fans provide a cooling breeze that some dogs love. Some dogs also enjoy the white noise as a distraction from other noises.
Is it wrong for me to leave on the fan for my dog while I'm at work/away?
If your dog is not afraid of fans, then it's completely fine to leave your fan on while you are away from home. Some dogs even enjoy fans and the white noise. However, if your dog is afraid of fans, then don't want to leave the fan on while you are away and it will cause your dog extreme anxiety.
References
https://www.ncbi.nlm.nih.gov/pmc/articles/PMC6336819/
https://www.ncbi.nlm.nih.gov/pmc/articles/PMC1255471/