Dogs are very vocal animals. Sometimes your dog may even be appearing so be howling along with your musical instruments, like violins! Are they actually singing along or do their howls mean something more?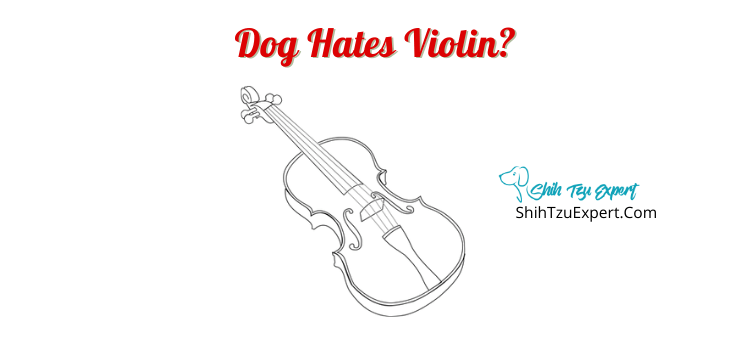 Why Does My Dog Vocalize / Howl/Bark/Whine/Cry When I Play My Violin?
When your dog barks, howls, maybe even whines when you play your violin it basically comes down to their ancestral instincts. Dogs have an excellent sense of pitch and when violins or other music is being played, your dog will want to communicate with the pitch they hear. Dogs use their howls to communicate with one another, or even assert dominance. Your dog may not even know why he/she is barking; it is just buried in their genetic code!
Does My Dog Howl When I Play The Violin Because It Hates The Noise?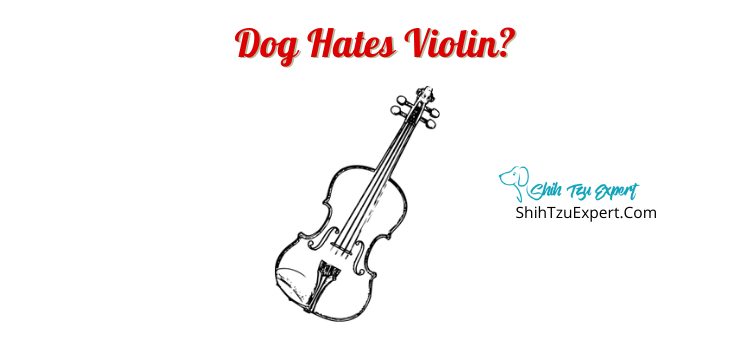 It's not completely known if dogs hate certain instruments or types of music. Though there is some research out there showing that dogs feel more calm when they hear classical music. Most likely, your dog is howling when you play the violin because they are trying to match the pitch, not because they hate the noise.
Why Does My Dog Cry When I Play My Violin?
Dogs have a natural instinct in them to match pitches they hear, especially pitches from string or reed instruments. Science has shown us that wolves in the wild, when joined a group, each wolf will have a different pitch. They change their pitches to match one another's. They join in with violins because the notes can be held for a while.
Does The Violin Bother Dogs?
Violin music doesn't bother dogs at all! In fact just the opposite. It makes them feel calm, secure almost.
Does My Dog Hate My Music?
Depending on what music you're playing, your dog may love it or hate it. Science has shown us that when heavy metal or rock music is playing, dogs tend to become more agitated and bark. When classical or string music is playing, dogs tend to be more calm and howl.
Watching their behavior when you're playing certain music will tell you if they hate it or not. Remember, if the music is too loud your dog will leave the room or start covering their ears.
Do Some Dogs Enjoy Music?
Some dogs do show signs of enjoying music! It is possible. They can hear just like us, even better in some ways. So when they hear pitches from certain songs or instruments they could find one that they really enjoy.
Do Dogs Hate Harmonicas?
Harmonicas have been known to set dogs off. You may think it's because they hate the sound, but actually they are tapping into their natural instincts! Harmonicas have a higher frequency and dogs can hear that really well. When wolves would hear a high pitched noise like that in the wild, they would begin to howl to warn other wolves of what was happening. So your dog is naturally just trying to communicate.
So while it may seem your dog hates the harmonica, they're actually just enjoying the music in their own way.
Why Do Dogs Cry At Certain Noises?
Dogs use howling, crying or whining to express their feelings and to communicate with one another. When they hear certain noises, they could be:
Trying to get attention
Singing along (marching pitch)
Communicating
Warning other dogs
Excited or Nervous
With sounds coming from things like instruments or music, they are trying to sing along and match their pitch. It's also said that the pitches remind dogs of the noises their packs make in the wild. So when your dog is "singing" along they are searching for a pack member.
With sounds like fire trucks, your dog may view that as a threat and is trying to warn others of the dangerous noise.
Doorbells, knocks and other thumping noises dogs usually equal to someone new being there so when they cry at those noises it means they are excited and/or nervous.
Do All Animals Hate The Sounds Of Musical Instruments?
It is certain that some animals hate the sound of musical instruments. But it's no one breed, it's just an individual thing. There is so much data around the globe of animals of all different species listening to and even playing music! For instance :
Studies have shown dogs calm down when listening to classical music
Cows produce more milk when they're listening to music (meaning they're relaxed)
Elephants and monkeys have been known to love playing instruments!
Birds are known for their singing and chirping and it's been studied that bird brains actually react to music in a very similar way that human brains do
Fish have been able to pick out different composers
Music is an amazing thing and it's not just for people to enjoy!
Do Some Dogs Enjoy Violin Sounds ?
Most dogs are known to love violin sounds! The pitch is just perfect for them to feel like they are in a pack and can sing right along with the noises.
What's The Best Place To Play The Violin In A Household With A Dog?
If you are worried about playing your violin with your dog around, give it a go first. See how your dog reacts. If they seem fine then it's totally okay to play your violin wherever you want in the same room as them! If they are agitated or bothered by the noise, just play in a different room or put your dog outside while you play.
What Are The Pieces To Play That Will Not Annoy My Dog?
Dogs have been studied and it has been found that music like heavy metal or rock is much more annoying to them. They become agitated and bark a lot. Classical music however, is just the perfect pitch for a dog and they seem to love it! So when you're looking for songs to play around your dog, go for something mellow and calming.
How Can I Play Musical Instruments Without Scaring My Dog?
Most dogs don't seem to be bothered by musical instruments, however it does happen. If you want to play your instrument without scaring or bothering your dog, it would be best to either play somewhere else (a different house) or put your dog outside while you play. We want our furry friends to be as happy and comfortable as possible!
References
Why Do Dogs Howl to Music? You Can Thank Their Ancestors
https://www.aspca.org/pet-care/dog-care/common-dog-behavior-issues/howling