Many dogs commonly fear noisy fire alarms. That fear can create an unsafe situation for dogs if a fire occurs. Dog owners need to understand why their dog is afraid of the fire alarm and train them to overcome that fear.
Dog Hates Fire Alarm
Noise phobia is a common occurrence in dogs. Because fire alarms can cause very loud noises, dogs are often scared when they hear them. Dog owners should train their dogs to not be afraid of fire alarms so that in case of a fire, they behave safely.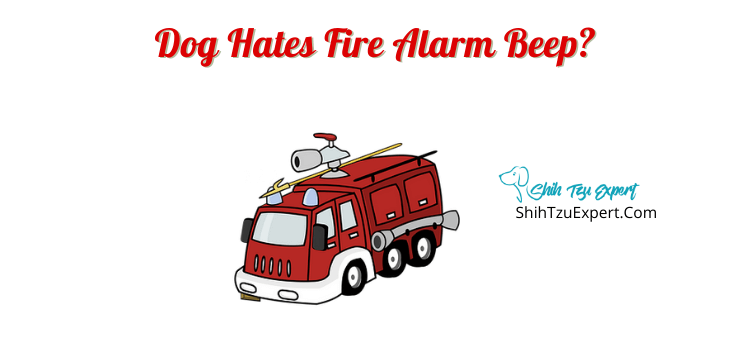 Why Do Dogs Hate Fire Alarms?
Dogs hate fire alarms for two main reasons. First, the sound of a fire alarm is very loud. Many dogs suffer from noise phobia, so any loud sound will scare them. Second, fire alarms are unpredictable. Dogs do not know when a fire alarm might sound.
Why Do Dogs 'freak Out' When They Hear Fire Alarms?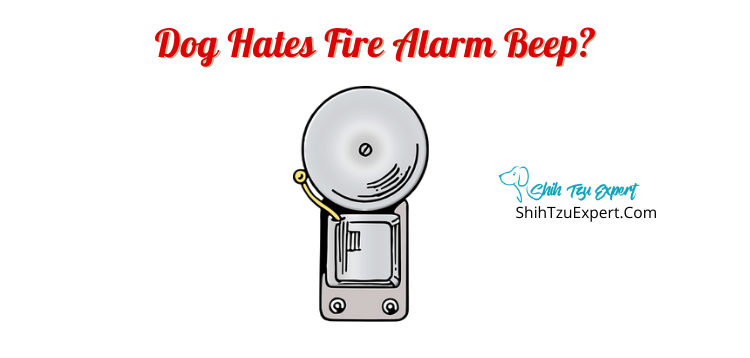 Dogs with a noise phobia tend to "freak out" at the sound of loud noises. Fire alarms are one of the loudest noises that go off in a house. In addition, when fire alarms go off, the humans in the building also tend to rush around or become agitated.
First, dogs hear a noise that frightens them, and second, they recognize that the noise is causing their humans to act as though they are freaking out. Understandably, dogs will freak out when they hear the fire alarm and see their humans stressing out.
How Do I Train (Counter Condition / Desensitize) My Dog To Not Hate Fire Alarms?
Fortunately, it is possible to train dogs not to hate fire alarms. Dogs can be desensitized to the sound using a few basic training techniques.
When the fire alarm sounds, the dog owner needs to remain calm.
Maintain a safe space for the dog that it can run to when the alarm sounds.
Distract the dog by playing with it using a favorite toy or game while the alarm is sounding.
As the dog continues to be distracted, reward it with special treats.
Continue exposing your dog to the fire alarm and repeat these steps until the dog stops hating fire alarms.
Dogs must be trained to react appropriately when they hear a fire alarm. Dogs that hide in fear are more likely to die in a fire than dogs that go directly to their owners to exit the building.
In addition, dogs that wake their sleeping owners when hearing a fire alarm can prevent a loss of life due to fire.
What Not To Do With A Dog Who Hates Fire Alarms?
Dogs that hate fire alarms are common because many dogs suffer from noise phobia. When dogs are fearful, dog owners should never yell at or punish their dogs. Punishing or screaming at a dog when it is already afraid may make it even more fearful.
Should You Comfort A Dog Hates Fire Alarms?
Dog owners with dogs that hate fire alarms should try not to comfort their dogs while the alarm is sounding. Providing comfort to a dog while it is afraid could inadvertently reinforce the fearful behavior instead of helping to alleviate it.
In addition, fearful dogs may sometimes act aggressively and bite. Many vets and dog behaviorists suggest that it is better to not acknowledge the dog's fear. Instead, distracting the dog using a game or classical music to calm it down is a much better tool.
What Exactly About Fire Alarms Does My Dog Hate (The Noise? Vibrations?)
Fire alarms are very loud. Many dogs have noise phobia, which means that loud noises scare them. The most common loud noises heard by dogs are from thunderstorms and fireworks. However, a fire alarm may be one of the loudest noises dogs might hear in a home.
Not only do some dogs hate loud noises, but they also hate sudden loud noises. The sounding of a fire alarm often cannot be predicted, especially by dogs. Because they cannot predict when the loud alarm will sound, it frightens them when it does go off.
My Dog Is Getting An Increasingly Dislike Of Fire Alarms?
A dog owner that tries to comfort their dog when the fire alarm sounds may be contributing to their dog's increasing dislike of fire alarms. By providing comfort to a dog when it is afraid, such as petting or holding the dog, owners reward the dog for its fearful behavior.
This pattern of fear followed by a reward will strengthen the dog's dislike and fear of fire alarms over time.
Are Fire Alarms Dangerous To Dogs?
Fire alarms can be dangerous to dogs. Dogs that are very afraid of loud noises may become panicked. Panicked dogs often do not make good decisions and can injure themselves when they are trying to escape from the loud noise.
Can & Do Dogs Destroy Fire Alarms?
Fire alarms are typically located high on a wall, near a ceiling, to better detect rising smoke. As a result, most household dogs cannot jump high enough to reach a fire alarm and knock it down. Fire alarms that are properly positioned are usually safe from dogs that might try to destroy them.
What Best Alternatives To Fire Alarms That Dogs Do Not Hate?
There are fire alarms or smoke detectors available on the market that are dog-friendly. The best alternatives to generic fire alarms that emit a loud, obnoxious beeping noise are the alarms that do not emit that loud sound.
Dog-Friendly Smoke Detectors?
Dog-friendly smoke detectors can be found at both big-box stores and online stores. Smoke detectors that are considered pet-friendly are those that do not loudly beep without warning. Alternatives to the loud alarm are smoke detectors that use a voice alarm first or those that produce low-frequency beeps.
Chirpless Smoke Detector?
Of the chirpless smoke detectors on the market, the most highly rated is the Google Nest Protect. It sends an alert to a smartphone, which is very useful if the homeowner is not at home. This smoke detector also speaks before sounding an alarm and gives the location of the detected smoke for anyone listening inside the house.
Dog Traumatized By Smoke Detector?
If your dog is traumatized by loud, beeping smoke detectors, it may be time to invest in a dog-friendly smoke detector such as the Google Nest Protect. Several dog-friendly smoke alarms are readily available on the market. These alternatives are far less traumatizing to dogs.
How To Calm Down A Dog After Smoke Alarm?
There are two good ways to calm down a stressed dog after a smoke alarm has sounded. First, dog owners can play soothing music such as classical or soft rock that might help their dogs to calm down while the fire alarm is sounding.
Classical music with a slow tempo of 50 to 60 beats per minute is an effective way to calm down dogs.
Give a stressed-out dog some anti-anxiety medication. However, be sure to discuss this option with a vet before medicating your dog. Some herbal medications sold over-the-counter have not been evaluated for potentially harmful side effects on dogs.
In addition to over-the-counter supplements, veterinarians can also prescribe anti-anxiety medication that is specifically created for dogs. Dog owners should familiarize themselves with the potential risks and side effects of prescribed medications before administering them to their dogs.
Why Is My Dog Afraid Of Beeps?
Dogs are sometimes afraid of noises for inexplicable reasons. Their owners may not understand the reason for fear because it may be a fear based on an association with something scary. Those fears may also be caused by a noise phobia or a fear of loud noises.
Dog owners should take some time to diagnose the specific cause of their dog's fear and train them to be unafraid. Dogs with high anxiety or stress brought on by something common, such as beeping, would spend much of their time being scared and that is not healthy for them.
Can A Fire Alarm Hurt A Dogs Ears?
A loud fire alarm cannot hurt a dog's hearing since they are typically within proximity of the noise for only a short time. Only continuous blasting of a super-loud noise like that of a siren or gunshot can cause permanent damage to a dog's hearing.
According to university research, a dog's hearing will be damaged by repeated exposure to gunshots. Dog owners who hunt or shoot with their dogs are the only people that need to worry about damaging their dog's hearing.
Why Is My Dog So Sensitive To Sounds?
Some dog breeds are more sensitive to noises than others. German shepherds, golden retrievers, and collies are naturally more sensitive to sounds, especially loud noises, compared to other breeds. Owners of dogs that are super sensitive to sounds need to identify which sounds trigger a reaction.
Once the triggering noise has been identified, owners can then train their dogs to stop reacting.
Dogs with exceptional hearing may experience physical pain when exposed to certain sounds. Dog owners need to work with their vet to determine if their dogs are reacting to sounds because of fear or pain.
Why Does My Dog Hate Beeping Noises?
Many dogs hate loud noises and some beeping noises can be very loud. Smoke alarms, sirens, big trucks, and heavy equipment all make beeping noises. Microwaves, oven timers, and dryers can also create loud beeping noises. These beeping noises can be heard everywhere – in the home, at the store, and riding in a car.
Dog owners need to desensitize their dogs to the noise of loud beeps so that their fear response is not triggered.
Some dogs may suffer from noise phobia, and extremely loud beeps can trigger a fear response. Dogs that hear these loud beeps may eventually associate other beeping noises with their fear. Over time, dogs may become scared of all kinds of beeping noises simply because they were never trained to stop fearing the loudest beeping noises.
Signs Your Dog Is Scared Of The Fire Alarm
Dogs that are scared of fire alarms exhibit certain behaviors. Dog owners should learn to recognize these behaviors and work with their dogs to desensitize them to the sound and get rid of their fear.
These behaviors include:
Shaking or trembling uncontrollably
Whimpering loudly
Barking incessantly
Hiding
Howling
Drooling
Cowering
Panting
Panicking
Pacing the floor
Urinating on the floor
What Are Some Other Common Sounds That Scare Dogs?
Several common sounds scare dogs daily, especially dogs with noise phobia. These sounds include thunderstorms, fireworks, smoke alarms, gunshots, garbage trucks, buses, vacuum cleaners, skateboarding sounds, crying babies, construction noises, car alarms, sirens, airplanes, and air conditioners or furnaces that make loud noises when turning on.
My Dog Is Scared Of The Smoke Alarms Low Battery Beeping?
If your dog is scared of the low battery beeping on the smoke alarm, there may be a couple of reasons behind it. First, dogs that are scared of the beeping when a smoke alarm goes off may hear the low-battery beeping of the smoke alarm and think that the loud smoke alarm will sound.
Dogs that are very afraid of a beeping smoke alarm may find the low-battery beeping to be scary because of the anticipation of the louder beeping that might occur.
Second, the low-battery beeping can be very annoying for humans. But for dogs that are left alone all day, that noise may eventually become associated with loneliness and separation from their owner.
Why Does My Dog Always Howl At The Fire Alarm?
Many dogs howl when they hear fire alarms, doorbells, sirens, and other loud beeping noises. Two reasons for this howling behavior is to either scare the noise away or inform their owner that something is happening by calling attention to the noise.
Wolves and coyotes howl to communicate with their packs. The sound of howling can be unsettling for humans. Some dog breeds are more prone to howling than others. People that do not like this type of communication may want to steer clear of the following dog breeds:
American Eskimos
Huskies
Bloodhounds
Malamutes
Dachshunds
Beagles
Basset Hounds
References