The dreaded tick season is upon us! It's frustrating to go on walks with the fear of getting a tick always in the back of our minds. Especially dog owners! There are so many products out there for tick protection. Let's discuss the wonderful world of tick and flea protection.
Why Do Dogs Hate Frontline?
Frontline is made from very toxic chemicals. It's used to kill ticks and fleas, so think about what it's doing on your dog body. Dogs are very intelligent animals and they know what's being applied to their bodies with frontline. It obviously doesn't feel good and comes with a plethora of bad side effects.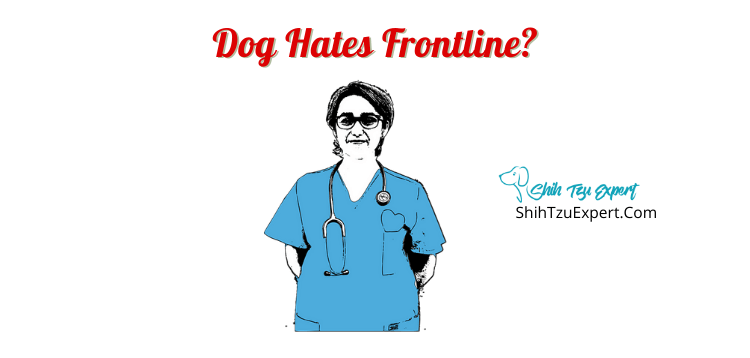 Why Do Dogs Act Weird After Frontline?
There are a few reasons.
It can be causing skin irritations
It smells awful to dogs
They simply don't like the feeling of the application
Allergic to the chemicals (frontline is making them sick
Does Frontline Sting My Dog?
Due to the chemical nature of Frontline, it's natural for a slight burning sensation to occur when applied. Normally it shouldn't be a problem and most dogs seemed unphased by the feeling. In some extreme cases, especially when an allergic reaction is happening, it will sting much more and cause the skin or appear red and swollen.
Can Dogs Be Allergic To Frontline?
Dogs can absolutely be allergic to Frontline. One of key ingredients in Frontline is fipronil, which is the ingredient dogs would be allergic to. An allergic reaction would look like:
Swelling
Itching
Irritation of the applicated area
Redness of the applicated area
Excessive salivation
Diarrhea
Loss of appetite
Vomiting
Contact your vet immediately if these symptoms occur after application.
How Long Do Frontline Side Effects Last?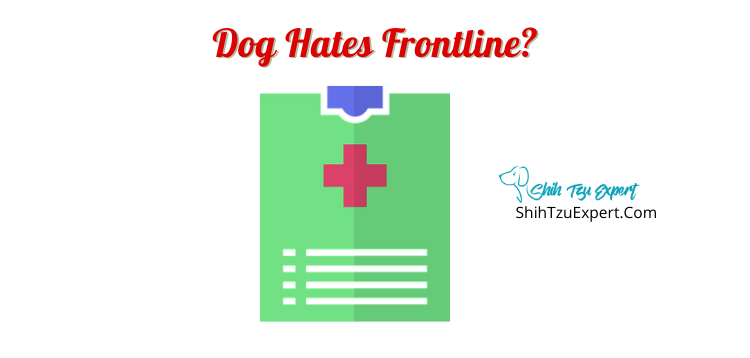 Most dogs may have a slight reaction after the application of Frontline. The side effects happen and it's not something to necessarily be worried about. Keep an eye on your dog for 24 hours after application and if the symptoms don't go away or they get worse call your vet right away.
Why Is My Dog Acting Strange After Flea Treatment?
If you notice your dog acting strange after the polisario. if a flea treatment it may be a normal reaction. It may just feel weird or smell weird and they need a little time to adjust. However, keep an eye on your dog for at least 24 hours after the application to make sure an allergic reaction isn't happening.
How Do I Get Frontline Off My Dog?
The chemicals start working and making their way into the body 24 hours after application. So you want to be sure to wash the area within that amount of time. The best way to wash the Frontline of your dog is to first get them comfortable. Go to the bathtub or somewhere outside. Put a dime sized blob of liquid dish soap on the affected area. Take a warm wet washcloth and rub the area and rinse through again until all the soap is gone.
Which Is Safer Frontline Or Nexgard?
Both Frontline and Nexgard are technically safe and FDA approved products to use against fleas and ticks on pets. There are a few key differences between the two products.
Nexgard
Requires a prescription
Takes 24 hours to get into bloodstream to start killing pests
Oral treatment
Uses pesticide Afoxoflaner
Prevents Lyme disease
Not for cats
Not for pregnant or breastfeeding dogs
Frontline
Over the counter
Kills fleas within 12 hours but takes up to 48 hours to begin killing ticks
Topical treatment
Uses pesticide Fipronil, which protects against lice
Safe for pregnant and breastfeeding dogs
Many people use Frontline until they can use Nexgard (until they get the prescription). Frontline is better for a faster acting flea or tick killer. However, since it's topical you cannot touch or pet your pet for 24 hours after application. Nexgard is a much easier application (since it's an edible "treat"), it just takes a little longer to kick in. Overall, both lines have their goods and bads, but both are deemed "safe" for pets.
What Is The Safest Flea and Tick Treatment For Dogs?
The safest way to prevent fleas and ticks is to use a nontoxic treatment. One that doesn't have any pesticides. Here are a few products to look at.
Vet's Best Flea and Tick Spot Treatment
Wondercide Flea and Tick Spray
Tevrapet Naturals Flea and Tick Topicals
Earth Animal Nature's Protection
All of these products use a base of essential oils that are safe for dogs and are known to prevent fleas and ticks. Lavender, peppermint, cedar wood, rosemary, neem, clove, tea tree oils are all considered safe essential oils for dogs.
Why Do Some Dogs ' Freak Out' When They Taste Or Feel Frontline?
First of all, dogs should never be tasting Frontline. They may try to lick it off, but never let them! It has chemicals that are only meant to be applied topically. That being said, if your dog does taste it, they'll probably freak out because it won't taste like anything good! It's like licking soap or some other chemical.
How Do I Train (Counter Condition / Desensitize) My Dog To Not Hate Frontline?
Honestly, it's not worth it to train your dog to like Frontline. You can try to give them lots of treats while you apply the product and tell them it's okay, but it's very difficult and there are many other products you can use that are way easier. The easiest thing to do would be to get a prescription for Nexgard, which is an edible treatment. Most dogs don't mind the taste at all (they're beef flavored) and it's a quick and easy way to treat against pests.
What Not To Do With A Dog Who Hates Frontline?
If your dog really hates Frontline or is allergic to Frontline, it's obvious to find something else that works for you and your dog. Just stop using Frontline. The next best option would be Nexgard, which is an edible treatment and much easier for some dogs to take. There are also so many other options to look at for flea and tick prevention.
Should You Comfort A Dog Hates Frontline?
If you've just applied Frontline on your dog and they are freaking out, definitely comfort them and tell them they are okay. If they don't seem to calm down in a while, try washing off the area and use something else.
What Exactly About Frontline Does My Dog Hate?
In most dogs, the smell and the taste are the most disliked thing about Frontline. It will taste bitter, and when most dogs get something on them, they want to lick it off. So having Frontline on them tasting so bad will frustrate your dog. Dogs have a very keen sense of smell and Frontline doesn't smell good at all, it will have a very harsh chemical smell especially to dogs. They also may really dislike the sensation of Frontline being applied to their skin. While it shouldn't cause too much of a sensation, it will feel a bit cool or maybe even a little stingy for a short period of time.
My Dog Is Getting An Increasingly Dislike Of Frontline?
The first application of a Frontline, your dog may just seem curious and not too concerned. But gradually your dog may start to understand what is going on and if they don't like the sensation their dislike for the product will increase.
Is Frontline Dangerous To Dogs?
If Frontline were dangerous, it wouldn't be FDA approved. There have been many tests and it has been in the market for many years so it's widely known as a safe and effective treatment for dogs against fleas and ticks. However, if you've never used Frontline on your dog, still use it with caution and know the signs of an allergic reaction.
Do your research! Know what you're putting in/on your dogs body. Know that Frontline does have chemicals in it. It is considered a "pesticide" so there are chemicals in it to kill bugs. But, it doesn't make it dangerous to dogs. The chemicals used have been researched and deemed safe for topical application on dogs skin. However, it may concern you! If morally you don't feel right putting it on your dogs body, DONT! You are not being forced to. There are many other natural alternatives to Frontline that are just as effective and safe.
What If My Dog Licks Frontline?
Try very hard to not let your dog consume Frontline as it is supposed to be a topical treatment. It is supposed to be applied at the top of your dogs neck down their back, so it should be hard for them to lick. But if they do, the worst that should happen is that they are just going to drool a lot because it won't taste very good! It tastes very bitter. If your dog is hypersensitive or allergic to anything in Frontline, if they lick it they may have some more severe symptoms such as,
Muscle tremors
Diarrhea
Vomiting
Difficulty breathing
Weakness
If your dog is experiencing any of these symptoms, call your vet right away.
What Best Alternatives To Frontline That Dogs Do Not Hate?
Personally, my favorite alternatives are all natural dog safe essential oils. The projects listed above are great alternatives made with oils like peppermint, tea tree, and cedar wood which are all known to fight ticks and fleas. Dogs also don't seem to mind the essential oils at all!
Dog Acting Weird After Flea Collar?
Flea collars are made with many more chemicals than Frontline and Nexgard. And the fact that they are so close to the head and the face of the dog is cause for concern. The powder you find on a flea collar is much more abrasive on a pets skin and is much more likely to itch and burn the area around their neck. Allergic reactions are also much more common with flea collars. If your dog is acting weird when you put a flea collar on them, take it off immediately and wash the area.
References
https://www.ftc.gov/sites/default/files/documents/public_comments/request-comments-and-announcement-workshop-pet-medications-issues-project-no.p121201-560891-00319/560891-00319-83753.pdf
https://www3.epa.gov/pesticides/chem_search/ppls/065331-00003-20040324.pdf
https://www3.epa.gov/pesticides/chem_search/ppls/065331-00004-20130205.pdf